If you're trying to nurture a new skill in a child I think you should always take your cue from them. Think about what they love and enjoy and use this as the medium to teach the lesson. Little currently adores ducks. She got a little yellow duck in a party loot bag which is accompanying her everywhere – and she quite likes 'being' a duck herself. She's also very interested in numbers – a skill which I'm keen for her to practise. Today she wanted to do some painting so, to encourage those numbers, we decided to make a duck number line.

---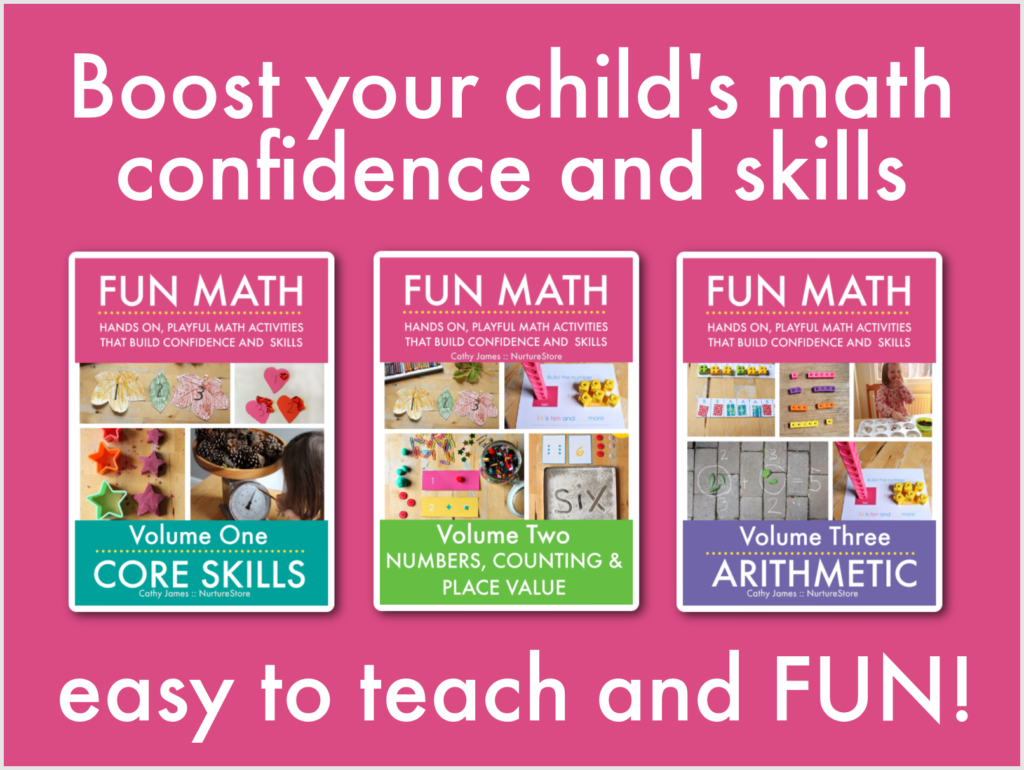 Magic Fun Math lessons!
Fun Math is an easy to teach, highly effective math curriculum based on play and hands-on learning.
All the lessons are designed to be fun and memorable, so children enjoy their lessons and feel confident.
The lessons are easy for teachers and parents to use, in class or at home.
These are the magic lessons where children really see, understand, and can apply math concepts. They are especially suited to children who don't like math, lack confidence, don't understand math the way they are currently being taught, or just want to play.
SEE MORE AND TRANSFORM YOUR MATH TEACHING HERE.
---
I've
blogged about number lines before
and I think they're a really useful way to incorporate written numbers into your child's environment. Ours is strung along the kitchen window – a prominent position so Little is often looking at it. We refer to it most days, for example when we're counting out spoons to set the table, so we're gently reinforcing the number progression and linking the physical number of spoons with the written number symbols on the line. Of course, once things have been on display for a while they become a little stale and you walk past without noticing so I like to change the pictures on the number line to keep it interesting for Little. We've previously done
ladybirds
,
autumn leaves
and
Christmas trees.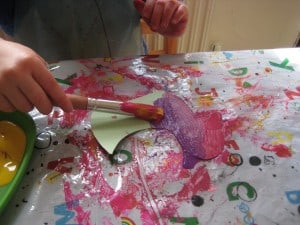 To make a duck number line: I cut out some duck shapes from pieces of card and Little set about paining them. Let you child be creative here and paint them any colour they like. Little was quite clear that she wanted pink and yellow ducks – so who am I to argue! Holding the paintbrush is good motor skill practice and the mark-making aspect paves the way for later writing. You can see from the vlog that she can't resist swirling all her paints together – more experimenting.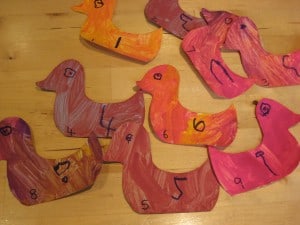 Once the ducks were dry Little added eyes and numbers using a felt pen. She was determined to write the numbers herself so I encouraged her to have a try – are you impressed with how well she did them? As one reason for making the number line is to have her see the (correct) written form of the numbers I added a small (correct) version of each numeral too – careful not to make Little think that her version was in anyway not good enough.
Children learn in a multi-sensory way and adding other experiences to a lesson re-inforces what you're teaching – so why not add in some song while you're painting and counting. Hope you like her rendition of Five Little Ducks Went Swimming One Day!
We're going to extend the play with ducks by adding them to the bathwater tonight – so Little can enjoy some small-world role play. And tomorrow we're off to feed the ducks at the local pond – so she can learn about the real world and see some ducks in action.
And just in case you don't know all the words and would like to sing with your child, the lyrics are here. If you're not painting, you should hold up the corresponding number of fingers, and swim them off like the little ducks:
5 little ducks went swimming one day,
over the pond and far away,
when mummy duck said 'quack, quack, quack, quack'
only 4 little ducks came back.
(and so on, until – in a sad voice- …
no little ducks went swimming one day,
over the pond and far away,
when mummy duck said 'quack, quack, quack, quack'
ALL THE 5 LITTLE DUCKS CAME BACK!

---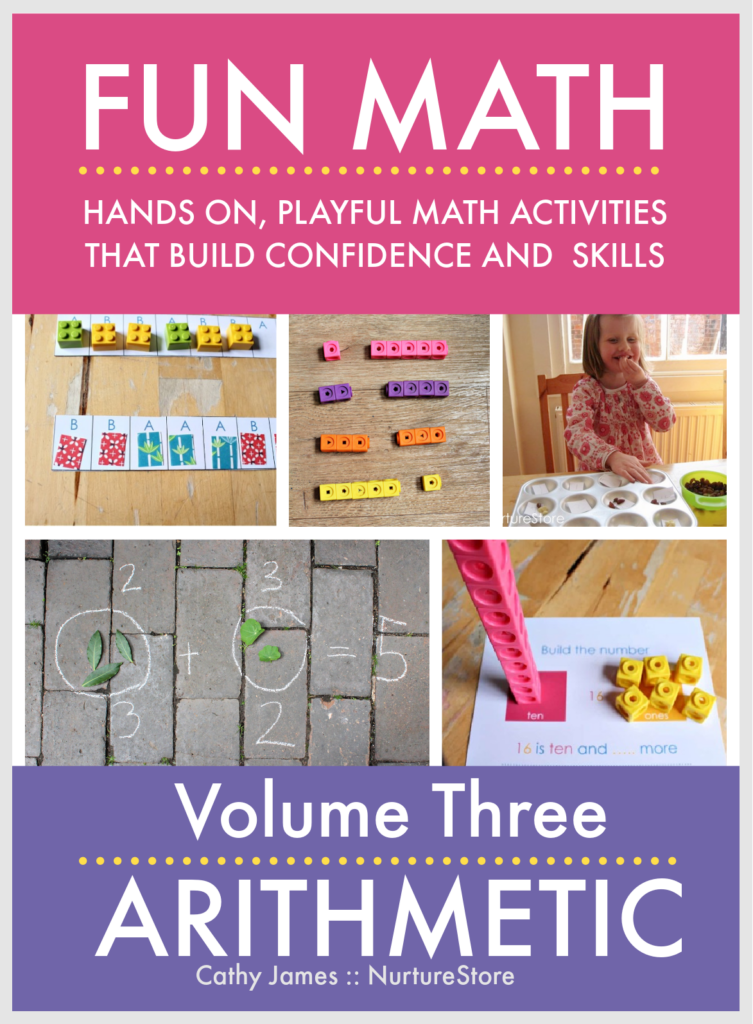 Transform your teaching with Fun Math
The Fun Math series gives you a math curriculum that is easy to teach and highly effective.
Children love these lessons because they are engaging and fun.
You'll have a clear set of ready-made math lessons and activities that are simple to lead using our step-by-step lesson guides, and which children really understand.
Be the best math teacher and boost your children's confidence and skills with Fun Math.
See more and transform your teaching here.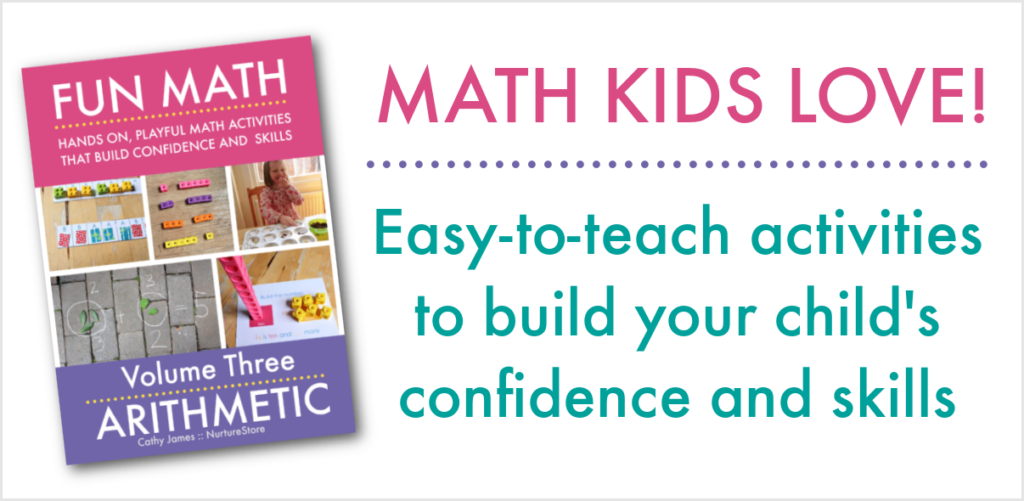 ---