This leaf print Christmas tree craft is a beautiful way to make a nature-based Christmas card and a perfect forest school Christmas craft.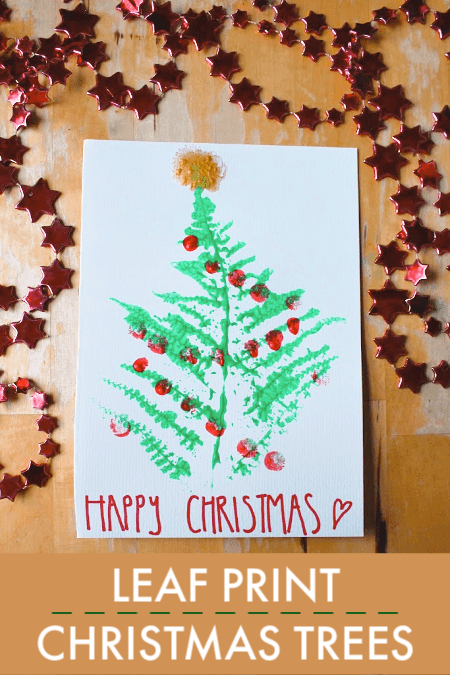 Leaf print Christmas tree craft
This article is one of NurtureStore's easy Christmas crafts for children and part of our Christmas activities and crafts.
In this Christmas activity children can use natural materials to create a unique Christmas card.
They will explore the art of printmaking, making a simple monoprint design from a leaf.
This is a great Christmas activity for forest school and a wonderful art project for a nature-based Christmas celebration.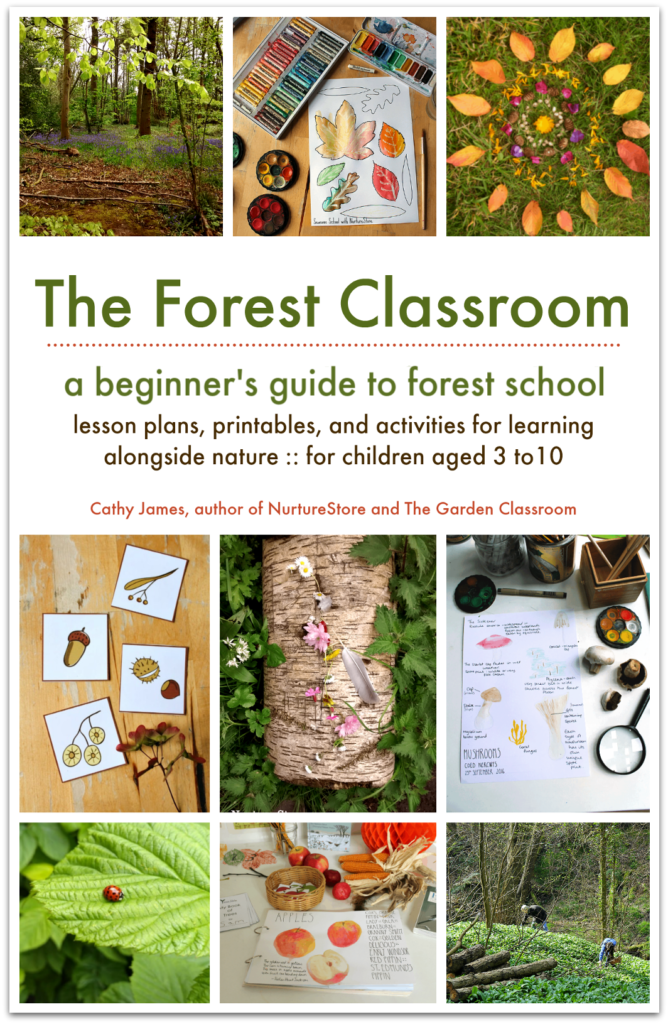 Ready-made forest school lesson plans
Have you got your copy of The Forest Classroom yet? It is the perfect beginner's guide to running a successful forest school. Download your forest school guide here.
A forest classroom is a place of adventure, discovery, and imagination. It can also be a wonderful place to learn about math and science, explore art and crafts, and develop language and social skills.
The Forest Classroom is a practical guide which will show you how to engage your children in fun and educational forest-school activities.
These ready-made forest school lesson plans are suitable for forest school leaders, teachers, childcarers and parents with children aged 4 to 10, to learn in a forest, school nature area, local park or your own backyard.
Get your copy of The Forest Classroom here and you'll be ready to head straight outdoors and enjoy teaching, using our ready-made lesson plans.
---
Printed Christmas tree crafts
You can use this simple printmaking techniques to create a range of Christmas crafts:
:: print onto a folded piece of card to make a Christmas greetings card
:: print lots of trees over a large piece of paper to make gift wrap
:: print onto triangles of card to make bunting
:: add a printed calendar to the bottom of your art print to create a calendar for the new year
:: use fabric paint to print on fabric to make a Christmas table cloth, napkins or tea towels.
Materials needed
:: fern leaf
:: paper plate
:: green, red, and gold paints
:: paint brush
:: pieces of card (or fabric)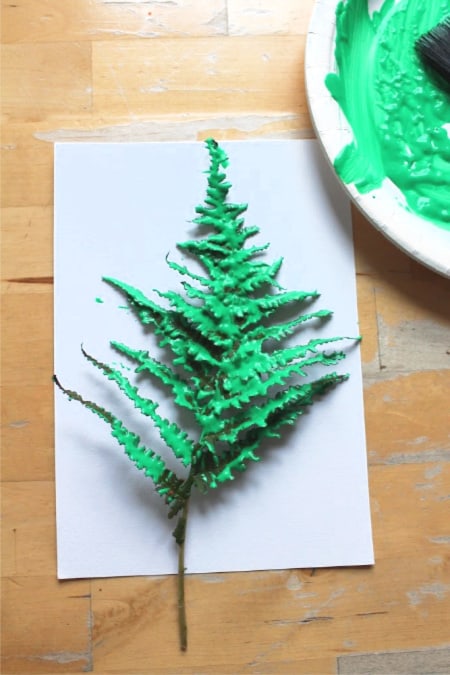 Begin by selecting a fern leaf. We found plenty in our outdoor classroom in December, but you could also try using a pine or fir tree branch.
The leaf has a shape that matches a traditional Christmas tree. You can remove a few leaves from to bottom of the stalk to create the impression of the tree trunk.
Place some green paint on a paper plate and dip the leaf into the paint. You can use a paint brush to make sure all the leaf is covered in paint, or gently press the leaf down into the paint using your fingers.
Less is more! If you have too much paint on your leaf, your print will not be as clear. You can press the leaf down on a spare piece of card to remove any excess paint.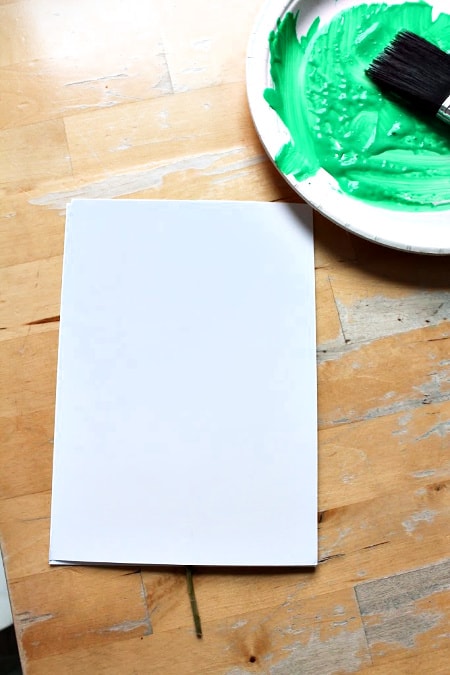 Place the leaf onto a piece of card. Place another piece of card on top – to make a leaf sandwich.
Gently press down on the card with your palm to make sure all of the leaf comes into contact with the card. Don't squish too much as you want to create a clear print rather than having the paint bleed all over the card.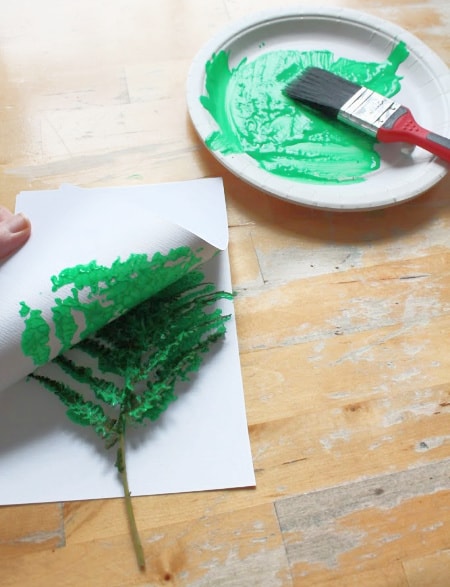 Peel back the top card to reveal your Christmas tree print.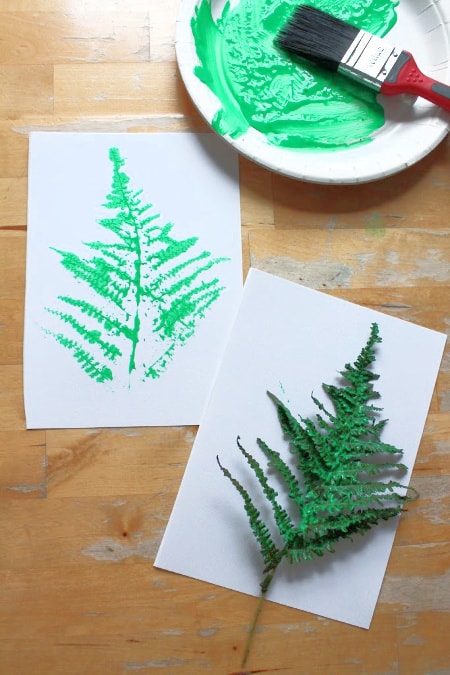 Once you have printed your Christmas tree outline you can add decorations.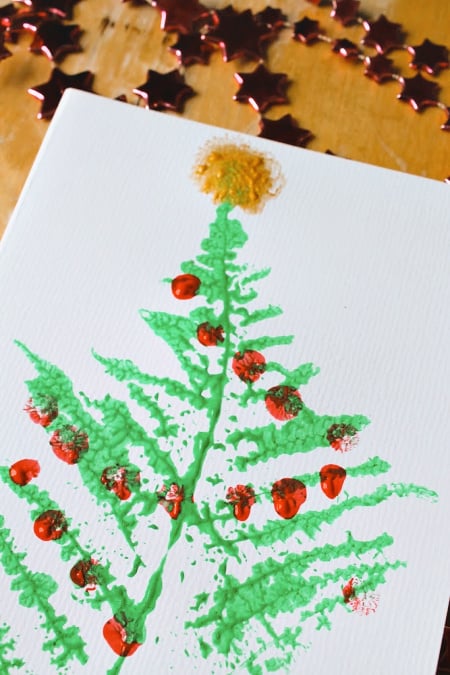 Use your fingers or a paint brush to add baubles, string lights, and a star to the top of the tree.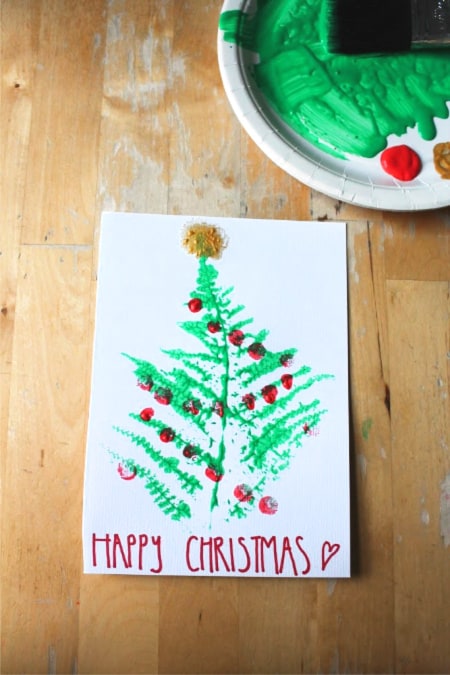 You can add a seasonal greeting to the bottom of your print to complete your printed Christmas tree craft.

More Christmas activities and crafts
See our full index of Christmas activities, lesson plans and crafts for even more great ideas.