Make writing fun with this irresistible fall writing station, with homemade leaf print books for seasonal stories and sketching.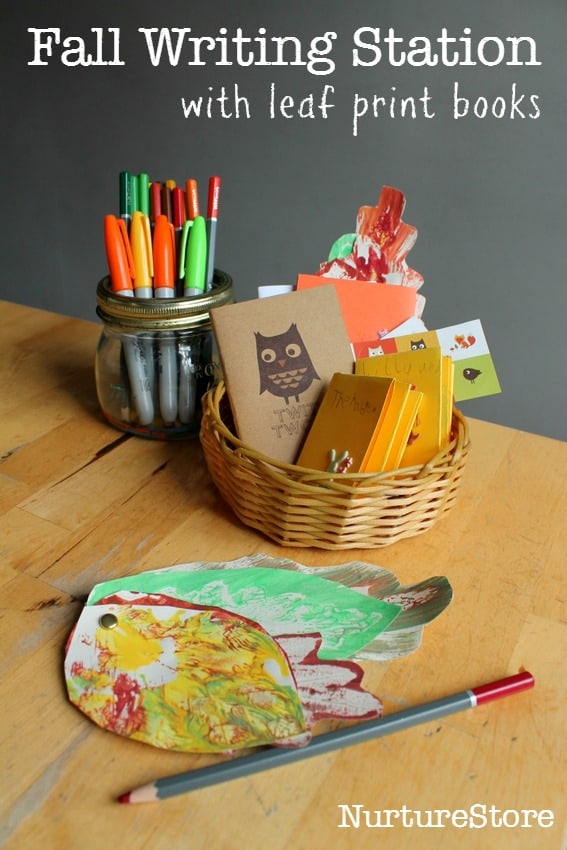 Fall writing station with leaf print books
Sometimes, simply regrouping what you have and presenting things in a different way is all the invitation children need to jump into long-forgotten materials. If you're used to rotating toys – or trying to give old things to charity – you've probably noticed that things your child hasn't seen for a while get a new appeal when they re-appear. The same idea can be used to help make writing irresistible.
Start this new season by taking a fresh look at your writing supplies. Here are a few ideas you can use this autumn to set up an interesting writing station. First up: we're making leaf print books.

How to make leaf print books
On a walk in the woods we gathered some beautiful leaves. We used them for some leaf print art and to make leaf crowns, but also had some left over.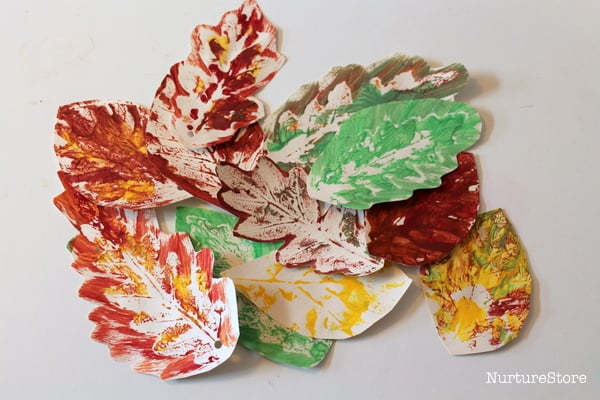 If you pick larger leaves, each individual leaf can be a good size to be a page to write on – a leaf of a book!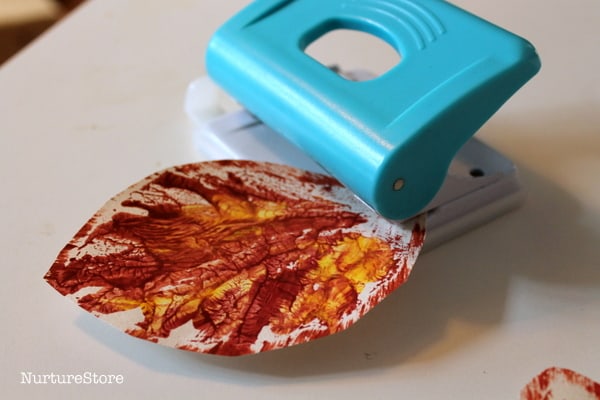 All you need to do to transform them into an autumn journal is punch a hole in each one…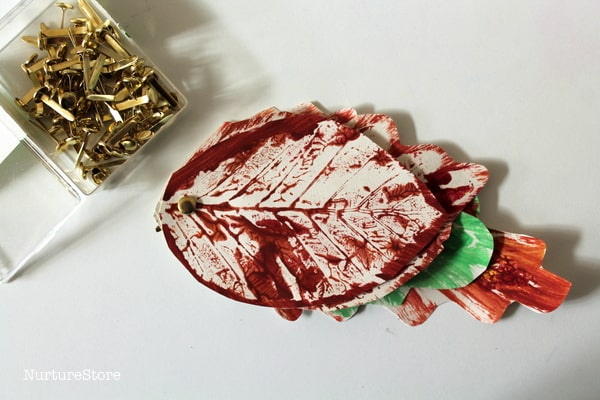 and use a split pin to thread them together. Bend the pin so it holds the leaves together, but gives enough room to open out the pages.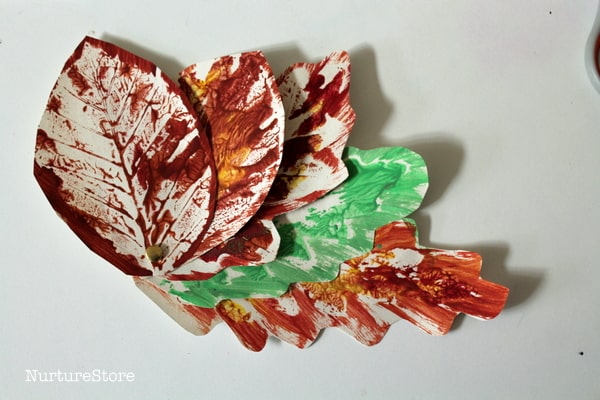 You can make several autumn leaf books, using different colours and shapes of leaves. You could use your leaf books to:
:: note down signs of autumn you find on a nature walk
:: sketch things associated with autumn
:: learn sight words and spellings, by writing the words you're working on, one on each leaf. Then use your leaf books as a prompt for works to practise with a seasonal salt tray.
:: try some creative writing: fill each leaf with all the words that come to mind when you think of autumn. Or dream up a poem and write a line on each leaf.
:: start a story on one leaf and then pass it to a friend to continue the tale on the next leaf.
:: as an art journal, with doodles on each leaf.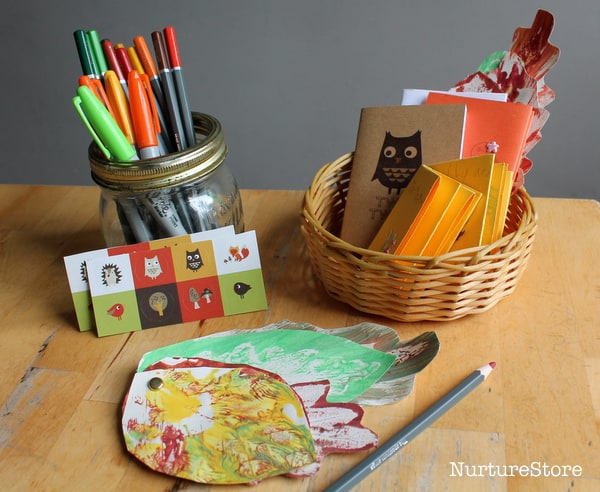 Fall writing station
The leaf print books make a great addition to a fall writing station. You might set aside time each day to use the station, or have it available to use when your children choose to. Other things to add in to your writing station include:
:: pens and pencils in autumn colours
:: cute autumn stickers
:: little notebooks
:: post-it notes
:: washi tape
:: a list of autumn vocabulary words
:: other homemade books, make from card in autumn colours, folded into simple book shapes.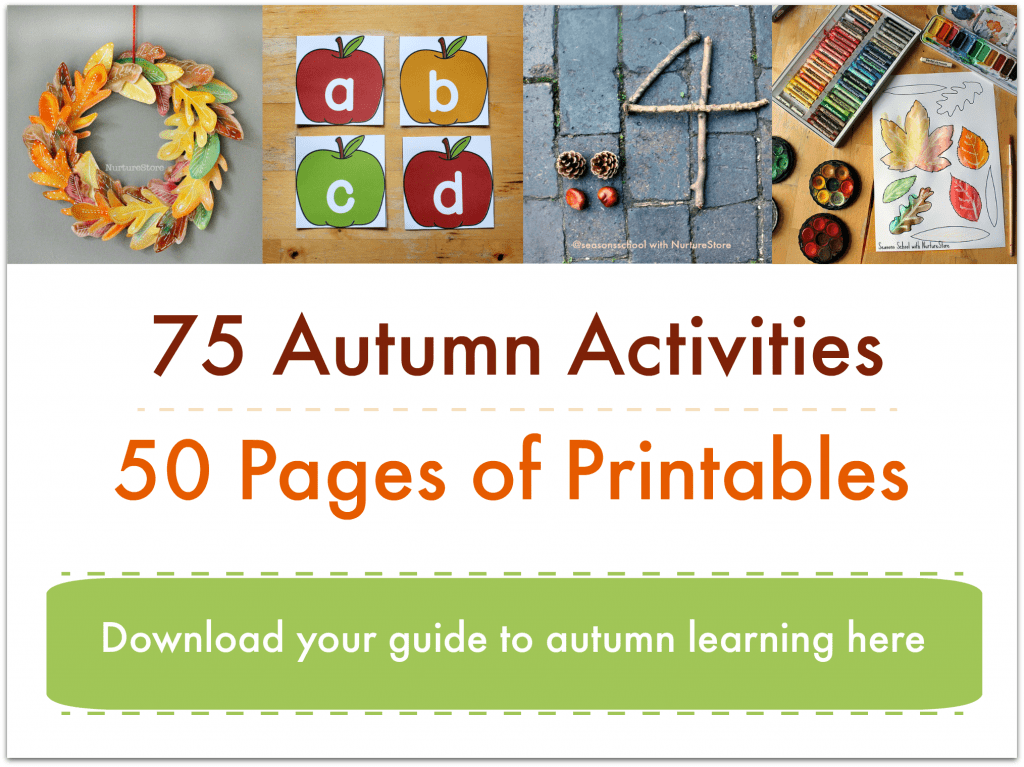 Everything you need for autumn learning, all in one place 
:: over 75 engaging activities and lesson plans that your children will love
:: 50 pages of printables that make teaching so easy
:: weeks worth of learning all planned for you, to take you right through the season
CLICK HERE TO DOWNLOAD YOUR AUTUMN PRINTABLES NOW!