The Fizz, Pop, Bang! Playful Science and Math Activities ebook is designed to bring hands-on fun and enjoyment to math and science. It is packed with powerful learning opportunities in math and science, shared through ideas that incorporate art, play, sensory learning and discovery, for a whole-brain approach.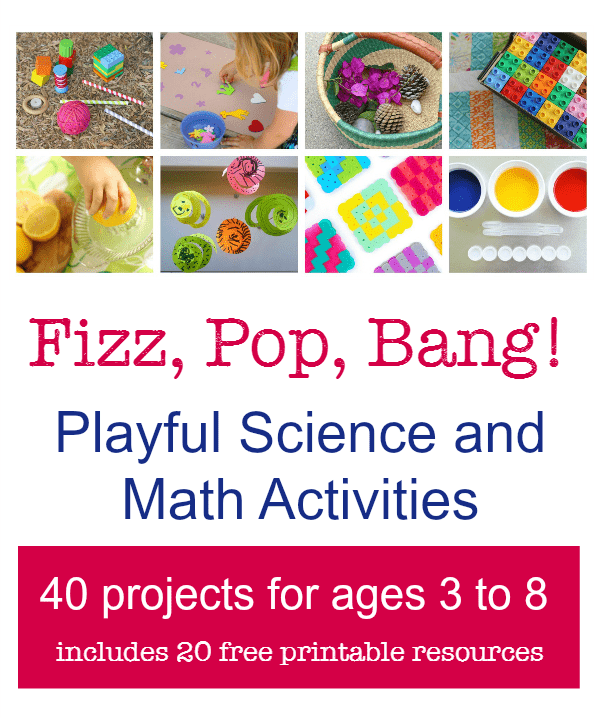 Add some Fizz, Pop, Bang! to your learning
This book is for you if…
:: your child is three to eight years old and you are looking for ideas to bring hands-on fun to their learning
:: you are looking for a broad range of math and science activities for home or for school
:: you want activities that your child will enjoy and which encourage them to think, question, explore and discover through rich, creative learning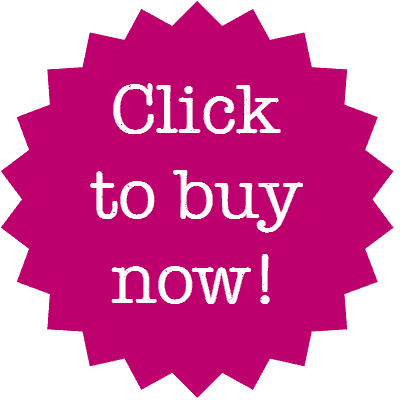 Download all the resources for just $9.99
All 40 projects, along with the 20 printable resources are available for just $9.99 and you can download it here. Or, you can save money by buying this book as part of our premium bundle: see below for details.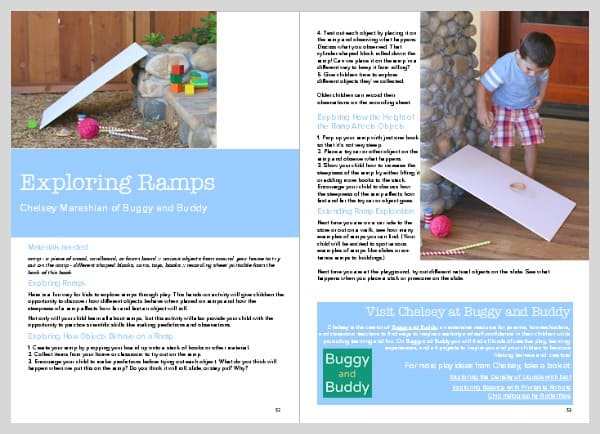 What you get in Fizz, Pop, Bang!
The book includes 40 math and science projects for children aged 3 to 8, covering a range of math and science learning including:
how to create a math and science rich environment at home or in class
number line, number recognition, counting, addition and subtraction games
activities for measuring, graphing, estimating and recording data
activities for shapes (both 2D and 3D), volume, patterns and fractions
experiments to promote scientific thinking and hands-on exploration
science projects that cover: our senses, gravity and inclines, density, states of matter, change agents, botany, surface tension, magnets, elasticity, absorption, color mixing and color theory, chemistry, engineering, light, mirrors and reflection
We also include lots of ideas for how to extend the activities, adding extra suggestions to give you even more options for play, and an additional 80 links to more hands-on STEM activities.
Here's a peek at some of the fun inside the book.
You will also receive a fantastic set of printable resources including:
math and science graphing and recording sheets
magnet maze
monster match and sort game
print and build 3D solid blocks
rocket math game
tracing shapes
fact family dominoes
catch and count fish game
engineering challenge cards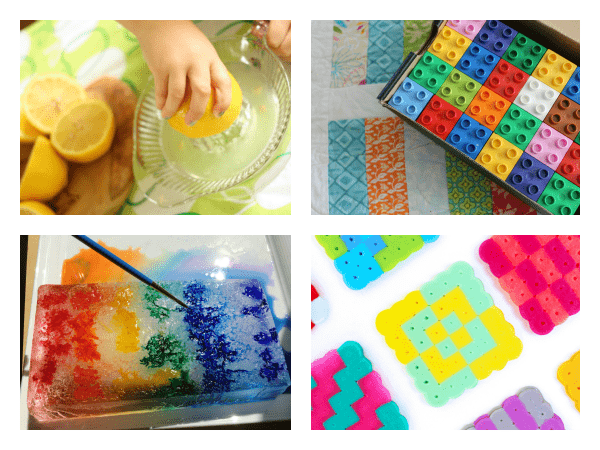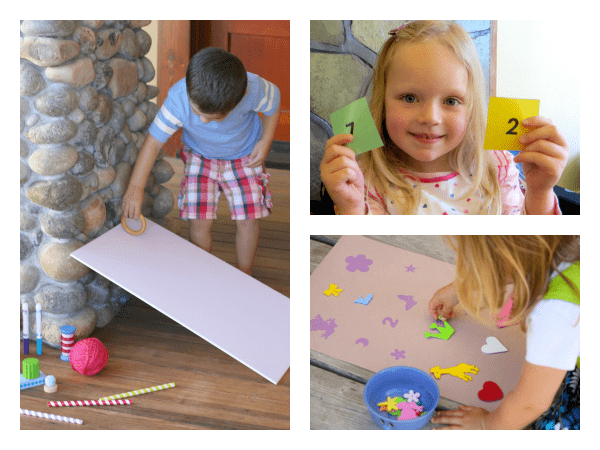 Special offer: upgrade to our premium bundle and save 20%
Save money by getting our premium bundle.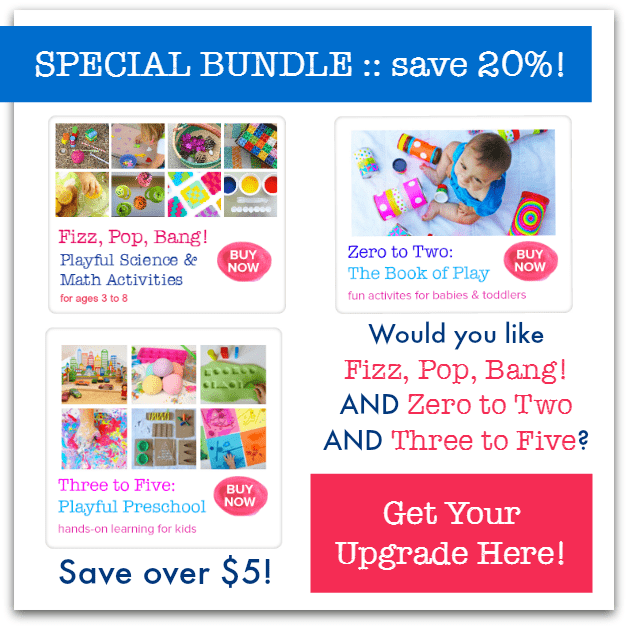 We have put three of our most popular ebooks together in one premium bundle, giving you a wonderful collection of resources at a reduced price.
Lots of our readers want to buy more than one of our ebooks, so we've created this package to make it easy for you to add them all to your cart with just one click, and so we can offer you a discount.
Click here to get Fizz, Pop, Bang: Playful Science and Math Activities AND Three to Five: Playful Preschool AND Zero to Two: The Book of Play for just $22.
That saves you over 20% and gives you more than a $5 discount. Click here to get your premium bundle.
The ebooks retail individually for $9.99, $8.99 and $8.99. This offer gives you a bundle worth $27.97 for just $22.
---
Available for instant download
This product is an ebook (electronic book), which means you will be sent a link by email which allows you to download the ebook and all the resources. You should save it to your computer or iPad and then either read it on screen or print some/all of the pages, as you prefer.
Questions?
If you have any questions, then please refer to our FAQ.
Important Information
By purchasing items from our website you consent to our Privacy Policy.
All ebooks and other digital products listed on this page protected under copyright ©. All rights reserved. They may not be shared or distributed in any way or form.
All products listed on this page are priced in US dollars. If you are outside the USA, the amount appearing on your bank/credit card statement will be in your local currency based on the exchange rate applicable at the time of the payment.