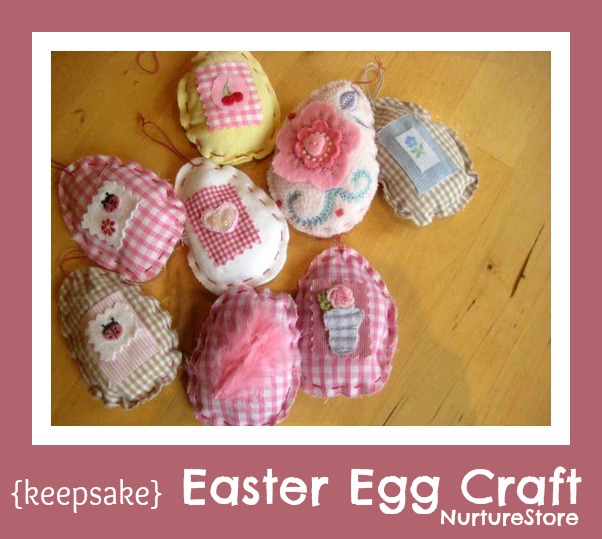 [pinit]
As each new season arrives I look forward to the time when we take out the box of decorations to match the new celebrations. This weekend our Easter box came down and we took out our heirloom Easter eggs ready to decorate our Easter tree.
Easter represents new life and these decorations remind me each year of when my own little chicks were born, because they are made from some of the girls' baby clothes. The colours and motifs on their babygrows and little dresses seemed such a good match to the theme of Easter that we used them to sew a set of decorations. Here's how we made them.
How to make Heirloom Easter Eggs

As with all of our sewing projects, we kept things nice and simple:
:: cut out two matching egg shapes from the fabrics
:: add decorations on top. We cut out some of the hearts, flowers and ladybirds from the baby clothes and used fabric glue to stick them on the front of the eggs


:: then we stitched around the outside using a simple running stitch. We popped some cotton wool inside just before we completed stitching all the way round and made a loop at the top so we could hang the eggs.


The heirloom Easter eggs are a mix and match of the girls baby clothes, with a few extra feathers added here and there.


They'll be hung on our Easter tree, which sits in the hallway to welcome everyone as they arrive. The tree itself is made from twisted branches gathered from the local park and placed in a large vase. Pussy willow and forsythia make beautiful Easter trees too. We use our branches all year round and change the decorations to match the season – you might have seen our Valentine gratitude tree and our New Year angel wish tree.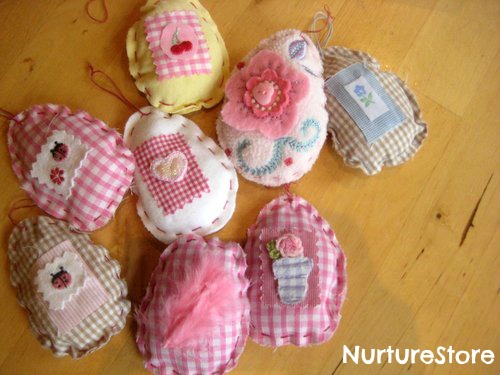 Want more happy handmade crafts?
Our Happy Handmade resource is bursting with colourful and imaginative crafts and DIY toys that are designed to add even more colour and creativity to your home. With easy-to-follow tutorials and free patterns and printables, you can read, make, and start playing today! See more of Happy Handmade here.