These painted Easter eggs are a great kids' art idea for spring. Each as unique as the artist who made them, they look even better in a colourful mix and match group. Here's how to make them: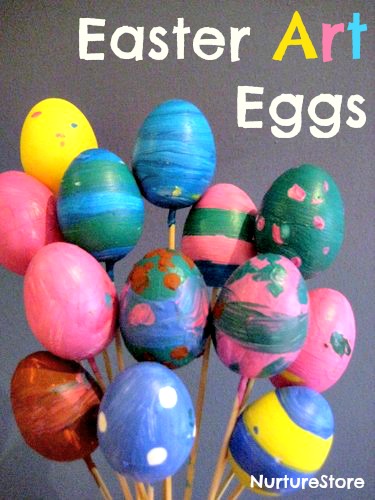 [pinit]
Painted Easter eggs

We stared with a few bags of polystyrene eggs sourced from the pound store. We spiked each egg onto a wooden skewer to make them easier to handle once we started painting.


And borrowed an idea from our painted flower pots, using a cardboard box to hold the eggs while they were drying.


We mixed up some Easter-ish colours using acrylic paint…


because if you use water based poster paint, this is the difference it makes!


The wooden skewers made it easier to get the paint on the egg not our hands.


The children decorated their eggs in lots of different ways. They added stickers and painted over the top – so they could peel them off when the paint had dried and reveal the secret shapes.


They also found the sticks made it very easy to twirl the egg and make rings with the paint.


They used the other end of the paint brush to make polka dots.


And also went for the more is more approach!


The cardboard box invention was a great way to hold the eggs until they were dry.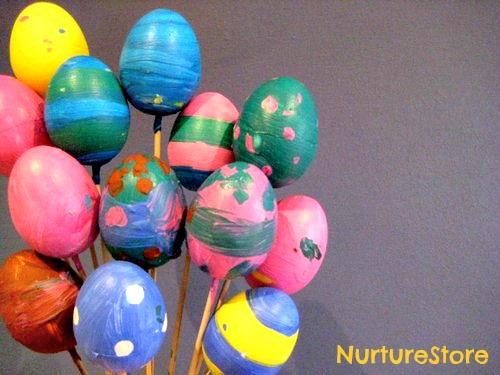 More Easter egg ideas
The painted Easter eggs look gorgeous still on their sticks in a colourful vase. I love how each one turned out differently.
We might also take them off the sticks, add a ribbon loop (held in place with a pin) and hang some on our Easter tree with our heirloom Easter eggs.
You could also use them in a Easter egg rolling contest, or hide them around the house or garden and use these Easter egg hunt clues to go on an egg hunt.
25 Easter craft and Activities
Hop on over to see 25 of our favourite Easter crafts and activities