These sunflower themed printable spelling mats, along with our other Sunflower Club printables, make a great literacy centre for writing, spelling and reading activities.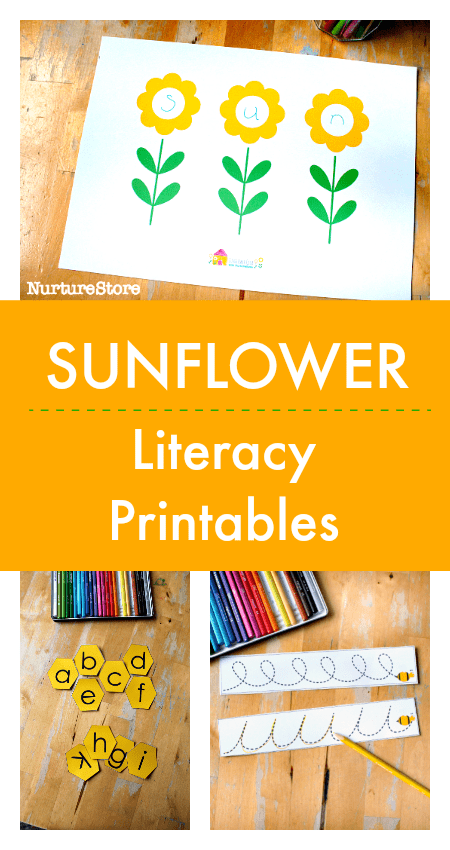 Sunflower themed printable spelling mats
These spelling mats come in versions for three-, four-, and five-letter words.
You can print them and set them out with pens and pencils for writing.
Add an extra-sensory factor by setting them out with sunflower-yellow playdough and use the dough to form the letters of your words.
Your children can write in words, or you can complete them with words to read and/or copy.
You can print as many copies of the word mats as you need, or laminate them and set them out with a whiteboard pen so you can re-use them time and time again.
 
Sunflower printables for NurtureStore Supporters
This printable is part of the Sunflower Club resources which we're using over the spring and summer as we grow sunflowers and use them as the inspiration for learning about nature, science, math, literacy, and art.
In addition to the basic lesson plans NurtureStore Supporters have full access to all the bonus lessons, activities, and printables. This gives you a wonderful, super-useful resource that you can use with your children to explore a wide range of topics and themes all inspired by sunflowers.
The bonus printables include:
:: Sunflower Club stickers and seed labels
:: math mats (for counting, addition, and subtraction)
:: literacy mats (for three, four and five letter words)
:: bee numbers cards
:: a honeycomb alphabet
:: Sunflower Journal book
:: scissor skills cards, and more
:: plus additional lesson plans and activities to make your sunflower projects easy, engaging, and delightful!
How to get your bonus printables and extra resources
NurtureStore Supporters: have you got your extra resources? You can find these printables in our Supporters membership section.
If you're not already a NurtureStore Supporter, come and join in here!