Grow a snipping garden for your children so they have a year-round supply of natural loose parts for sensory and imaginative play in their garden classroom.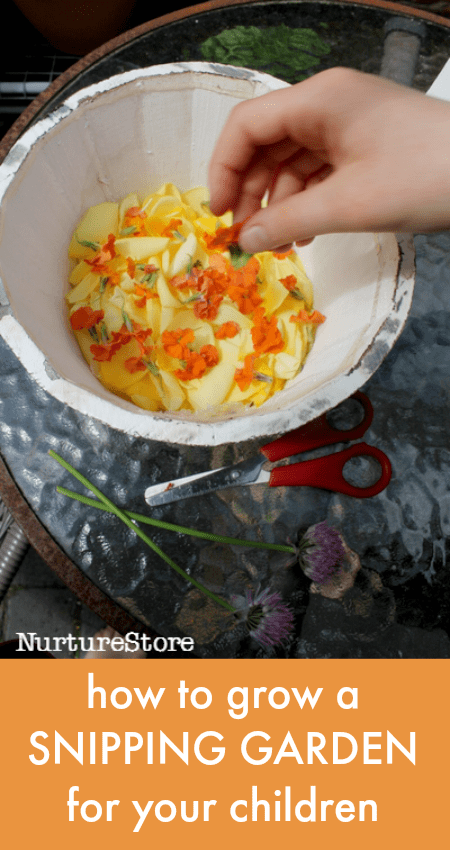 How to grow a snipping garden for children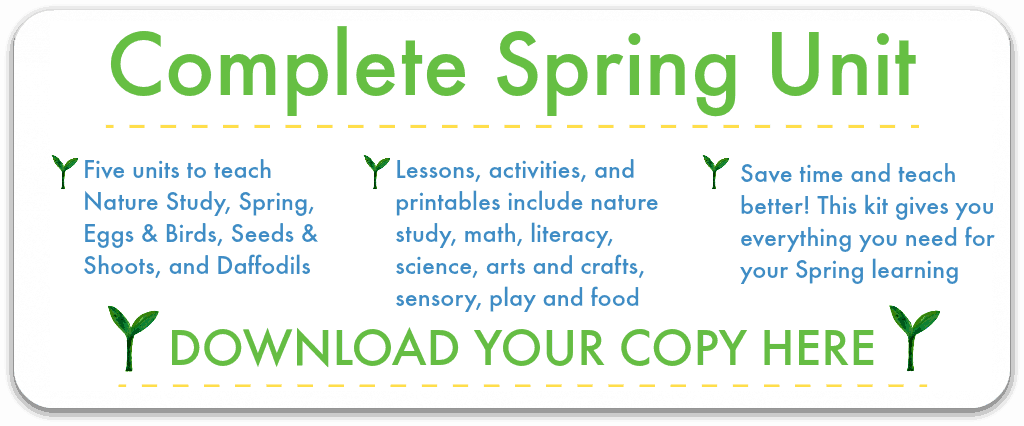 Snipping Garden
A lovely addition to a spring garden, that children can use freely in their play, is a snipping garden. It's a little part of the garden where you grow child-friendly plants and encourage your children pick and use in their play.
The plants from a snipping garden are wonderful textured, scented, multi-sensory items for children to use in their play. They encourage your children to use their imagination and connect with nature.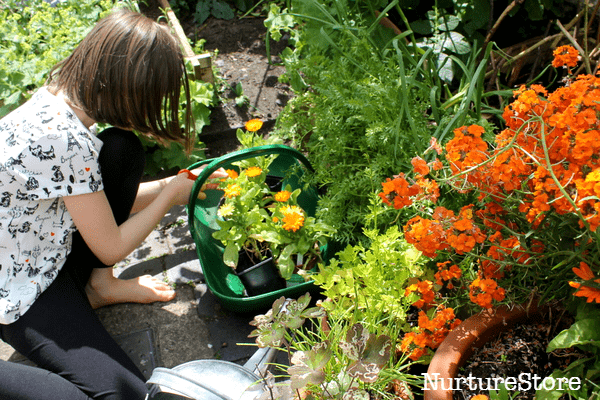 How to Set Up a Snipping Garden
All you need is a small area and some child-friendly plants. You can use a section of your garden bed or just a few garden pots. You can grow some plants for the snipping garden, and for instant play opportunities you can also buy a few. Edible plants and herbs are perfect to use, as well as plants that will keep growing and flowering after they have had some leaves and flowers picked. You might include:
:: mint
:: basil
:: chives
:: rosemary
:: lavender
:: marigold
:: cosmos
:: wallflowers
:: pansies
:: grass
:: cut-and-come-again lettuce
Show your children how to use scissors safely to cut some of the plants, and teach them which ones it is OK to eat, and which ones they can't.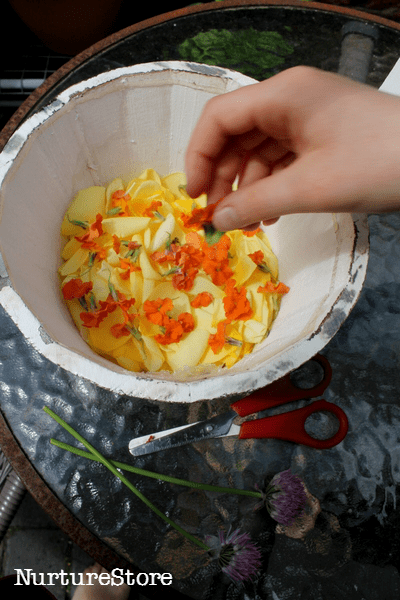 How to Play With a Snipping Garden
Can you add some of your snippings to your play today?
:: practice scissor skills by using a few of your plants to chop, chop, chop. My daughter likes to imagine her scissors are creatures called chompers. As she picks and plays, she's learning the names of the plants, how they smell, how they feel, which ones she can eat.
:: add some of your snippings to your mud kitchen and cook up a pretend play garden feast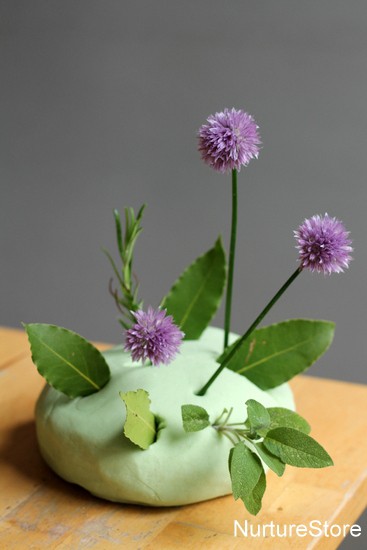 :: use your snippings as loose parts to go along with your play dough
:: use them as ingredients in magic potions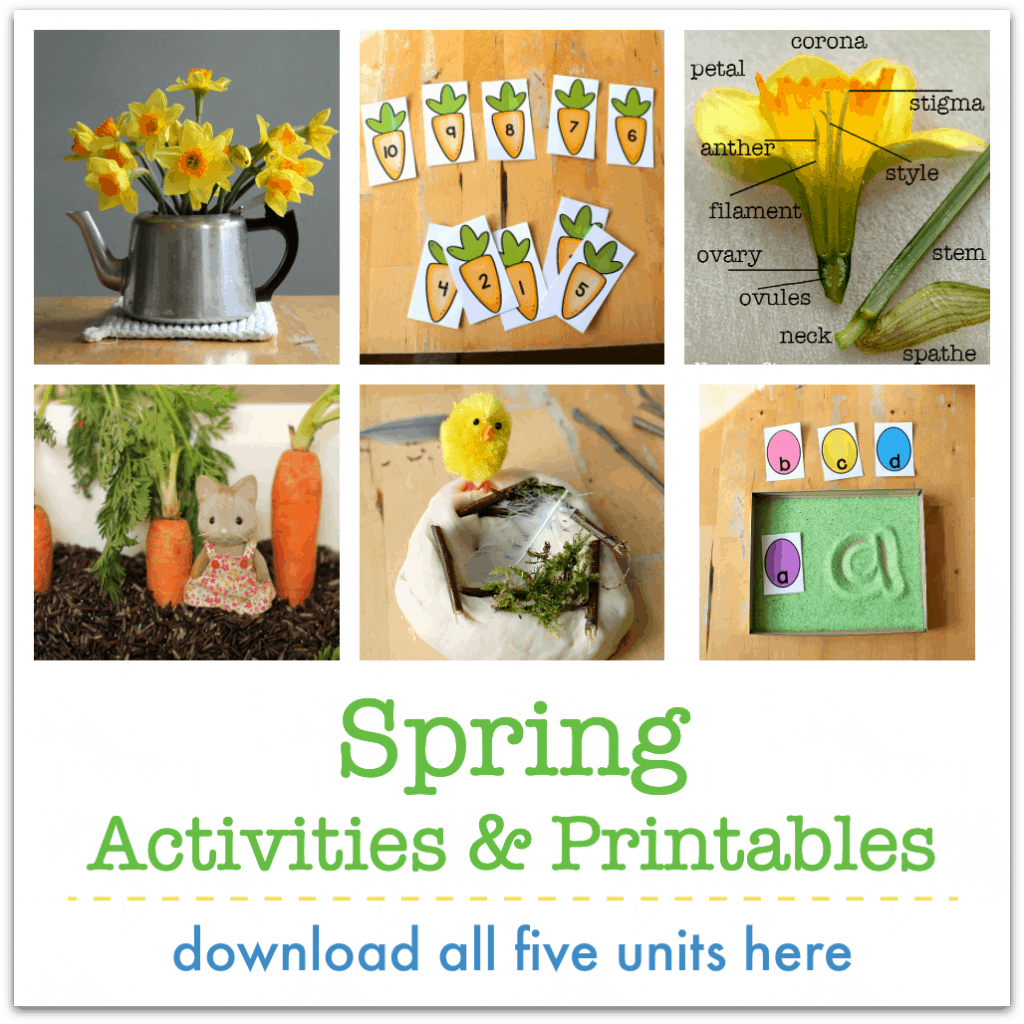 Download all the Spring units and printables
Download our complete Spring lesson plans, activities and printables and your spring teaching will be so easy!
:: five complete units of ebooks and printables for Nature Study, Welcome Spring, Daffodils, Seeds and Shoots, and Eggs and Birds
:: over 50 engaging activities and lesson plans that your children will love
:: over 30 pages of printables that make teaching so easy
:: a balanced programme of math, science, literacy, arts and crafts, nature study, sensory and imaginative play
:: a practical resource that you can start using today, in class or at home
:: weeks worth of learning all planned for you, to take you right through the season
:: created with children aged 4 to 8 in mind
You're going to love this super useful resource!