In this famous artist lesson for children we'll meet Pablo Picasso and learn about cubism. We'll look at the way Picasso painted faces and try creating our own Picasso-inspired portraits.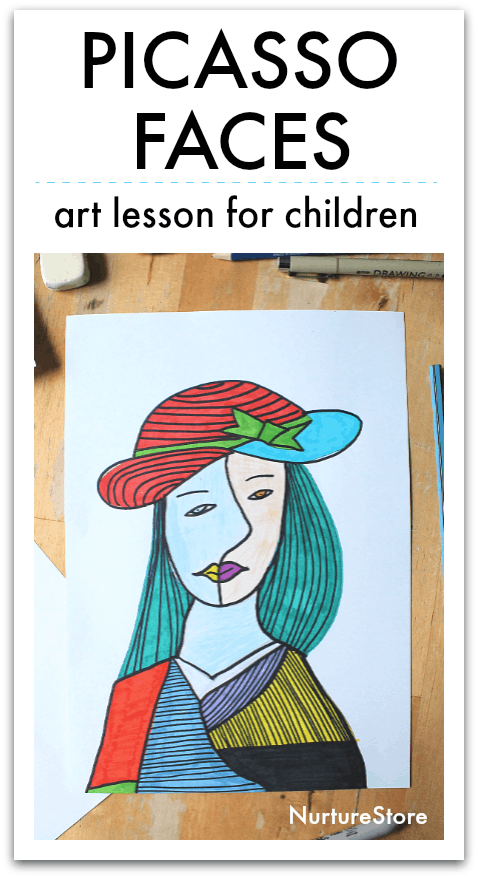 Pablo Picasso faces art lesson for children
In this lesson you will:
:: learn about Pablo Picasso and Cubism
:: look at and talk about some of his paintings, focussing on his cubist faces paintings
:: use paints or marker pens to create your own cubist-style face

Famous artist in focus :: Pablo Picasso
Pablo Picasso is one of the most famous and influential artists of the 20th century.
He was born in Spain on 25th October 1881. He lived most of his life in France, where he died on 8th April 1973 at the age of 91.
Picasso was most famous for his paintings but was also a sculptor, printmaker and ceramicist.
Along with the artist George Braque, Picasso founded the art style called Cubism.
Cubism was a revolutionary new approach to representing things and people in paintings. The subject of the painting was show from different angles and perspectives in the one painting (straight on, from the side), giving it a fragmented or abstract appearance. You can see some cubist paintings here.
You can learn more about Picasso here.
Picasso's faces paintings
Picasso was famous for his paintings of faces. Click through on these links to see examples of this.
As you look at the artworks, answer these questions:
What can you see?
What words would you use to describe the artwork?
Why do you think Picasso has painted the faces in this way?
Marie-Thérèse, Face and Profile, 1931
Seated Woman (Marie-Therese),1937
Notice how Picasso splits the face into different views, so we see the person looking straight at us, and we see a view of them from the side.
Notice too the colours Picasso used.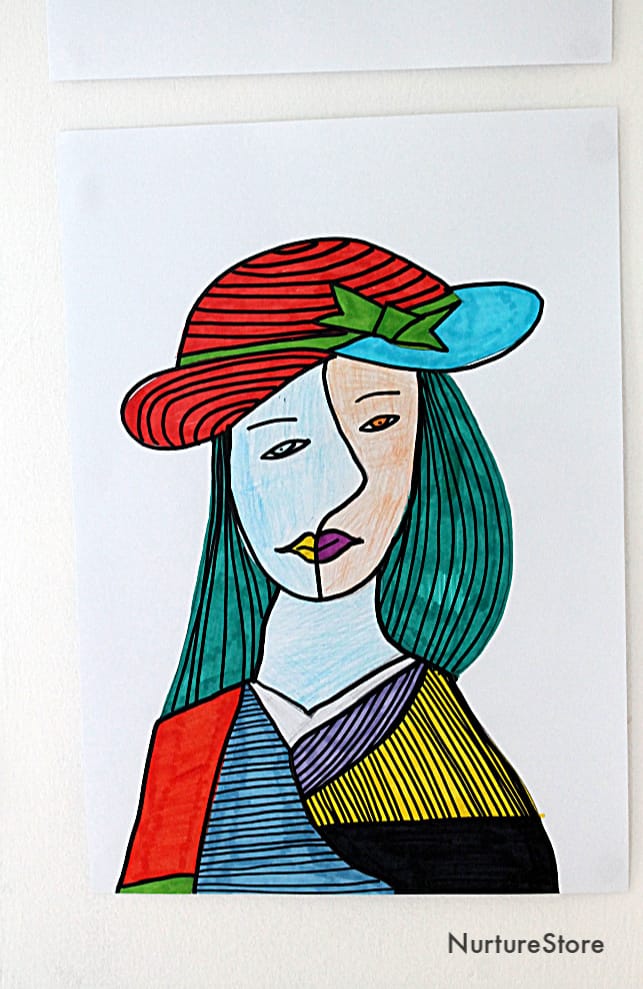 ART PROJECT :: PICASSO FACE PROJECT
Let's take inspiration from Pablo Picasso's style of painting faces to create our own.
Materials needed
:: paper or card
:: paint or coloured marker pens/pencils
:: pencil
:: black marker pen
Decide whether you are going to create a self-portrait (a picture of you) or a portrait of someone else.
Do you want to use one of Picasso's paintings as your inspiration, or will you base your cubist art on someone you know?
You might like to look in the mirror and think about the shapes that make up your face.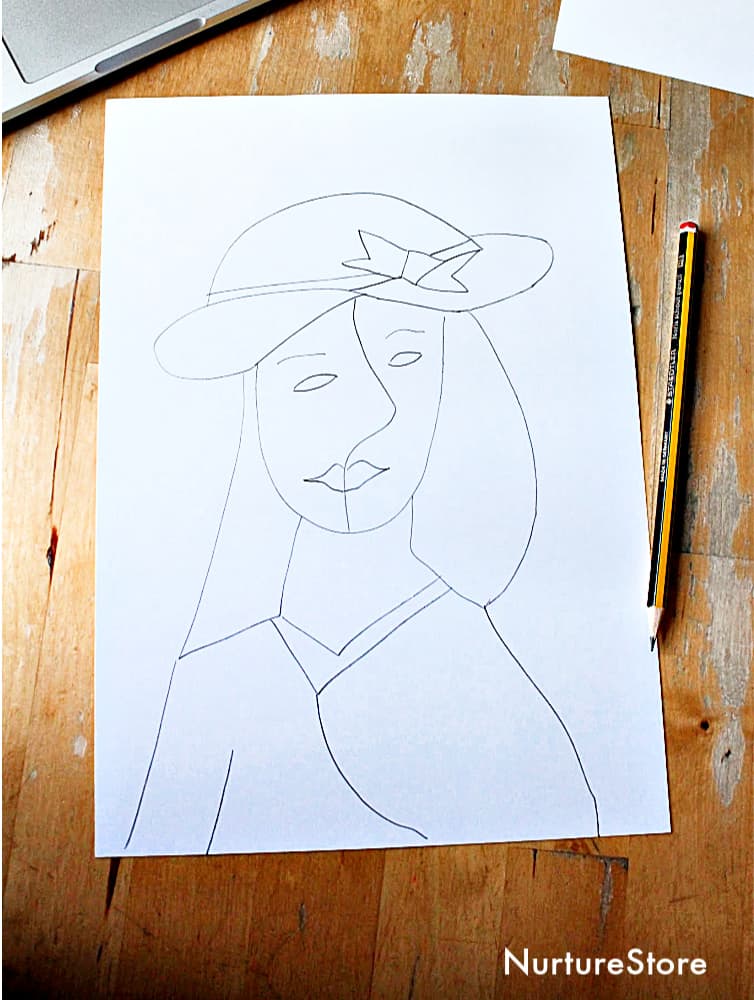 Begin by drawing an outline of a face on you paper or card, using a pencil.
You can split your face in half, following Picasso's style, to show your person looking straight at you AND in profile (looking to the side).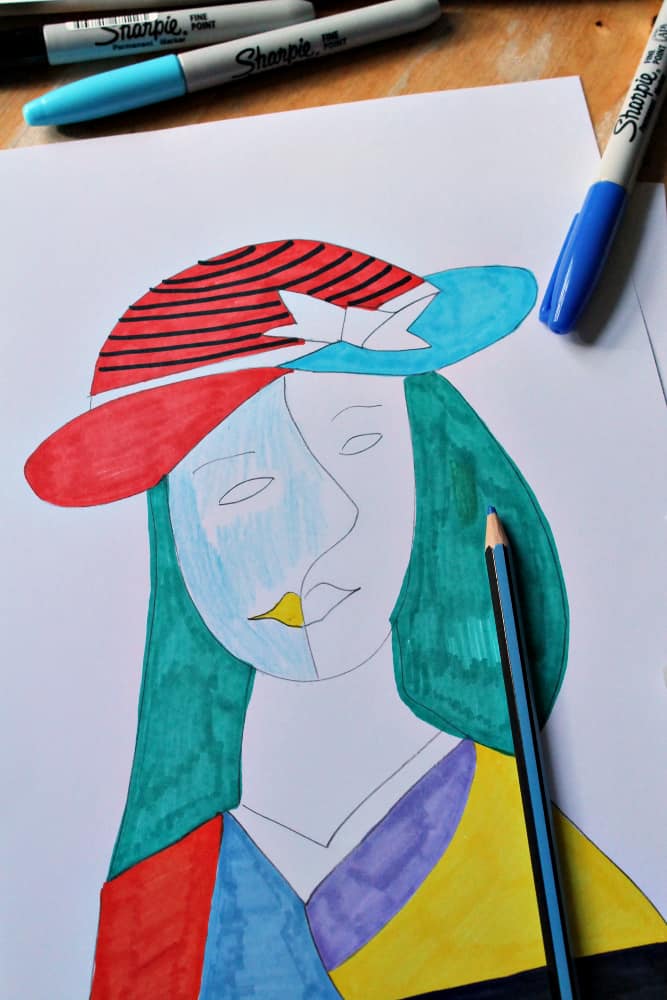 Then use paint, coloured pencils or marker pens to add colour.
Break up your picture into blocks, in the cubist style.
You might like to use bold colours, perhaps using the same colours you have seen in the Picasso paintings we looked at.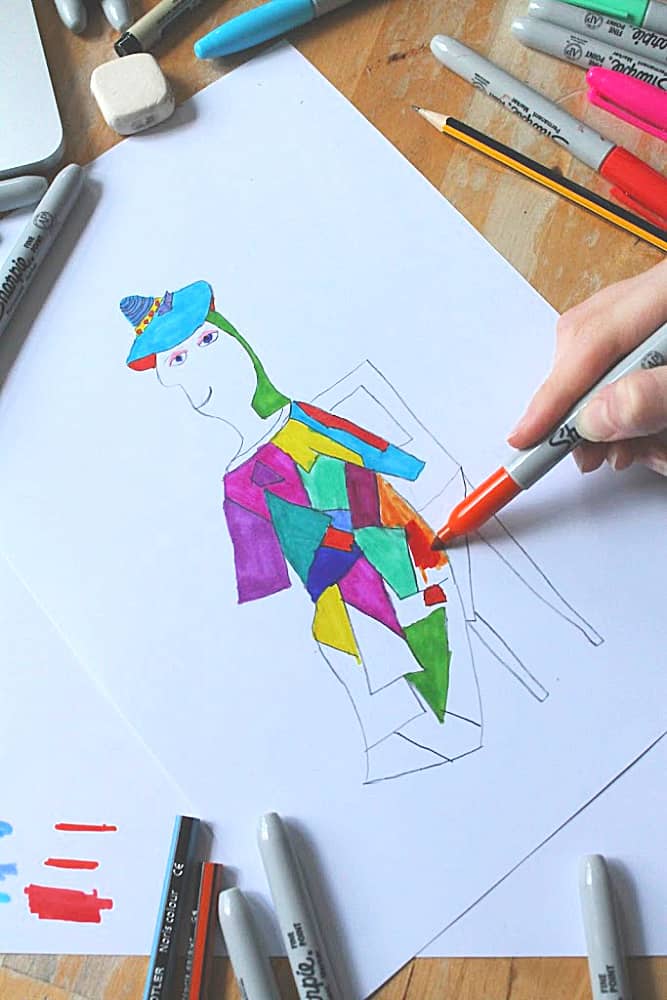 You might like to only paint a face, or you might also draw the person's body.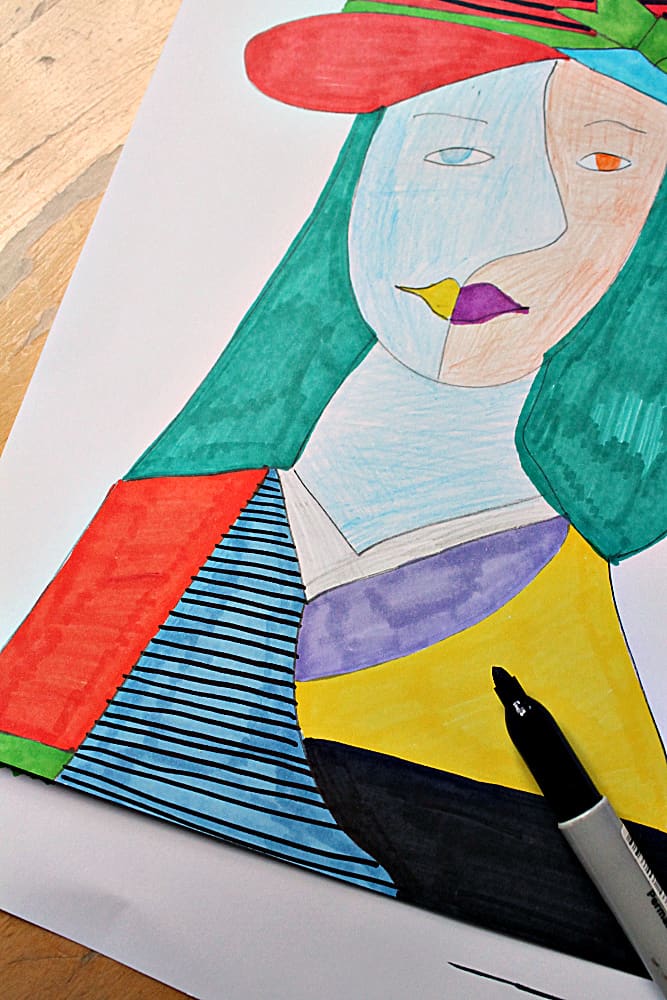 Add texture to your picture by using a black marker pen to add lines across your blocks of colour, as Picasso did in this painting and in this one.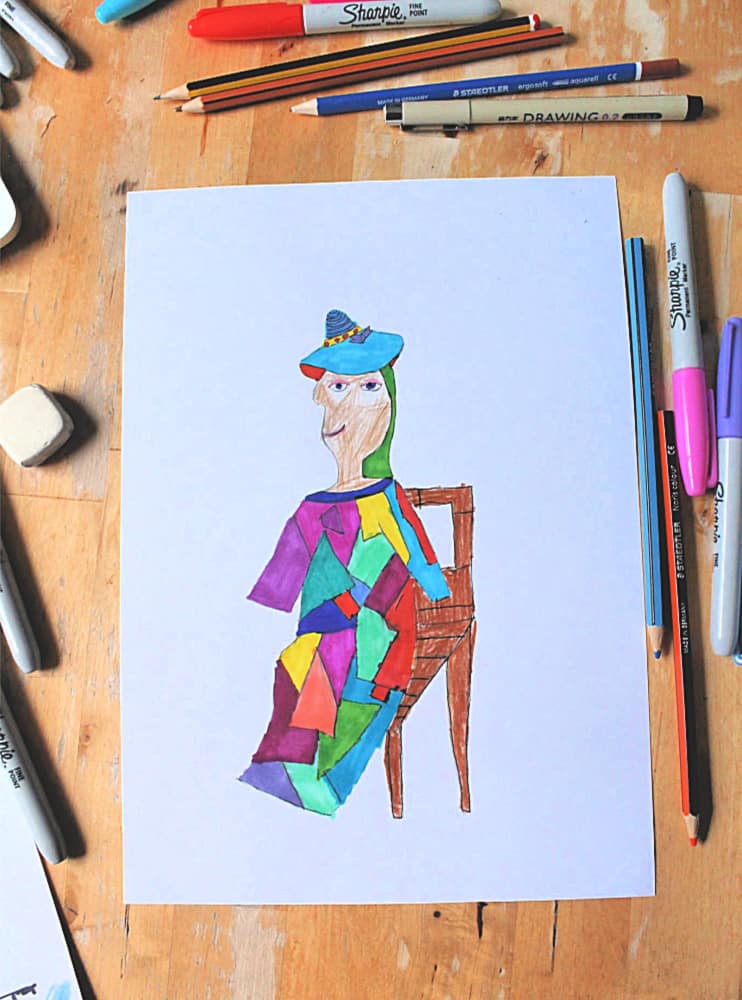 Share your art with the NurtureStore community!
We would love to see the art you create! Share a photograph on Instagram with the hashtag #ideasfromnurturestore and join our community gallery.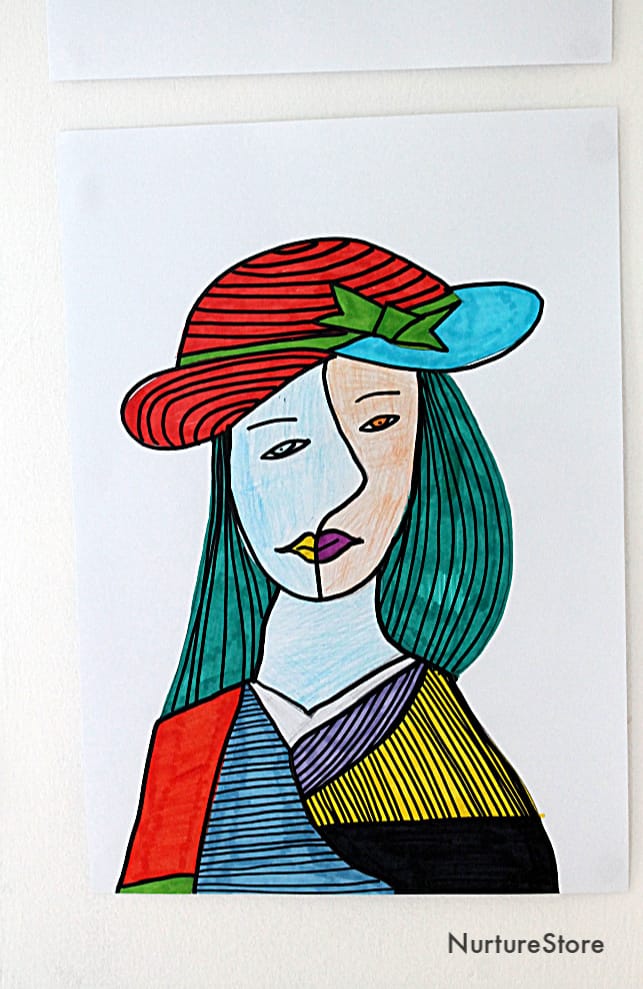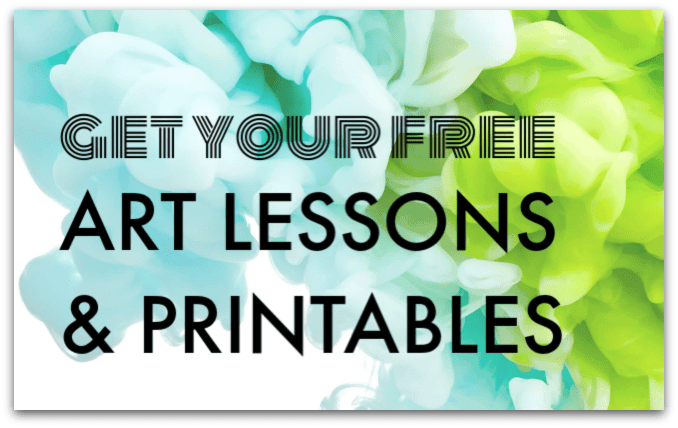 Do More Art!
Let me make it easy for you to do more art with your children.
Pop your email address in the box below and you'll get:
:: free art lessons sent to your inbox
:: lessons on famous artists with linked art projects
:: lessons on new art techniques to broaden your art skills
:: ideas for art adventures to have fun and enjoy the process of creating
:: resources for seasonal and holiday arts and crafts
:: access to my free printables library
Our lessons are perfect for children of all ages, and for school, home, and community groups.
Don't miss out!
Sign up below and let's get started.
---
* By subscribing, you consent to our use of your personal data as per our Privacy Policy, which includes agreeing to receiving interest-based email from us.
---