Get great ideas for outdoor lessons and nature activities whatever the weather with these forest school lesson plans for winter.
Winter forest school activities
We can enjoy forest school lessons all year round with thoughtful planning. Try these winter forest school activities to enjoy the best of the season.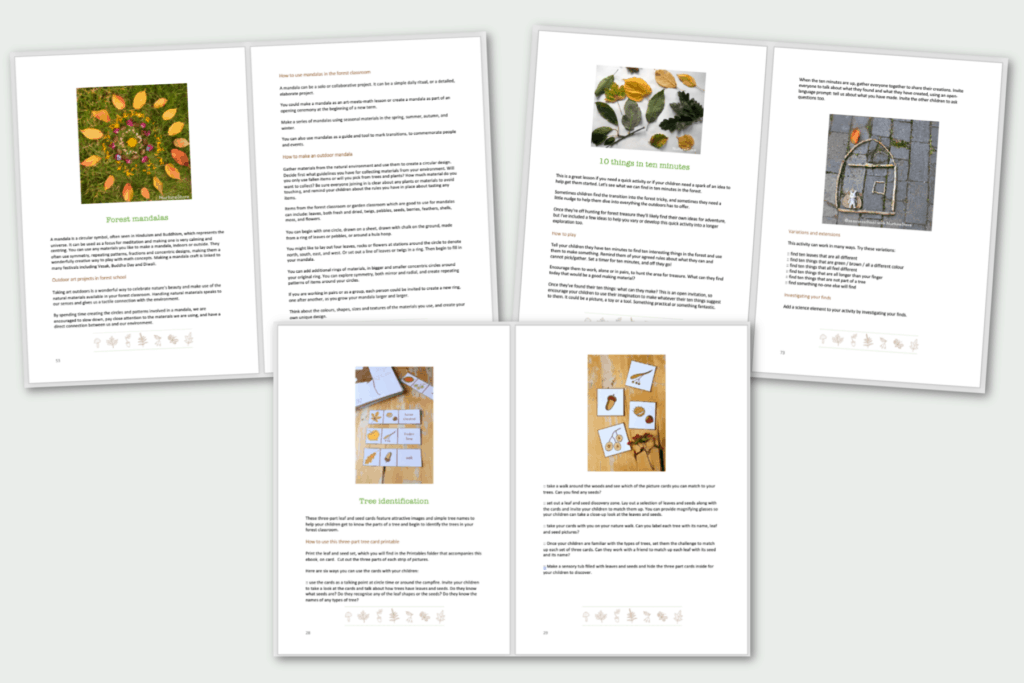 Ready-made forest school lesson plans
Make your forest school teaching easier using our ready-made outdoor lesson plans.
The Forest Classroom: a beginner's guide to forest school will give you the confidence, ideas and practical plans to lead forest school lessons with your children.
Our best-selling guide gives you over 40 lessons plans and 16 practical printable sets that you can use in your forest school setting, school yard/playground, local park or your own backyard to run a forest-school style curriculum.
The lessons are suitable for children aged 4 to 10 and cover a broad range of subjects including nature study, math, literacy, science, arts and crafts, and wellbeing.
See more and get your copy of The Forest Classroom here, for easy, ready-made outdoor lessons you and your children will love.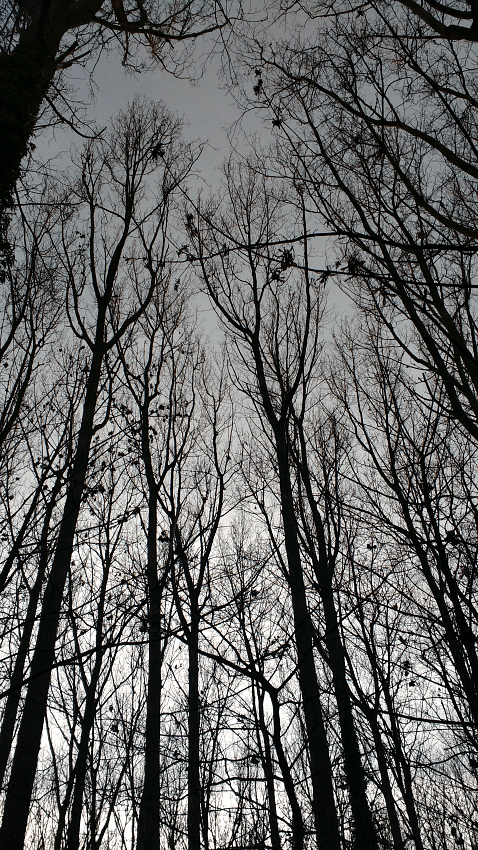 The benefits of outdoor leaning in winter
A great benefit of forest school is that it can thrive whatever the weather!
Children get to see full cycle of year and really connect to the rhythm of planet.
They are able to see the science and beauty of the winter season all around them in their outdoor classroom, with real life opportunities to notice what the trees and plants and animals are doing in this cold season.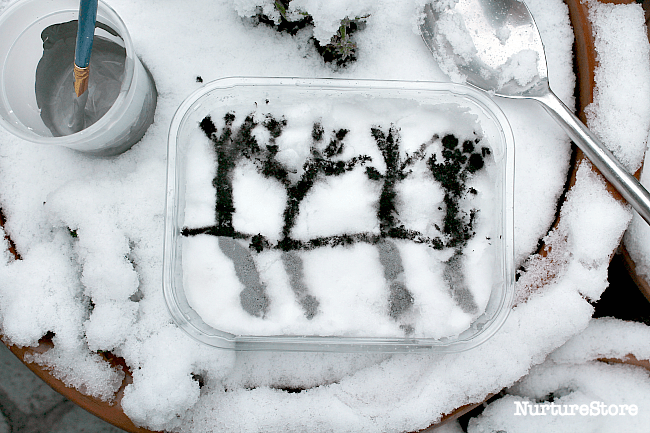 Tips for successful forest school in winter
The famous saying reminds us that there's no such thing as bad weather, only unsuitable clothing, so to make your winter forest school lessons a success, be sure everyone (including you!) is correctly dressed.
Obviously you will be checking the daily weather forecasts and adapting to your local winter conditions – Spain, Norway, Florida and Canada will have very different winters!
Whenever possible, have everyone come to your session ready dressed for the outdoors, so you don't waste time getting everyone changed. Have any extra clothing that your setting provides (such as wind/rain weatherproof body suits perhaps) ready to go. Practice getting dressed with your children, drilling them a little into a happy routine of putting their layers on. Have them help each other to speed things up and build a team spirit, and have a staff member/ parent at the clothing station to assist the smooth running of the wrapping up.
A forest campfire really comes into its own in the winter months, as a place to start and finish your sessions, and to warm up during the forest time too. The Forest Classroom has a range of great campfire recipes for drinks, snacks and meals you can cook on your fire, to warm everyone up from within.
Warm drinks especially are nice to enjoy. You can prepare them on the campfire, take them along in flasks, or have when you get back from a walk or play time.
Think about the shelter available in your outdoor classroom, considering wind in addition to temperature and rain.
Keep moving during your session. The ideas for treasure hunts, 'ten things' activity, and the themed walks in The Garden Classroom will be useful here.
You might think about re-structuring your sessions in winter (you'll find tips on how to plan your session in The Garden Classroom) so you have a shorter time out in the elements and more time around the fire and in dens/shelters.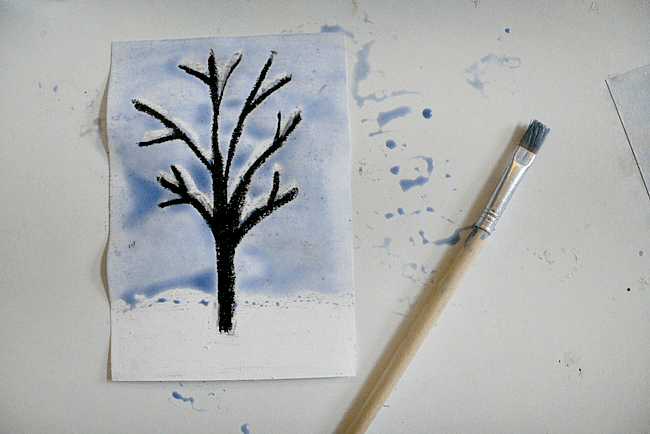 Forest school activities for winter
Try these great ideas for winter forest school activities, all included in much more detail in The Forest Classroom:
:: cooking food on the campfire to enjoy community and to warm up from within
:: taking themed walks, such as a 'Sign of Winter' or 'Animal Tracks' walk, to keep everyone moving
:: a treasure hunt is a fun way to get everyone running around – you'll find a printable treasure hunt in The Forest Classroom
:: the best time to forage for hawthorn berries is after the first frost. The Forest Classroom gives you a lesson plan to teach your children about hawthorn, how to identify it, and ideas/ recipe for how to use the berries
:: make the most of the winter weather and try painting on snow and ice!
The Forest Classroom :: download your ready-made forest school lesson plans
Have you got your copy of The Forest Classroom yet? It is the perfect beginner's guide to running a successful forest school. Download your forest school guide here.
A forest classroom is a place of adventure, discovery, and imagination. It can also be a wonderful place to learn about math and science, explore art and crafts, and develop language and social skills.
The Forest Classroom is a practical guide which will show you how to engage your children in fun and educational forest-school activities.
These ready-made forest school lesson plans are suitable for forest school leaders, teachers, childcarers and parents with children aged 4 to 10, to learn in a forest, school nature area, local park or your own backyard.
Get your copy of The Forest Classroom here and you'll be ready to head straight outdoors and enjoy teaching, using our ready-made lesson plans.