Try these fun transport themed learning activities, along with free printable car play mats!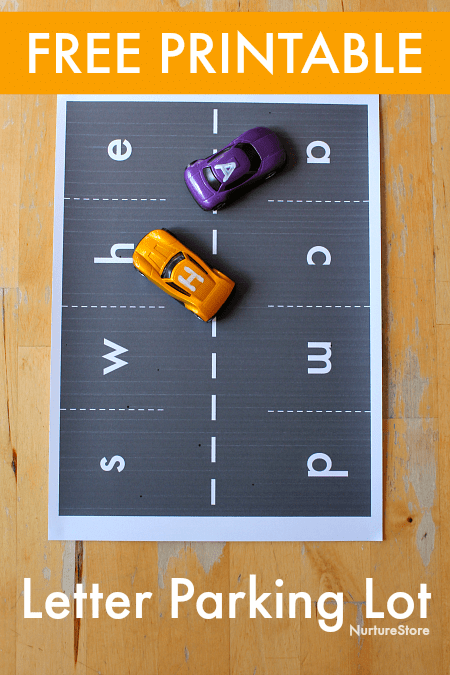 Car play mat printable for transport theme learning activities
---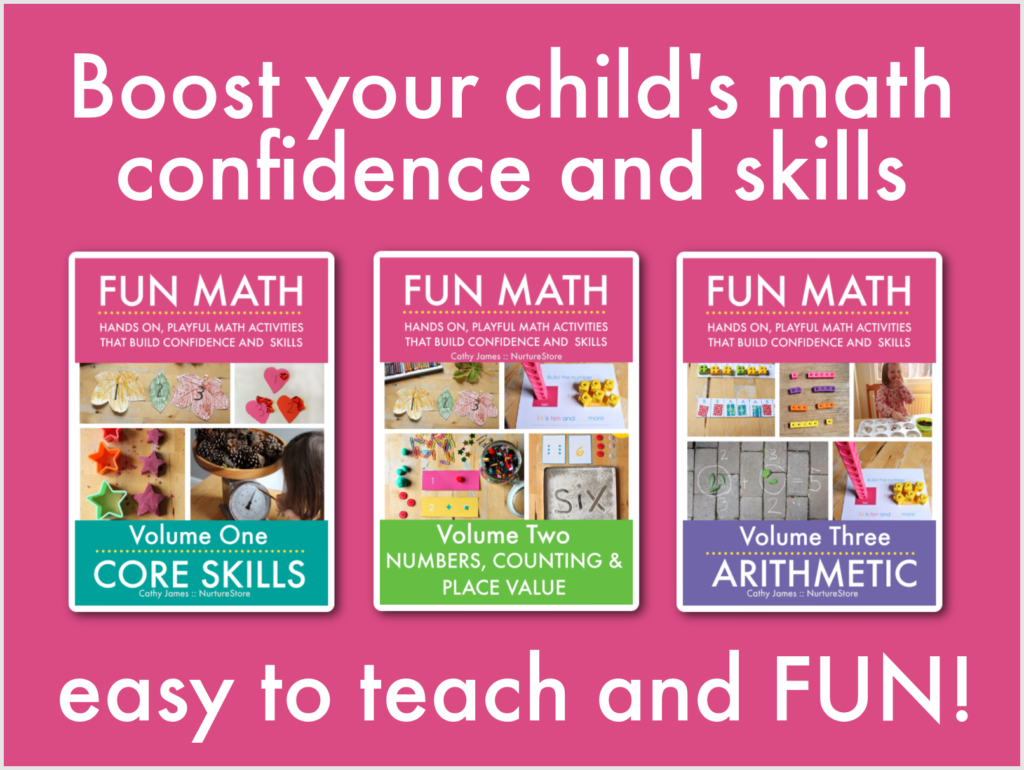 Magic Fun Math lessons!
Fun Math is an easy to teach, highly effective math curriculum based on play and hands-on learning.
All the lessons are designed to be fun and memorable, so children enjoy their lessons and feel confident.
The lessons are easy for teachers and parents to use, in class or at home.
These are the magic lessons where children really see, understand, and can apply math concepts. They are especially suited to children who don't like math, lack confidence, don't understand math the way they are currently being taught, or just want to play.
SEE MORE AND TRANSFORM YOUR MATH TEACHING HERE.
---
Print this collection of colour, number, letter, and word parking lot printables and practice math and literacy skills as you play!
How to create a literacy-rich environment
A literacy-rich environment is one that is filled with opportunities to see, hear, and use letters and words in action. It lets children experience language in context, sparks curiosity, and encourages them to use language in play, learning, and every day life.
To create a literacy-rich environment for our children we can curate an interesting collection of print and sound in our homes and educational settings. Posters, postcards, letters, maps, books, comics, signs, menus, leaflets, and labels all add opportunities to read, write, and talk.
You can use these carpark play mats to add literacy to your transport-theme learning and car-mad kids' play.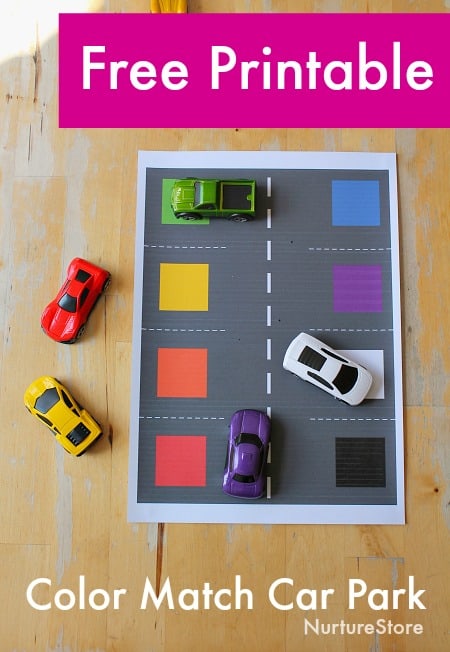 How to use these carpark printables
Print the carpark play mats (see how below).
You might like to laminate the cards for extra durability.
Set out the play mats alongside a collection of toy cars and invite your children to play.
You can use a permanent maker to write numbers and letters on the top of your cars, to promote more learning opportunities. Alternatively, stick a piece of sticking plaster or tape on the top of your cars to write on – then you can easily change the markings from number to letters to words, to suit your children's stage of learning.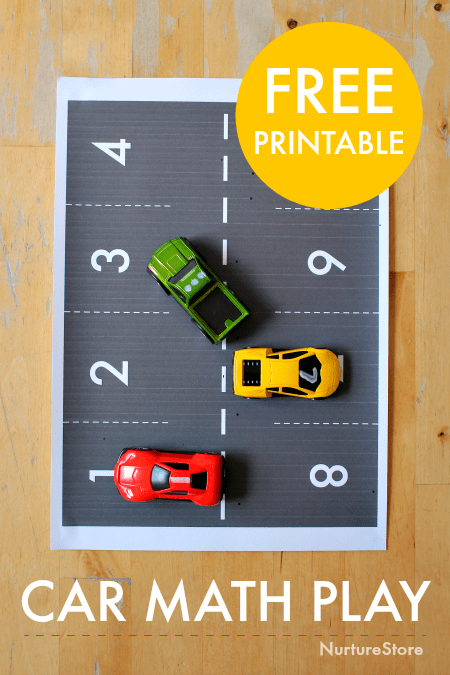 Five carpark options for matching, math, and literacy
The printable car play mats come in five versions:
:: a number version
:: a letter version
:: a first sight words version
:: a coloured version
:: and a blank version which you can fill to suit your needs.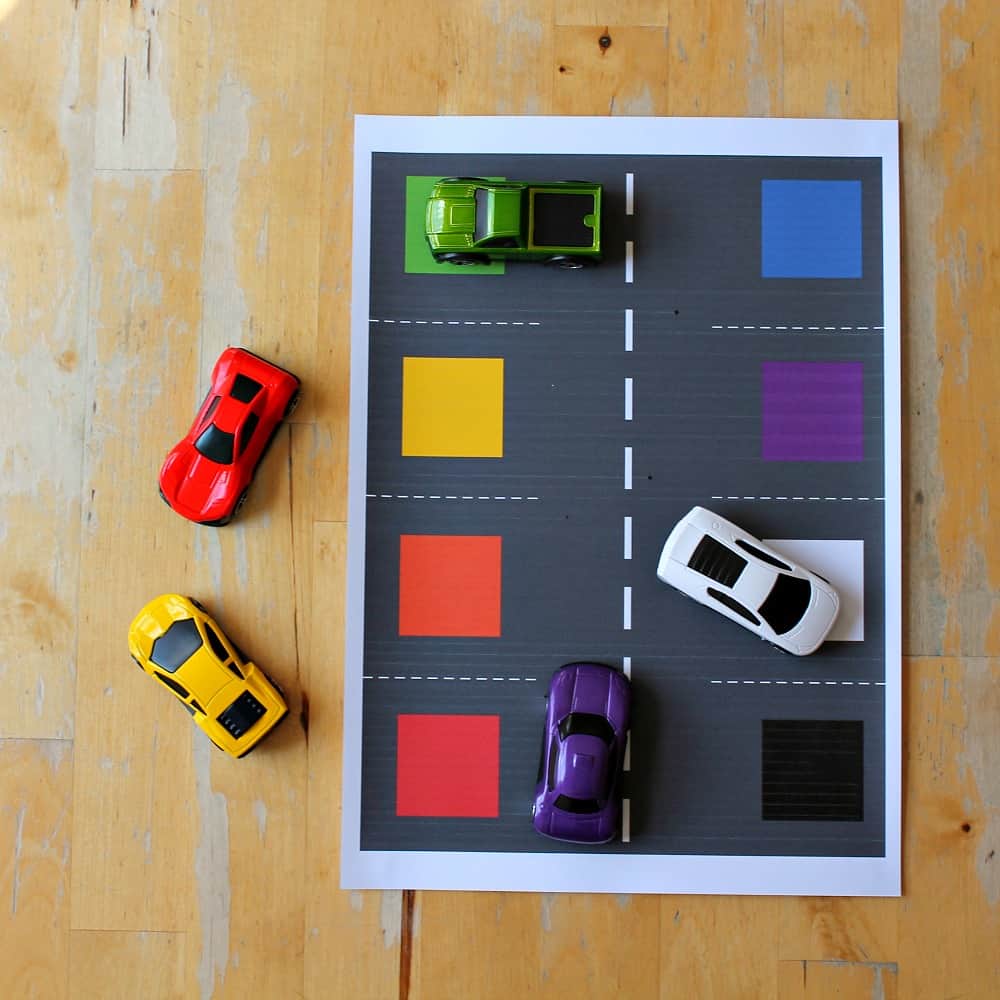 How to play parking games
There is so much value in free-play, where children are given space to direct their own play time. By mixing in letters and words with the loose parts and toys you have available for your children, you're encouraging them to notice print, to be curious about the symbols, and to begin to read and use them in their vocabulary and conversations.
Your children might also use these parking lot play mats to:
:: match their cars to the coloured parking spaces
:: park their cars in numerical order
:: match the letters/ words written on the top of each car to the corresponding parking space
:: match an upper case letter on their car with the lower case parking space
:: match a number of dots or tally on their car with the number parking space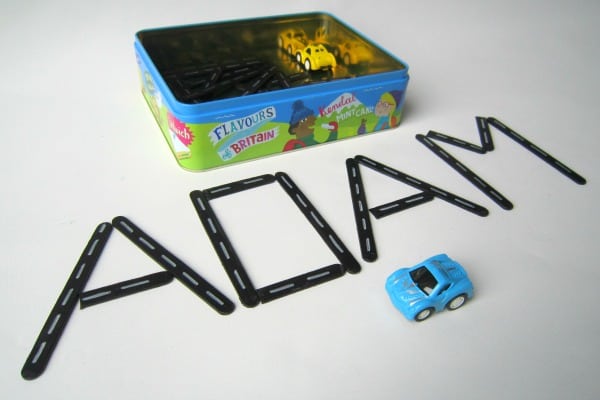 More transport themed activities
Try our other transport-themed activities to follow your car-mad child's interests:
:: build the alphabet with tracks
:: make your own ride-on vehicle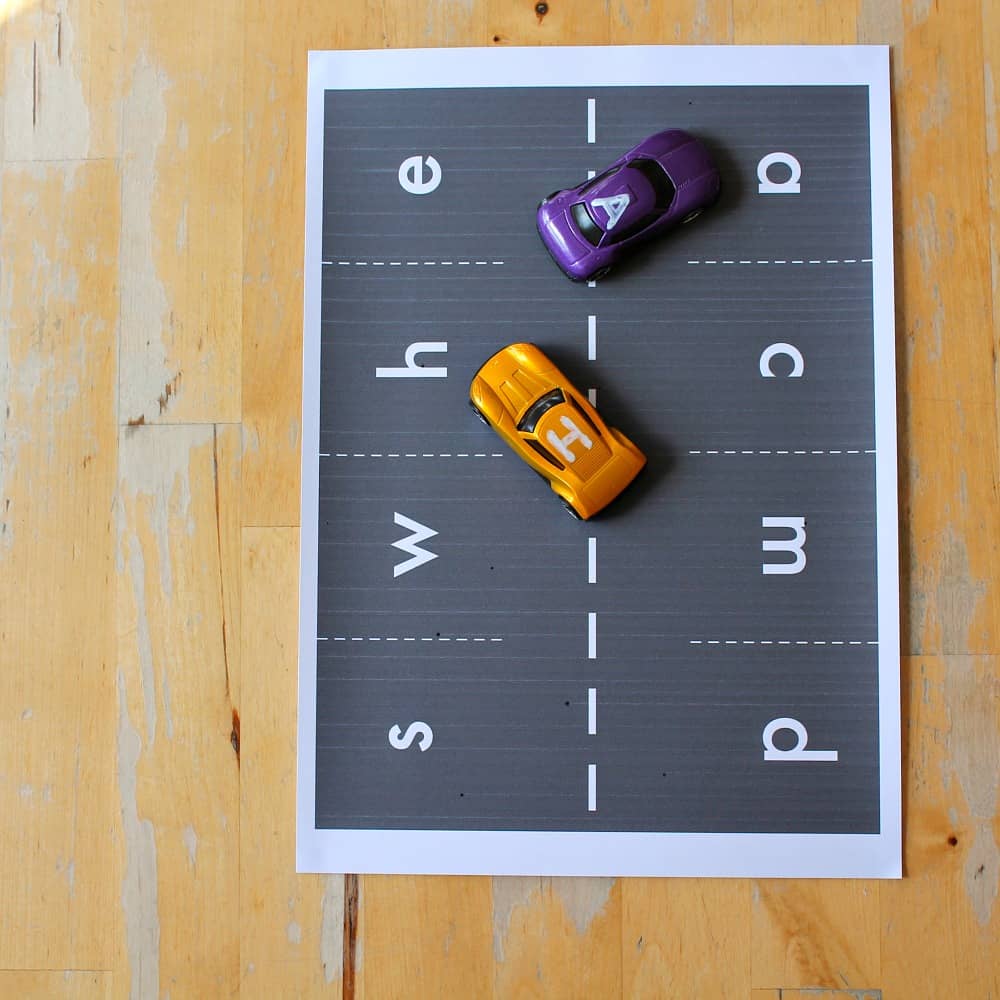 How to print the car play mats cards
How to get our free printables
To download my free printables, you'll need to visit the NurtureStore Printables Library, which is available to all subscribers to my email list, and of course to Play Academy members.
Pop your email address in the form below and you'll get access to all my free printables, lesson plans, activity ideas, weekly newsletter, and a whole lot more!
After subscribing, be sure to check for the confirmation email. After you confirm your email subscription, we'll send you a welcome email which includes instructions for downloading our free printables.
If you're already subscribed to our email newsletter: check your email for the latest edition of the newsletter where you'll find a link to access our free printables library - the link is usually at the bottom of the email.
For help accessing our printables, click here.
---
By subscribing, you consent to our use of your personal data as per our Privacy Policy, which includes agreeing to receiving interest-based email from us.
---
---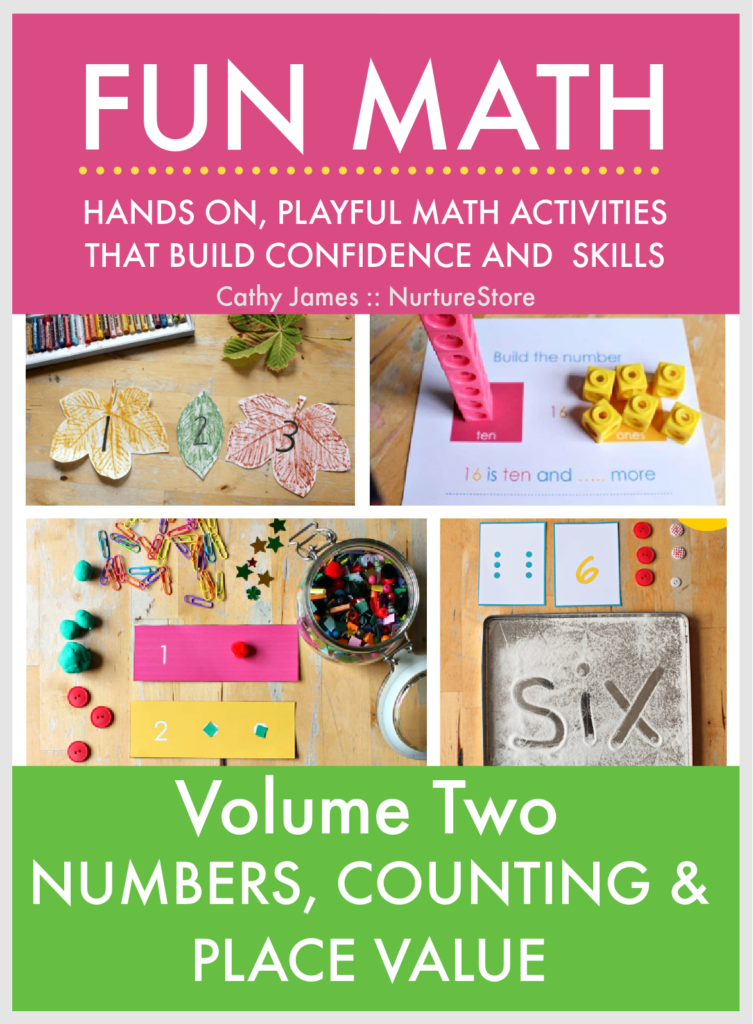 Transform your teaching with Fun Math
The Fun Math series gives you a math curriculum that is easy to teach and highly effective.
Children love these lessons because they are engaging and fun.
You'll have a clear set of ready-made math lessons and activities that are simple to lead using our step-by-step lesson guides, and which children really understand.
Be the best math teacher and boost your children's confidence and skills with Fun Math.
See more and transform your teaching here.
---