Explore colour and pattern with this math and art STEAM lesson.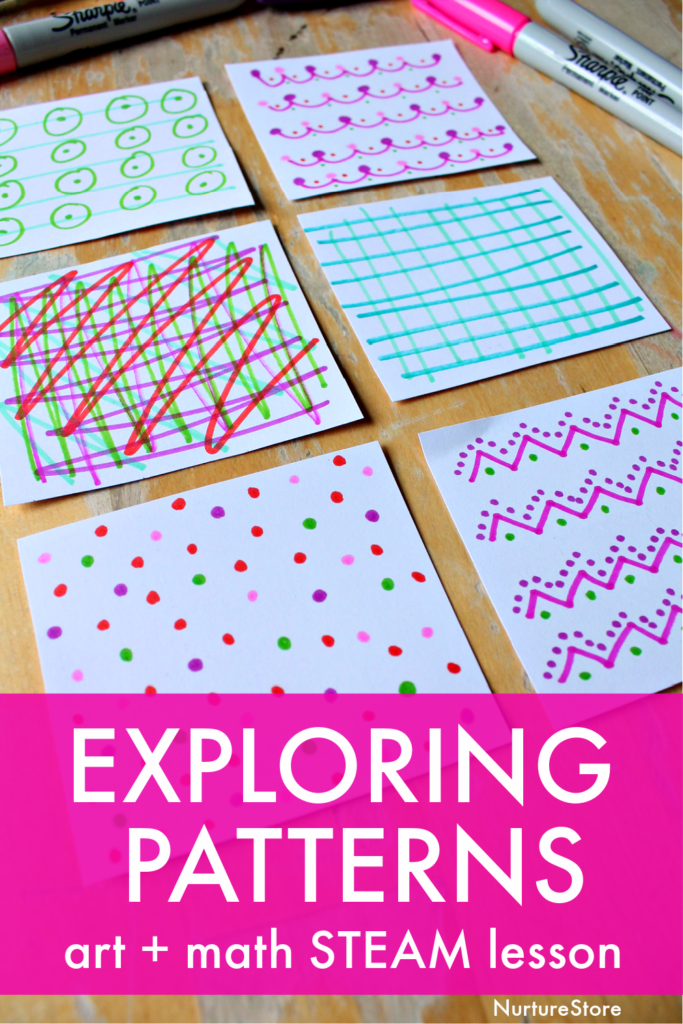 Easy math and art STEAM lesson about patterns
STEAM lessons are Science, Technology, Engineering, and/or Math lessons that combine the important element of Art, giving children a cross-curricula learning opportunity.
In this STEAM lesson we're exploring both math and art to learn about patterns.
Using simple materials – just card and pens – this is a great lesson to broaden a math curriculum, to add a fresh perspective to an art lesson, and is perfect as a stand-alone substitute teacher lesson for math or art.
In this lesson children can:
:: use marker pens to create patterns, working with colour, shape, line, texture, and spacing
:: pair art with math, exploring repeating pattern ideas
:: create simple patterns (ABAB) and more complex patterns (AABAAB or BBAAABBAAA etc.)
:: make a simple matching game
:: or make a collaborative art piece inspired by quilts
:: find more links to STEAM lessons and activities that explore patterns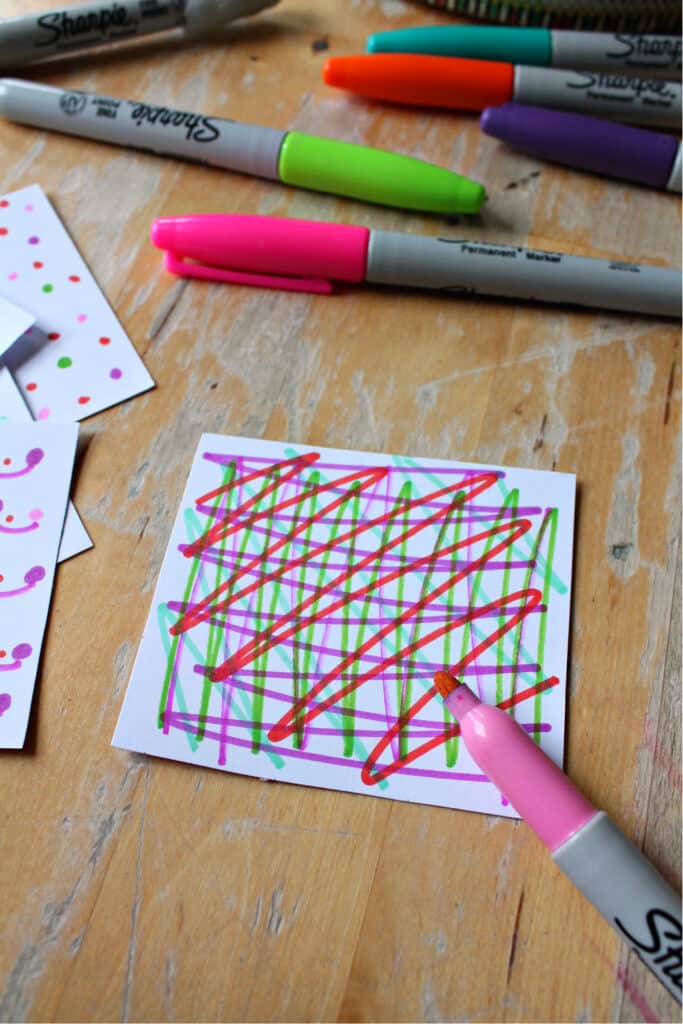 Materials needed
:: squares of card
:: coloured marker pens
:: scissors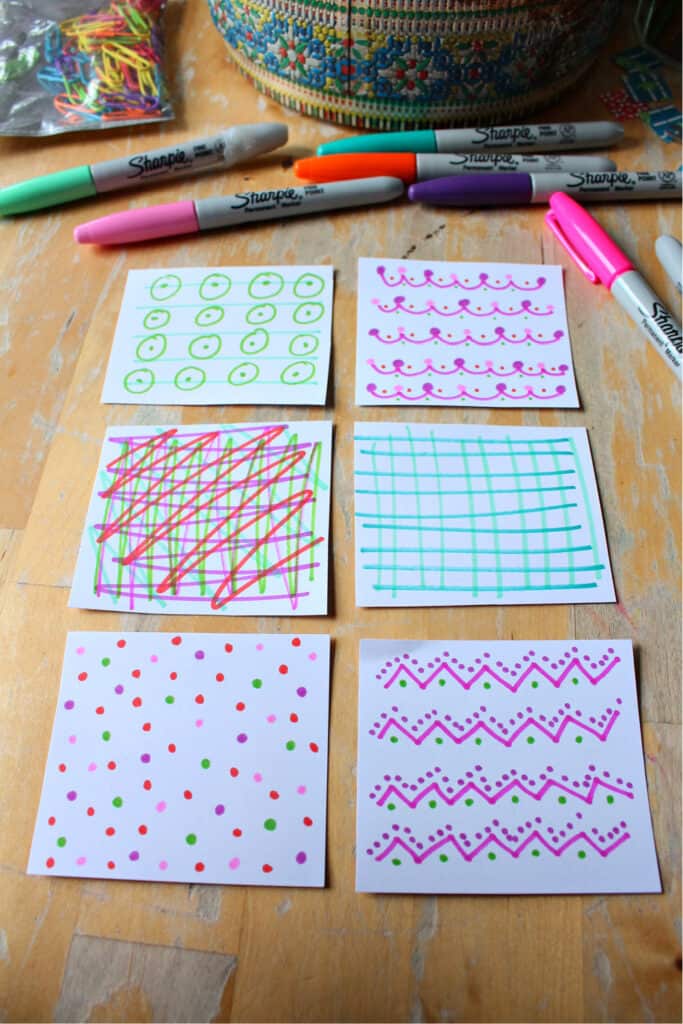 Creating pattern cards
Begin by giving each child four to six squares of white card.
Talk about all the different ways you can use pens to create different patterns using:
:: a variety of colours: shades of one colour or by mixing different colours: hot colours, cool colours, primary colours etc.
:: a variety of lines: all straight lines, horizontal and vertical, diagonal, curves, waves, zigzags, dots, dashes, scribbles
:: a variety of shapes: circles, rectangles, stars,
:: a variety of texture: overlapping colours, lines and shapes to create depth
:: a variety of spacing: placing marks close together or spreading them out, using lots of white space or hardly any
Invite your children to complete each of their square cards using a different pattern. Ask them to use the pattern ideas you have talked about to create patterns squares that all look very different from each other.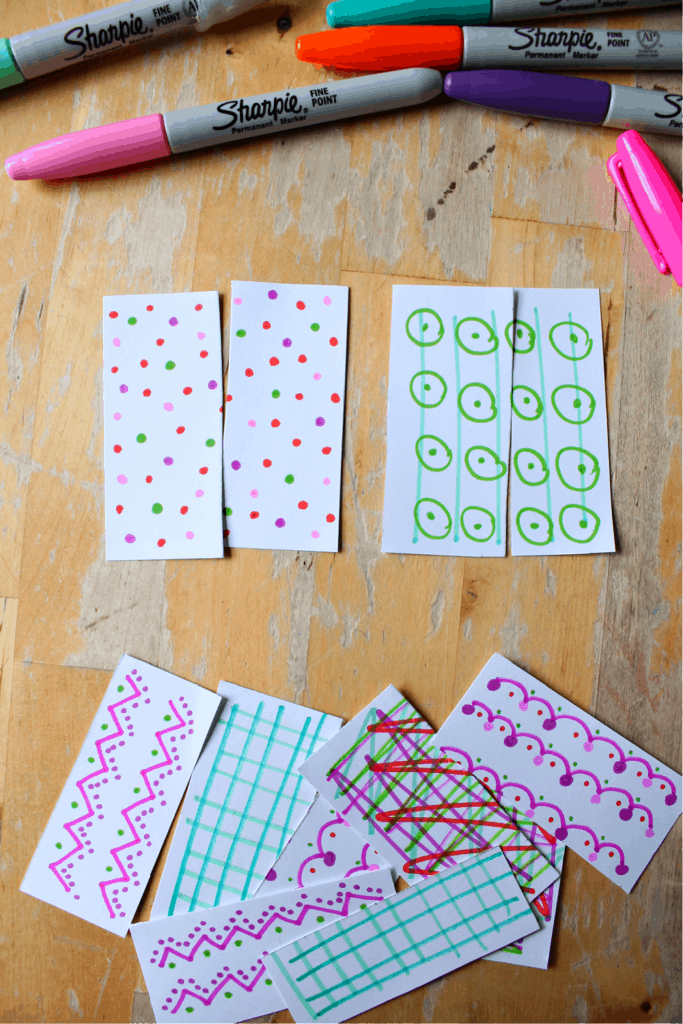 Simple pattern matching game
With young children, you can turn the cards into a simple pattern matching game. Simply cut each square in half, jumble them all up and see if you can put each pair back together.
Add an extra element by timing how fast you can match them or see how many pairs you can put back together in a minute.
You can also use the cards to play Memory: placing all the cards face down and taking turns to turn two over at a time. If they match, you get to keep the pair. If they don't, you place them both face down again and the next person has a turn. This is a great game to develop visual discrimination and memory skills.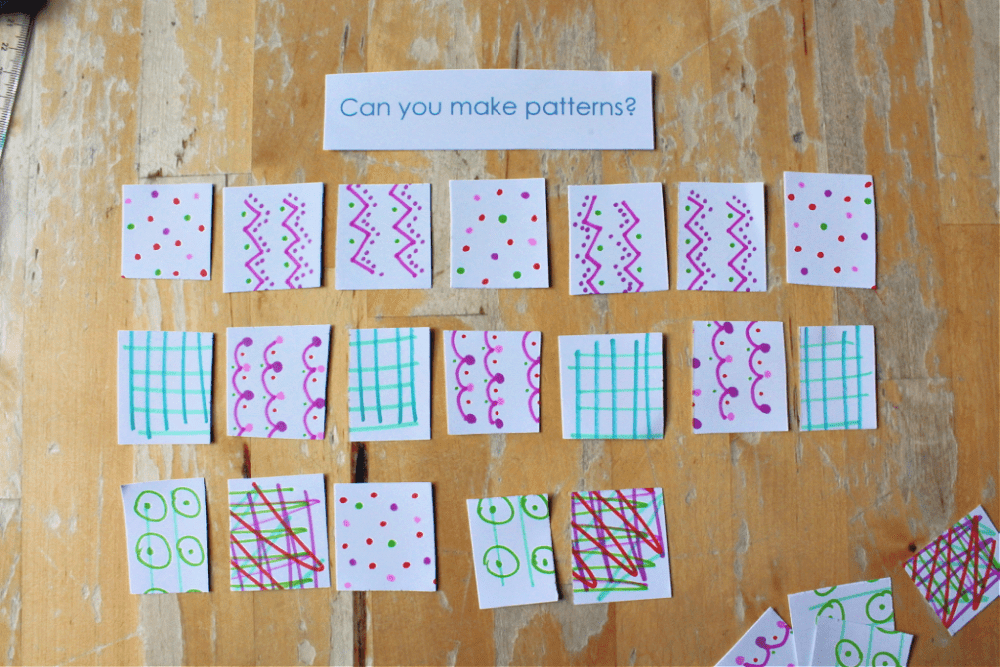 Create a pattern investigation station
You can also cut the cards into small pieces and use them as loose parts within a pattern investigation station.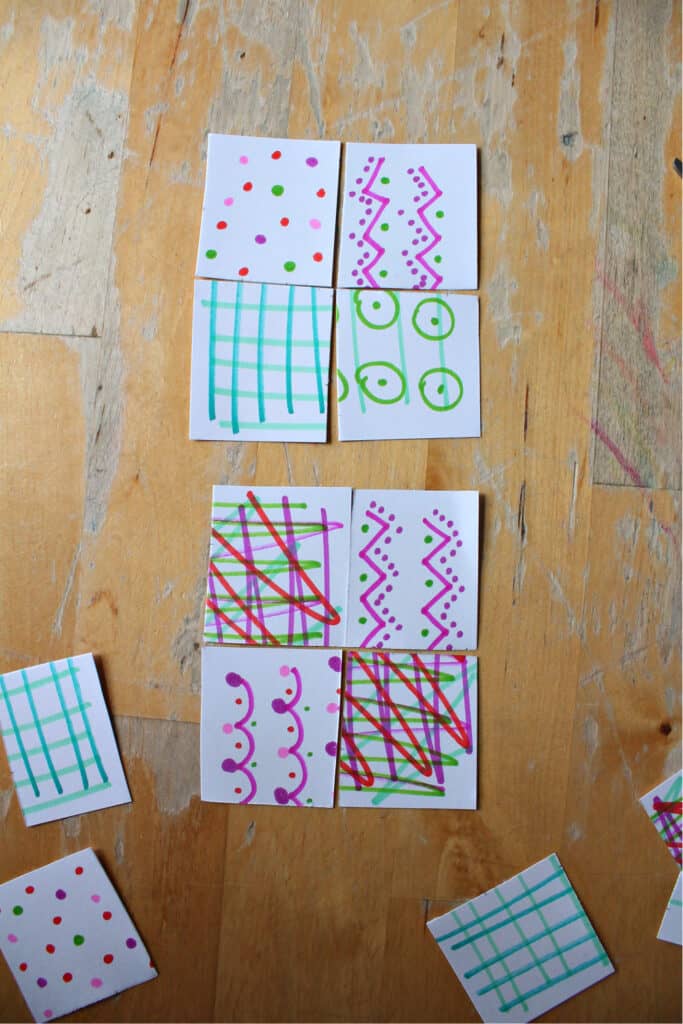 Make a collaborative quilt
The pattern cards can also be combined into a Classroom Quilt picture.
Cut each square into quarters and have the children swap pieces with each other. Work together to combine four quarters, from different children, into one whole square that features the four different patterns.
Then combine all the re-assembled squares together to create a large patchwork picture: a Classroom Quilt that includes art from every person, and which looks more beautiful as a whole as it reflects the diversity within your class.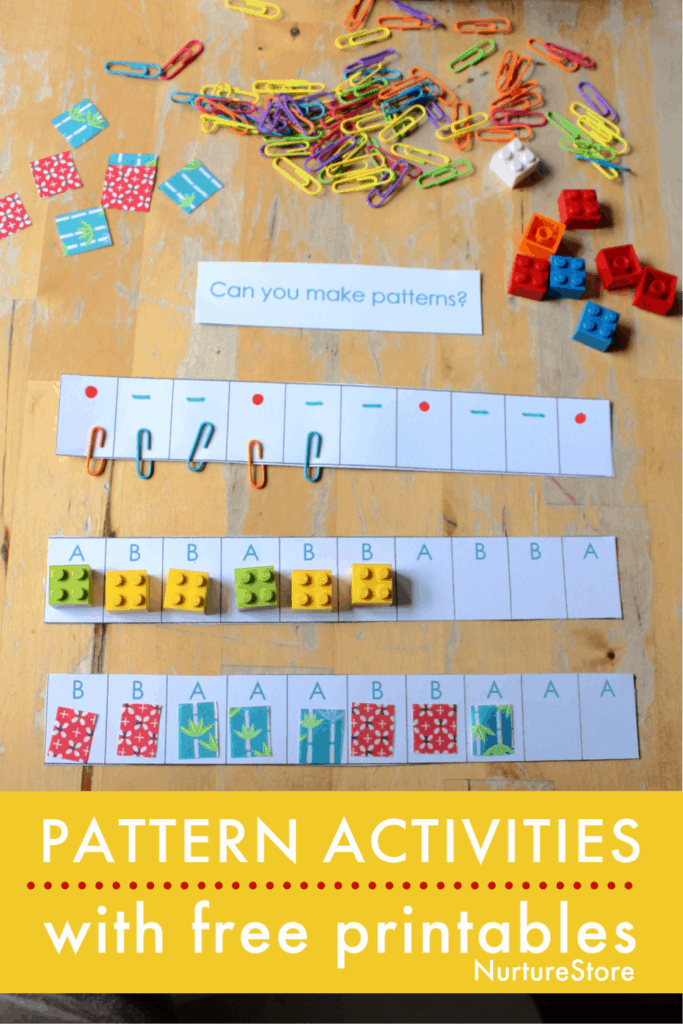 More pattern activities and free printables
Try these pattern activities too:
set up a pattern investigation station – with free printables
pattern stars math and art lesson
loose parts pattern card printables