This easy firework craft introduces children to printmaking techniques and is a great art project for Diwali, Bonfire Night, Fourth or July or New Year's Eve.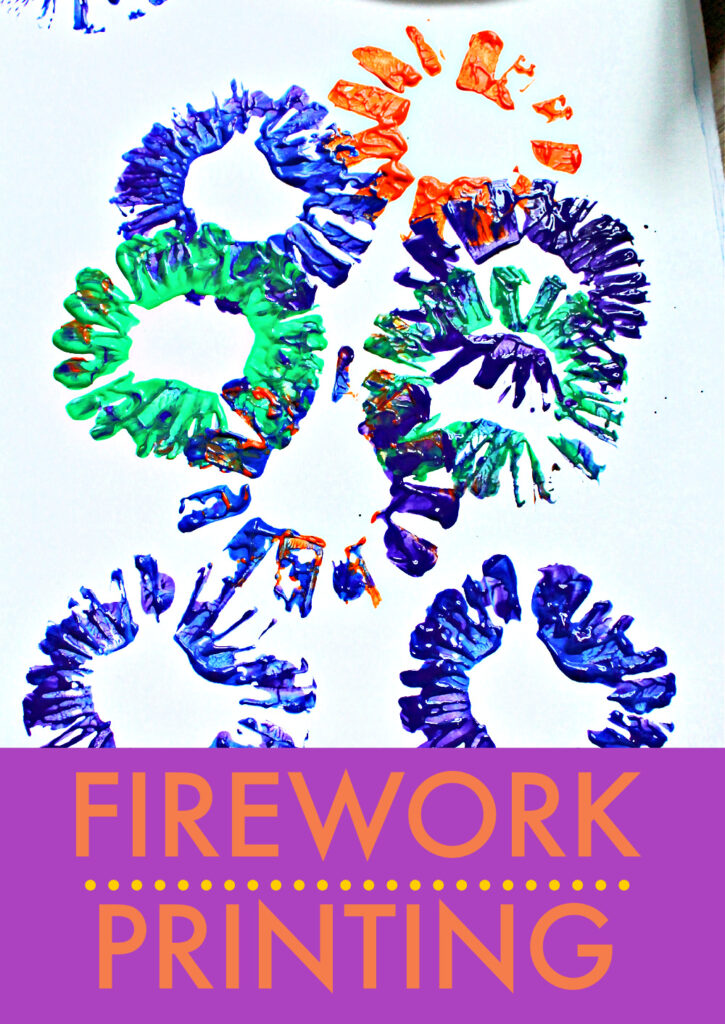 Easy firework craft using printing
Try this printmaking technique to create unique firework pictures: a great firework craft for Bonfire Night, the Fourth of July, Diwali or New Year's Eve celebrations.
Printmaking is a wonderful art technique for children, as everyone can make a successful print, whether they consider themselves to be good at art or not. No drawing skills are required, and children can think like creative scientists as they experiment with the technique.
In this article you can:
:: explore the art technique of printmaking
:: create a firework painting
:: find links to more firework crafts including 'exploding' fireworks and spinning Catherine wheel crafts
:: find links to more art lessons that show children how to explore different printmaking projects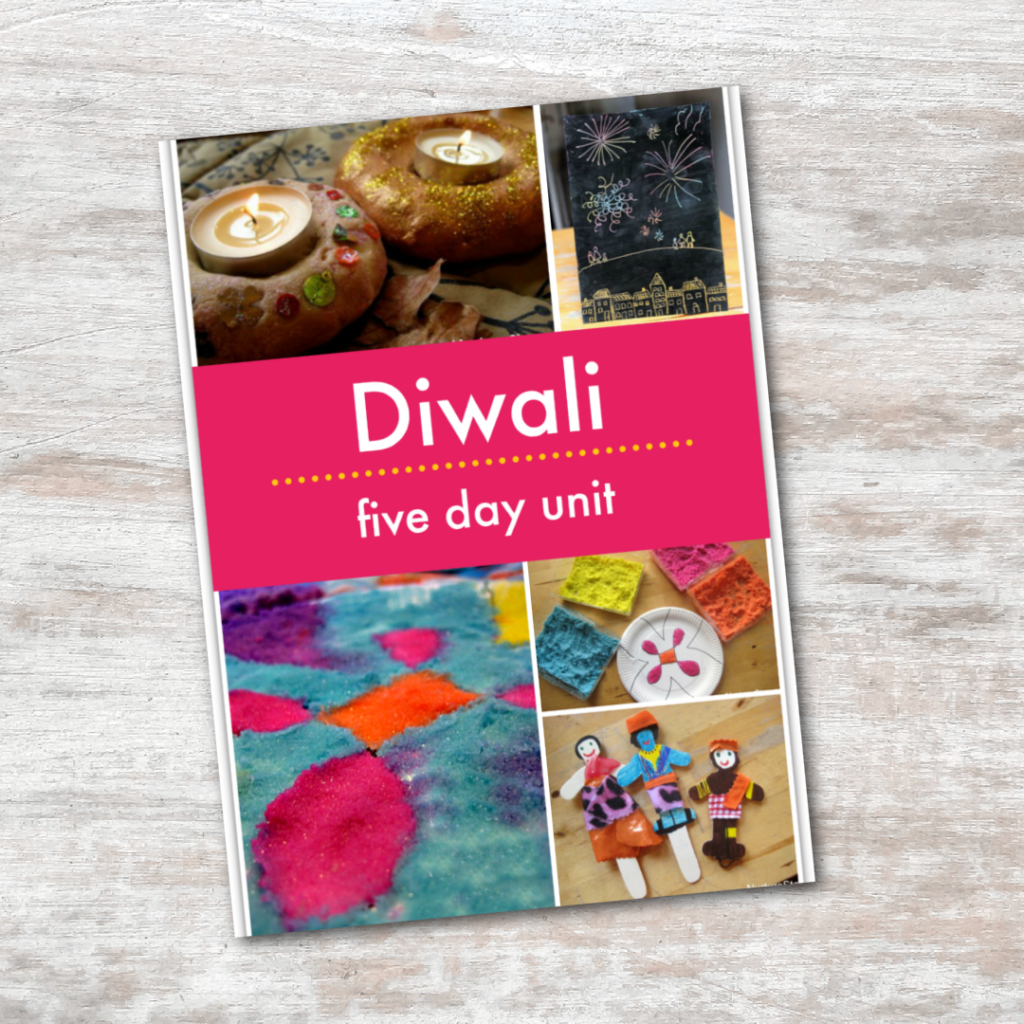 Ready-made Diwali Unit
If you're a member of our Play Academy you can download a ready-made five day Diwali Unit and you'll be ready to lead a week of fun and educational Thanksgiving activities with your children.
This Unit is part of our Festivals specialist curriculum pathway, and is a part of a set of ready-made units you can use to teach your children about the festivals of the world all through the year. Based on the teaching philosophy of hands-on learning, the Play Academy festivals curriculum is engaging, effective and loved by children.
See more details of this Diwali Unit, and all the other specialist curriculum pathways and ready-made units you can choose from, in the Play Academy here.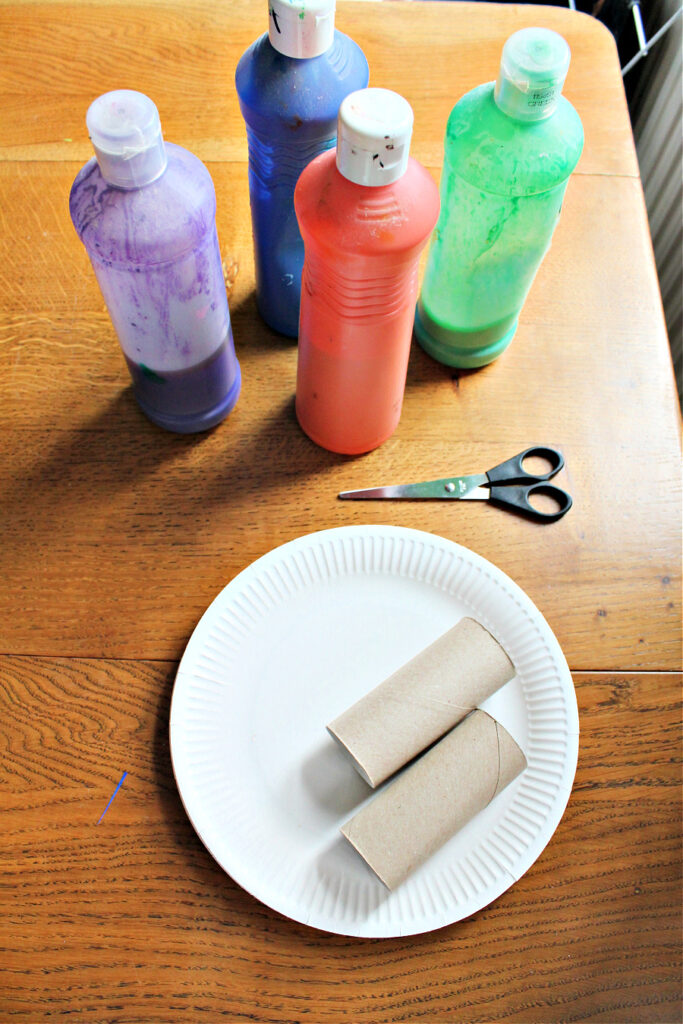 Materials needed
:: piece of card (dark blue or black if you want to make a night sky)
:: paper rolls (such as toilet roll and kitchen roll inners)
:: scissors
:: paint in a variety of firework colours
:: (paper) plates to hold the paint
:: glitter (optional)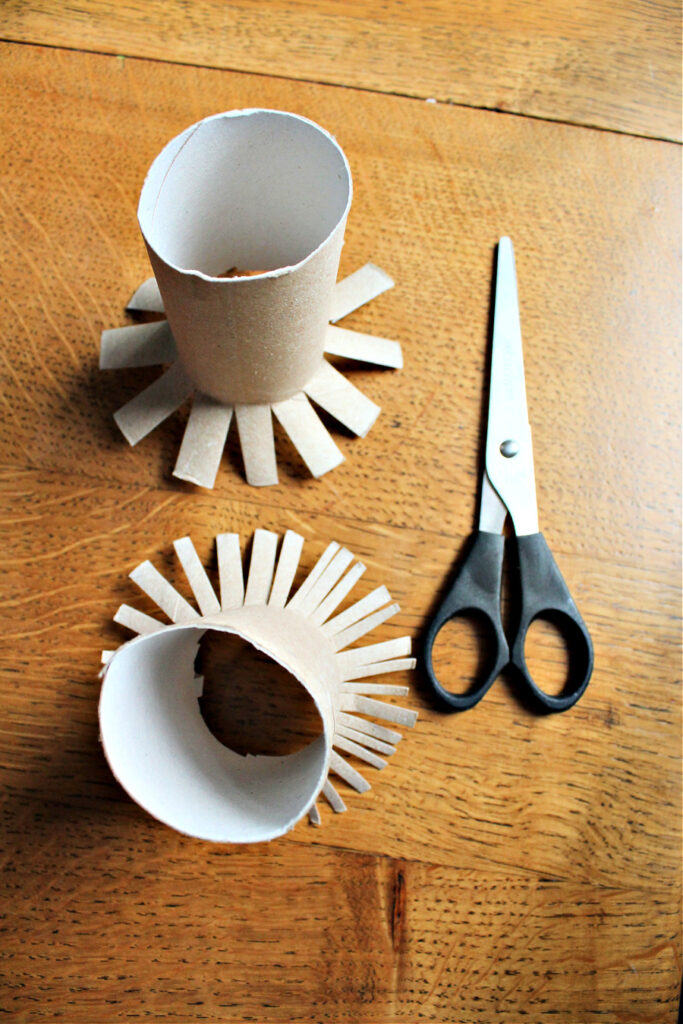 How print fireworks using a paper roll
First prepare your tools for printing. Take a paper roll and use scissors to cut small slices into one end: see photo for reference. Try to make all the cuts the same length.
Then, fold back the cut edge of the paper roll, to create the burst of the firework around the tube.
Make several of the paper roll stamps in the same way. You can make firework stamps for bigger and smaller firework bursts by cutting shorter and longer slices into different paper rolls. For each individual stamp, keep the scissors cuts the same length all the way around the paper roll though, so that the cut edge can fold back evenly, giving you a good print.
You can also vary how far apart you make each cut, giving you some fireworks with wide ray bursts and some with narrow ray bursts. See photo for examples.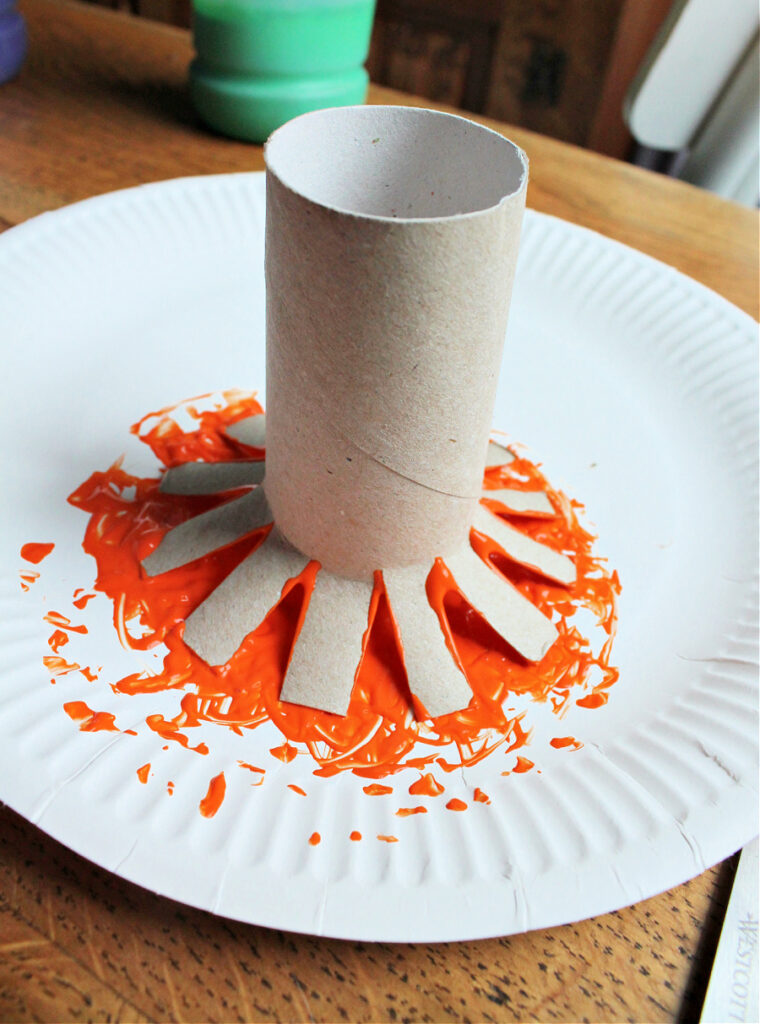 Firework printmaking experiments
Then pour a little paint out onto the plates. You can keep each individual paint colour to an individual plate, or mix the colours together on some plates.
Dip the folded back section of your firework stamp into the paint and then press it down onto your paper to create a firework print. Repeat the process of dipping into the paint and stamping on to your paper to crate your design.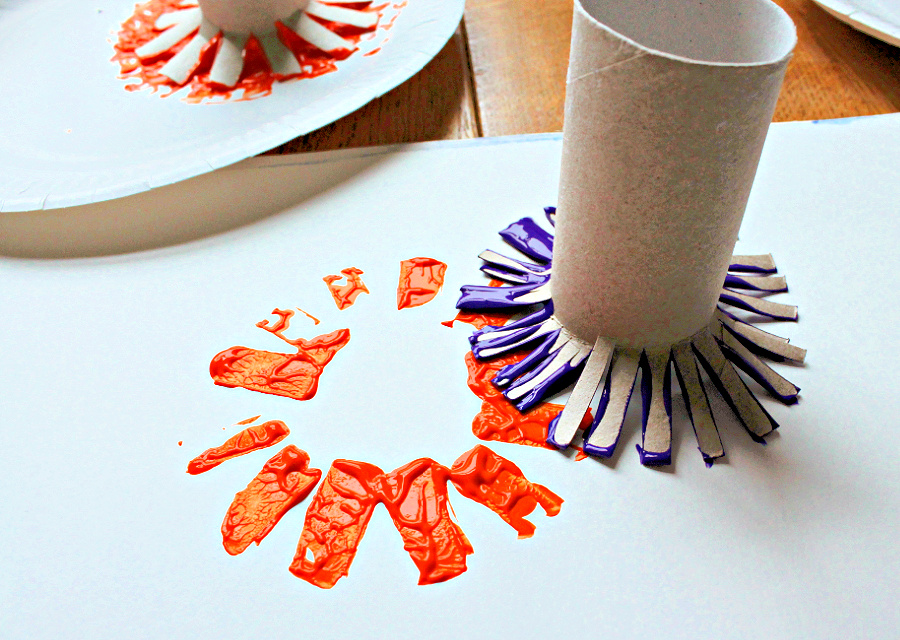 Experiment to see what kind of prints you can make:
:: try making several prints before re-applying paint
:: try overlapping prints, overlapping the edges of the fireworks or overlapping the very centre of the fireworks to create a multi-coloured burst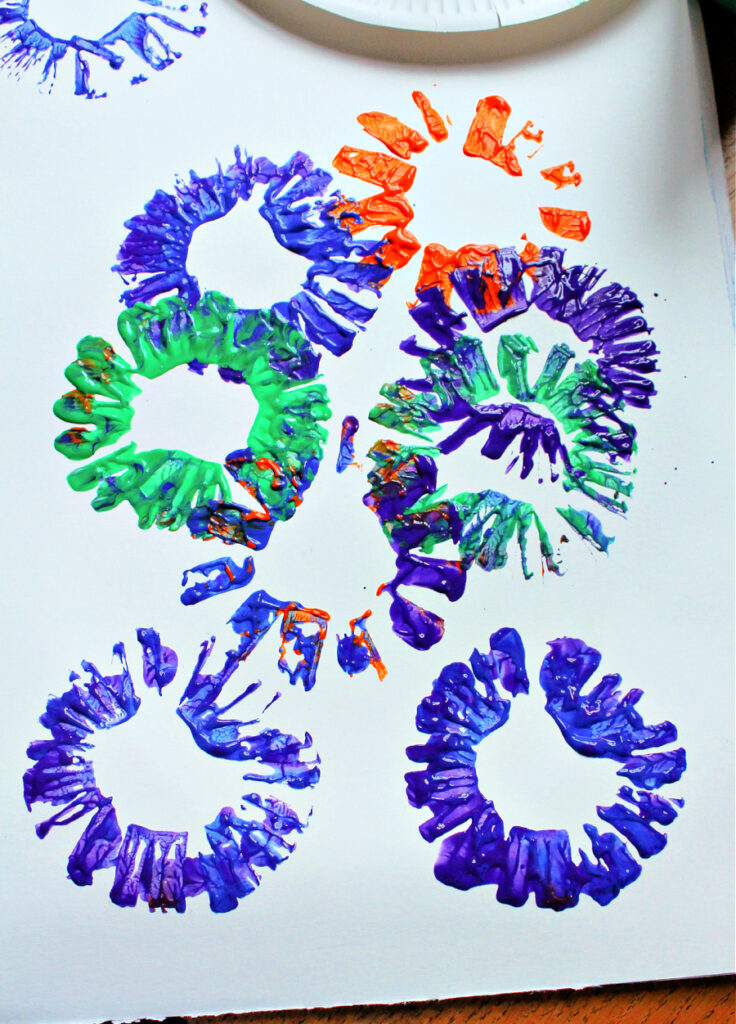 :: try mixing colours, adding a few colours of paint to the end of one stamp
:: add (biodegradable) glitter if you like
Enjoy creating your own design of a night sky full of fireworks.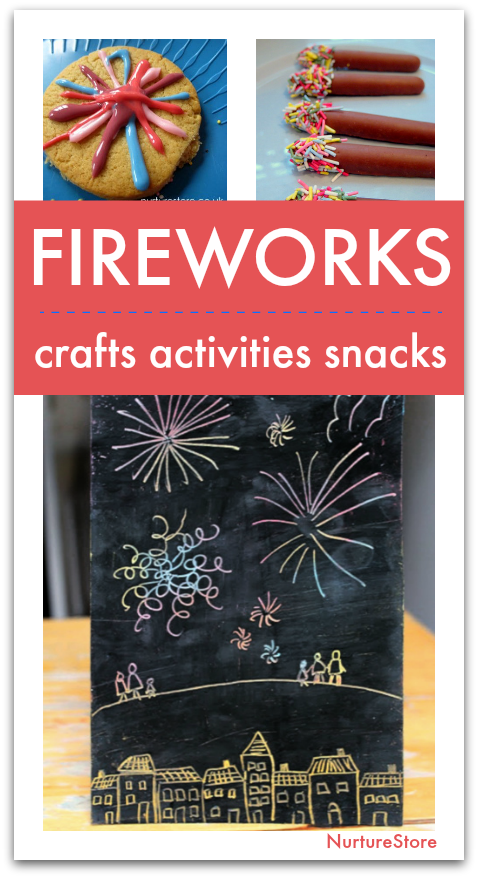 More firework crafts
You can also use these firework crafts and activities to make scratch art firework pictures, spinning Catherine Wheel fireworks, 'exploding' fireworks, and more.
Love printmaking? Try chalk printing, mushroom printing and make your own art stamps.
Plus, see our Diwali crafts and activities to learn about the Indian festival of lights.
And use our New Year's Eve crafts and activities to celebrate New Year's Eve with your children.