Turn the classic autumn craft of leaf rubbings into a useful math display by making a leaf number line.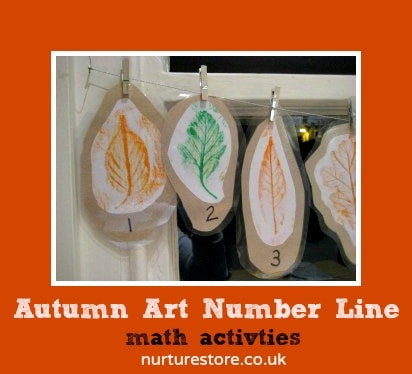 How to make a number line – autumn leaf rubbing craft
1. On a dry Autumn day, take a nature walk and collect an assortment of fallen leaves – lots of different shapes, colours and sizes.
2. Talk with the children about the leaves, why they fall, how the trees change appearance. What colour leaves have you found? What different shapes and sizes? Do you know the names of the trees they have fallen from?
3. When you get home make rubbings of some of the leaves. Place the leaf flat on the table with a piece of paper on top. Using a wax crayon (in autumnal red, green, brown, orange or yellow) carefully rub over the hidden leaf and watch the print emerge as if by magic. Use the flat length of the wax crayon rather than the end you would use when writing. Make rubbings of  10 leaves of different shapes and sizes. Using two colours on some leaves looks good.
4. Cut out the leaves and stick them on to a piece of paper or card in a contrasting colour. Cut around each leaf on this paper/card, leaving a small border to frame  each leaf.
5. Work with the children to arrange the 10 leaves in a line, starting with the smallest leaf and progressing to the biggest. Then write the numbers 1 to 10, one on each leaf, working from the smallest to the largest. This helps the children see the numbers as increasing.
6. We laminated the leaves to make them sturdier, but this is optional.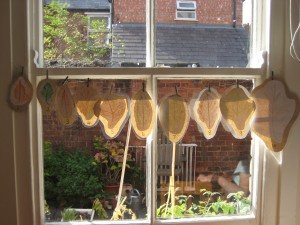 7. Stick your leaves up! We used a string and tiny pegs (the type you can get to hang up Christmas cards). Place them somewhere prominent that the children will see frequently and refer to them – for example to count out how many plates you need at lunch time. The children will soon start talking about the numbers and recognising them.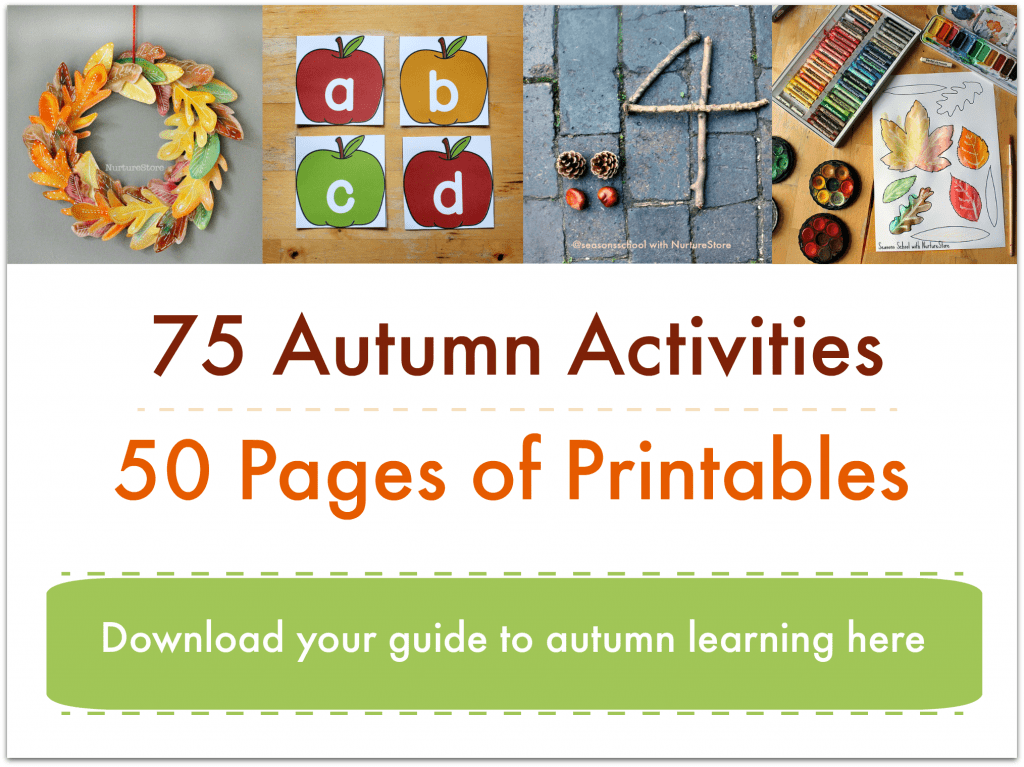 Everything you need for autumn learning, all in one place 
:: over 75 engaging activities and lesson plans that your children will love
:: 50 pages of printables that make teaching so easy
:: weeks worth of learning all planned for you, to take you right through the season
CLICK HERE TO DOWNLOAD YOUR AUTUMN PRINTABLES NOW!