This DIY Christmas memory game is super simple to make, and you can use it in a variety of ways, for children of different ages. Here's how: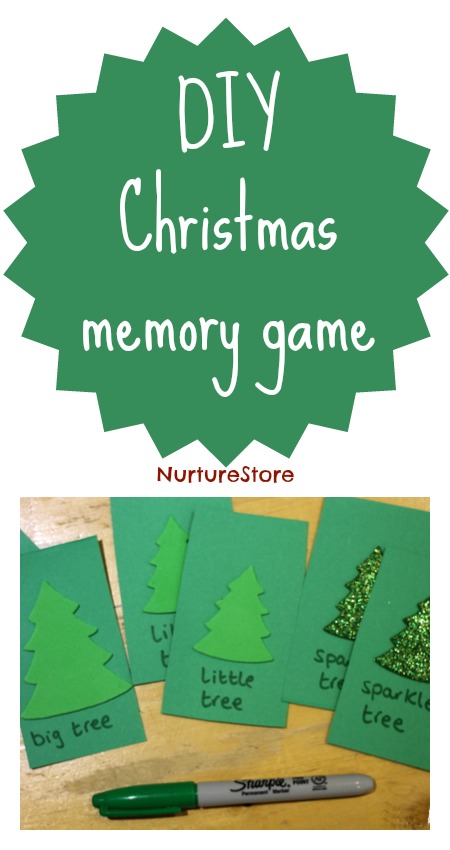 QUICK RESOURCE >> Download your ready-made Nativity Unit here
DIY Christmas memory game
To make our matching memory game, I used some of the stickers from a tub I bought at the craft shop, but any matching images would work ~ cut from a magazine, old Christmas cards, wrapping paper… You just need to have an assortment of matching pairs.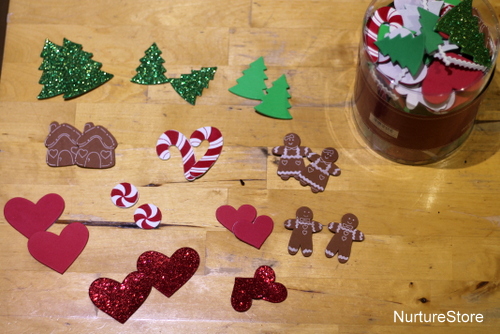 Then cut out some pieces of card and put one sticker or picture on each one. Make sure all your card pieces are the same size and colour, otherwise you'll be able to cheat when you play!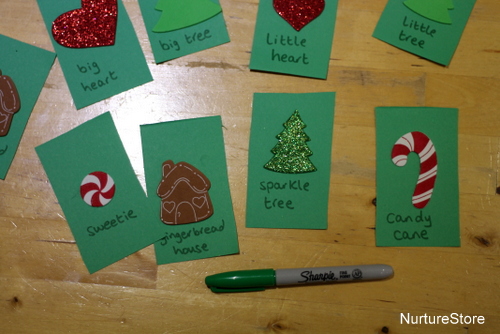 It's always good to add in some reading to anything you're doing with your children. Even pre-readers are learning that those wiggly lines do mean something. So, add in a word or two for each card.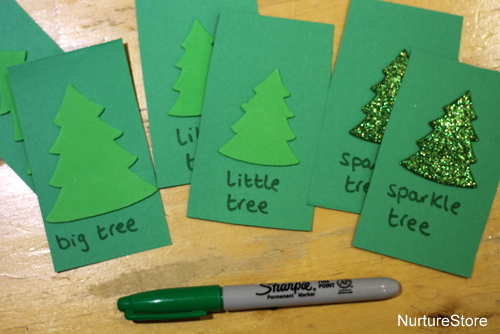 You can add in some extra vocabulary and interest by using a few images which are similar, but have certain differences to watch out for – so here we're thinking about size, texture, and appearance too.
How to play with your Christmas cards
For younger children, you place all the cards face upright and simply see if you can pick out the matching pairs.
Or give some verbal clues and see if they can use their listening skills to find the right card.
I spy the card that has a stripy picture on it, I spy the card which has something you can eat on it…
See if your child can give you some clues to follow too.

How to play a memory game
With children a little older, you can use the cards to play memory games
Version one: which card is missing?
Place a selection of cards face upright and have a good look at them for one minute.
Then, have your child close their eyes, while you remove one of the cards.
You might like to jumble all the remaining cards around a bit, to add an extra challenge, or leave them exactly where they are.
Your child can now open their eyes and take the memory challenge: can the remember which card is missing?
Let them take a turn at removing a card to see if you can remember which one has gone too. As children get more skilled at remembering you can use a larger number of objects or remove two items at a time.

Version two: matching pairs memory game
For this matching pairs memory game, spread out all the cards face down.
Each player takes it in turn to flip over two of the cards.
If the cards don't match, they leave them in the same place, and flip them back so they are face down again.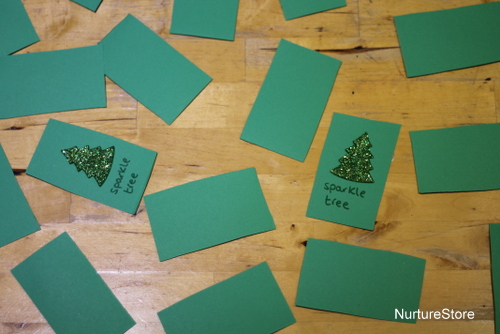 If they find a matching pair they get to keep them, and the next person takes their turn to flip two over.
Keep taking turns until all the matching pairs have been found. The person with the most pairs is the winner.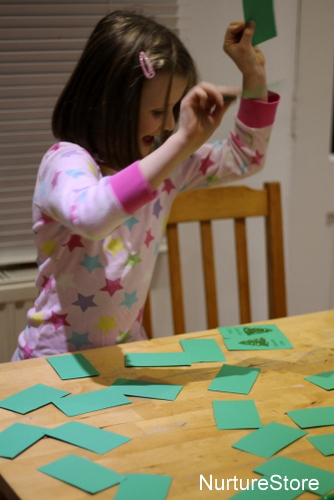 What children are learning as they play
These are simple games to set up but they offer lots of learning potential as you have fun playing.
– children learn the etiquette of playing a game: taking turns, following rules, being a gracious winner or loser
– there's lots of language play you can incorporate, especially as you give clues to describe cards to spot
– matching up pairs from an assortment of images practices the important skills of classification, spotting patterns and making connections
– memory games help children develop a good visual memory and to recall information – important skills for reading and maths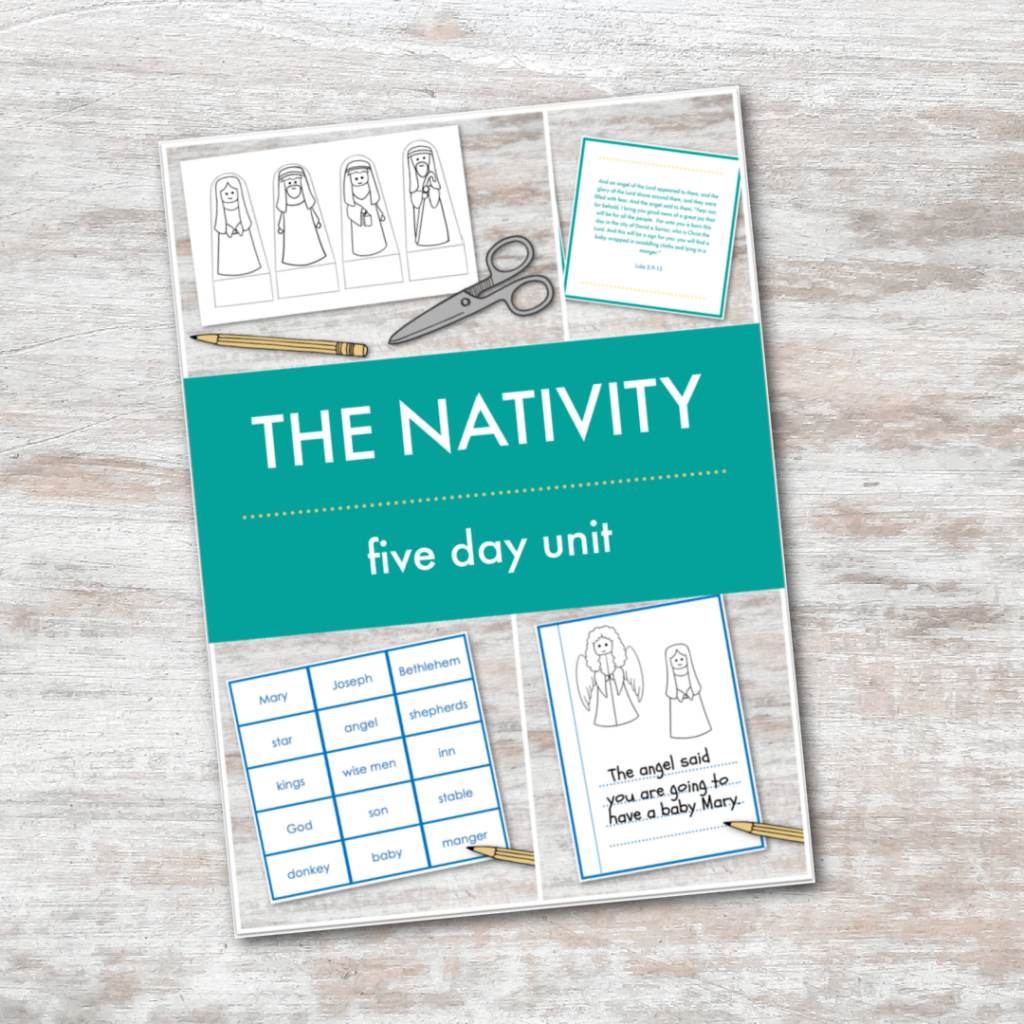 Download your ready-made Nativity Unit
Download the Play Academy's ready-made Nativity Unit and you'll have everything you need to lead a set of activities to introduce your children to the Nativity story.
This Unit includes artist-drawn puppets/colour-in nativity scene characters and printable Bible verse cards, that your children can use year after year.
In this Nativity teaching unit your children can:
:: learn about the Nativity and create their own Nativity book or small world scene using colour-in puppet / nativity scene characters
:: learn about Mary and Joseph's journey, and explore junk modelling
:: learn about the shepherds role, and explore loose parts
:: learn about Jesus' birth
:: learn about the three wise men, and complete their book / re-tell the story in their small world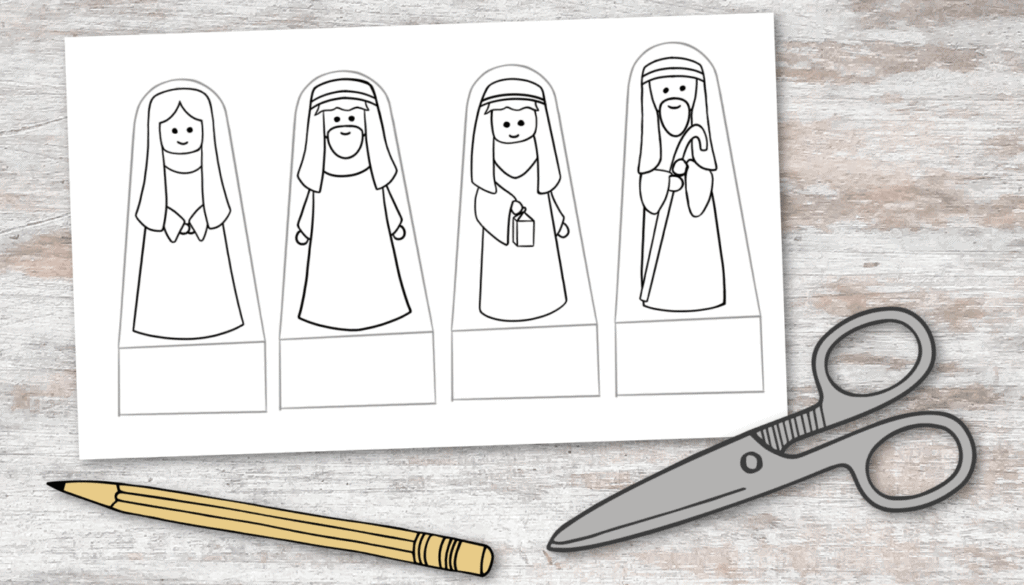 Bonus Nativity thematic unit printables
The Play Academy's thematic units come with practical printables that make the lessons more engaging for your children and easier for you to teach.
No need to go searching for printables to accompany your lessons, they're all included when you download your chosen unit.
In this Nativity Unit you'll receive these bonus printables:
:: My Nativity Story book to write, colour and complete to tell the Nativity story
:: a set of artist-drawn My Nativity Puppets to colour, cut out and use to re-cap and act out the Nativity story
:: Nativity Vocabulary Cards to recap and consolidate learning
:: Nativity Bible Verse Cards to read, narrate your own acting out of the story, and perhaps to memorise
How to download this Nativity thematic unit
You can download this unit along with over 50 more from NurtureStore's Play Academy.
If you are already of the Play Academy, you can download this unit straight away from our Library here.
If you are not yet a member, find out more and choose your first unit here. Your teaching is about to get a whole lot easier!