This set of pancake maths activities combines counting, measuring, graphing and estimating in a hands-on, real-life math adventure that starts off with eating pancakes! It's a super fun math idea you can try at home, and is an especially good activity for children who don't like math.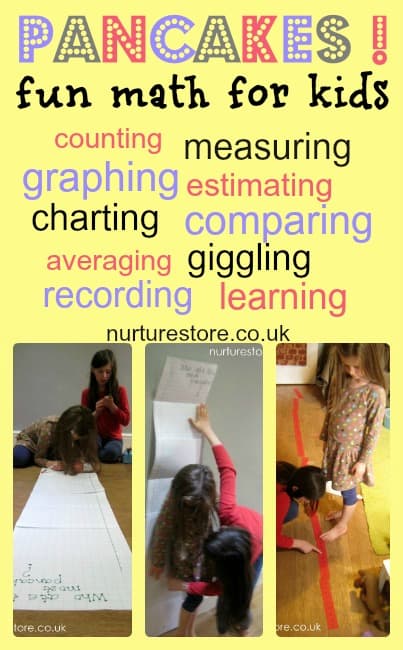 Pancake math activities

---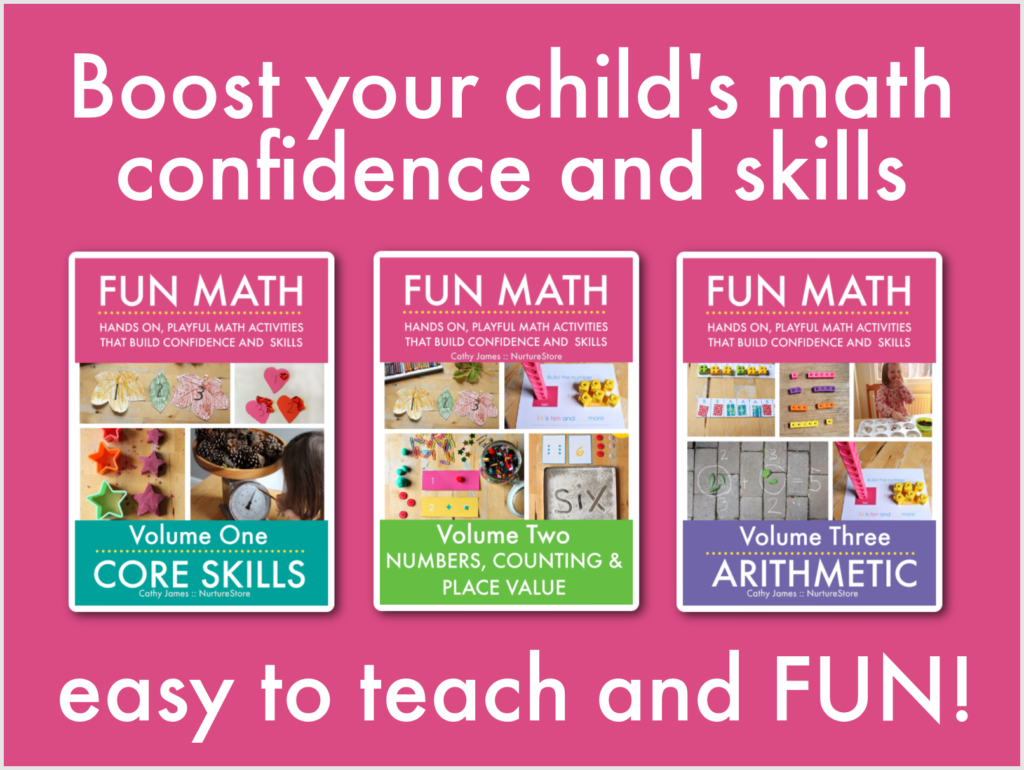 Magic Fun Math lessons!
Fun Math is an easy to teach, highly effective math curriculum based on play and hands-on learning.
All the lessons are designed to be fun and memorable, so children enjoy their lessons and feel confident.
The lessons are easy for teachers and parents to use, in class or at home.
These are the magic lessons where children really see, understand, and can apply math concepts. They are especially suited to children who don't like math, lack confidence, don't understand math the way they are currently being taught, or just want to play.
SEE MORE AND TRANSFORM YOUR MATH TEACHING HERE.
---
This week we discovered the essential ingredient for fun maths for kids….. pancakes! With some clever added extras, we've turned our breakfasts into some maths activities the children have loved. They've been counting, measuring, graphing, estimating, charting, giggling and learning. Here's how:
The very best bit came first: eating pancakes! We used this perfect pancake recipe and the children helped out counting eggs, weighing flour and measuring milk.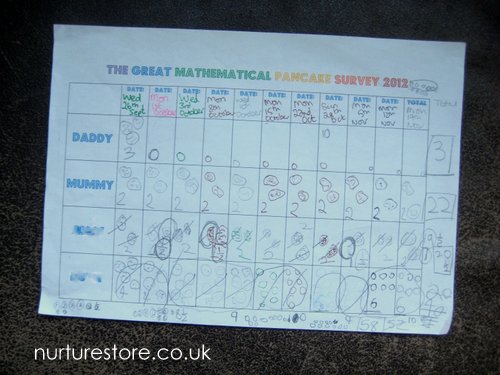 Every time we had pancakes for breakfast we recorded how many we ate on a simple chart that we kept on the door of the fridge. This let us learn about dates and days of the week, use the columns and rows of a table and record our data. Little sister worked on writing her numbers correctly, big sister worked estimating how many pancakes were being eaten and the average eaten each day.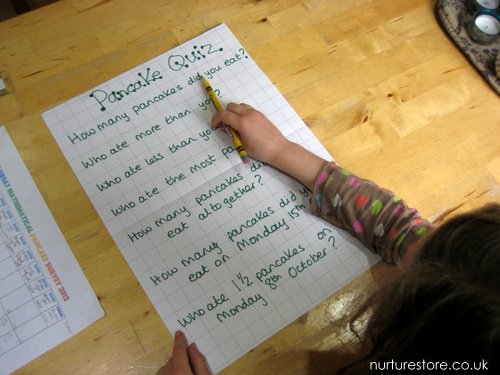 Once we'd completed our Great Mathematical Pancake Survey of 2012 we used our results  to add in lots of fun maths activities. First up – a quiz. We looked at the concepts of more than, less than, addition, fractions and interpreting the data in our chart. But the thing the children really wanted to know was how many pancakes we'd eaten all together!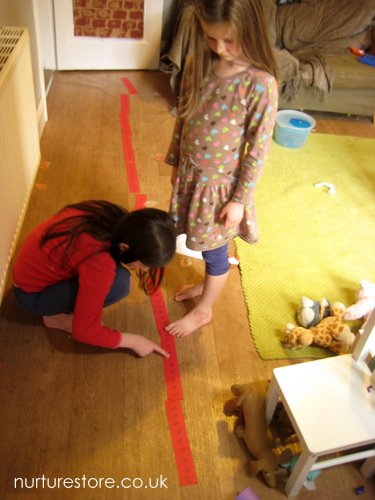 So, we added them all up. A number line is super useful in many maths activities. Ours here is made up of strips of paper numbered from one to 100, which we can lay out wherever we are working. B used it to help her little sister add up the total number of pancakes eaten.  (Working with children of different ages can be very beneficial to all. Younger children get ideas from the older ones, and the older ones get to consolidate what they know by 'teaching' it to the others.)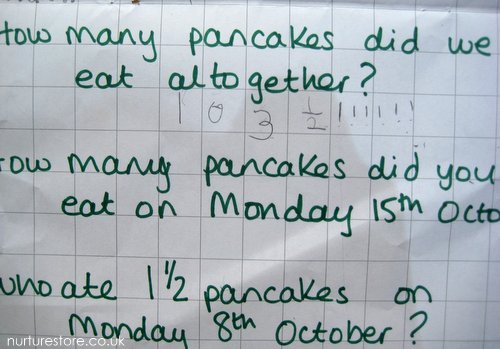 And boy did we eat a lot!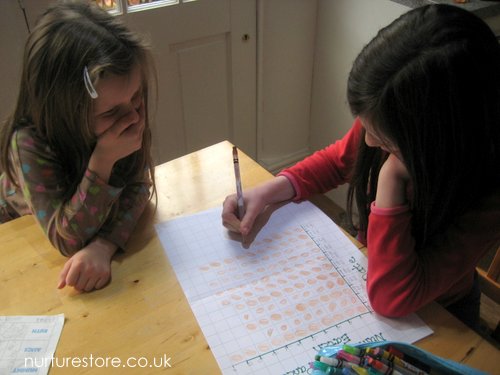 Then we did some graphing, manipulating data from our first chart. We added up how many pancakes we'd eaten on each day of our survey. L's laughing at how many B ate.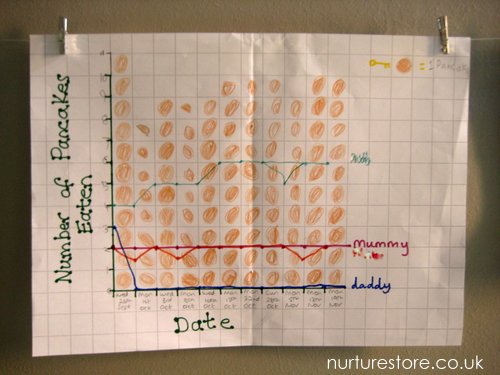 To extend things a little for big sister, we also represented the results in a line graph and she added a key.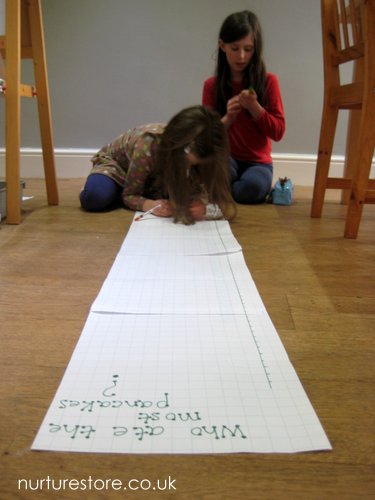 And finally we also used our original table to work out how many pancakes each member of the family had eaten in total. We made this into a bar chart  – and it was long!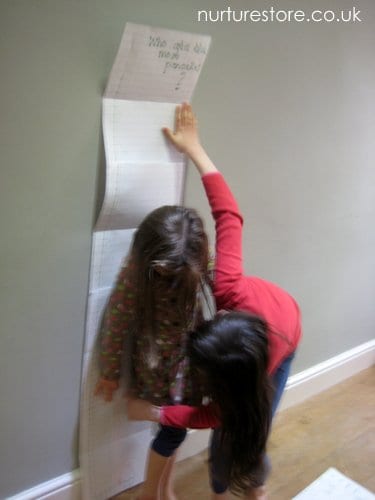 For some fun comparison at the end we wondered if we'd eaten more pancakes that our own height – and one of us had!
---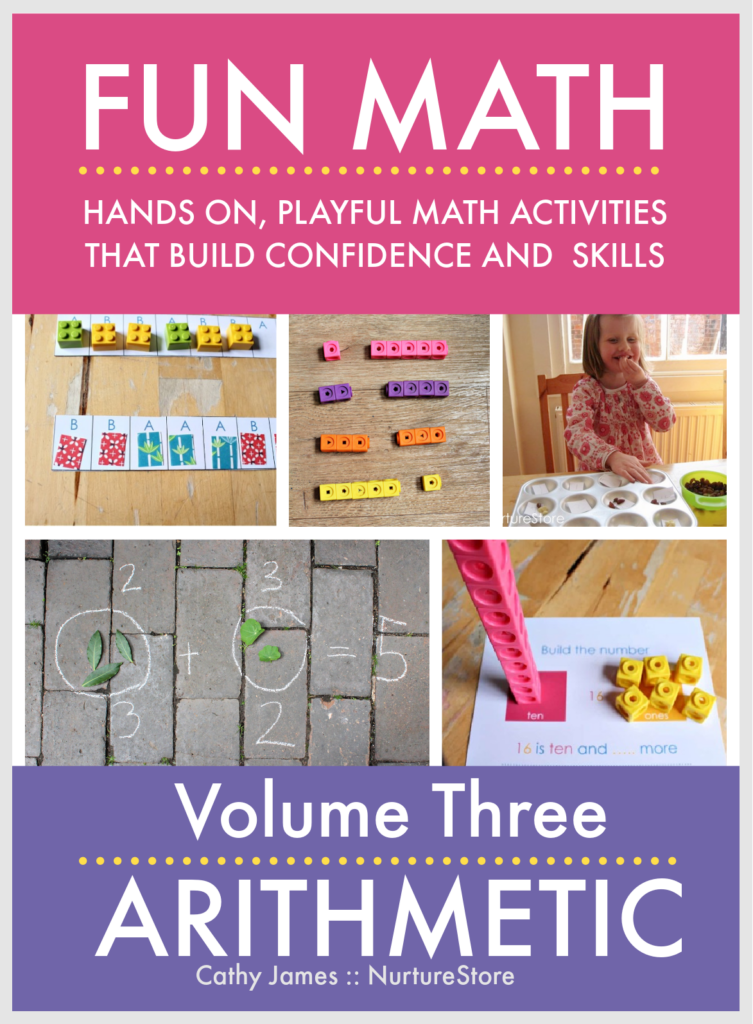 Transform your teaching with Fun Math
The Fun Math series gives you a math curriculum that is easy to teach and highly effective.
Children love these lessons because they are engaging and fun.
You'll have a clear set of ready-made math lessons and activities that are simple to lead using our step-by-step lesson guides, and which children really understand.
Be the best math teacher and boost your children's confidence and skills with Fun Math.
See more and transform your teaching here.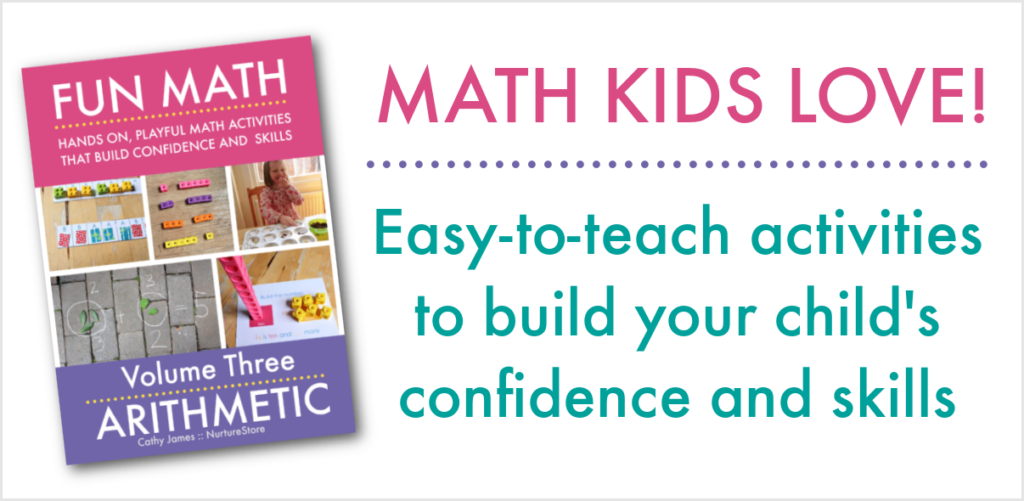 ---