Make a Clothespeg Butterfly Mobile
Look what's been fluttering in our garden: a Lesser Spotted Peg Butterfly!
We had some wooden clothes pegs left over from making our pegdolls and Little wanted to make a butterfly. Here's how we made it….
We used a sheet of clear plastic to cut our a butterfly shape – but card or paper would work just as well.
L was in charge of customising the butterfly, with liberal amounts of glue and bits and bobs from our making box. We talked about symmertry and L had a good try at getting her butterfly to match.
We put lots more glue down the centre of the butterly and inserted the wings into the peg. We also tied a length of string around the peg. Sitting the butterfly on the side of a glass helped press the wings in place while the glue dried.
We twisted a pipe-cleaner around to make the antennae, and drew on a face (you can see this on the first pic). Once all the glue is dry you can hang your butterfly up and watch as the breeze makes it flutter around.
They're so pretty, why not make lots more to decorate your bedroom?
Happily shared with…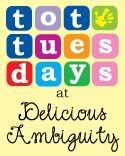 and