Looking for play ideas for 6-month -old babies? Here's a wonderful collection of baby play ideas.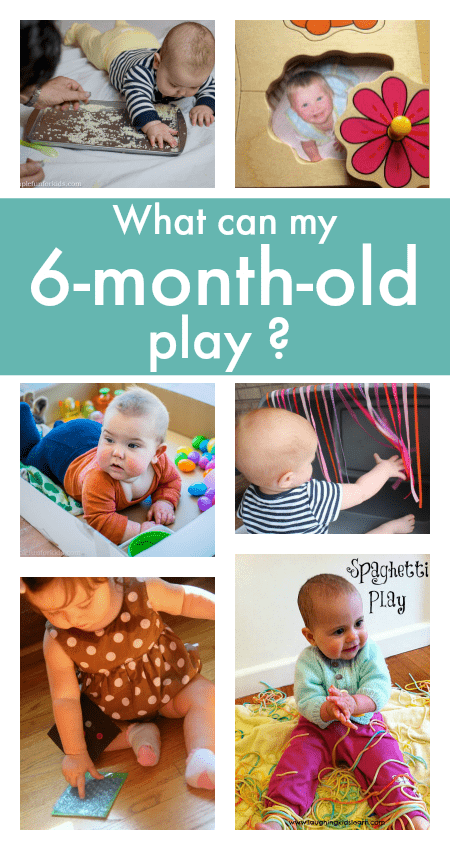 What can my 6-month-old play?
What can your baby play at 6 months old? Lots of things!
Her favourite toy is you, of course, so all the time you spend together chatting, cuddling, singing and doing everyday life things is invaluable in giving your baby the best start in life.
But there are other fantastic play ideas you can try together that can enrich the bond between the two of you, introduce sensory play, develop early language skills, and encourage your baby to see the world as a rich, interesting, amazing place.
Here's a collection of baby play ideas that are just right for around about the 6-month-old stage.
Remember, you know your baby best, so pick the ideas that are right for the two of you.
Take a look and try a few!
Baby play ideas
:: DIY sensory boards are great for tummy time exploring
:: You could try a nature sensory board.
:: Enjoy some play with a water bottle…
:: Try this clever trick to help your baby turn the pages of a book…
:: Introduce sensory play with rice
:: Enjoy some flashlight sensory play
:: Try a full body sensory bin
:: Set up some baby play stations
:: Play peek-a-boo with a personalised jigsaw
:: Explore textures with a homemade tag blanket
:: Explore colours, shapes and sounds with these homemade sensory bottles
:: Make some gel sensory bags
:: Put together a DIY shape sorter
:: Explore a treasure basket
:: Explore texture cards
:: Make a homemade sensory book
:: Get messy with spaghetti play
:: Relax with a lavender sensory tub
Get free resources for your children!
Did you know you can receive free weekly activity ideas, seasonal resources, free printables and extra bonuses from Nurturestore? You'll have creative learning ides for your children all year round!
Sign up in the box below and we'll send you your freebies!
---
* By subscribing, you consent to our use of your personal data as per our Privacy Policy, which includes agreeing to receiving interest-based email from us.
---