Here's a brilliant collection of art and crafts suitable for babies.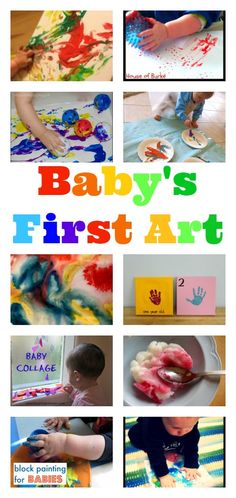 Brilliant ideas for baby's first art
Encourage creativity while they're young, with these brilliant ideas for baby's first art.
There are lots of ideas to try, including a homemade finger paint, mess-free masterpieces and handprint keepsakes.
There are lots of ways for your baby to explore colour, art and creativity, even when they are very young.
Arts and crafts babies can make
:: They might like to try using some chunky blocks which are easy for them to hold.
:: or trying some roly poly art.
:: You could set up some paper plate art, with a selection or colours to choose from.
:: or explore with paint and a spiky ball.
Mess-free art for babies
:: For mess-free options, try this clever plastic bag art idea…
:: go for painting in a can…
:: or try a baby collage on the window.
Painting ideas for babies
:: This wet-on-wet water colour technique gives really interesting results, with lots of colour and movement for your baby to watch.
:: And you can add in lots of extra sensory elements, like this texture art painting.
:: And I love this idea for handprint art for every age.
Get free resources for your children!
Did you know you can receive free weekly activity ideas, seasonal resources, free printables and extra bonuses from Nurturestore? You'll have creative learning ides for your children all year round!
Sign up in the box below and we'll send you your freebies!
---
* By subscribing, you consent to our use of your personal data as per our Privacy Policy, which includes agreeing to receiving interest-based email from us.
---