Use these times tables tips and printables to learn times tables in a fun way!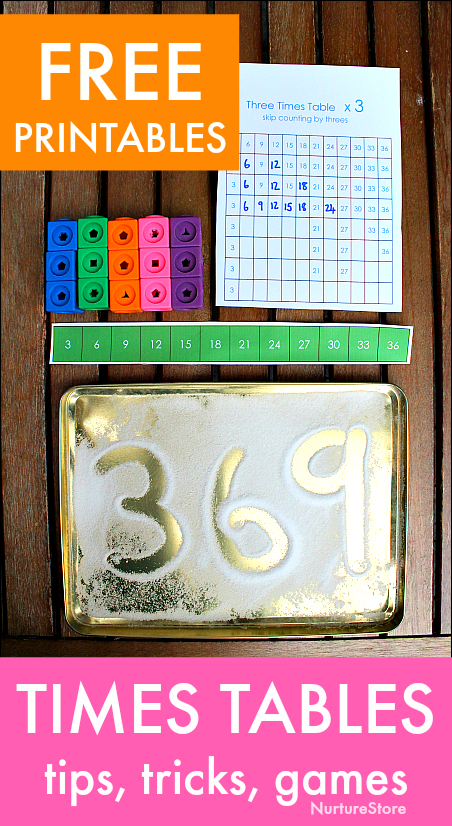 Times tables tips and printables
---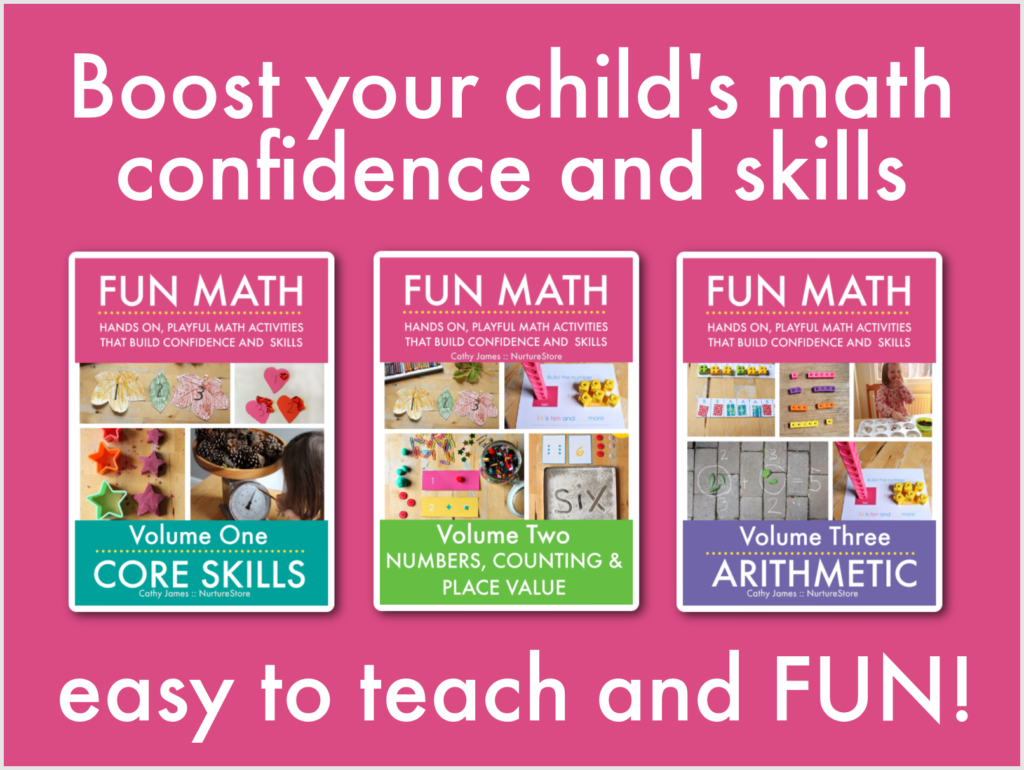 Magic Fun Math lessons!
Fun Math is an easy to teach, highly effective math curriculum based on play and hands-on learning.
All the lessons are designed to be fun and memorable, so children enjoy their lessons and feel confident.
The lessons are easy for teachers and parents to use, in class or at home.
These are the magic lessons where children really see, understand, and can apply math concepts. They are especially suited to children who don't like math, lack confidence, don't understand math the way they are currently being taught, or just want to play.
SEE MORE AND TRANSFORM YOUR MATH TEACHING HERE.
---
Learning times tables is a key building block in math skills.
As children develop their math, moving on to working with decimals, fractions, percentages, long division and more, they'll find that knowing their times tables gives them a big advantage.
If you know your times tables and can recall the patterns quickly and easily you'll be able to devote your concentration to the more complex math skills you're working on and not keep getting tripped up because you don't know what 7 times 8 is.
Some children find it fairly easy to memorise and recall their multiplication tables, others find it very difficult. Our brains work in many different ways and times tables are one area where you might notice your child particularly struggles. Bright, intelligent, creative kids can still sometimes find times tables a real challenge.
One way we can help our children to learn times tables is to offer a variety of ways to work on them. Some children love to sing them, some need to see the patterns, some need a tactile or active way to learn.
For all children, having a range of different times tables activities helps them get the repetition practice they need, in fun and engaging ways.
Try these times tables activities!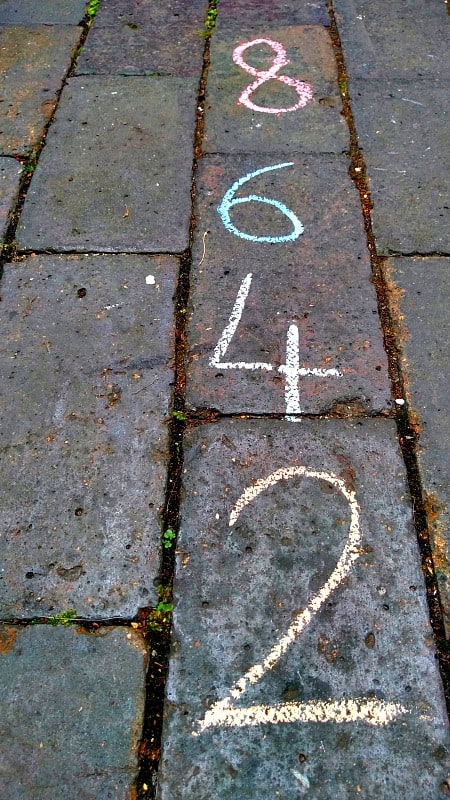 Skip counting activities
Use your whole body to learn the times tables with these fun skip counting activities.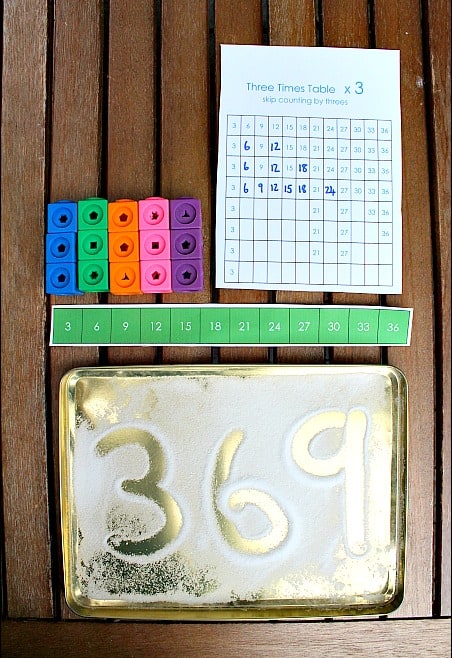 Sensory times table station
Set up a sensory times tables station where your children can access and practice with a variety of times tables activities.
Use salt or sand in a shallow tray to make a sensory writing tray where they can write out the times tables with their finger or a pencil.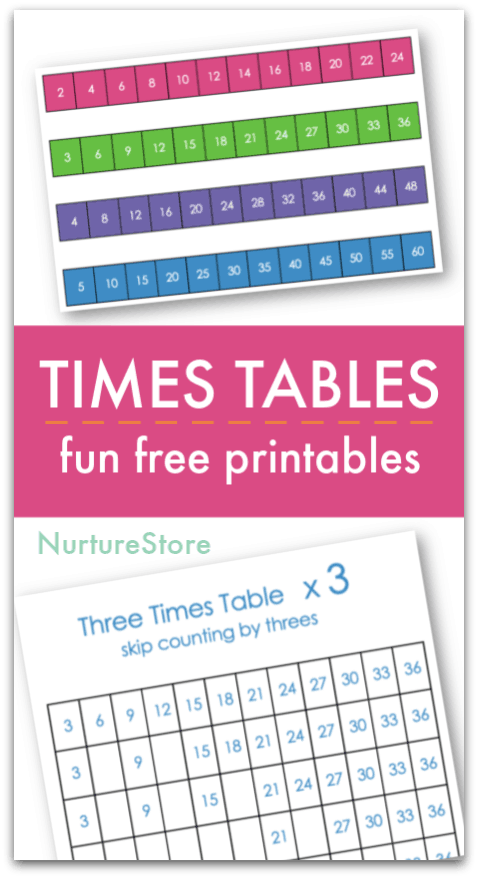 Times table anchor chart printables
Add in my free times tables anchor chart printables, so children can refer to them as they work.
You'll find sets for the the two to twelve times tables – see below for details on how to print them.
You can use the anchor charts:
:: above your sensory writing tray, so children can use them as a learning guide to copy out each sequence as they say or sing them aloud. Click here to see the best songs to use for learning times tables.
:: for hopscotch-style games. Cut up the individual rectangles of the times table cards and stick them in order along the floor. Your children can jump or stomp on them every time they pass, practicing the times tables sequence with their whole body.
:: stick the individual tiles of the cards up on the wall and have your children use their hands to splat each answer as you call out times tables questions.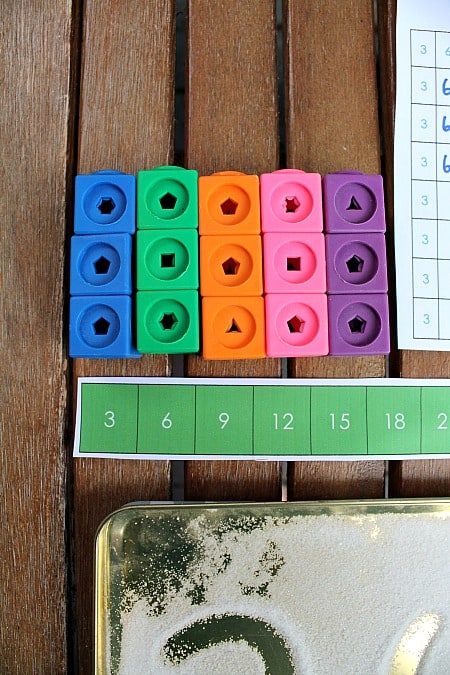 Use unit blocks to build times tables
When they're starting out, children need to see and understand the times table. Using unit blocks is perfect for this. Have them build sets of unit blocks – in our example we're using sets of three – and lay them out along the times table anchor cards, so they can see how all the threes add up to make the numbers in the three times tables sequence. Multiplication is addition!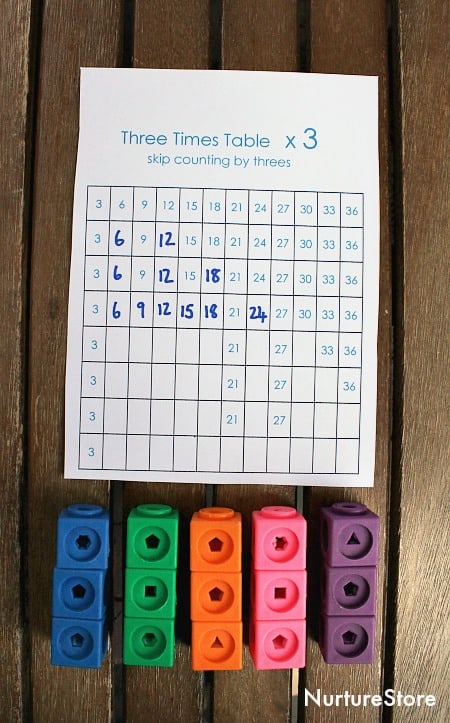 Fill-in-the-gaps- times tables practice sheets printable
You can include copies of my fill-in-the-gaps times tables sheets printables in your multiplication center. These sheets help children learn their times tables by getting them to remember the numbers bit by bit.
These sheets are great to use once you have introduced the times table and built the sequence out of unit blocks. The sheets help to bridge the gap from visual and hands on activities to knowing the times tables in your head.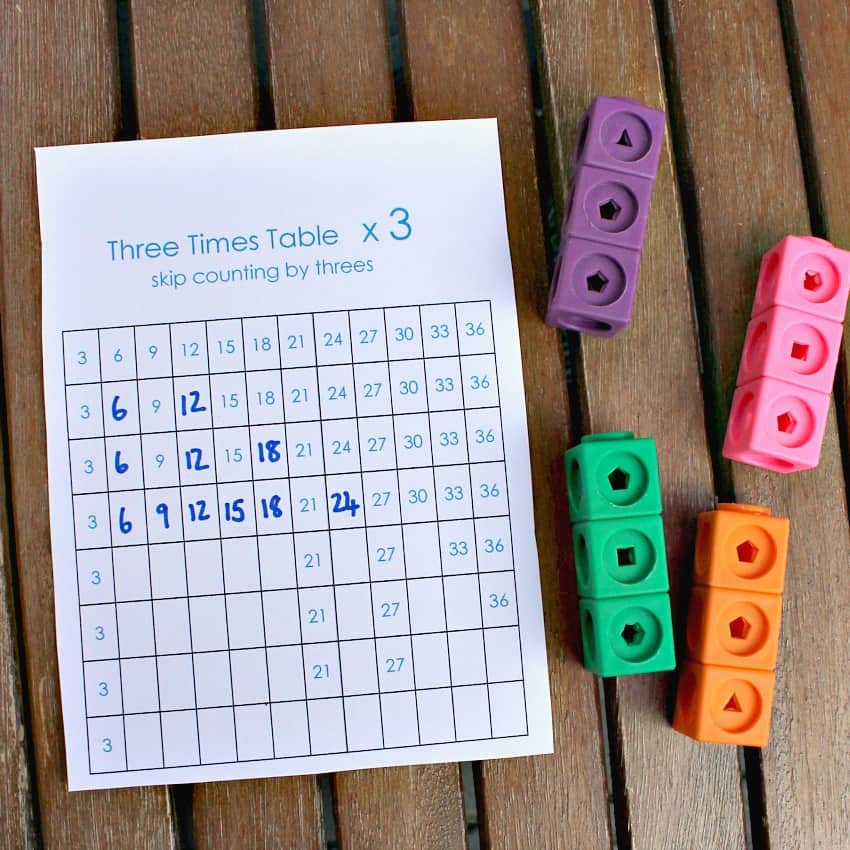 Sing your times tables
Another excellent way to memorise times tables is to sing them. Try these easy times table songs.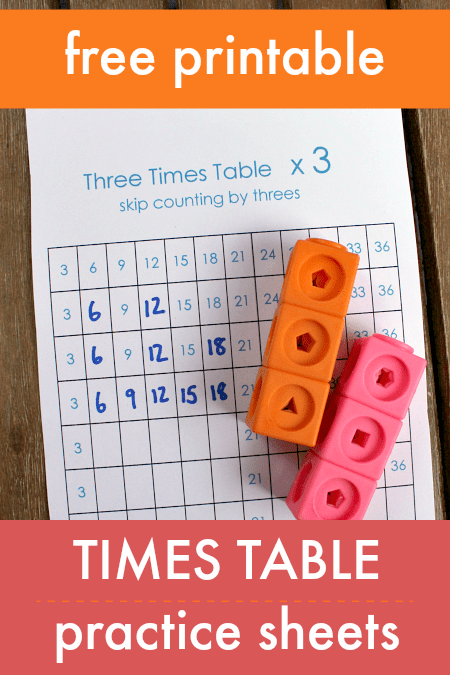 How to get our free printables
To download my free printables, you'll need to visit the NurtureStore Printables Library, which is available to all subscribers to my email list, and of course to Play Academy members.
Pop your email address in the form below and you'll get access to all my free printables, lesson plans, activity ideas, weekly newsletter, and a whole lot more!
After subscribing, be sure to check for the confirmation email. After you confirm your email subscription, we'll send you a welcome email which includes instructions for downloading our free printables.
If you're already subscribed to our email newsletter: check your email for the latest edition of the newsletter where you'll find a link to access our free printables library - the link is usually at the bottom of the email.
For help accessing our printables, click here.
---
By subscribing, you consent to our use of your personal data as per our Privacy Policy, which includes agreeing to receiving interest-based email from us.
---
---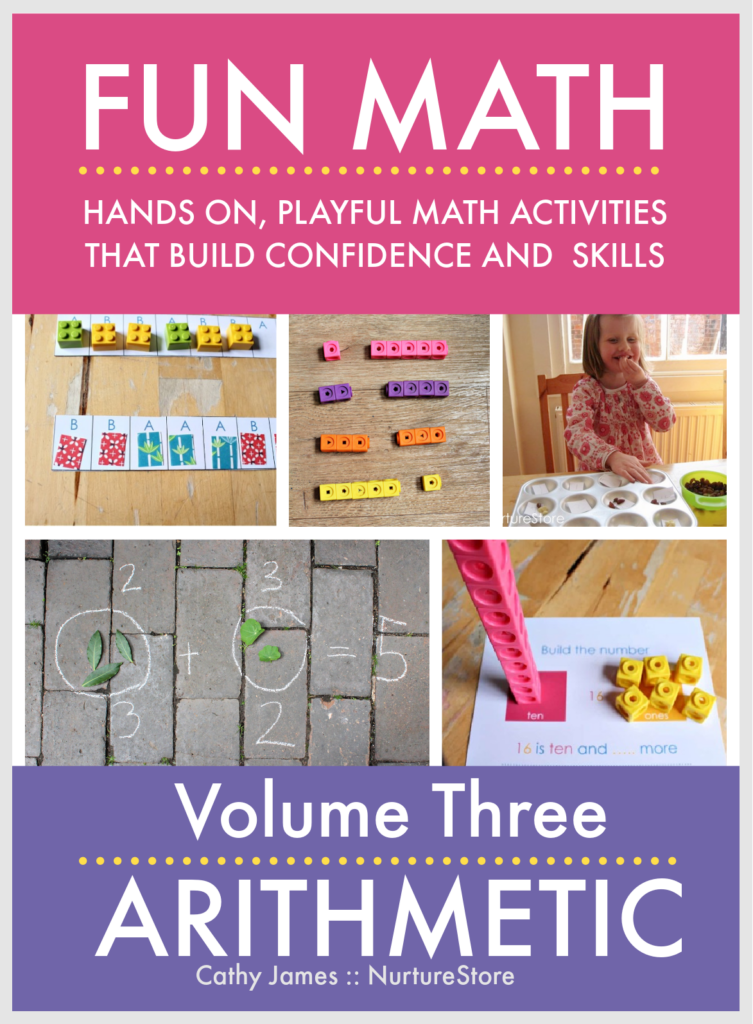 Transform your teaching with Fun Math
The Fun Math series gives you a math curriculum that is easy to teach and highly effective.
Children love these lessons because they are engaging and fun.
You'll have a clear set of ready-made math lessons and activities that are simple to lead using our step-by-step lesson guides, and which children really understand.
Be the best math teacher and boost your children's confidence and skills with Fun Math.
See more and transform your teaching here.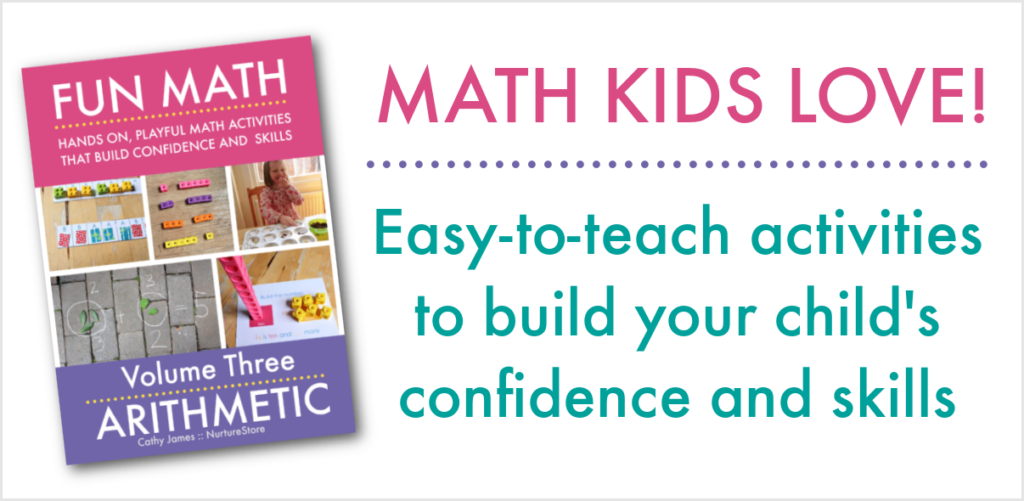 ---