Use these fun ways to practice skip counting for easy ways to learn times tables.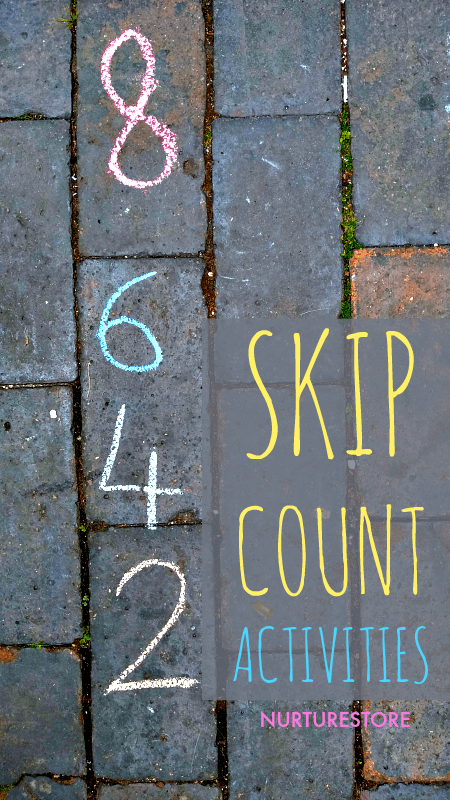 Fun ways to practice skip counting activities
Skip counting means counting along a number line but only saying the numbers that fit in whichever sequence you're working on.
To skip count in fives, you say 5, 10, 15, 20, 25, 30….
To skip count by three you say 3, 6, 9, 12, 15, 18….
Skip counting activities form an important part of learning times tables.
Before we can recall individual times tables elements and answer random times tables questions in our head, we need to learn the skip counting pattern of each times table.
You don't need to teach them all at once. It's best to start off with one or two simple ones and build from there. Typically we begin by skip counting in twos, then tens, then fives. Later we add in the other sequences up to the twelves. This gives your children a practical range of times table sequences to easily call on as they go on to progress through more complex math lessons
Try these skip counting games to help your child learn these multiplication sequences.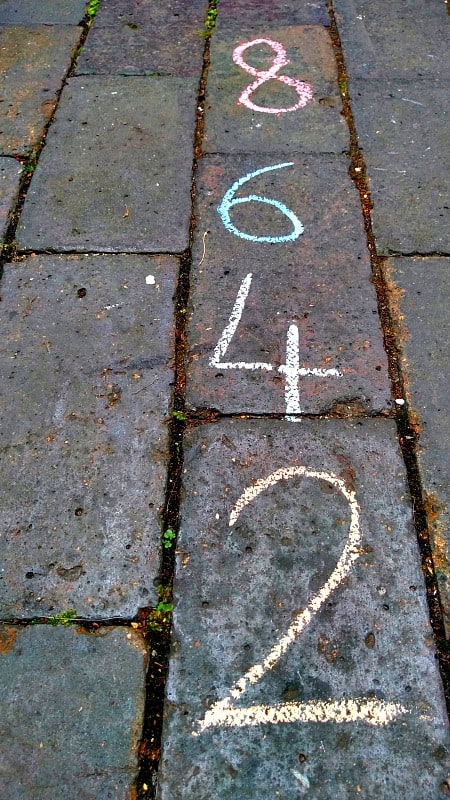 Hopscotch skip counting
Use chalk to write out a times table sequence along the ground, like a hopscotch path. Jump along your number path and call out or sing out the times table numbers as you go.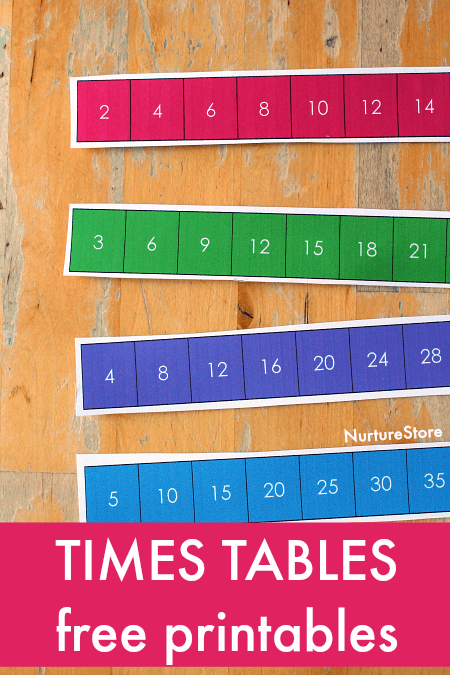 Skip counting anchor charts
Use my skip counting anchor charts as a visual reference. You can use them with a sensory writing tray, for hopscotch, or to play a splat game on the wall. Click here to see all the ways to use them.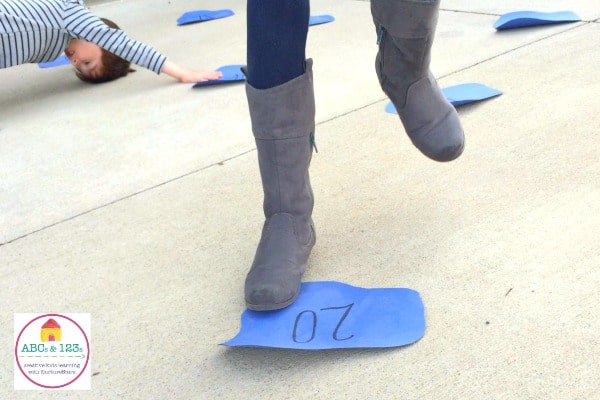 Jumping games for skip counting practice
Once your child is becoming more familiar with a skip counting sequence you can give them a harder challenge. Set out a range of numbers, not only the ones in the sequence, and lay them out in random order. You can use chalk to draw them on the floor, or write them on cards. Invite your child to jump out the number sequence. This time, as they don't have the numbers laid out in order, they're challenged to recall the sequence for themselves. See more of this puddle jumping math activity here.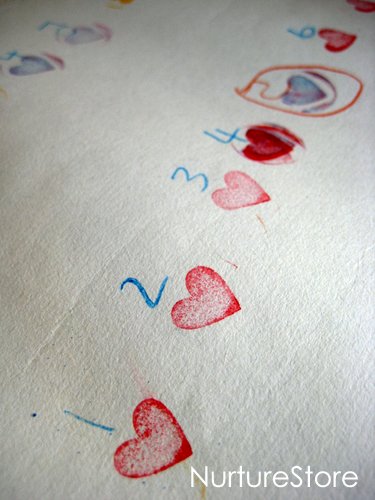 Skip counting pattern activities
You can also use stickers or stamps to lay out skip counting patterns.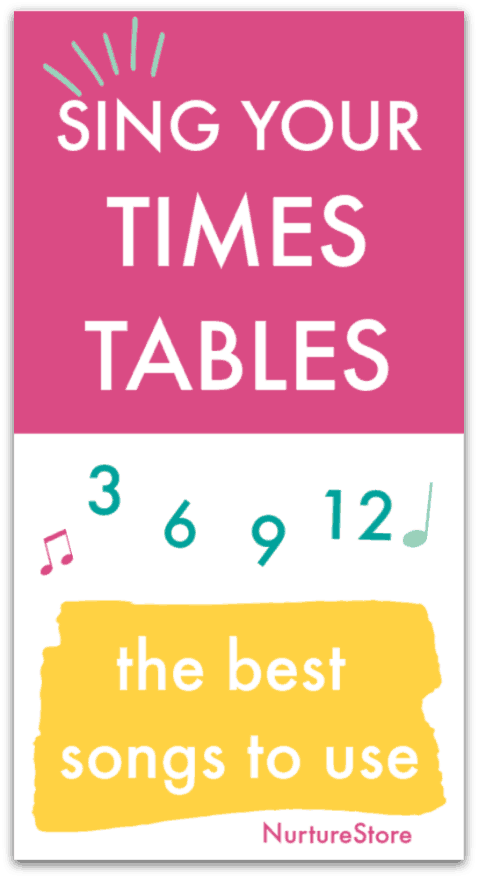 Easy skip counting songs
Our favourite way to learn the times tables is to sing them. Click here to see the best songs to use to learn times tables.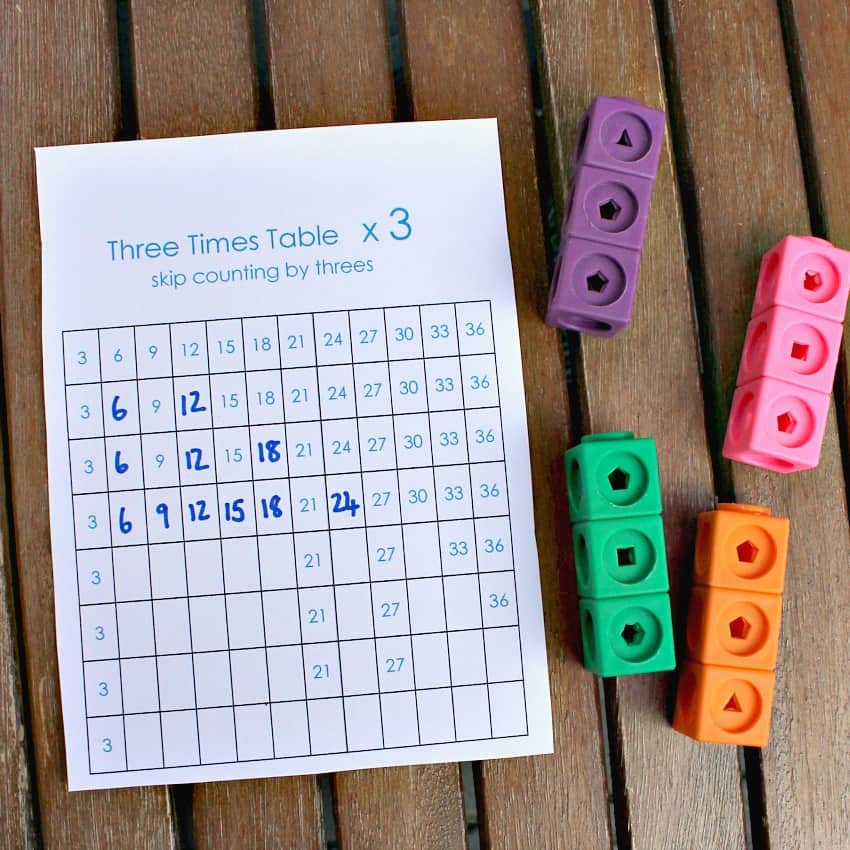 Times table skip counting practice sheets
My fill-in-the-gaps times table practice sheets are a great way to learn the skip counting sequences bit by bit. See below for details on how to print them.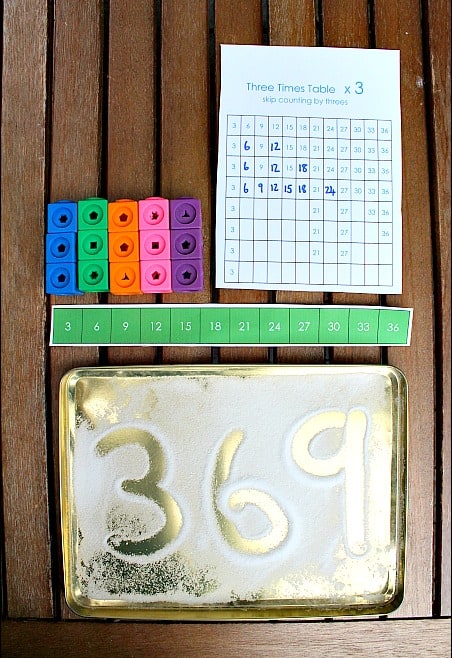 Multi-sensory times table center
And last but not least, you can use a multi-sensory times table centre to combine many of these activities in one area.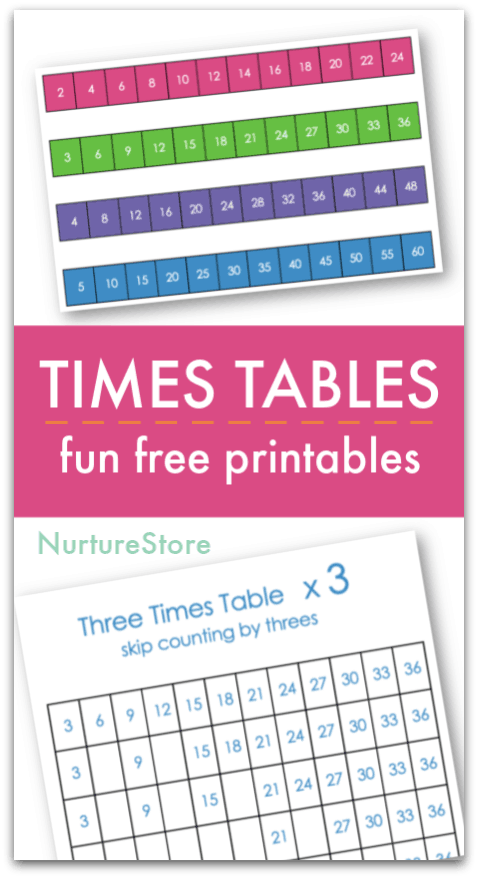 How to get our free printables
To download my free printables, you'll need to visit the NurtureStore Printables Library, which is available to all subscribers to my email list, and of course to Play Academy members.
Pop your email address in the form below and you'll get access to all my free printables, lesson plans, activity ideas, weekly newsletter, and a whole lot more!
After subscribing, be sure to check for the confirmation email. After you confirm your email subscription, we'll send you a welcome email which includes instructions for downloading our free printables.
If you're already subscribed to our email newsletter: check your email for the latest edition of the newsletter where you'll find a link to access our free printables library - the link is usually at the bottom of the email.
For help accessing our printables, click here.
---
* By subscribing, you consent to our use of your personal data as per our Privacy Policy, which includes agreeing to receiving interest-based email from us.
---