Colouring in pages for kids: do you love them or hate them? Do they stifle creativity or encourage it? Here's what I thought and why I changed my mind.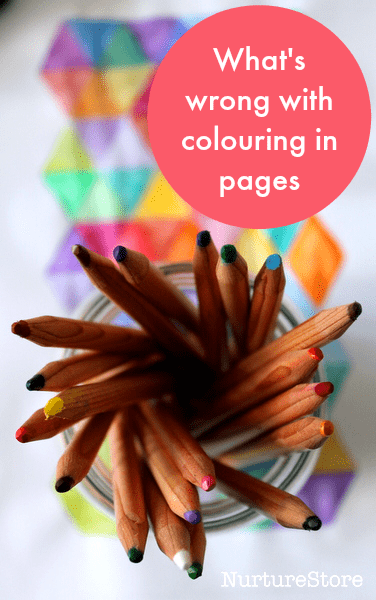 What's wrong with colouring in pages?
Colouring in pages are too prescriptive: they stifle creativity and don't encourage children to express themselves and their own ideas. They're cookie-cutter projects, expecting the same results all the time with little room for self-expression.
That's what I thought. I never bought colouring in books for my children and I'd always provide blank sheets of paper for free drawing instead.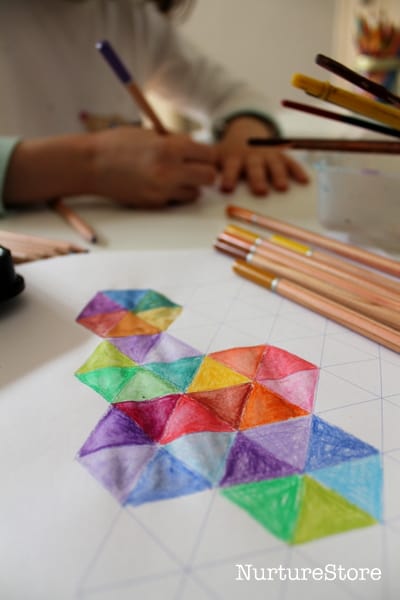 And then along came my youngest daughter, and she somehow came across colouring in sheets and fell in love with them. And through her I realised I was wrong. My outlook for learning is to go with the child, and help them explore their interests, and use what they love to introduce new skills and areas of learning. So, we tried it, and I changed my mind. Turns out colouring in pages can encourage creativity of all kinds: in art, language, and play.
Here's what my daughter taught me:
:: you can use colouring in sheets to tell stories and develop language skills: playing I spy with the pages, talking about what's happening in the picture, and narrating all sorts of stories as you colour in
:: colouring in pages featuring film and TV characters can be just the invitation a child needs to pick up a pencil and being to work on fine motor skills
:: colouring in page characters can be cut out and turned into puppets for lots of imaginative play
:: colouring in pages can let you explore emotions, as you notice the characters' expressions and talk about how they are feeling, and why, and how you sometimes feel like that too
:: an introduction to mark making and art through colouring in pages can help a child discover paints, pencils, oil pastels, pens, chalk…..broadening the range of art materials they are experienced with
:: a perfectionist child, or one who thinks they can't draw, can take little steps towards discovering their own talents by starting out with colouring in sheets, catching the love of drawing, adding their own doodles to the sheets, and then discovering a passion for sketching that spills over onto plain pieces of paper, which they now feel free to fill with their own art
:: colouring in pages can be relaxing and soothing, perfect for transitions such as coming home from school, winding down before bed, or when you're on a long car journey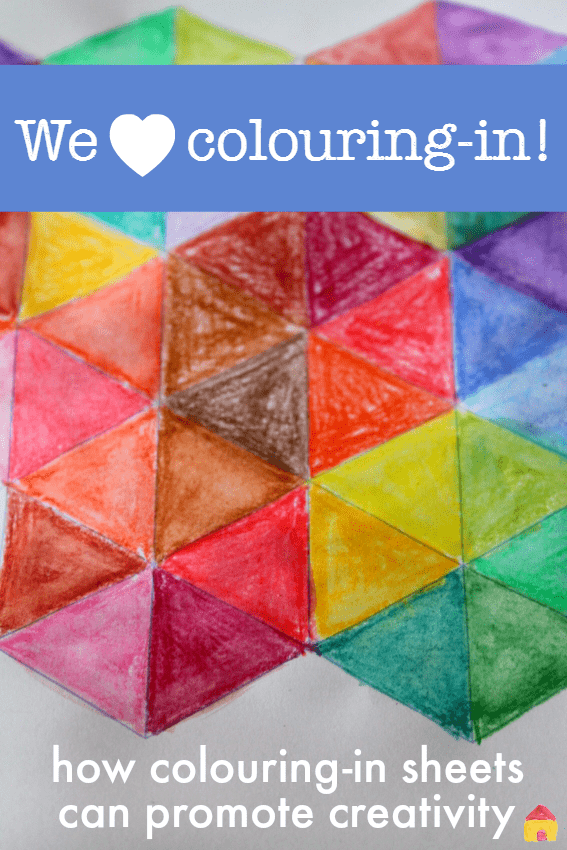 But to do this, I think it's important to make sure there are always blank pieces of paper (and rolls of paper, chalk boards, pieces of card, canvas boards…) available alongside the colouring in sheets for children to pick up.
And I also think it's important to mix up the materials that you set out with your sheets. Try marker pens, pencils, water colour pencils, paints, oil pastels, fine markers, chalks…
It's good to follow your child's interest, but important to guide and mentor them too. Help them learn about all the possibilities out there, and encourage them to try new things, little by little, as they are ready.
I know that colouring in pages, templates, and crafts are banned in some schools and early years settings, but I wonder if that's the right thing to do. My daughter taught me to keep an open mind, to follow the child, and to encourage children into art and creativity on their terms, not only on mine.
What do you think is wrong with colouring in pages?
Do your children like colouring in? Do you think they encourage creativity or stifle it? Join the conversation in the comments.

Nurture art with the Art Spark resources!
My Art Spark resources will give you everything you need to start a joyful art practice with your children. There are two new ebooks and an online art course for your family or class. Use them and you'll be bursting with enthusiasm and ideas that will help you make art happen. Click here to see more.