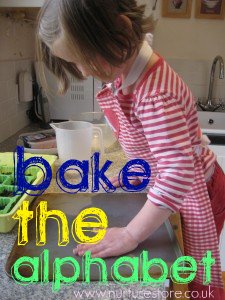 A simple bread dough is a perfect medium for children to explore with. It's easy to make using ingredients you can keep in your storecupboard and I find children always take great pleasure in using 'real grown-up' materials. There are lots of ways you can use a bread dough to let your children play with counting, measuring, pouring, cutting. Today we've been teaching the alphabet with bread. We've a recipe and a song to share with you.
Weigh 500g of strong bread flour and a teaspoon of salt out into a big bowl. Little thought it felt very tickly.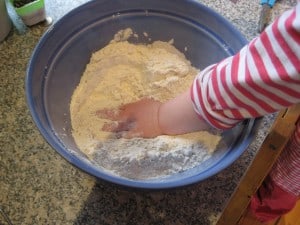 Pour in 300ml of warm water and a tablespoon of olive oil using good hand-eye co-ordination. Little liked mixing the colours to combine all the ingredients into a ball of dough.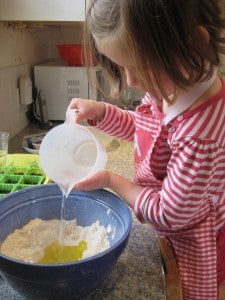 Develop strength in your fingers by kneading the dough for 5 minutes on a floured surface. (Getting fingers ready to one day hold a pencil and write well.)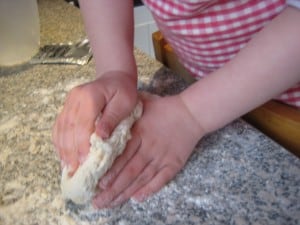 Introduce some letters by making your own dough alphabet. (If you want to use the recipe to make a proper loaf you can shape it and then leave it to prove for 45 minutes before baking.)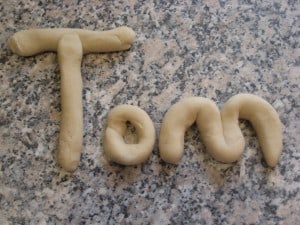 Put your letters on the baking sheet and bake in an oven pre-heated to Gas 7/ 220C for about 10 minutes, depending on the size of your letters. (Bake for 25 minutes if you're making a whole loaf.)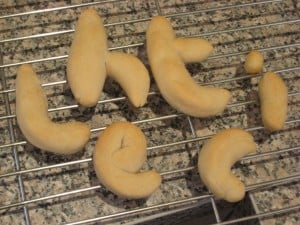 If you can spot the letters in your name you can eat them!