This tea loaf recipe is easy to make, tastes delicious and with a fairly low butter and sugar content, combined with dried fruits, it's a healthy pudding choice to give to your kids. It freezes well, so you can slice it, wrap the individual slices and then take them out of the freezer when you need them to add to lunch boxes.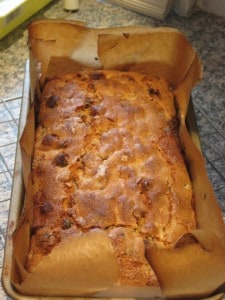 Here's the recipe:
Healthy Tea Loaf Recipe
Ingredients:
300g dried raisins, cherries and/or mixed peel
225ml hot tea (we use Earl Grey)
50g butter
100g brown sugar
1 egg
225g self-raising flour
sugar to sprinkle on the top (optional)
1. Soak the fruit overnight in the hot tea.
2. Grease and line a 2lb loaf tin.
3. Beat the butter and sugar together, then beat in the egg.
4. Sift in the flour and mix in.
5. Add the fruit and any remaining tea.
6. Spoon into the loaf tin and level off the surface.
7. If you have a sweeter tooth you can sprinkle 1-3 teaspoons of sugar on top of the loaf at this point.
8. Bake for 1 hour at 180C / 160C fan / Gas 4.
9. Check it's cooked through by sticking a skewer in the centre – if it comes out clean, the loaf is ready.
10. Leave to cool completely in the tin. Then slice and enjoy.
Like some more recipes?
How about: