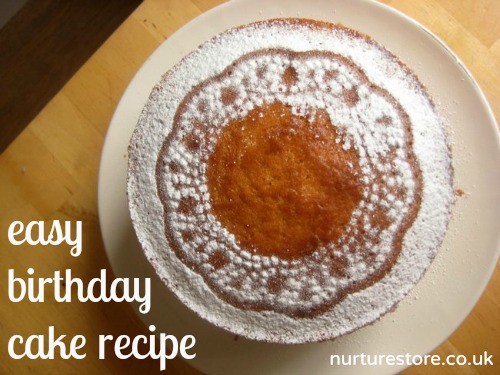 Easy birthday cake recipe
Makes enough to fill two round cake tins about 20cm diameter or 24 fairy cakes
8 oz caster sugar
8oz butter, at room temperature
4 large eggs, free range please
8 oz self raising flour
a little milk
1. Grease the two cake tins with butter – on the bottom and all round the sides. Pre-heat the oven to gas 4 / 180 C.
2. Cream the butter and sugar with a wooden spoon.
3. Add the eggs one at a time and beat with an electric whisk until smooth and stiff.
4. Sieve in the flour and fold it in gently with a large metal spoon. Easy does it.
5. Mix in a little milk to get the mixture to a soft consistency which drops easily off the spoon.
6. Divide the mixture evenly between the two tins. Family tradition says everyone present in the kitchen has to blow the cake a kiss to make it taste good.
7. Bake for 20 minutes until it's firm to the touch on top when y0u press it gently.
8. Turn the cakes out on to a cooling rack. Once completely cool you can decorate (see icing receipe below).
Butter Icing
3oz butter at room temperature
6oz icing sugar
a little water
1. Beat the butter until soft
2. Sieve in the icing sugar and beat with the butter.
3. Add a little water (or orange / lemon juice for flavour) til you get the consistency you want – fairly stiff, but spreadable. Less is definitely more – don't add too much water. You could add a few drops of food colouring if you want.
4. Spread over the top (and sides if you want) of the cake. Then add your decorations.