Use colourful sticky notes in this hands-on activity to teach how to use capital letters in a sentence.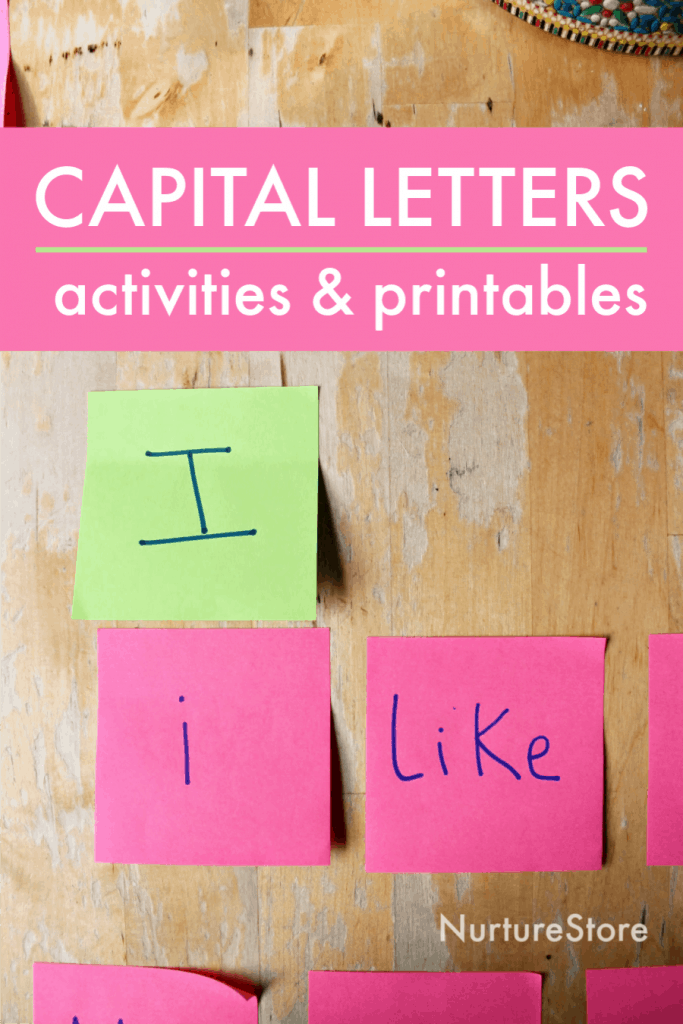 Post it note easy activity to teach capital letters in sentences
NurtureStore specialises in putting the magic into learning. We provide you with fun, hands-on activities that your children will love, so that you can provide a multi-sensory, memorable lesson for each key concept you are teaching.
This activity uses coloured sticky notes to give a hands-on, visual lesson to teach about capital letters in sentences.
In this lesson children can:
:: practice reading sentences
:: learn that we start sentences with a capital letter
:: learn that common nouns do not have capital letters
:: learn that proper nouns do have capital letters
:: practice spotting and correcting errors
:: write their own sentences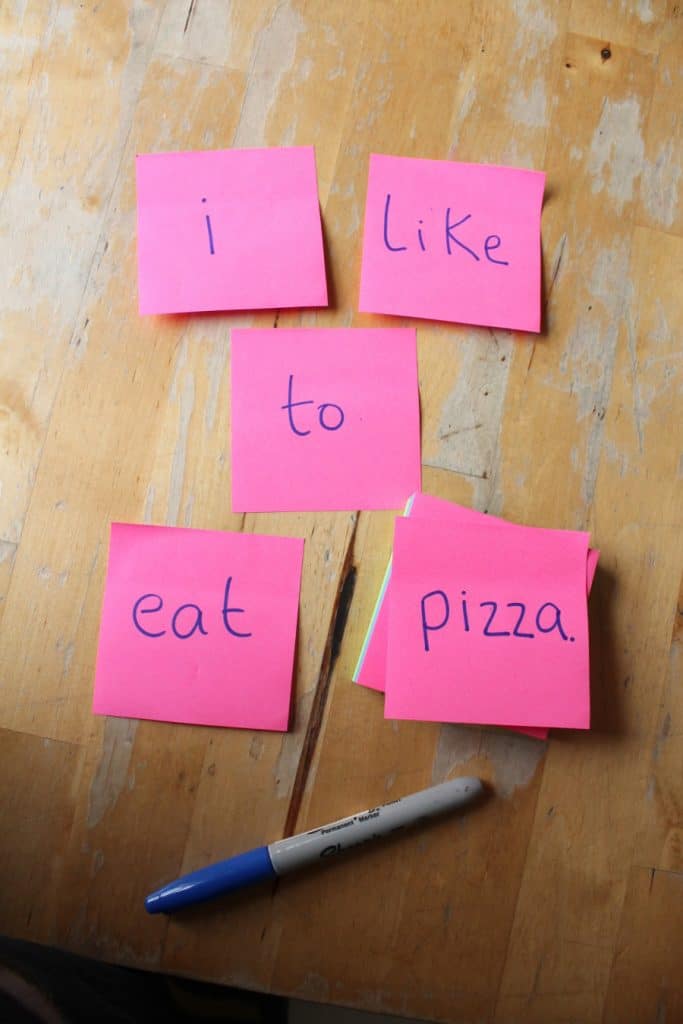 Materials needed
:: sticky notes in two colours
:: marker pen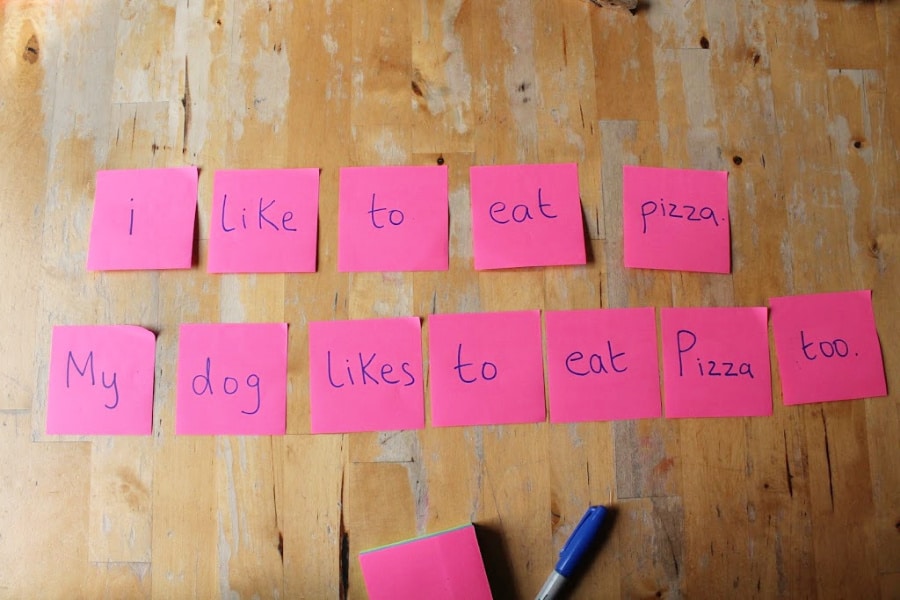 Ask your children what they already know about capital letters, and re-cap / introduce key learning:
:: most words not have a capital letter: dog, running, smelly (common nouns, verbs, adjectives etc.)
:: there are some special times when we must use a capital letter to start a word
:: we always start a sentence with a capital letter
:: names for specific people, places, and things (proper nouns) start with a capital letter, even if they are in the middle of a sentence: Tom, London, Monday
:: the word I is always written as a capital letter
:: we don't have capital letters in the middle of a word (with a few exceptions, such as McDonald's)
Then set out a sentence using sticky notes (all the same colour), writing one word on each note. Don't use a capital letter to start your sentence:
i like to eat pizza.
Ask your children if they can spot the mistake in this sentence, and which rule it breaks. (This one breaks two rules!)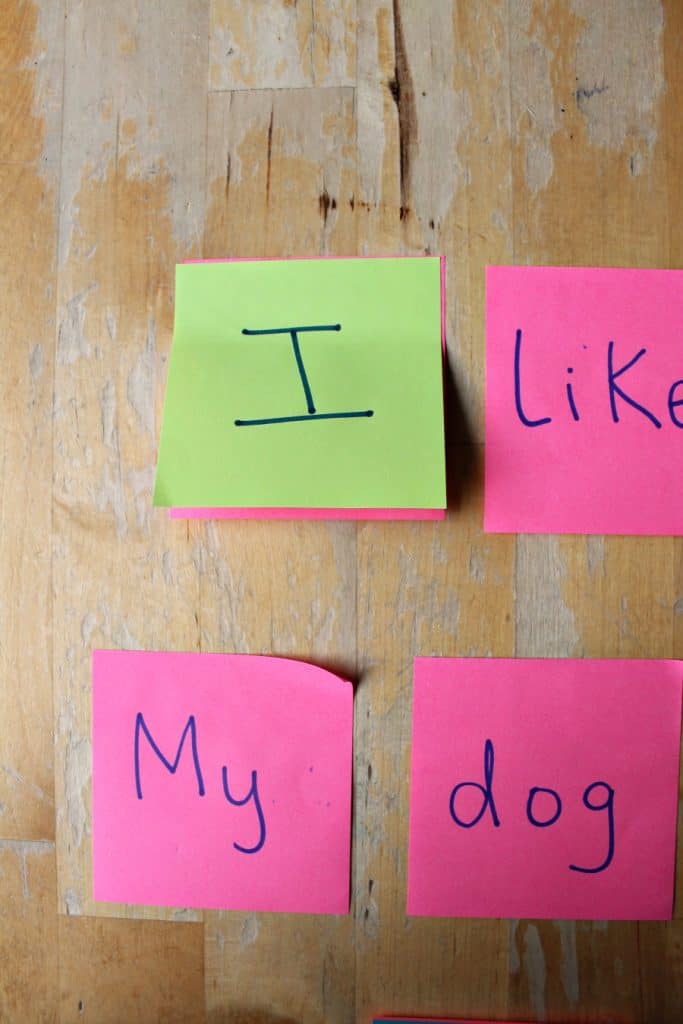 Invite a child to write the capital letter 'I' on a different coloured sticky note and to come and place it on top of the 'i' to fix the sentence.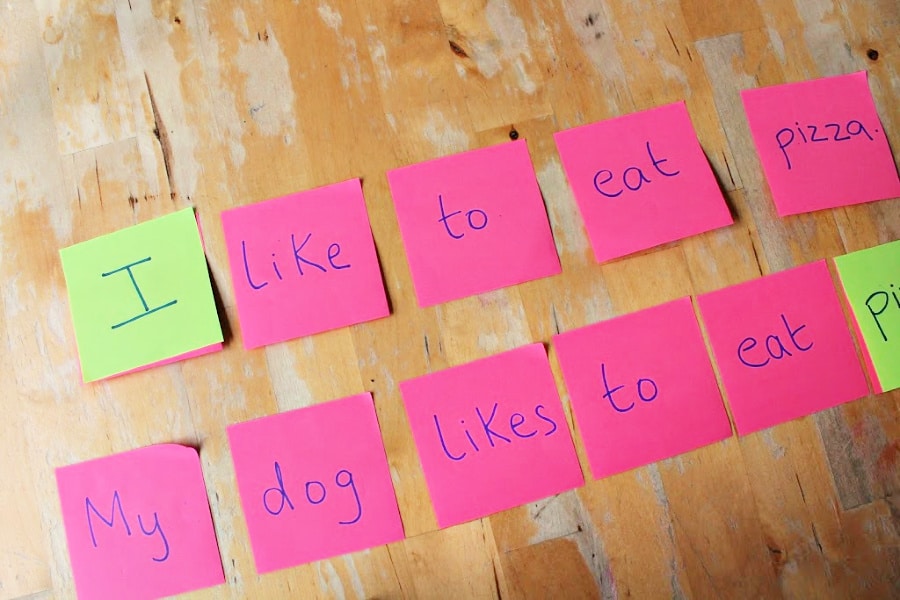 Write another sentence: My dog likes to eat Pizza too.
Have your children spot the mistake and correct it with a new sticky note. Replacing 'Pizza' with 'pizza'.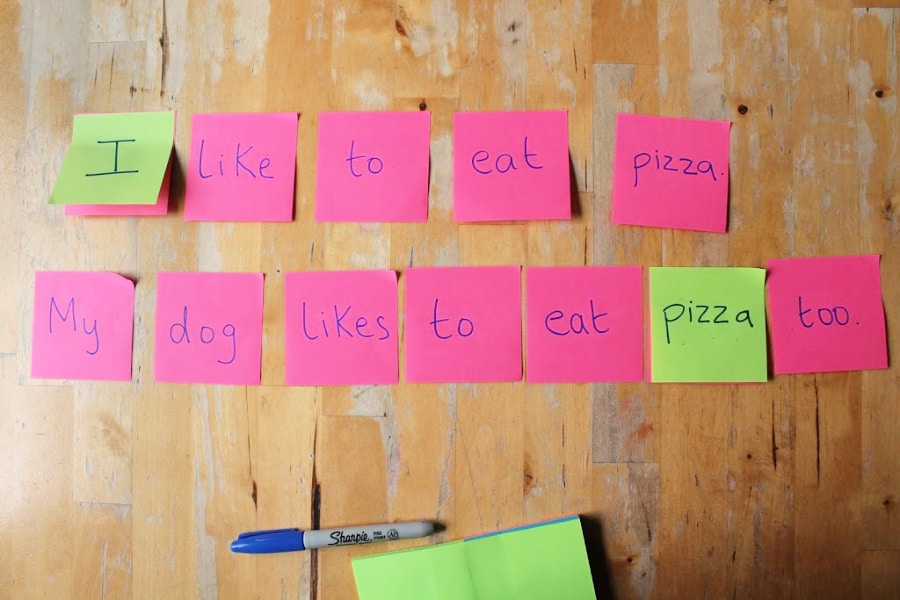 Ask your children to come up with a sentence to use and write it out for them on sticky notes, making a mistake with a capital letter somewhere in the sentence. Can they spot it?
Then hand the sticky notes over to your children and ask them to write their own sentence on the notes – making a mistake somewhere. You can have lots of sentences laid out around the room on tables, floor, walls and windows.
Then correct all the mistakes with different colour sticky notes. Children could work in pairs to correct each others sentence, or you can all go around the room to correct all the mistakes together.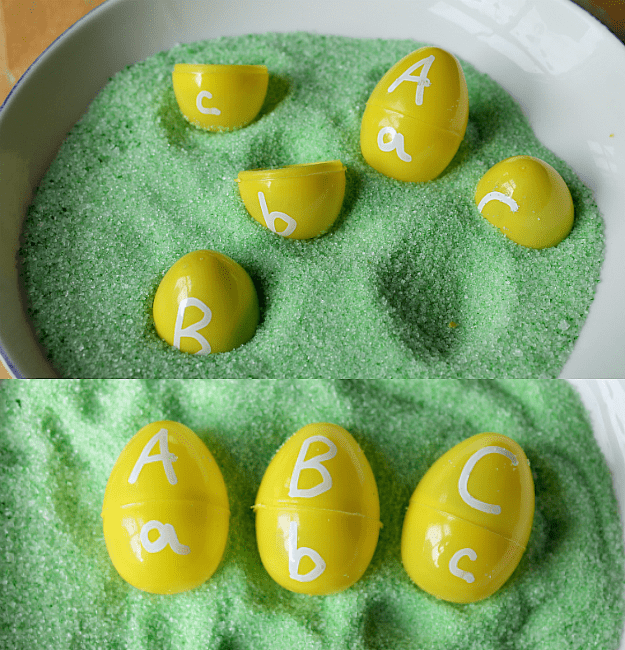 More hands-on capital letter activities
Try these other activities to learn about capital letters.
Use plastic eggs to make an upper and lower case matching game.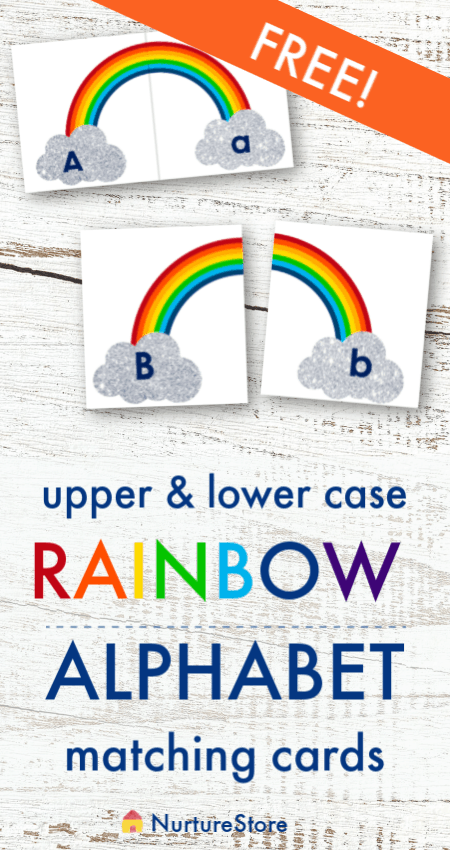 Use this set of rainbow alphabet cards to match upper and lower case letters.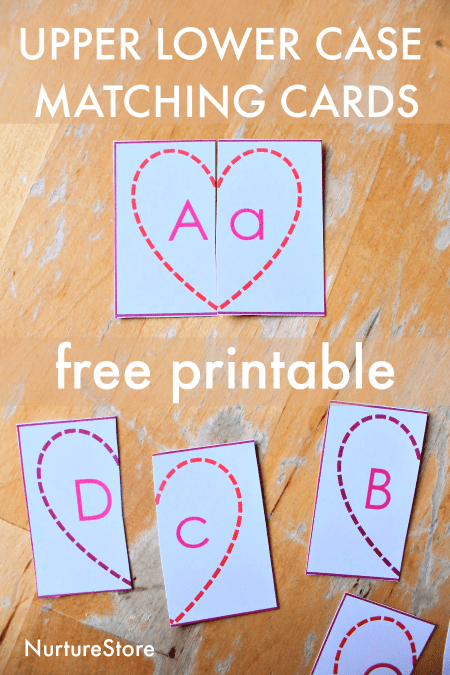 Print and play with this heart-themed upper and lower case letter matching game.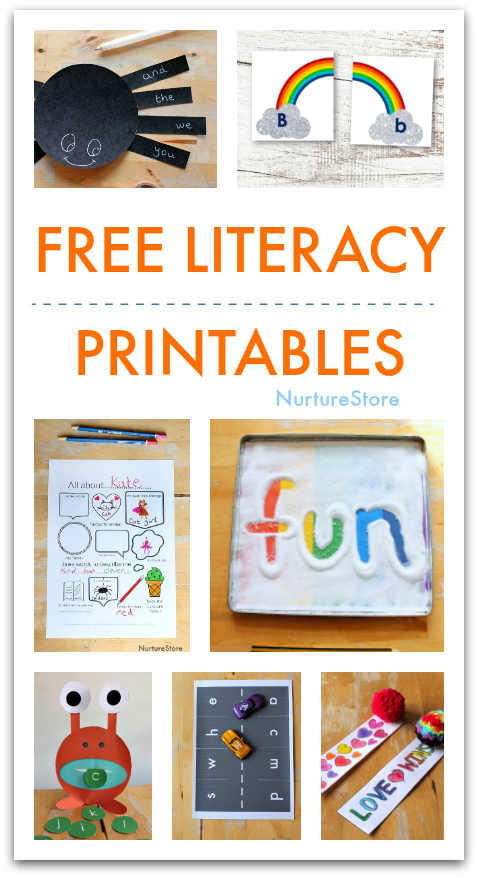 How to get our free printables
To download my free printables, you'll need to visit the NurtureStore Printables Library, which is available to all subscribers to my email list, and of course to Play Academy members.
Pop your email address in the form below and you'll get access to all my free printables, lesson plans, activity ideas, weekly newsletter, and a whole lot more!
After subscribing, be sure to check for the confirmation email. After you confirm your email subscription, we'll send you a welcome email which includes instructions for downloading our free printables.
If you're already subscribed to our email newsletter: check your email for the latest edition of the newsletter where you'll find a link to access our free printables library - the link is usually at the bottom of the email.
For help accessing our printables, click here.
---
* By subscribing, you consent to our use of your personal data as per our Privacy Policy, which includes agreeing to receiving interest-based email from us.
---