Try one of these fun ideas for sensory play using sand!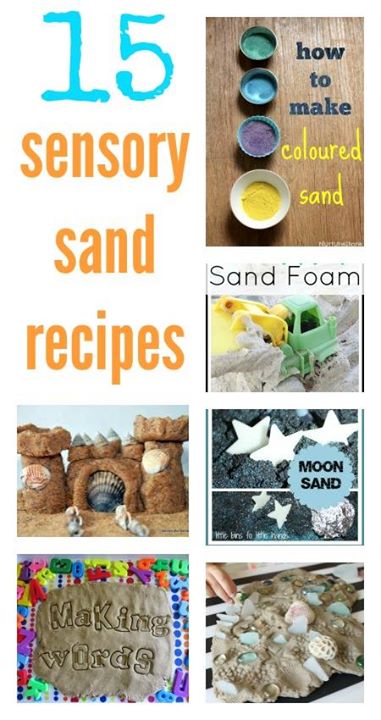 15 recipes for sand play
Playing with sand is a classic children's activity, and it's a great sensory material for children to explore.
Sometimes though it's good to give the classics a twist – to spark interest in an old material, or to introduce your child to some exciting new textures or ways to play.
Here's a selection of fantastic recipes for sand play.
Sand play ideas for children
:: Simply adding colour to your sand pit can give it a whole new appeal. Here's how to make DIY coloured sand – so easy when you know how!
:: And adding in some interesting bits and bobs to your sand pit gives an interesting invitation to your children to come and explore. I love the pouring containers in this sand sensory bin.
:: Coloured sand can be a great way to learn to write, as you can make clear marks in it with your fingers or a stick.
:: And you can use coloured sand to make art too.
:: My girls love this homemade cloud dough recipe to make indoor sandcastles…
:: and this portable mini sandcastle kit would be the perfect combination for it.
:: For a more permanent sand castle, try this air-drying sand recipe.
:: This taste safe moon sand holds its shape too, and could be a good alternative if you're concerned about your child putting things in their mouth.
:: Have you ever tried making wet sand sculptures?
:: Or making prints in sand play dough?
:: I'd like to try this recipe for sand slime!
:: You could make sand paint to make some textured pictures.
:: or try this idea for moon sand cupcakes.
:: And this black moon sand is perfect for some outer space sensory play.
:: For a totally different texture, try this sand foam recipe.
:: or use kinetic sand to learn your ABC.
Get free resources for your children!
Did you know you can receive free weekly activity ideas, seasonal resources, free printables and extra bonuses from Nurturestore? You'll have creative learning ides for your children all year round!
Sign up in the box below and we'll send you your freebies!
---
* By subscribing, you consent to our use of your personal data as per our Privacy Policy, which includes agreeing to receiving interest-based email from us.
---