Are you making resolutions with your children this new year? I love the energy that crackles at this time of year. All the hopes and dreams and possibilities.
By nature I'm a planner and a list maker so I love to start the new year with a resolution of some kind.
In the past we've made a wish tree and wishing wands but today we decided to try something different. Combining art with good intentions we created our Words of the Year..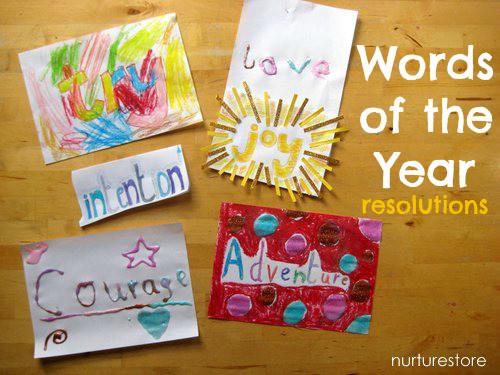 Quick resource >> Download your ready-made New Year Unit here
Resolutions with kids :: Word of the Year
We started this project yesterday (last year in fact!), talking about the kind of words we might choose to be our words of the year. The children called out as many words as they could think of and I jotted them down.
I wanted to encourage the children to pause and decide upon words that were really special to them, rather than the first idea that popped up, so doing it this way got our ideas flowing and gave us over night, and from one year to another, to ponder and pick our words.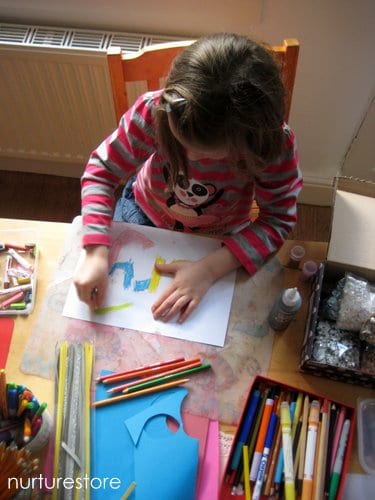 This morning I set out a variety of materials on the table for us to use to create our word art: papers, card, pens, pencils, oil pastels, chalk, glue, glitter…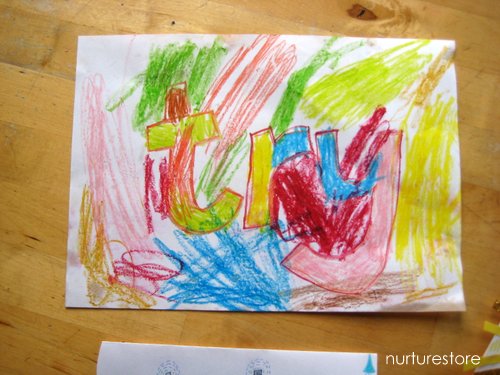 and everyone chose their words and the materials they wanted to use to capture them.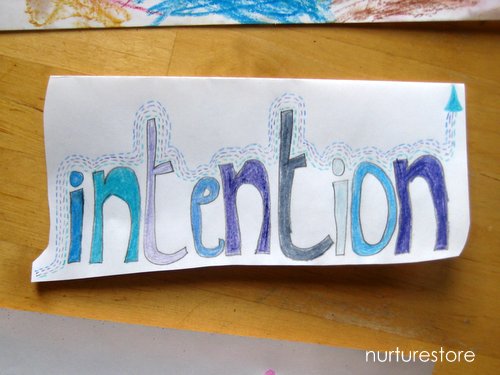 We listened to this song while we drew and talked about how we can shape ours days by remembering our intentions at the beginning of the year and using our Words of the Year to guide our choices, decisions and how we spend our time.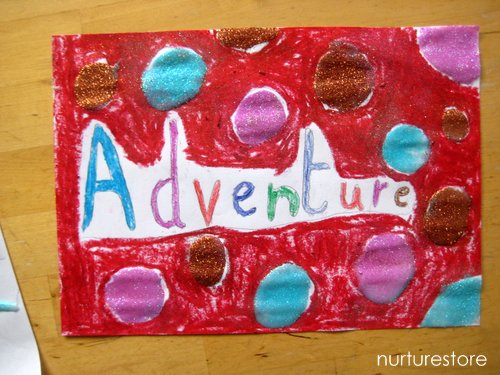 I love how colourful and vibrant the words turned out to be.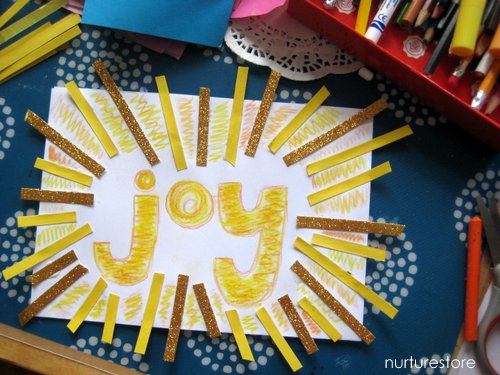 I think they'll be made into a gallery for the kitchen wall, so we can see them and keep them in mind and heart all year long.

Download your ready-made New Year thematic unit
Download your ready-made New Year thematic unit from the Play Academy and you'll have everything you need to guide your children through a fun and thoughtful new year.
In this New Year Unit your children can:
:: learn about New Year celebrations and enjoy new year fizz sensory play
:: make a homemade calendar
:: complete their unique What A Year! journal page
:: make noise makers and fireworks
:: set New Year's resolution goals
:: make a wishing wand or make a poster of their Word of the Year
Bonus New Year thematic unit printables
The Play Academy's thematic units come with practical printables that make the lessons more engaging for your children and easier for you to teach.
No need to go searching for printables to accompany your lessons, they're all included when you download your chosen unit.
In this New Year Unit you'll receive these bonus printables:
:: a Draw Your Own Calendar
:: a What A Year! New Year Review poster / journal page
:: a New Year Colouring page
:: and New Year Goals printables
How to download your ready-made New Year Unit
You can download your ready-made New Year unit, along with over 50 more, from NurtureStore's Play Academy.
If you are already of the Play Academy, you can download this unit straight away from our Library here.
If you are not yet a member, find out more and choose your first unit here. Your teaching is about to get a whole lot easier!