You can use these free printable rangoli design templates as colouring pages, stencils for chalk rangoli or as inspiration for your own rangoli designs.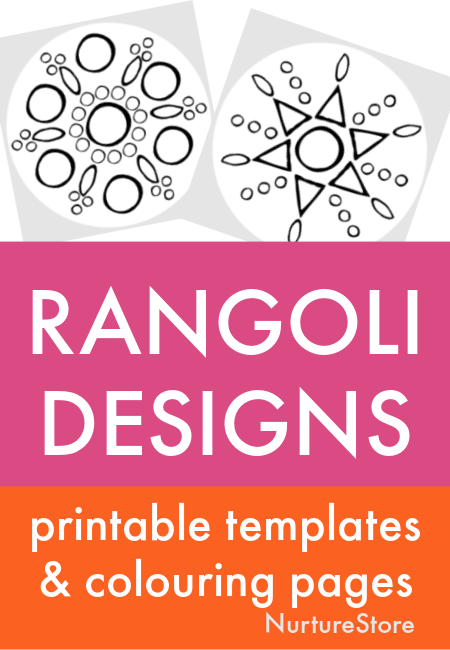 Printable rangoli design templates for children to colour in
Use our free printable rangoli design templates for your children to get them started making their own rangoli designs. You can use a variety of materials to make rangoli designs, making this Diwali crafts great for all ages of children.
This article is one of our Diwali activities and crafts for children resources.
In this article you can:
:: learn about the Indian fesitval of Diwali
:: learn about rangoli: what they are are how they are made
:: print a selection of rangoli templates
:: get ideas for rangoli crafts and art projects for children
:: find more links to other great Diwali crafts and activities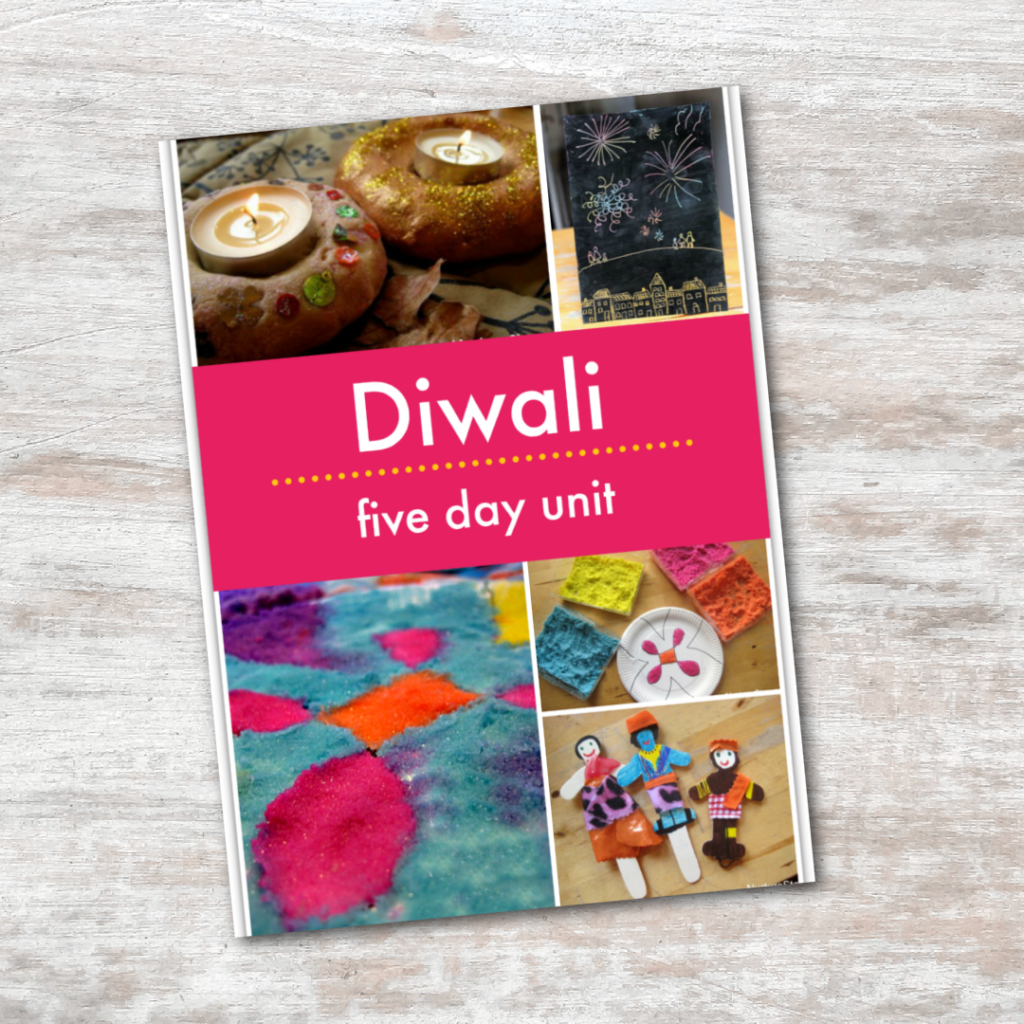 Ready-made Diwali Unit
If you're a member of our Play Academy you can download a ready-made five day Diwali Unit and you'll be ready to lead a week of fun and educational Diwali activities with your children.
This Unit is part of our Festivals specialist curriculum pathway, and is a part of a set of ready-made units you can use to teach your children about the festivals of the world all through the year. Based on the teaching philosophy of hands-on learning, the Play Academy festivals curriculum is engaging, effective and loved by children.
See more details of this Diwali Unit, and all the other specialist curriculum pathways and ready-made units you can choose from, in the Play Academy here.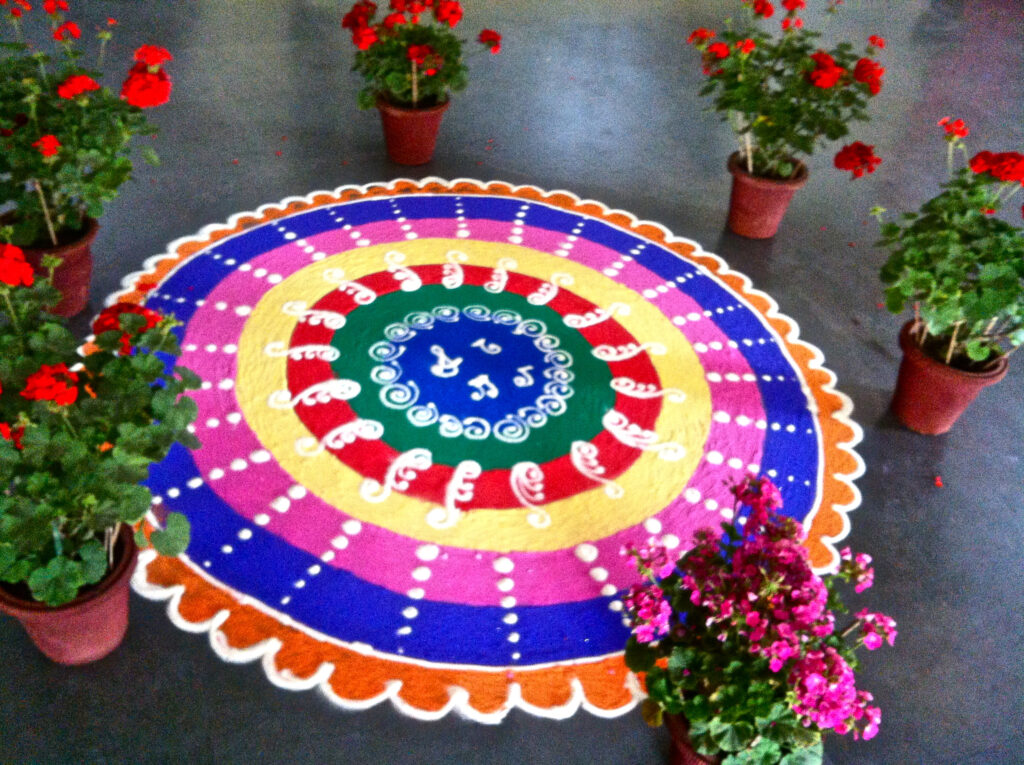 What are rangoli?
Rangoli are associated with the Indian festival of Diwali. See all our Diwali crafts and activities here, including a guide to how the festival is celebrated.
During Diwali, the entrances of houses are decorated with rangoli patterns made from coloured sand, to welcome guests.
Rangoli are made using bright colours including blue, pink, yellow, orange and green.
They usually use a pattern of concentric circles, with rings getting bigger and bigger from the centre of the rangoli out to the outer edge.
They use repeating patterns of shapes and marks.
Rangoli designs often make use of symmetry: both radial and linear symmetry.
Rangoli can be made from coloured sand, cooking flour, rice, and flower petals.
You can see a selection of rangoli designs here. And see our full rangoli lesson for children here.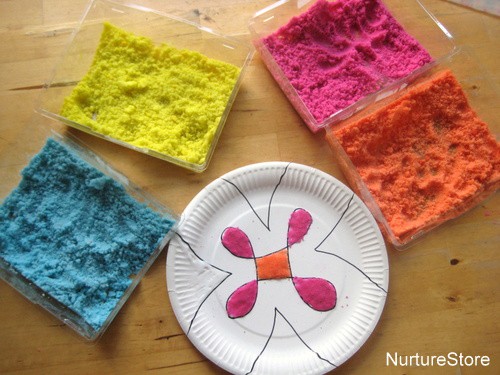 How to make rangoli designs with children
Making your own rangoli craft, inspired by this beautiful Indian art, is a wonderful way for children to learn about Diwali.
You can decide which materials you would like to use to make your rangoli, and which colours and shapes you want to include.
You can print the rangoli design sheet for your children below and try one of these ideas:
Rangoli craft with coloured sand or salt
Use this recipe to make coloured sand or salt and use it to create a rangoli design.
Easy rangoli craft with stickers
This rangoli is great for younger children who are learning about shapes and colours.
Simple rangoli craft using collage art
Explore collage art as you make the easy and colourful rangoli
Paper plate rangoli using dried lentils and beans
Use a paper plate and dried lentils and beans to make a rangoli in earthy colours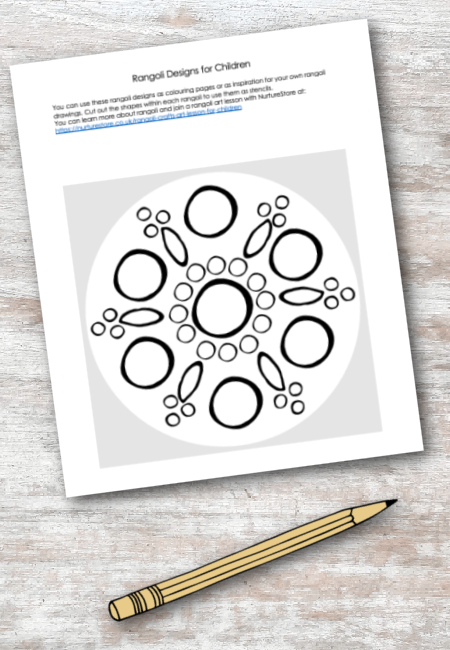 Free printable rangoli templates for children
You can download a set of free printable rangoli templates for children below. There are three rangoli designs included which feature different shapes and sizes, radial symmetry, repeating patterns, and concentric circles.
These rangoli are shared for inspiration, accessibility, and fun. Take a look at real rangoli designs here and encourage your children to create and customise their own designs, inspired by them.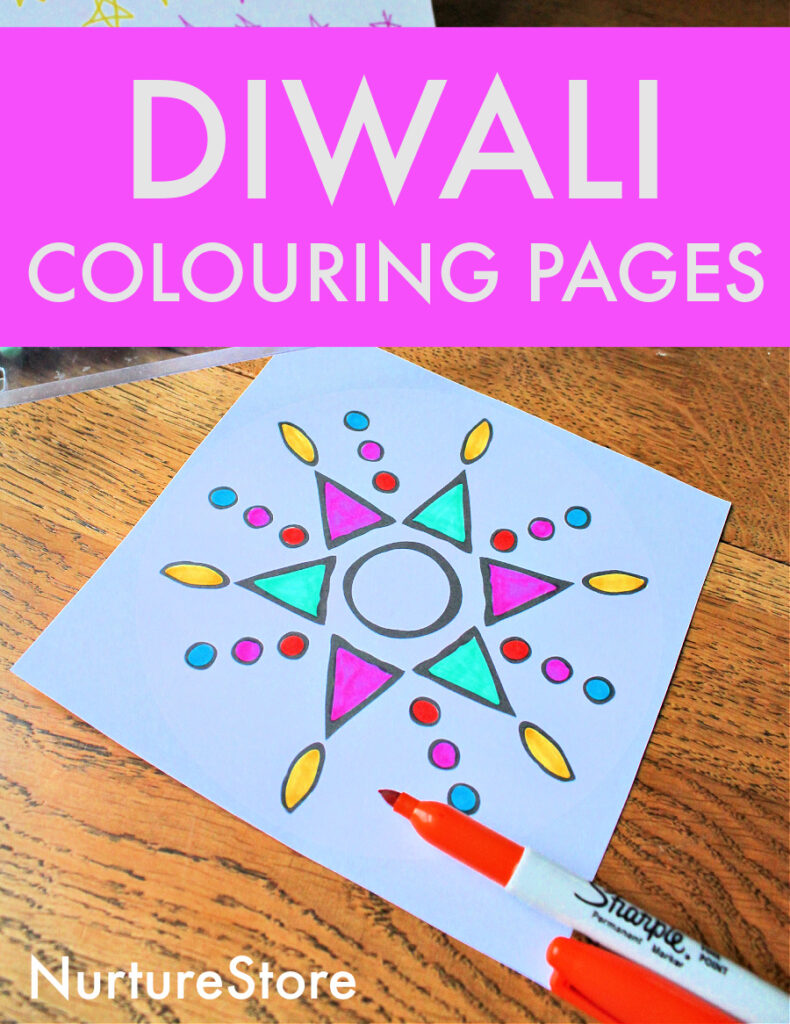 Our rangoli templates are simple designs which children can use as ideas to get them started on their own projects, and can be used as colouring in pages.
You can also cut out the shapes in the rangoli printable, using a craft knife, to create a simple rangoli stencil. Place the stencil on the floor outdoors and colour in the spaces in the design using chalk to make a quick and easy child-friendly rangoli design.
See below for details on how to print the free rangoli templates.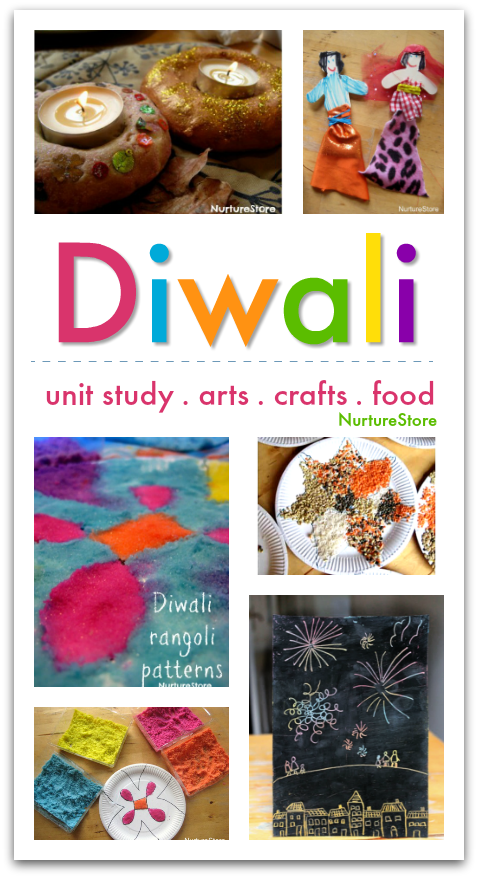 More Diwali crafts and activities
For more great ideas to learn about and celebrate Diwali with your children, including Rama and Sita puppets and diya crafts, see our full index of Diwali crafts and activities for children.