This beautiful Diwali craft for children uses the art technique of collage to create colourful rangoli patterns.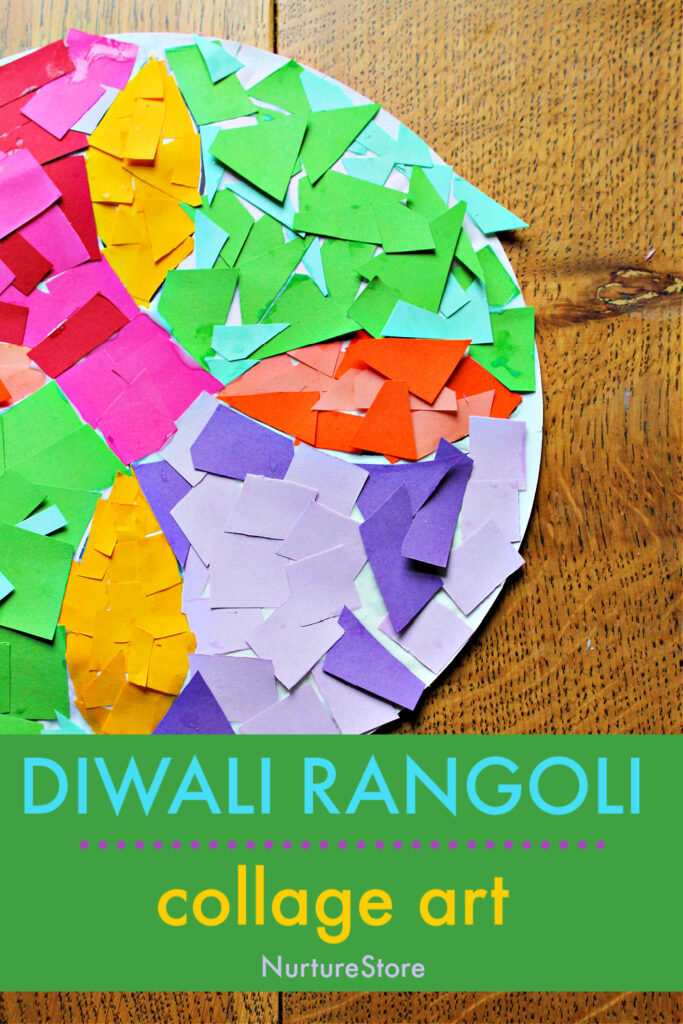 Simple rangoli craft collage art project
In this Diwali art lesson children are invited to explore the technique of collage making to create their own designs inspired by the traditional rangoli decorations of the Indian Festival of Lights. It's perfect for kids who love using glue!
This article is one of our Diwali activities and crafts for children resources.
In this article you can:
:: learn about the Indian festival of Diwali
:: learn about rangoli: what they are and how they are made
:: make an easy rangoli craft, inspired by the traditional Indian designs, using collage
:: find links to more rangoli crafts and Diwali activities for children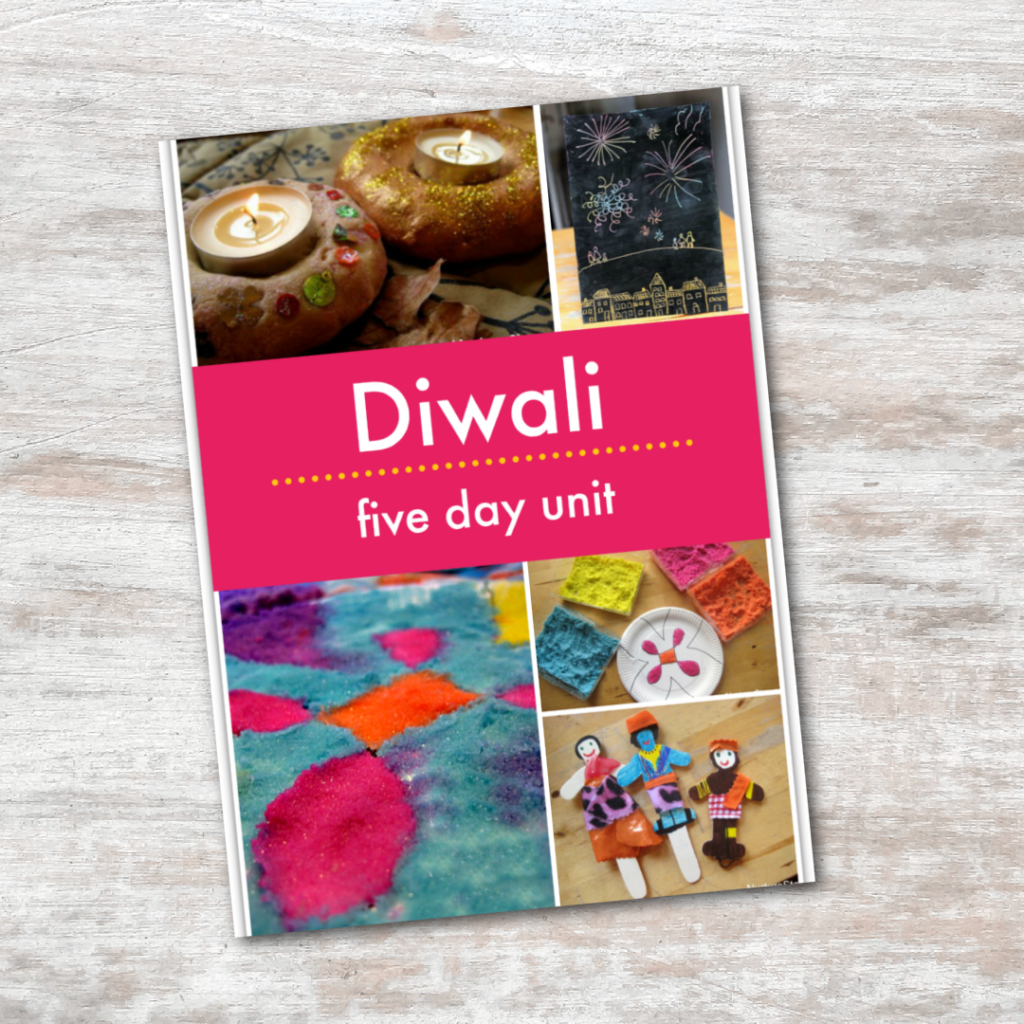 Ready-made Diwali Unit
If you're a member of our Play Academy you can download a ready-made five day Diwali Unit and you'll be ready to lead a week of fun and educational Diwali activities with your children.
This Unit is part of our Festivals specialist curriculum pathway, and is a part of a set of ready-made units you can use to teach your children about the festivals of the world all through the year. Based on the teaching philosophy of hands-on learning, the Play Academy festivals curriculum is engaging, effective and loved by children.
See more details of this Diwali Unit, and all the other specialist curriculum pathways and ready-made units you can choose from, in the Play Academy here.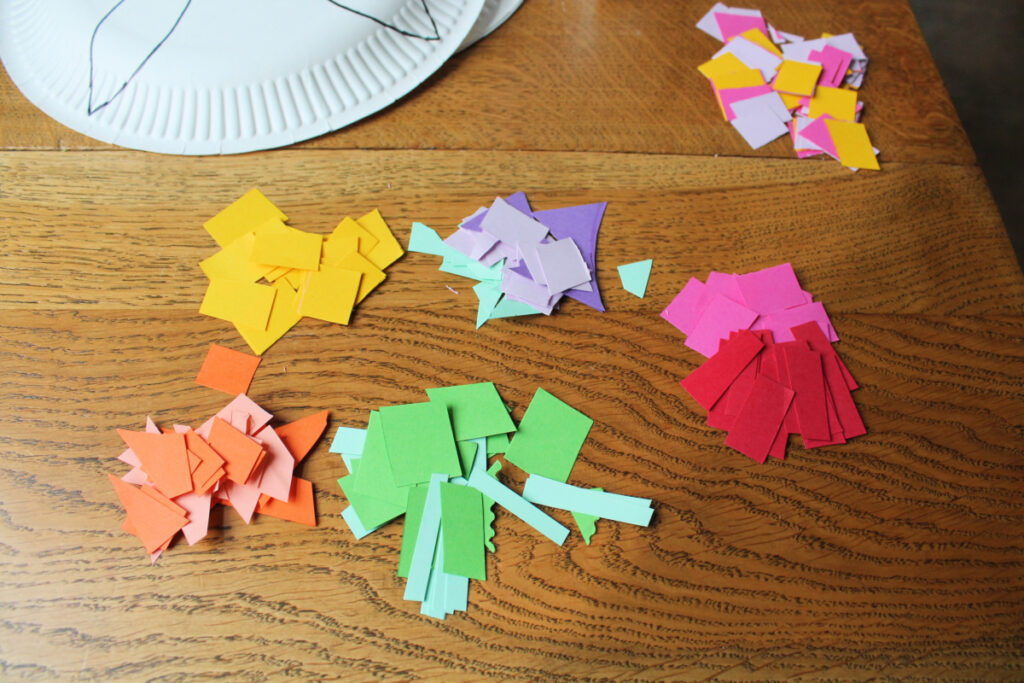 Materials needed
:: paper plates or circles of paper / card
:: pencil or marker pen
:: scissors
:: a selection of brightly coloured paper (pink, orange, green, blue, yellow for example), whole sheets or pre-cut in a variety of geometric shapes: circles, squares, stars, and hearts etc.
:: glue (glue sticks or basic craft glue with glue spreaders)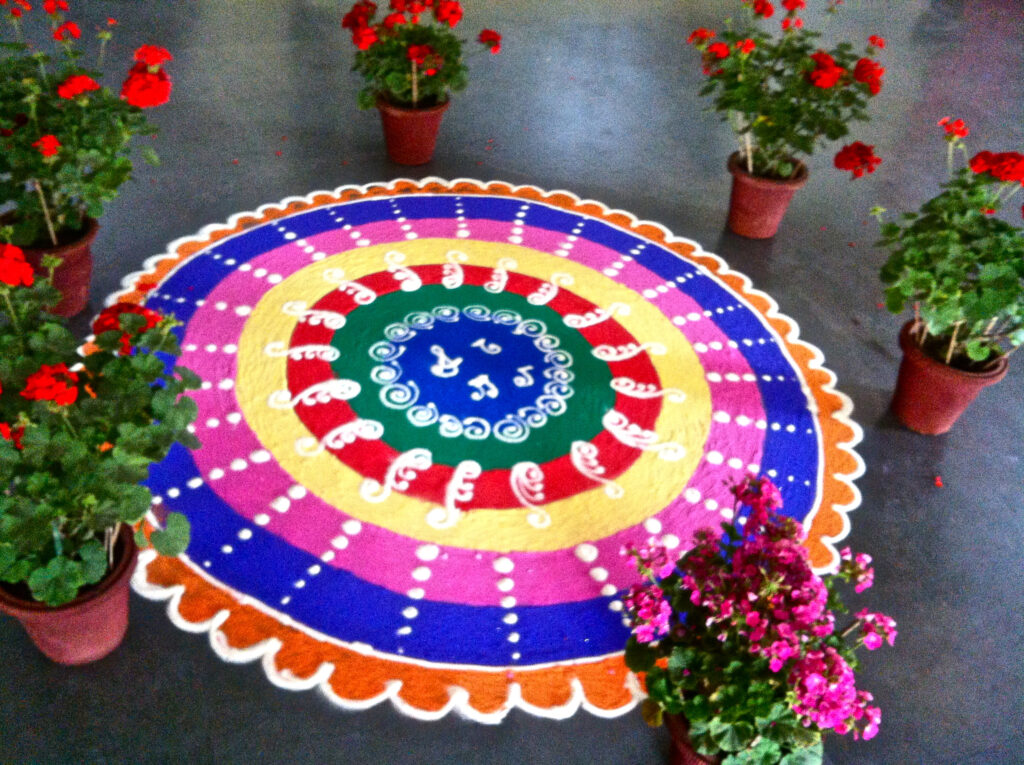 What are rangoli?
Rangoli are brightly coloured decorations created on the floor. They are associated with the Indian festival of Diwali.
During Diwali, the entrances of houses are decorated with rangoli patterns made from coloured sand, to welcome guests.
Begin this craft by using our guide to rangoli lesson to introduce your children to these decorations. Take a look at the designs, see how they are made, and talk about the colours and patterns used.
Then it's time for your children to make their own rangoli.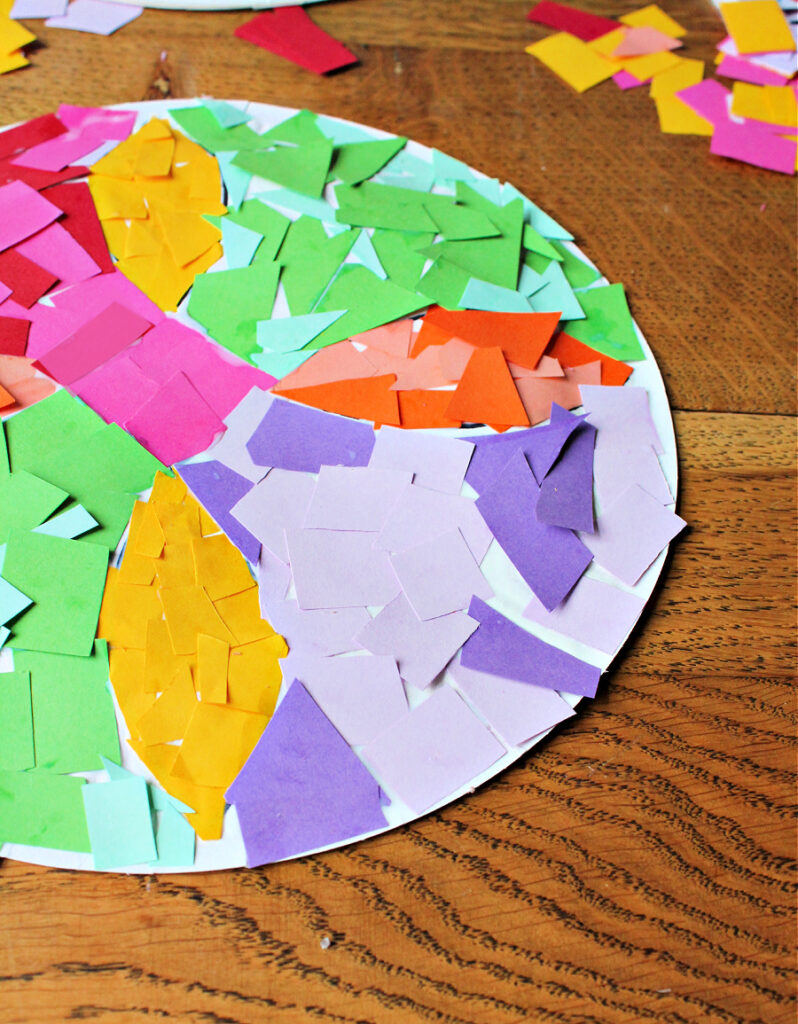 What is collage art?
A collage is a piece of art that is made by sticking mixed materials, such as coloured papers or fabric, down on to another surface.
To make your collage rangoli you can use whole sheets of paper, off-cuts from previous art projects, saved paper from your recycling bin, or bought pre-cut coloured paper shapes.
You might also like to use other materials such as fabric scraps.
To follow the Diwali rangoli inspiration, use materials in the traditional Indian colours of bright pink, orange, green, blue, and yellow.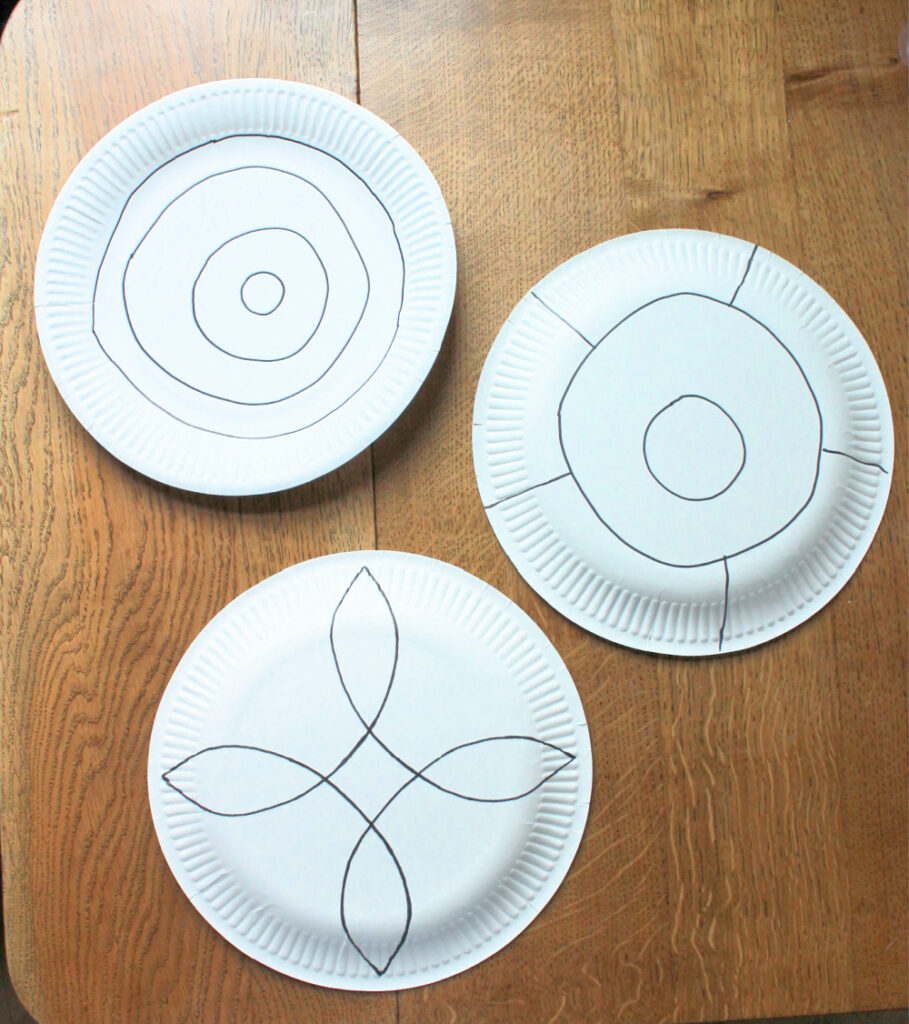 Making collage rangoli art
Start by drawing out a simplified rangoli design on a paper plate or a circle or paper / card.
You can use a pencil if you don't want your guide lines to show in your finished rangoli, or a marker pen if you want to have bold lines for your children to follow when they are adding their stickers.
Take inspiration from the traditional rangoli designs use of shapes, symmetry, and repeating patterns, but make a simple, clear design your children can use.
You can also use our printable rangoli design templates handout.
Depending on the age / stage of your children, you might like to prepare all these drawings in advance, as templates for your children to use, or leave it to your children to draw their own.
Older children might prefer to have no guidelines and to use pieces of coloured paper to build their symmetrical design themselves.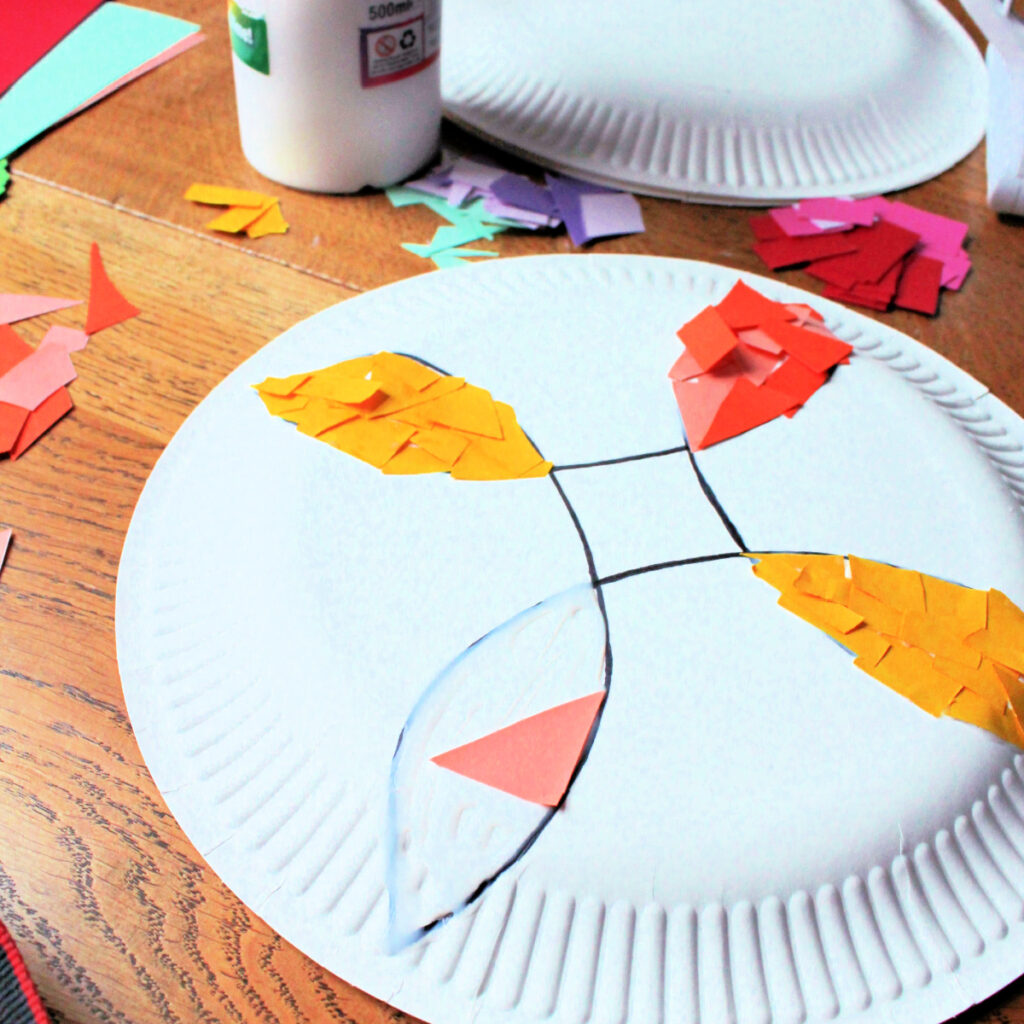 Decorating your rangoli with collage
Now you are ready to being making your collage.
Use glue to stick your collage material down onto your paper plate or circle of paper/card. Glue sticks are a less-mess option but you can also use bottles of craft glue with spatula glue spreaders.
You can apply a blob of glue to each piece of collage material in turn, and stick them down individually.
You can also fill a section of your rangoli design with a layer of glue and then you're able to add several pieces of collage material to that section at once.
Experiment with both techniques and see which on you like using better.
You can layer on the collage materials, placing more items on top of ones you have already stuck on, but be aware you might need to add a bit more glue for each layer, to hold everything in place.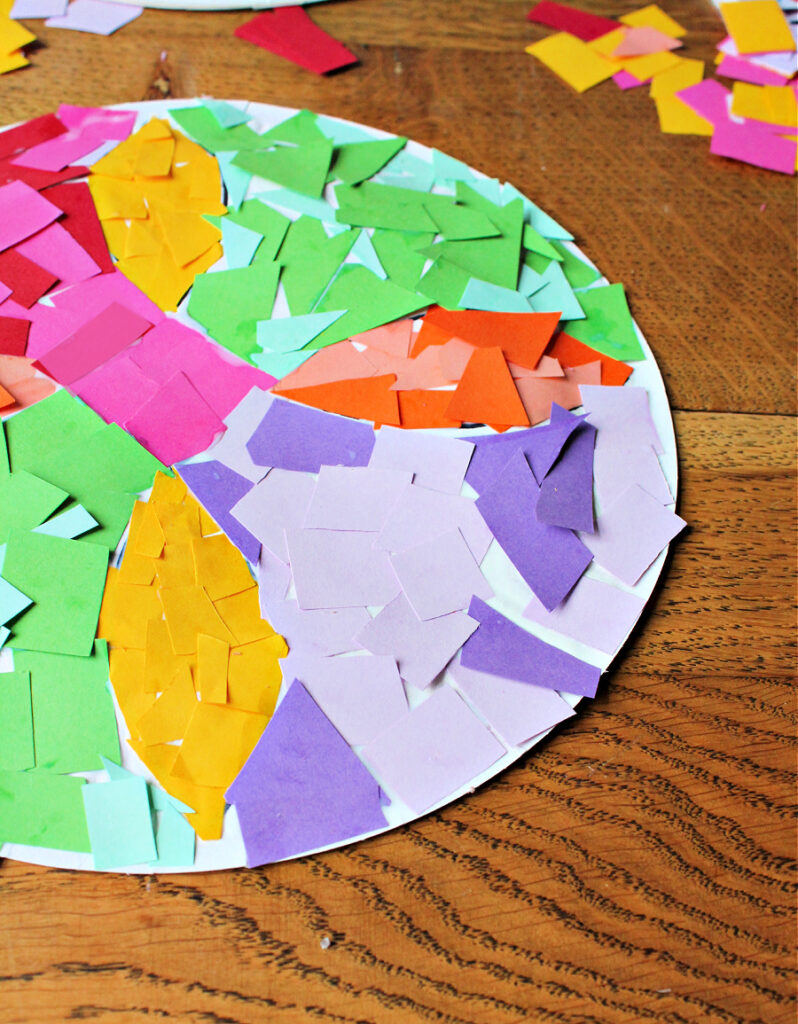 Create your collage rangoli
Choose which pieces of collage materials, in which colours, you want to add to your rangoli.
:: You can stick the collage pieces down following the drawn lines.
:: You can use them to fill in the blank spaces in your design.
:: To follow the traditional rangoli designs, have all the same coloured pieces of collage material in one section of your design, to make blocks of colour like the coloured sand. It's great to combine different patterns and textures all of the same colour.
:: Very young children might simply enjoy placing the brightly coloured collage materials onto the circular card / paper plate in a random design.
All of these are valid and creative interpretations of the traditional rangoli designs, so give your children the freedom to make as detailed or as simple a collage as they choose.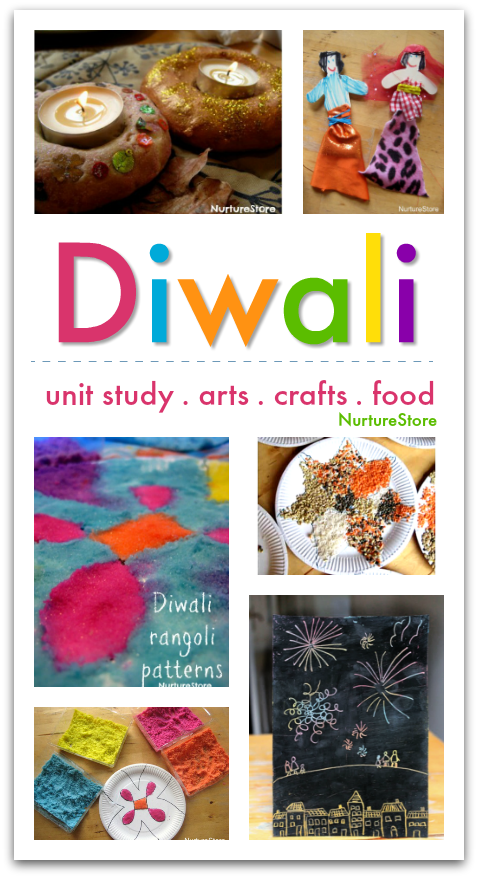 More Diwali crafts and activities
For more great ideas to learn about and celebrate Diwali with your children, including Rama and Sita puppets, diya crafts, and more rangoli crafts, see our full index of Diwali crafts and activities for children.