These books about sunflowers for children are a wonderful addition to our Sunflower Club and great to read if you are growing sunflowers with your children.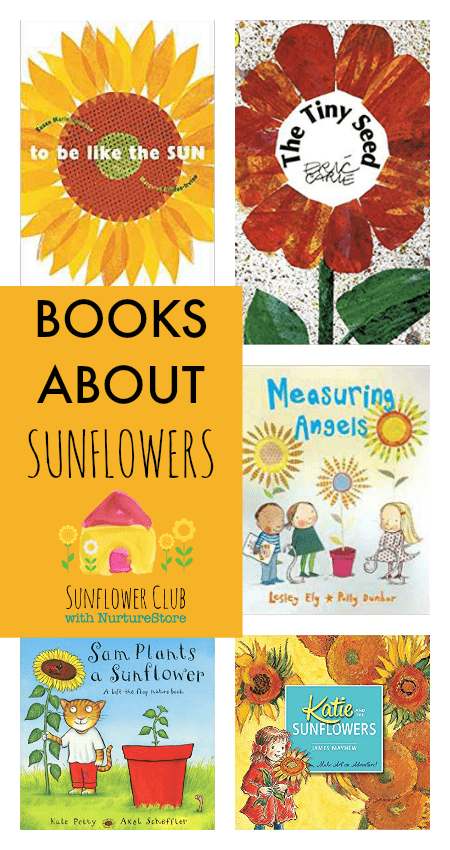 Books about sunflowers for children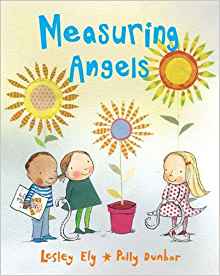 Measuring Angels by Lesley Ely and Polly Dunbar
Measuring Angels is a book so rich in ideas and inspiration it's hard to know where to start. It explores bullying and beauty in sensitive and thought provoking ways and is accompanied by gorgeous illustrations bursting with joy and colour. This is a book that will leave you happier, more optimistic about life, and itching to grow your own sunflowers (if you aren't already doing so!)
A young girl at school is unhappy because she has fallen out with her friend. Hoping for reconciliation the class teacher gets the two girls to work together on the class sunflower growing competition; there are not enough seeds to go round the entire class and so the two girls reluctantly have to share.
At first things don't bode well.
"When I put soil in the pot Sophie frowned. She snatches the seed and shoved it hard into the soil! I frowned but nobody noticed."
At the suggestion of their teacher the girls try talking to their floundering seedling, and this along with the help of some fantastic sunflower guardian angels made from paper and glue by the class ensure the blossoming of not only their sunflower but also the rekindling of their friendship.
Seeing the sunflowers all in bloom the teacher realises that measuring for the tallest actually misses the point – beauty and friendship can't and shouldn't be measured.
This story is told with real a ring of authenticity; perhaps this is unsurprising given that the author is an experienced headteacher! The well crafted story is perfectly matched by beautifully observed children and mood-liftingly zingy illustrations created by the very talented Polly Dunbar.
(kindly reviewed for us by Zoe Toft from Playing By The Book)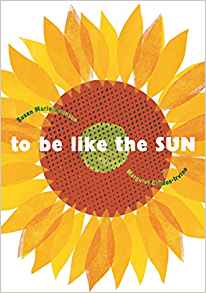 To Be Like the Sun by Susan Marie Swanson and Margaret Chodos-Irvine
Hello, little seed,
striped gray seed.
Do you really know everything
about sunflowers?

My hoe breaks apart
the clods of brown earth,
but you do the real work
down in the dark.

Not radish work or pumpkin,
not thistle work –
sunflower work.
All the instructions are written in your heart.
So opens this beautifully lyrical book which follows a young girl over the course of a growing season as she plants, tends, enjoys and then warmly remembers the sunflower she grows in her garden.
The sparse, poetic text is great for reading aloud – its brevity and apparent simplicity makes it an engaging listen for younger children, whilst its imaginative language ("All these seeds – are you tired / of holding them up? / What makes them so heavy? / Is it light caught inside?" or "a sunflower seed / is smaller than a word") will get older children thinking and asking questions.
I particularly liked the fact that the text is written as if the young child herself is addressing her seeds and sunflowers – putting the child's voice at the centre of the story gives an immediacy and relevance to little listeners as they imagine themselves talking to their own seeds.
If the quiet, meditative text is something that children of all ages, and their parents will enjoy, the illustrations will delight and thrill them. Bold, bright and bursting with vitality, (just like a sunflower in full bloom), Margaret Chodos-Irvine has used a variety of printmaking techniques to create images that will almost literally fill you with sunshine. The graphic-design feel of the prints, uncluttered, precise and perfectly placed mirrors the text remarkably well – this is a fantastic example of a book where text and illustration combine in a way that I don't think could be bettered.
This is a sunflower book you should most definitely track down! Magical text, stunning illustrations and perfect for talking with your kids about the sunflower seeds you are growing together.
(kindly reviewed for us by Zoe Toft from Playing By The Book)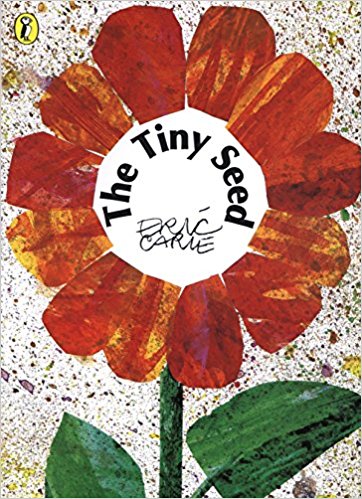 The Tiny Seed by Eric Carle
With Carle's distinctive art style, which you will recognise from The Very Hungry Caterpillar, this beautiful book tells the story of a tiny seed blow miles and miles across the sea and mountains to a new home where is it grows into the tallest plant around. A beautiful story of adventure, grit, and blossoming!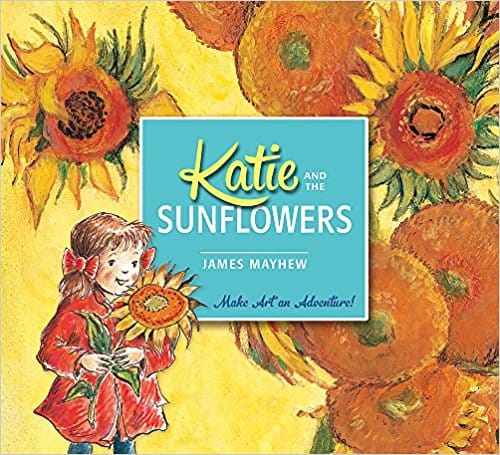 Katie and the Sunflowers by James Mayhew
This book is based around one of the most famous and gorgeous paintings from art history; Van Gogh's Sunflowers. I've see the work in the National Gallery and the flowers really do shine out from the painting. Imagine though if you could reach in and touch the flowers! That's what Katie does in this fun combination of art, imagination, and adventure.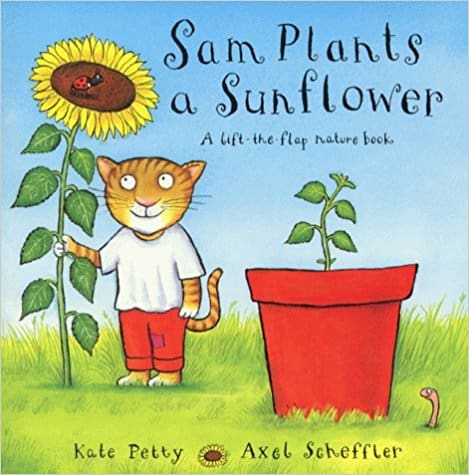 Sam Plants a Sunflower by Kate Perry and Axel Scheffler
Sam the Cat, along with his friends Ladybird and Worm plant a sunflower and learn all about how plants grow in this interactive book that includes flaps and a pop-up sunflower.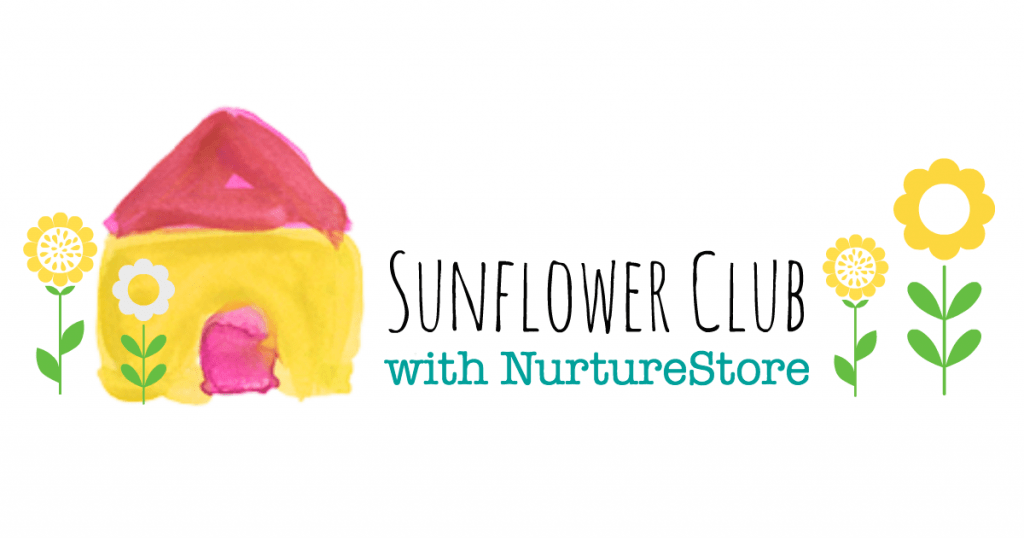 Join the NurtureStore Sunflower Club :: free resources for your children!
Let's connect our children to nature all spring and summer long with an engaging curriculum all based around sunflowers.
My Sunflower Club programme is free to join and will give you six units of lesson plans, activity ideas and printables that you can use with your children to:
:: grow sunflowers together and watch the natural cycle of the year from seed, to plant, to flower, to seed
:: see math and science in action with hands-on practical activities and observations
:: create sunflower art inspired by your own plants and works by Vincent Van Gogh and Georgia O'Keefe
:: learn about bees and the vital role they play on our planet
:: wonder at the patterns that occur in nature, learning about symmetry and Fibonacci
:: write your own sunflower poems and make a unique Sunflower Journal
:: harvest your own seeds at the end of the year, using them for recipes and to create your own sustainable garden, year after year
:: NurtureStore Supporters get extra bonus printables all through the spring and summer!
Gardening :: Environmentalism :: Science :: Math :: Art :: Fun!
The NurtureStore Sunflower Club is free to join – just add your email address in the box below and I'll send you the resources.