Need some play ideas for babies who are on the move? Here's a collection of activities for crawling babies.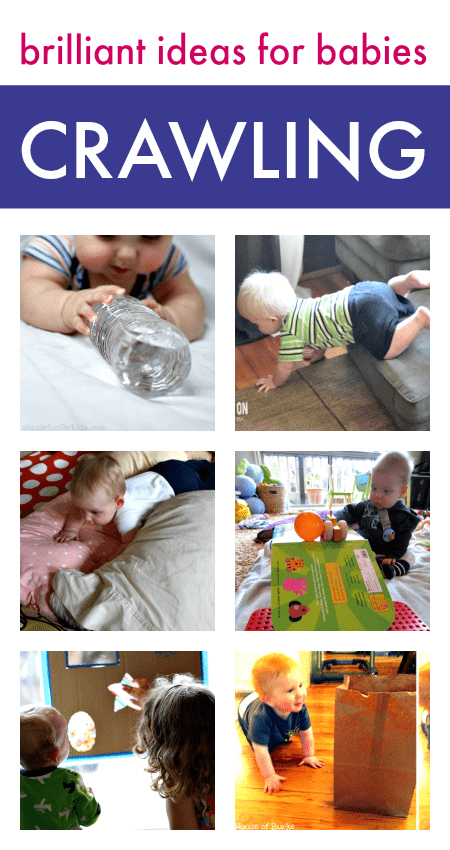 Fab ideas for babies who are crawling
Things change as soon as your baby is crawling!
Houses need re-arranging take things out of their reach, and you need to sharpen your reflexes to go grab, re-direct, move or otherwise rescue your once-still baby who is now well and truly on the move.
Crawling brings with it lots of fun times too. There are new games you can play together to have fun with your baby's new-found motor skills, and a whole new world of things for your baby to head on over to and discover.
Here's a fab collection of simple play ideas that you can use with your baby around this stage.
The ideas can be used to gently encourage your baby's developing motor skills, and to set up some playtimes to enjoy together.
Play ideas for crawling babies
:: Set up a sensory runway for your baby to crawl along.
:: Or an obstacle course to crawl over.
:: Give your baby a fun destination to head to, such as a touch and feel board on the window.
:: Or try these ideas using soft blocks.
:: Try this collection of ideas for easy treasure bins, and place them around the room for your baby to go and discover.
:: Use this idea with photographs to make a sight-seeing tour.
:: A simple bottle of water can make a great toy to roll and crawl after…
:: Or use this guide to make some colourful sensory bottles to roll and chase.
:: This toy ramp is a great launch pad for things your baby can go and crawl after.
:: And I love this idea for 'mystery bags', with different things inside to go and discover.
Get free resources for your children!
Did you know you can receive free weekly activity ideas, seasonal resources, free printables and extra bonuses from Nurturestore? You'll have creative learning ides for your children all year round!
Sign up in the box below and we'll send you your freebies!
---
* By subscribing, you consent to our use of your personal data as per our Privacy Policy, which includes agreeing to receiving interest-based email from us.
---