Today we're joined by Kristina from Toddler Approved, who's sharing a fun paper plate name game that helps children learn to recognise, read and spell their name.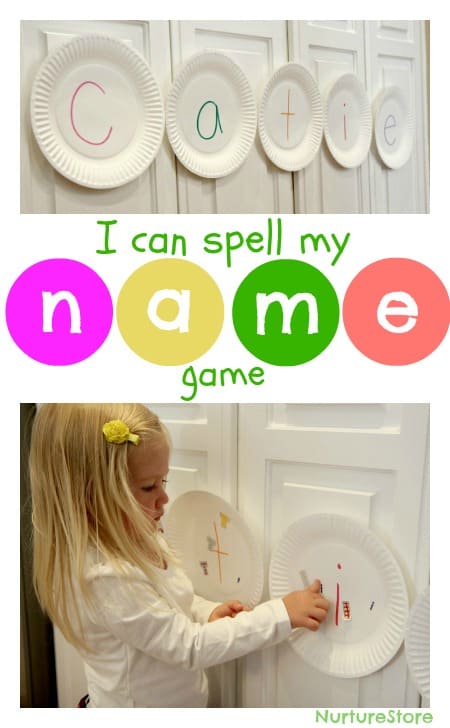 Paper plate name game
My daughter loves doing any activity that involves her name. Carol Lyons said "The most powerful and effective way for children to begin learning the complex process of learning about letters is by writing their own names."
At our house we love to write, build, draw, and make our names out of basically any material we can find. I even have an entire pinterest board devoted to name activities and crafts.
I really enjoy finding simple learning activities that allow kids to play with and explore the letters in their names.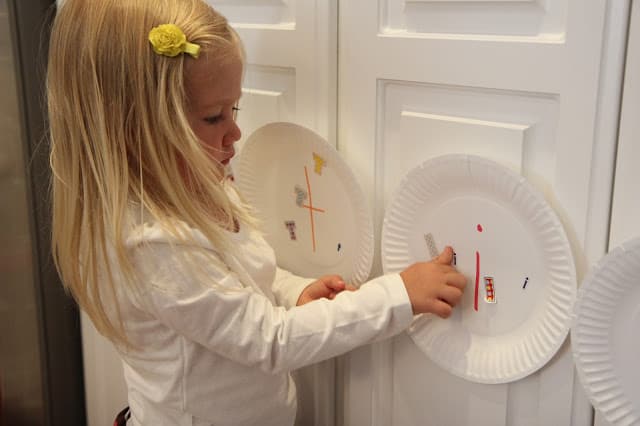 A few weeks ago my daughter and I pulled out some paper plates from our cupboard and created a name activity with stickers.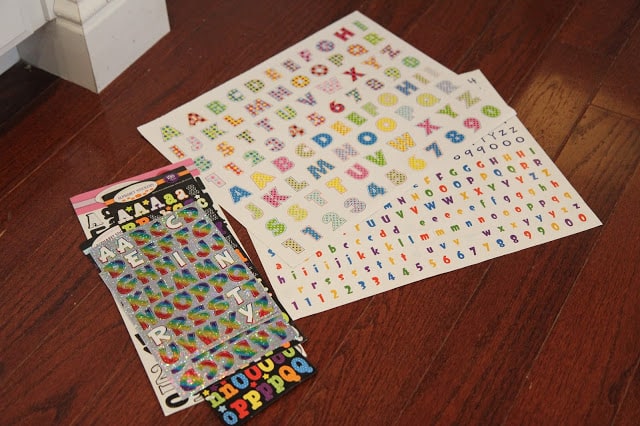 Supplies we used:
paper plates (enough for each letter of your child's name)
marker
alphabet stickers (our favorite are these ABC stickers by Melissa & Doug)
painters tape
Directions:
I started off by writing a letter in the center of each paper plate. Then my daughter and I hung the paper plates on our cupboards using painters tape. We hung them in order so that we ended up spelling her name!
Once the paper plates were hung up, we grabbed our colorful alphabet stickers and talked about how the first paper plate had a big letter C on it. Then my daughter went on a hunt for letter C stickers!
Once she found a letter C sticker, she added it to the paper plate and then hunted again. She added lower and uppercase C!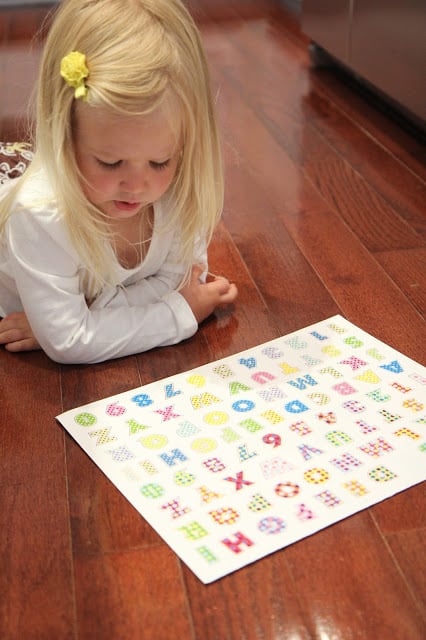 Once she was done hunting for letter C, we moved on and hunted for stickers that matched the next letter in her name. We repeated this until each paper plate had several matching ABC stickers on it.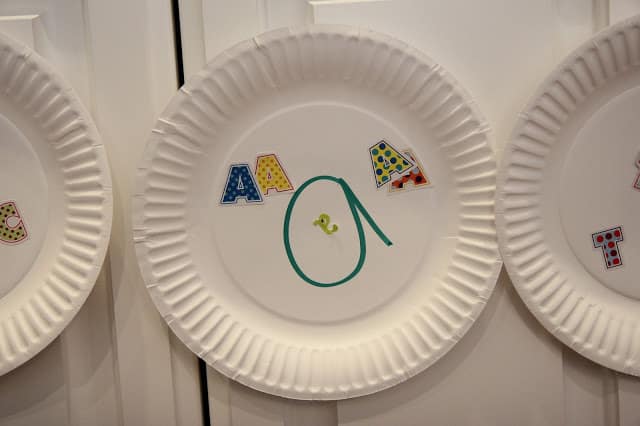 What I love about this activity is that it can take as much time or as little time as you have. We left our paper plate letters up on the wall for several weeks so that we could talk about them and add more and more letters to them.
My daughter loved seeing her name on the wall and this activity got her talking about and identifying the letters in her name! Learning the whole alphabet can be overwhelming, but focusing on a few important (and favorite) letters can make the ABCs seem much more friendly and familiar.
Some of our other favorite name games include…
In what other ways have you helped you child explore and create with her name?
Kristina is the author of Toddler Approved, a blog where she helps parents capitalize on teachable moments in everyday life and motivates them to discover, create, and learn with their children. She is a mom of three and is a former Special Education teacher and Curriculum Specialist. When she's not blogging, you'll find Kristina jogging around town, organizing church and neighborhood social events, throwing crafting parties for kids, and traveling with her family. She also hosts a monthly Virtual Book Club for Kids online and a Mommy & Me Book Club with friends offline. Kristina tweets as @ToddlerApproved and can be found on Facebook and Pinterest.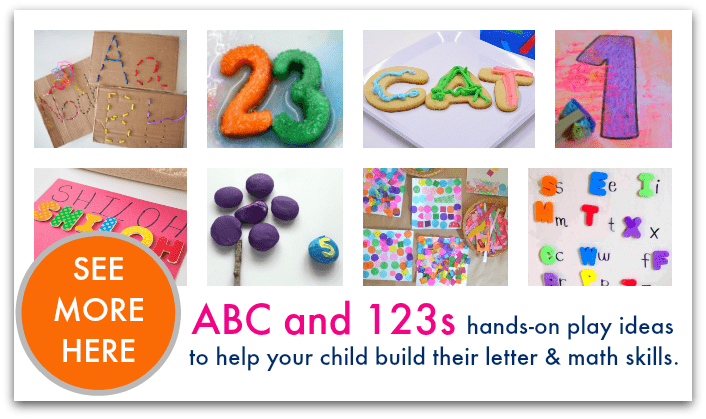 ABCs and 123s : fun learning activities for letters and math
All our favourite literacy  activities, all in one place :: download our ABCs and 123s guide here.