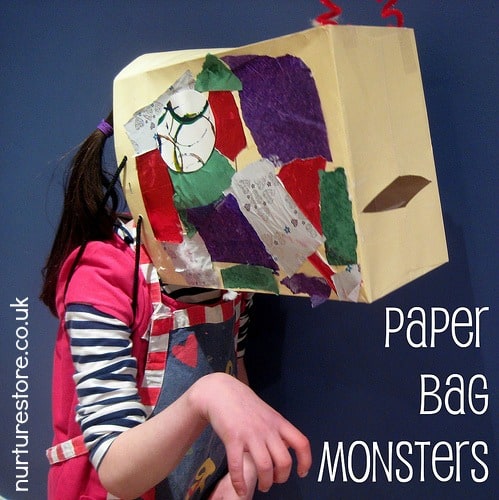 [pinit]
When I told the girls about the Tinkerlab paper bag challenge they knew exactly what they wanted to make: paper bag monsters.
Every two months tinkerlab lays down a challenge to children inviting them to take an ordinary material and turn it into something creative. This month it's all about paper bags. Further down this post you can see all the wonderful ideas other bloggers have some up with – click through on each link to see how they made them – and you can join in too and add your own link.
First though, here's how the girls came up with their paper bag monsters.
How to make a paper bag monster
First up: locate your paper bag – surprisingly tricky in the UK! (N.B. Jo Malone. How posh are we? Don't let anyone know we were only given it as a recycled carrier when we bought something from a charity shop.) B immediately focused on the handles and how they would be just the thing for attaching the bag to your body: perfect arm holes.


Next step: decoration. The collage was created from bits and pieces located in our making box, so all recycled. 

Cut out a big, wide mouth from the front of your paper bag monster…


and check that you'll be able to see where you're going.


Customise with added extras such as pipe cleaner antennae.

L chose the softest materials she could find and transformed them into something terrifying: cotton wool fur and tail, doily wings, fluffy pom pom feelers.


Hello Kitty never looked so scary.


Thanks for the inspiration Tinkerlab – we had so much fun making our paper bag monsters!
More paper bag craft ideas
Want to join in the fun? You'll be in great company: all these fabulous blogs are joining in!
Paint Cut Paste,

 

Imagination Soup

, 

Hands On: As We Grow,

 

Child Central Station,

 

Putti Prapancha,

 

Irresistible Ideas for Play-Based Learning

, 

Teach Preschool,

 

The Chocolate Muffin Tree,

 

Nurture Store,

 

Small Types

,

Make Do & Friend

, 

The Imagination Tree,

 

Toddler Approved,

 

Red Ted Art,

 

Mommy Labs,

 

Kids in the Studio,

 

Rainy Day Mum,

 

Glittering Muffins,

 

Sense of Wonder,

 

Mom To 2 Posh Lil Divas,

 

Come Together Kids,

 

My Creative Family,

 

Kitchen Counter Chronicles,

 

A Mom With A Lesson Plan,

 

Angelique Felix,

 

The Golden Gleam,

 

Share and Remember,

 

Clarion Wren,

 

Living at the Whitehead's Zoo,

 

Let Kids Create,

 

De tout et de rien,

 

PlayDrMom

, 

Creativity My Passion

, 

Messy Kids,

 

Kiwi Crate,

 

Tinkerlab
You can find full details here – and there's a competition with fun prizes so get making and add your own link.

happily shared with it's playtime