We are lucky to have both sets of grandparents coming for lunch tomorrow – I love it when the family gets together. The girls love it too as it means we will be battling it out in our Annual Egg Rolling Contest. It's a great way to get all three generations enjoying some festive fun together. Here's how we play…
First you need to get some eggs ready. We'll have two people playing at a time so we need two different colours of eggs. This year we will be using coffee and onion skins to dye the eggs, but in the past we have also used turmeric, red cabbage and beetroot.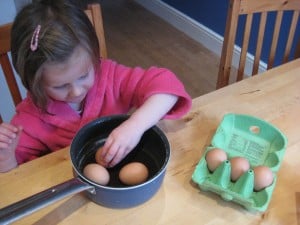 We've hard boiled some eggs in a saucepan of water with some ground coffee in. (It does make the kitchen smell like a coffee house!)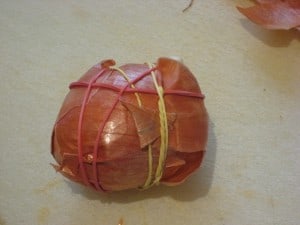 Then we wrapped some more eggs in onion skins and fastened them with elastic bands. It makes it easier if you can take the skin off the onion in big pieces as they will then curl nicely around the egg. Once they're wrapped up, put them gently in a pan of water and hard-boil them. When they're done, leave them to cool before you unwrap them.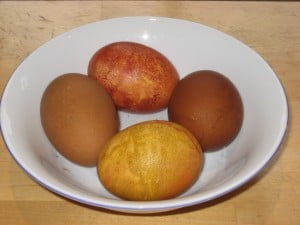 Now you're ready to play. You need a target to aim for – as it's Easter we'll be using a toy bunny rabbit. Place your target a few metres away and then take it in turn to roll your eggs at the target. We usually play in pairs with each person having two eggs each – so two chances to get closest to the bunny. Of course you can also use your turn to aim for your opponents eggs and knock them right out of the way! The winner is the person who ends up closest to the bunny. (And if you're anything like my family you may need a tape measure to adjudicate.) We usually award a little chocolate egg to the winner.
Looking for more Easter fun? Here are some more Easter activities and crafts.