Create a fun construction site invitation to play for preschoolers, kindergarteners and even bigger kids. Adding construction site vehicles to oobleck makes an amazing sensory and pretend play activity for any truck fan.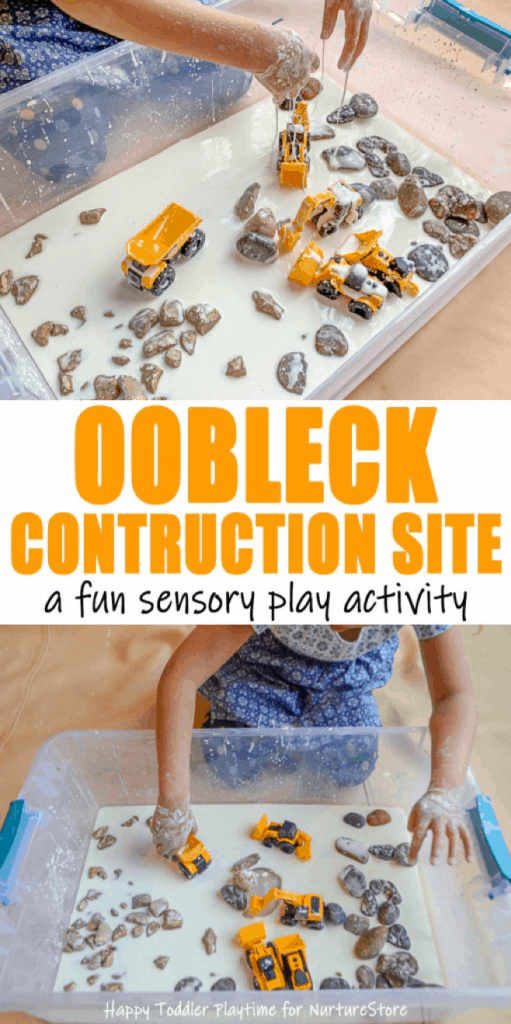 Oobleck construction site sensory play
Mandisa from Happy Toddler Playtime joins us today with a gloriously messy sensory play idea that combines oobleck with trucks – the perfect construction site theme sensory play activity!
Looking for other fun ways to play with oobleck? Check out this amazing mark making activity, this spooky Halloween oobleck activity or this easy Fall oobleck activity.
Materials needed
:: Corn starch or cornflour
:: Water
:: Sensory bin
:: Construction truck and vehicles
:: Rocks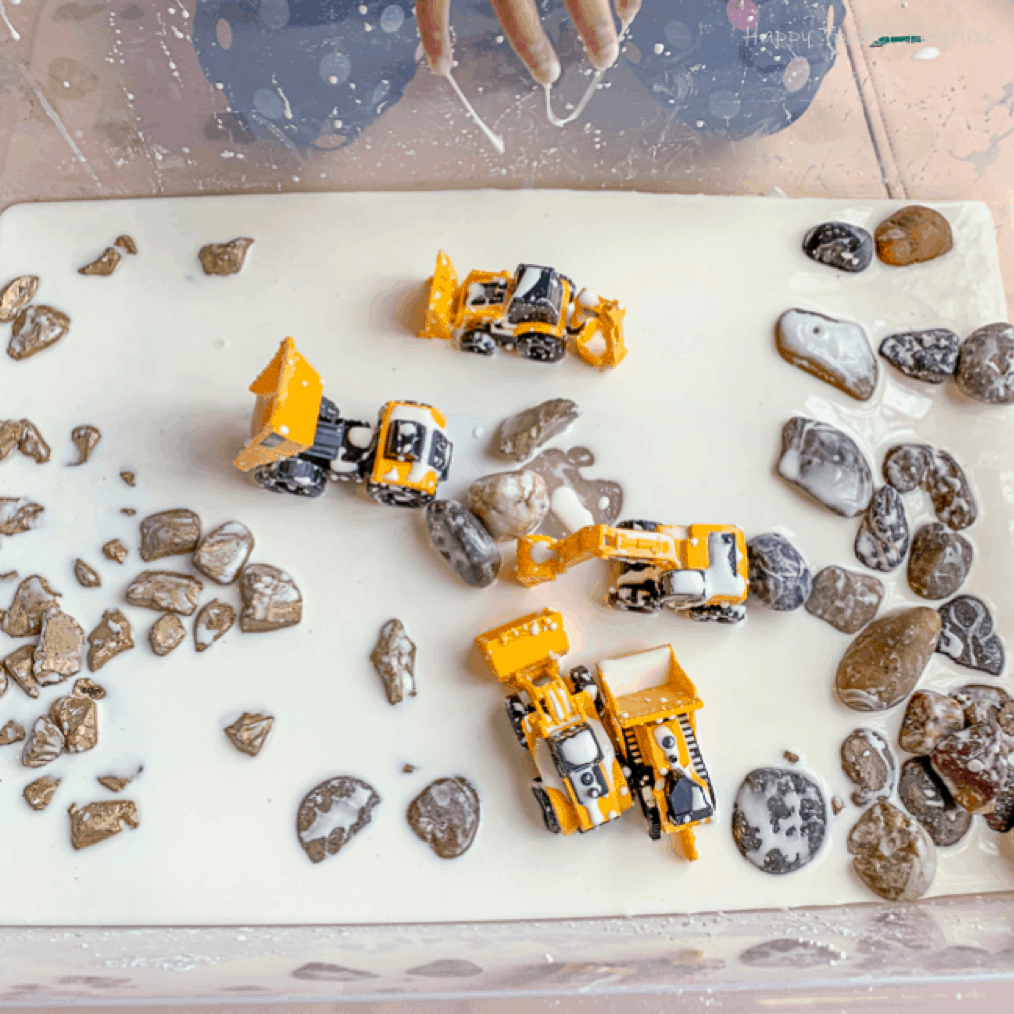 How to make oobleck goop
Oobleck, also know as goop, is a mixture of corn starch (cornflour in the UK) and water.
If you have never made oobleck before it can be difficult to find that perfect balance between liquid and solid. But when you do achieve it, it is truly magical!
The basic ratio for a great consistency is 2 parts corn starch to 1 part water.
The basic rule of thumb that I use for making the perfect batch of oobleck or goop is that you can grab it in your hands and make a fist around it but the moment you open your hands it melts away like water.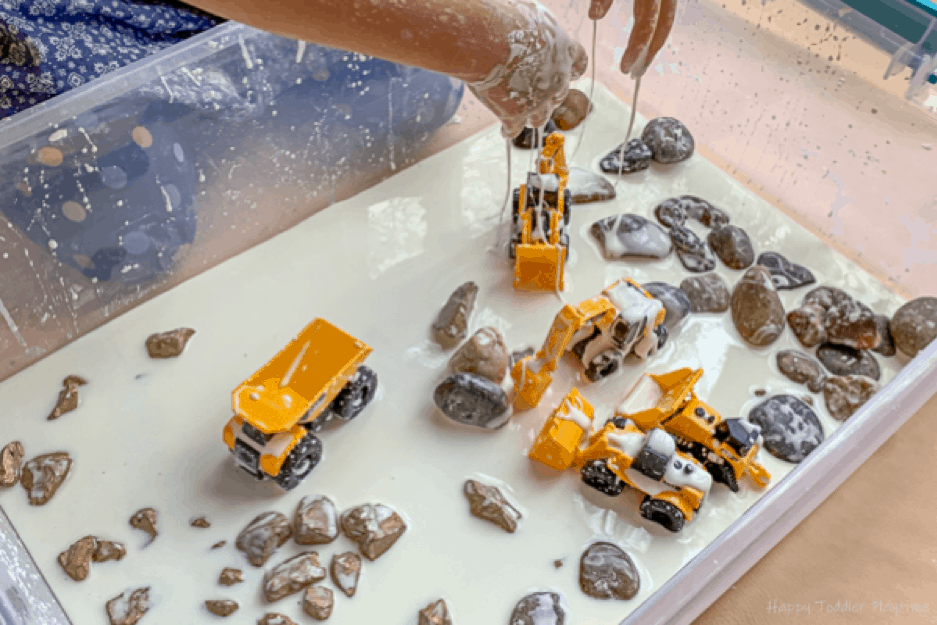 Oobleck Recipe
Mix 2 cups of corn starch (cornflour in the UK) with 1 cup of water in a large sensory bin using a spoon.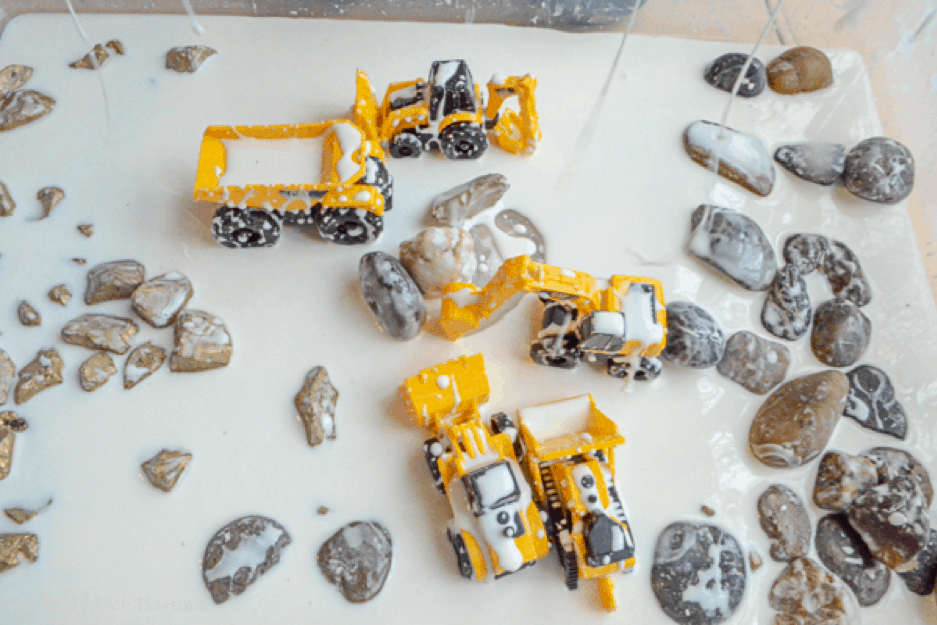 If you find it's too watery add a bit more corn starch.
If it's a bit too stiff add a little bit more water.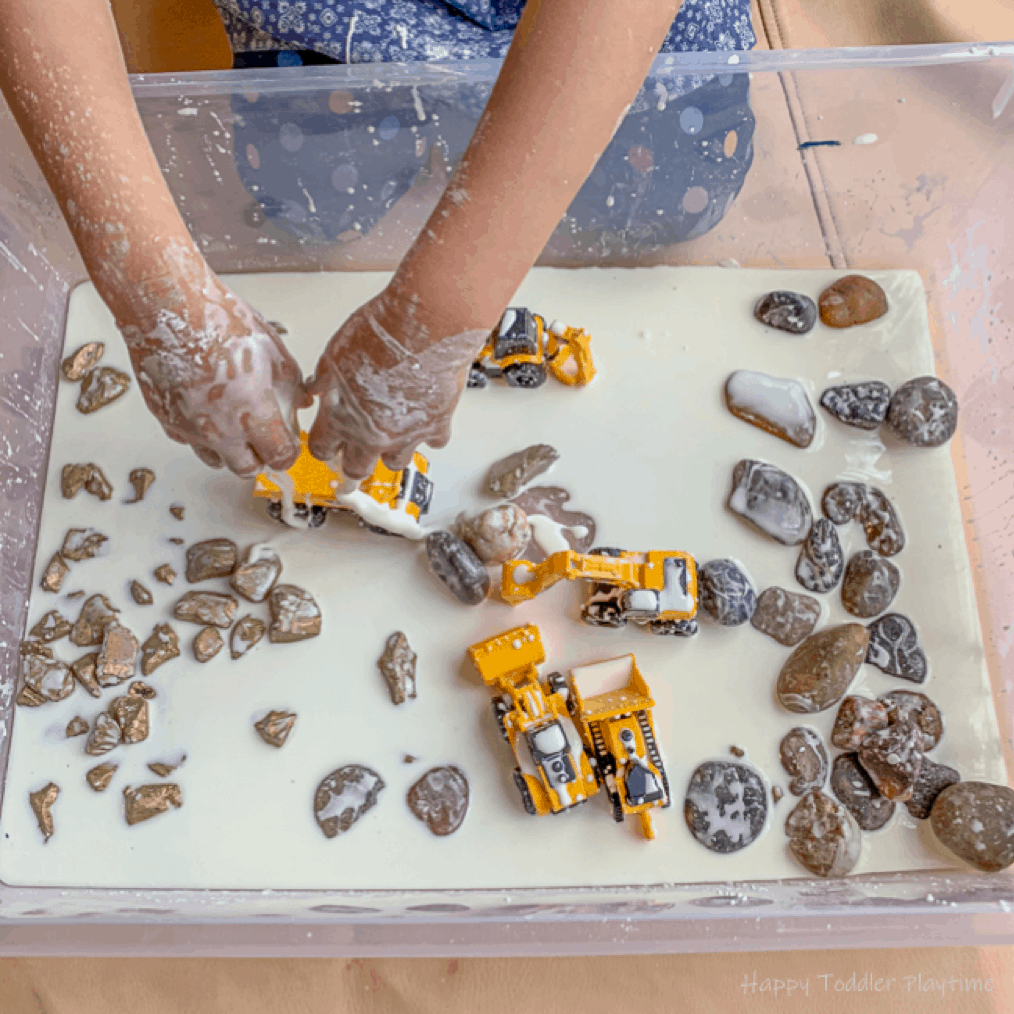 Oobleck is so much fun to play with and it can really be an activity in and of itself.
I let my daughter play around with it first before adding the construction toys.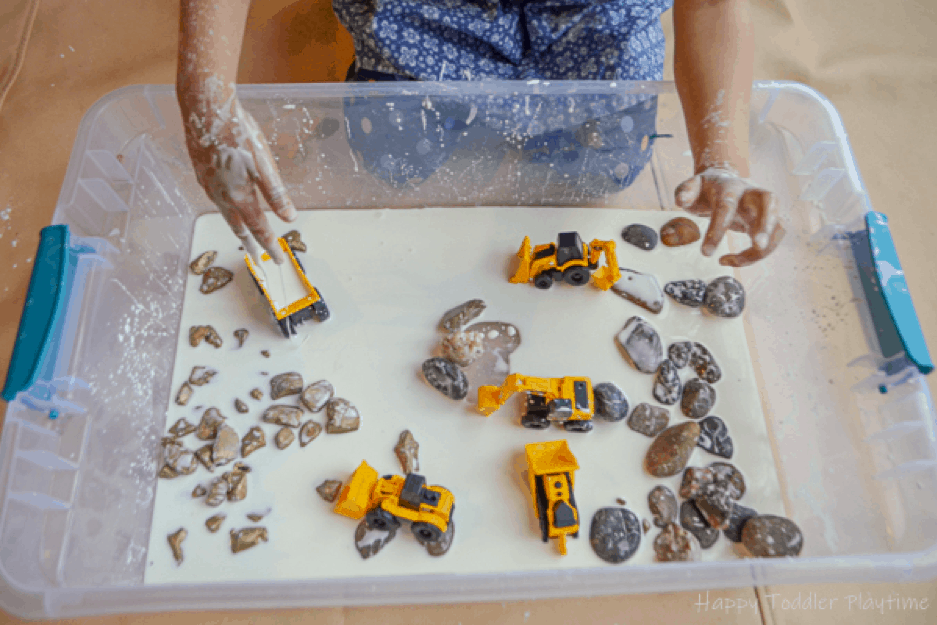 Gooey Construction Site
When she was finished playing with the oobleck it was time to roll in the construction vehicles!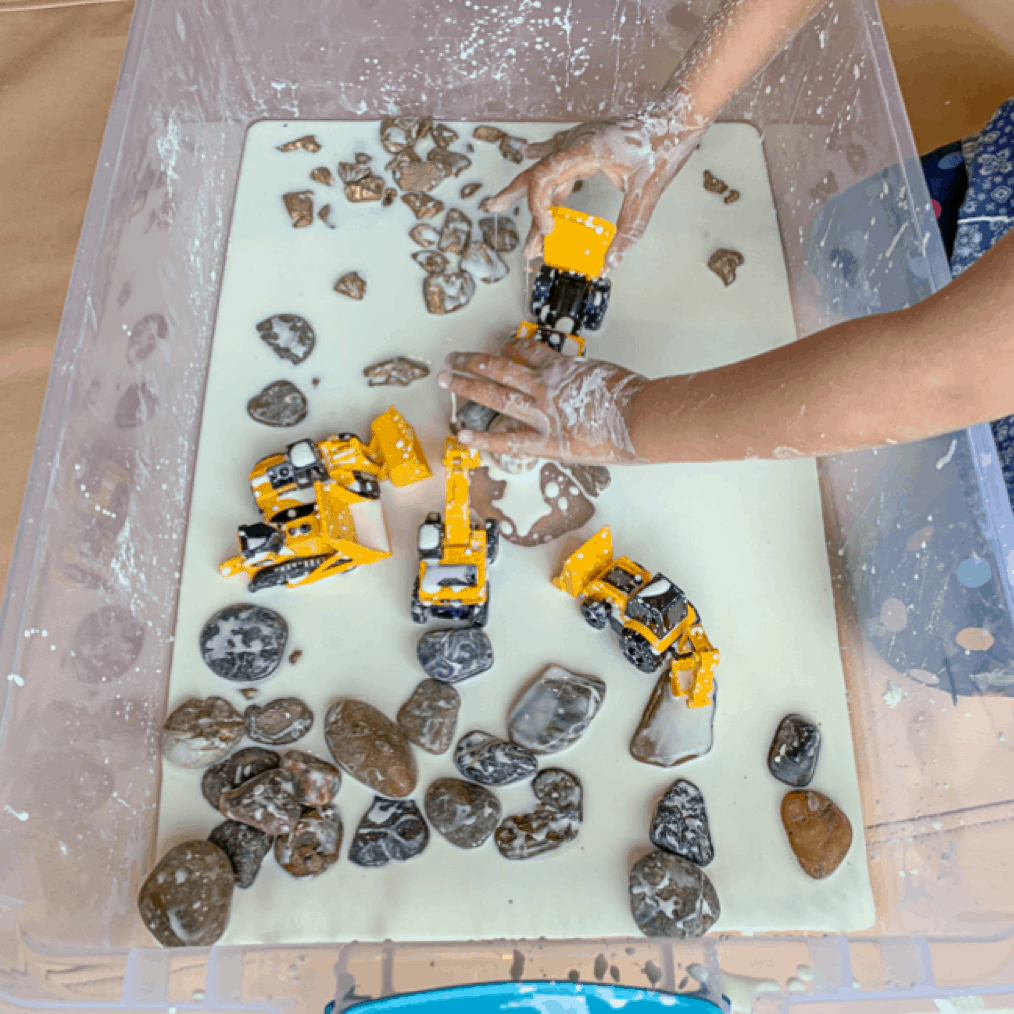 I added rocks, mini construction toys, diggers and dump trucks to the oobleck sensory bin and let my four year old get messy.
She absolutely loved plowing through the oobleck with the diggers and pouring it from her hands into the dump trucks.
The oobleck made the perfect sensory material for pretend building and demolishing.
How to clean up oobleck
Cleaning up oobleck is best done once it dries and has turned back into a solid state.
Dump the power into your compost or garbage once it is dry.
I do not recommend dumping it down your drain.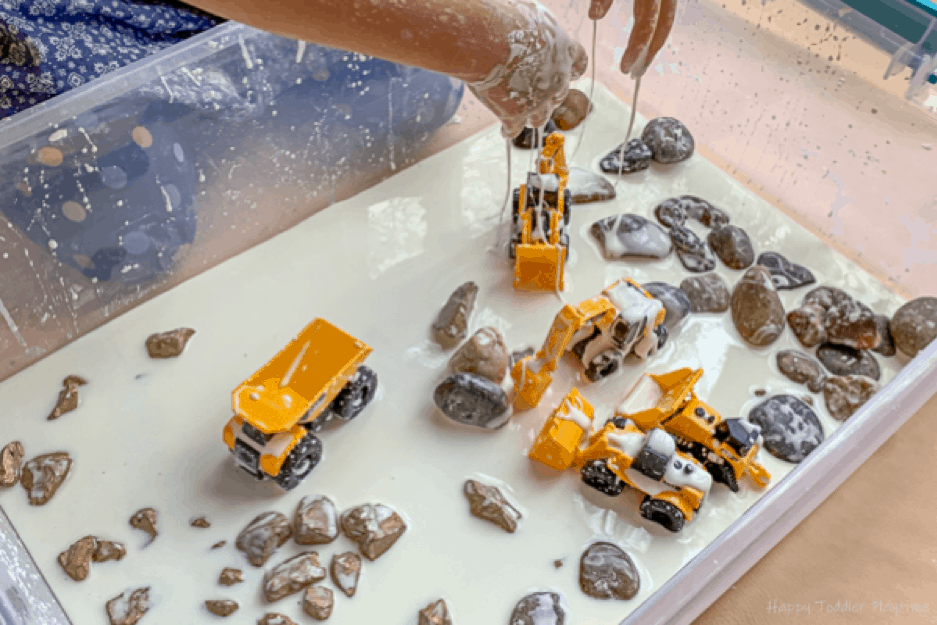 Remove all the rocks and construction vehicles from the oobleck and set them aside to let the water evaporate.
Once they are dry, shake off as much powder as possible and dump that into your compost.
Rinse the rocks and trucks with soap and water.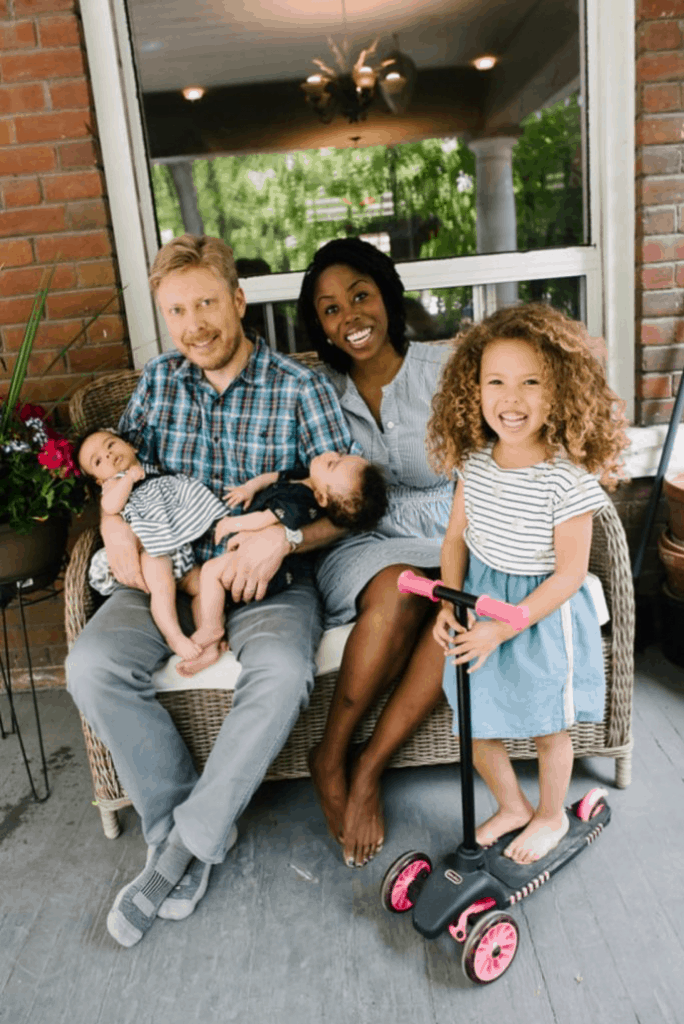 About the author
Mandisa Watts is the creator and owner of Happy Toddler Playtime, a kids' activities blog for ages 0-6. She is the mom to three, ages 4 and 14 month old twins.
Check out all the fun ways she keeps her kids busy on Instagram, Pinterest and Facebook!