Welcome to our online tween book club! If you have children aged 8-ish to 12-ish, join us and read along with our book choices each month.
Here you'll find ideas for how to set up a book club for children, and a tween reading list. I have a year of suggestions for great books for a children's book club and I'll be sharing discussion prompts and additional resources each month, so sign-up for updates in the box below.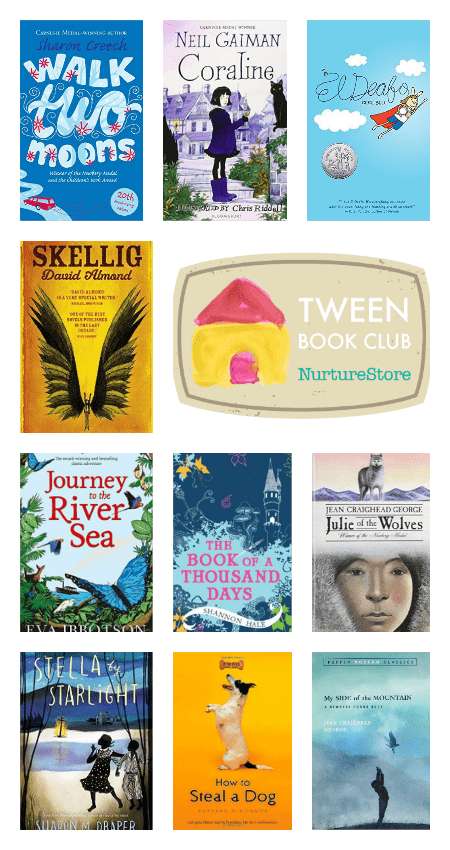 Join the NurtureStore online book club for tweens
In September I'm starting a real-life book club for my daughters and their friends, and I thought it would be a great opportunity to also host an online book club here on NurtureStore with you and your children.
You can read along, and join in with our discussions. I'll be sharing discussion prompts each month as we go along, and links to additional resources.
We're asking each of the children in our real-life club to bring something to the group to share, a piece of work that has been inspired by the book which they can use to inspire and teach their friends. It might be an art work, a costume, information gathered about the book's setting… whatever they would like to contribute. Your children can join in with this too. I'll post more details for our first book in September: you'll be able to join the discussion in the comments section, and share your children's projects on Instagram using #nurturestorebookclub.
How to start a book club for children
Gather your children
You can read along with this online book club as a family, a class, or group of friends. My real-life book is made up of our home educating friends, aged 8 – 13. I put out an invitation within our home education community to see who might be interested in taking part, but you might also put up a poster in school or your local library to gather your enthusiastic readers.
Find a location
I like the idea of children being out and about, and reading and education taking place anywhere and everywhere. We have agreed with a welcoming local church that we'll use a space in their community cafe once a month for our book club meetings. It's great not to have to pay for a venue (although we will be happily supporting their cafe when we meet), so use your homes or approach a local library, school, coffee shop or book store to see if they can offer you a place to meet. I find that letting them know your group is about building community for children, promoting a love of reading, and not-for-profit, helps to get a yes!
Select your books
What kind of books do you all want to read? You might focus on a passion for sci-fi, graphic novels, or a particular author. I wanted to give a reading list that would offer a good variety of writing, stretching our children's reading through different genres, locations, and time settings.
As I know the children in our real-life group, I've tried to include some books that I think will appeal to them, but also some stories that broaden out their reading spectrum.
I've picked books where the lead characters are around the same age as our book club members, and a mix of male and female characters, but many who find themselves, on the face of it, in completely different circumstances to our own children. It'll be interesting to see how they identify or are challenged by the characters we're going to meet.
I've included some graphic novels, both modern and classic stories, and ones set in different continents.
You can use your local library to source your books, but the books on my list are quickly and easily available on Amazon, including 'used' copies at very affordable prices. Many are also available as audio books, which makes the book club benefits accessible to all children, regardless of their reading confidence. Each book below has a link to the listings on Amazon so you can get your copies ordered now, ready to read along with us.
And it doesn't matter if some of your children have read one or two of the books before: it's still a new opportunity to talk about the book with friends, and to do some project work based on it.
Decide on a format
We're meeting once a month. Everyone who wants to take part is asked to read the book in advance, and also to bring something to the group inspired by that month's book. I've found that our own home-education projects are so often started by my girls being inspired by whatever we're reading and using that as a starting point for all sorts of making, playing, and learning.
There are no set tasks here, so each book club member can decide what they would like to contribute to our meeting: fan fiction, art, a map, a recipe, a costume, a zine, research about the book's setting, a quiz, a film of them acting out a scene, anything goes! This encourages everyone to take the book further, and explore an aspect of it that interests them. It lets them share their passions with the rest of the club, so the children are inspiring and teaching each other.