Clever ideas for how to use mind maps with your children to plan your homeschool.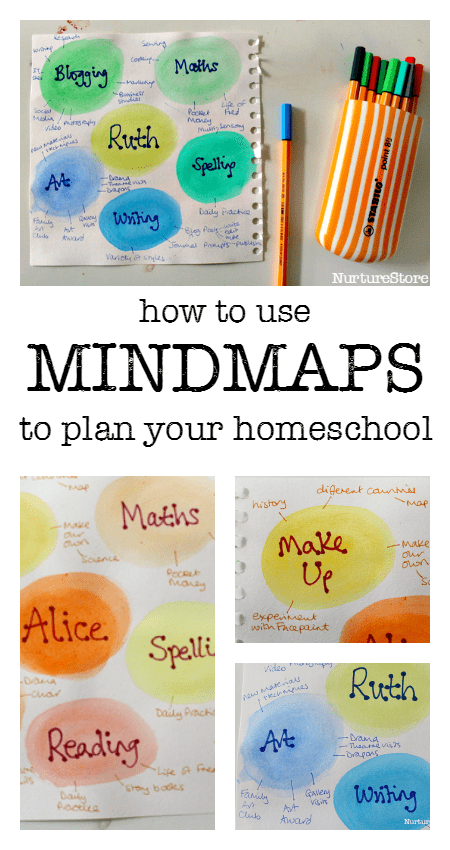 How to use mind maps to plan your learning
A mind map is a visual way to make notes or get organised. It's a great way to map out a project of any kind: a business project, a topic you're learning about, a party you're hosting. The map is quick to create and versatile for different situations. It's easy to make alterations to as your project or study progresses. We use them a lot in our homeschool as a way to plan our learning and keep it on track.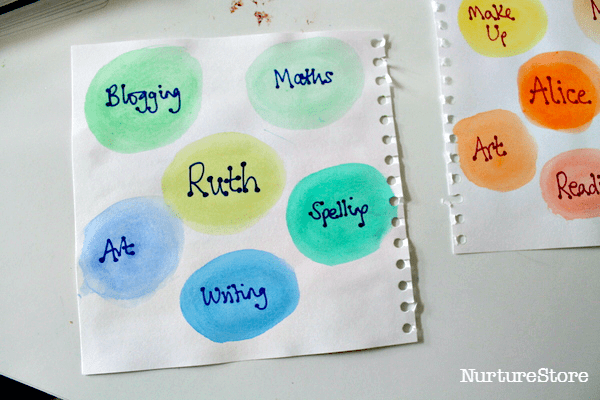 You can read more about mind maps and their different uses here, but for a simple explanation you could think of a mind map as a tree or a solar system.
Place the central idea right in the middle of your map – where the trunk or sun would be. For us in our homeschool planning that's where we place our child's name.
Then map out several key ideas around your map. You could think of these as branches or planets. These are the key topics you'll be working with as part of your project. For our homeschool plan these will include maths and literacy work, and two or three key topics that we'll be working on – perhaps art, science or a cross-curricular project.
Finally, around each topic we add in more details. These notes are like the twigs on your tree, or moons around your planets. They add more information to help you plan each area of your project. You might note down things you need to research, equipment you need to gather, key facts of the subject you're studying. They give you an at-a-glance overview of your whole project.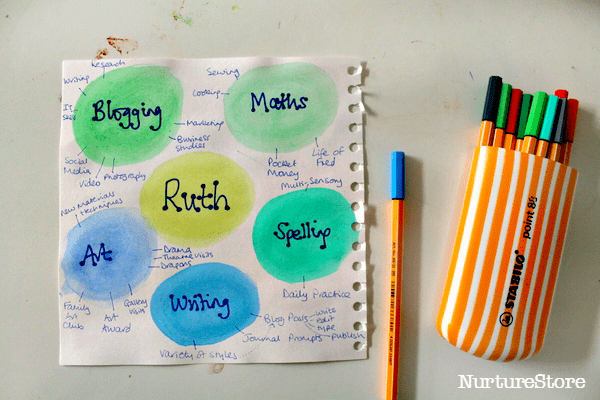 For us and our learning plans, around Maths for example, we note down:
:: our main maths curriculum (which is the Life of Fred curriculum)
:: 'pocket money' as the girls have just started receiving it and we're using it to learn about money, currency, math facts, budgeting, and using a simple accounts system
:: 'sewing' which one of my daughters' is working on, including measuring, length, area, symmetry, 3D, shape
:: 'coding', which both of the girls are working on using code.org
:: 'cooking', another great way to build life skills and work with practical maths concepts such as weight, volume, temperature, fractions, math facts, time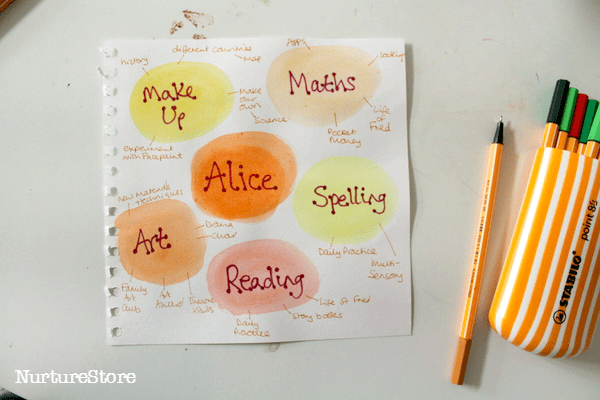 10 reasons to use mind maps with children to plan your learning
So that's how they work, but I wanted to share with you why we love them so much, and why they are so effective when you're planning your learning for homeschool, or school.
:: Mind maps are visual. I have one child in particular (and me!) who has a strong dominance of visual thinking, so a mind map is perfect for her (and me) to make a plan that works with how she thinks. They're also friendly for children who don't like to write much, as you only need a few words to note down a whole plan on your map. For any kind of learner, a mind map gives a quick, clear check of what the plan is and where you're at with it. We use ours as a poster in our play room.
:: Mind maps are simple. They're quick and easy to make, not overly complicated, and give us just what we need.
:: They allow subjects to overlap. One huge advantage of homeschool we find is that we don't have to stick with traditional subjects, but can weave them together as we follow our interests and plan project based learning. One of my daughters is using 'make-up' as her chosen project and we can note on our mind map how this will include the science of making your own make-up, the history of make-up through the centuries, the geography and social studies of learning about how make-up is used around the word. You can even use dotted lines or arrows to link the different branches of your map together if you want to record how topics overlap.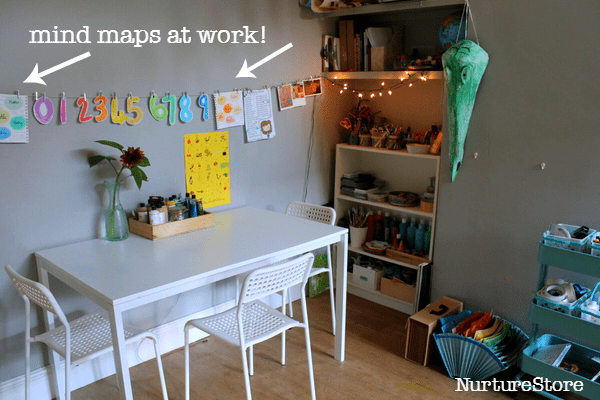 :: They stop us being overly ambitious. Creative types will know there are always more ideas than time! With enthusiastic learners there is no problem coming up with gazillions of things we'd like to learn about, projects we want to start, ideas we want to try. The mind map helps us pick three, four, or five areas we want to focus on this term, so that we do go deep into to a subject, complete projects, and stay with a topic until we're really ready to move on to something new.
:: They're not overwhelming. I used mind maps for university study and for work, and one advantage of them that I like is that they can make any subject or project seem more manageable. My children are nine and twelve now, but I can see this aspect of mindmapping will be even more useful to them when they come to studying for exams. I also like them now as a homeschool mum, because they give me a useful, practical planning tool without a whole bunch of paperwork.
:: They're adaptable. The mind map gives a good working framework to plan your homeschool, which means it's easy to add notes, make changes, and include something new as it comes up. You don't have reams of notes or charts to hunt through to find what you're looking for: the whole plan is there on one page.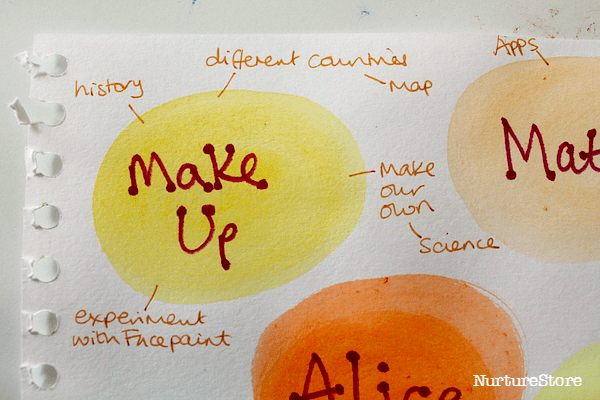 :: Mind maps are easy to review. We keep ours up on the wall as posters, so we can refer to them often. It's easy to use them – both for me and the children – to remind ourselves what it was we set out to do, check if we've done them yet, keep ourselves on track.
:: They combat any 'I'm bored's. If you're unschooling, or using project based learning, or even over a school holiday with extra free time, a mind map can be a great place to head to if you're bored, at a loose end, not sure what to do today, or in need of inspiration. They can be a reminder of that brilliant idea you had and a spark to get you going again.
:: They're easy to review. We can quickly check them each week, even each day, to stay on track with our plans or come up with that week's/day's to-do list.
:: Mind maps promote self-directed learning. Children who wake up in the morning with A Plan make my heart sing! We find mind maps are a very child-friendly way to help young learners plan out projects that they are passionate about. As they're easy to make and refer to, children might use them independently, using them as a tool to direct their own enthusiastic learning. I work with each child at the beginning to create their maps, so I can make sure certain areas are included (hello spelling!), and to help them generate ideas to get the most from their plans, and then I'll often direct them back to their map when they're not sure what to do on any particular day.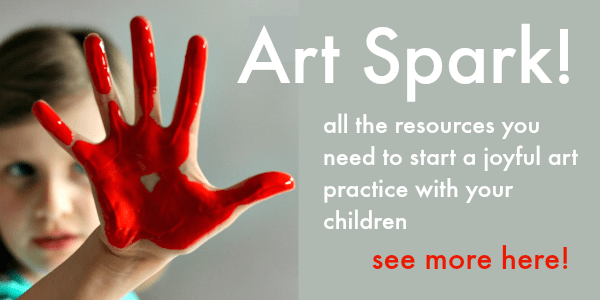 Want to add more art to your learning?
The Art Spark resources bring you 30 art projects that make it easy for you to explore creative techniques with your children. There are lots of ideas that are very easy to set up, so whenever you want to do some art you're all ready to go.
The projects including watercolours, mono printing, marbling, scrape painting, drip painting, frozen art, scratch art, printing techniques, yarn art, and ideas to explore shape, color, gravity and movement.
Also included are links to famous artists, well-known works, and art around the world, so you can go deeper into arts education including: Henri Matisse; Rex Ray; Pablo Picasso; Janet Sobel; Georgia O'Keefe; Paul Cezanne; Yves Klein; Guiseppe Arcimboldo; Jackson Pollock; Cy Twombly; Alberto Giacometti; Harry Bartoia; Lescaux, Altamira, and Ubirr cave and rock paintings; Japanese suminagashi; and Mexican Huichol art.
Click here to see the online art resources.