For today's Creative Chistmas activity I'm sharing an idea to make a Christmas Tree for the feathered friends in your garden. Christmas is a time of year when we can really encourage children to think of others and give gifts to those they love. How about spending some time with your kids, giving thanks for the natural world and helping them put together a Christmas feast for the birds?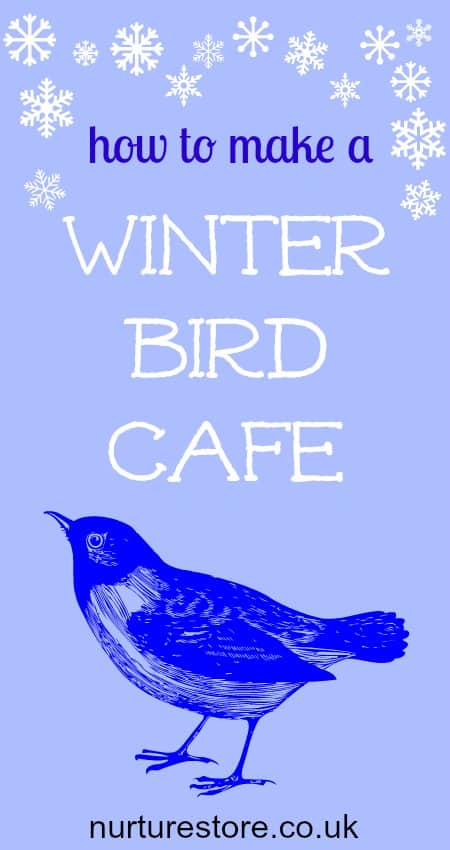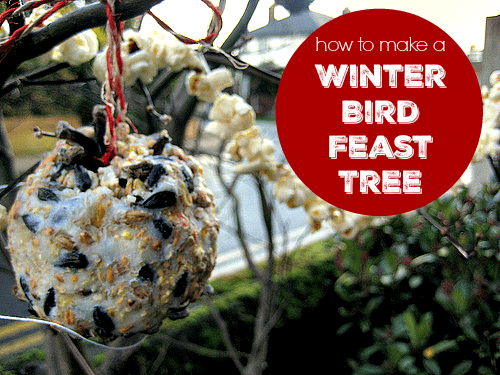 Here are four easy ideas you can use to make a bird feeder – and if you make them all, you can hang them together on a tree outside to make an Christmas tree that gives your feathered friends a festive feast.
How to make a bird feeeder: popcorn chain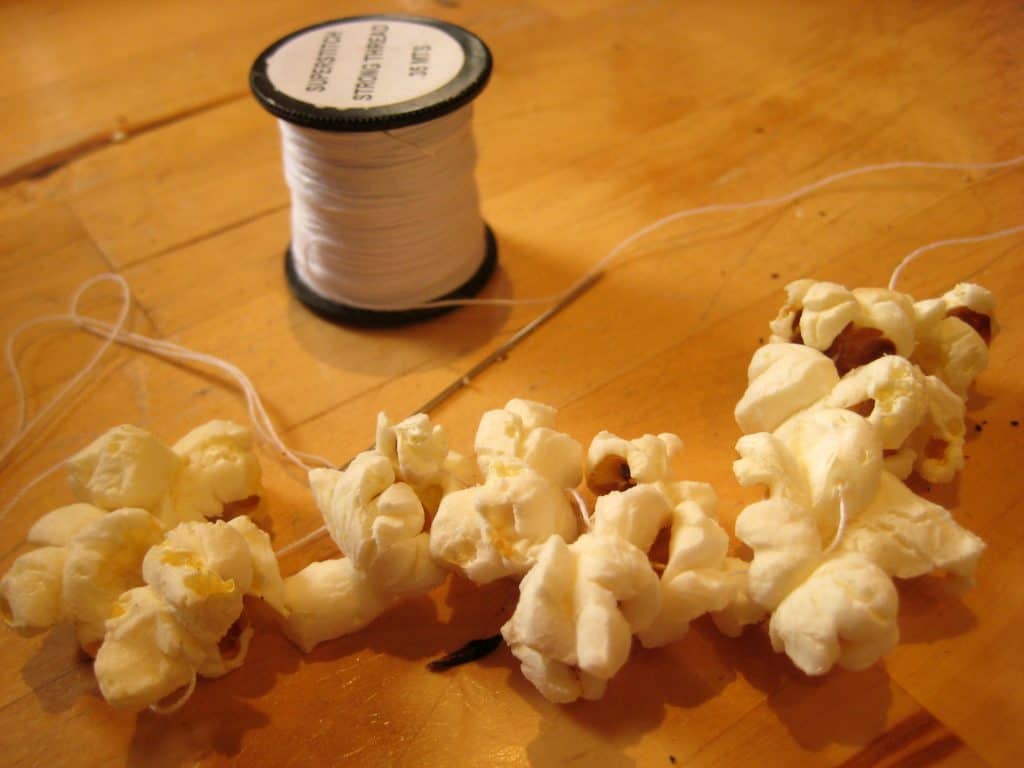 Stringing up some popcorn chains to wind around your tree will make it look just like you've added some bird-friendly tinsel. All you need to do is pop some corn kernels (with no added salt or sugar) and then use a needle to put them on to some thread.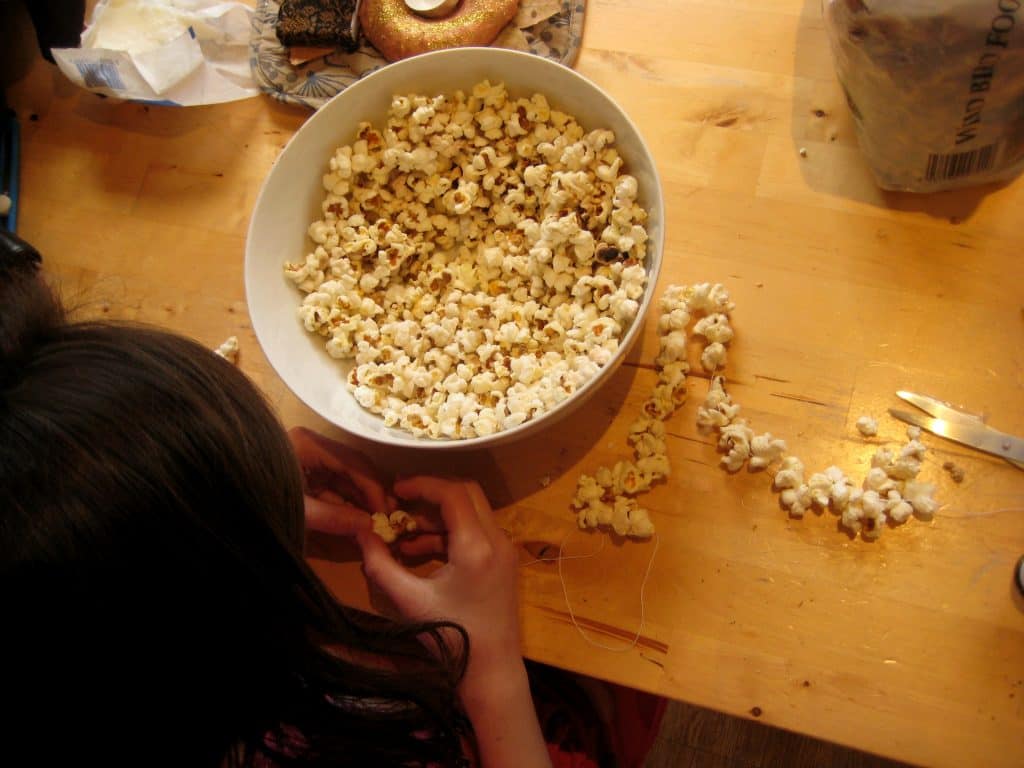 You can make your chain as long as you like to fit your tree. Leave some lengths of thread at either end so you can tie it in place. You're even allowed to eat a few pieces of popcorn as you work!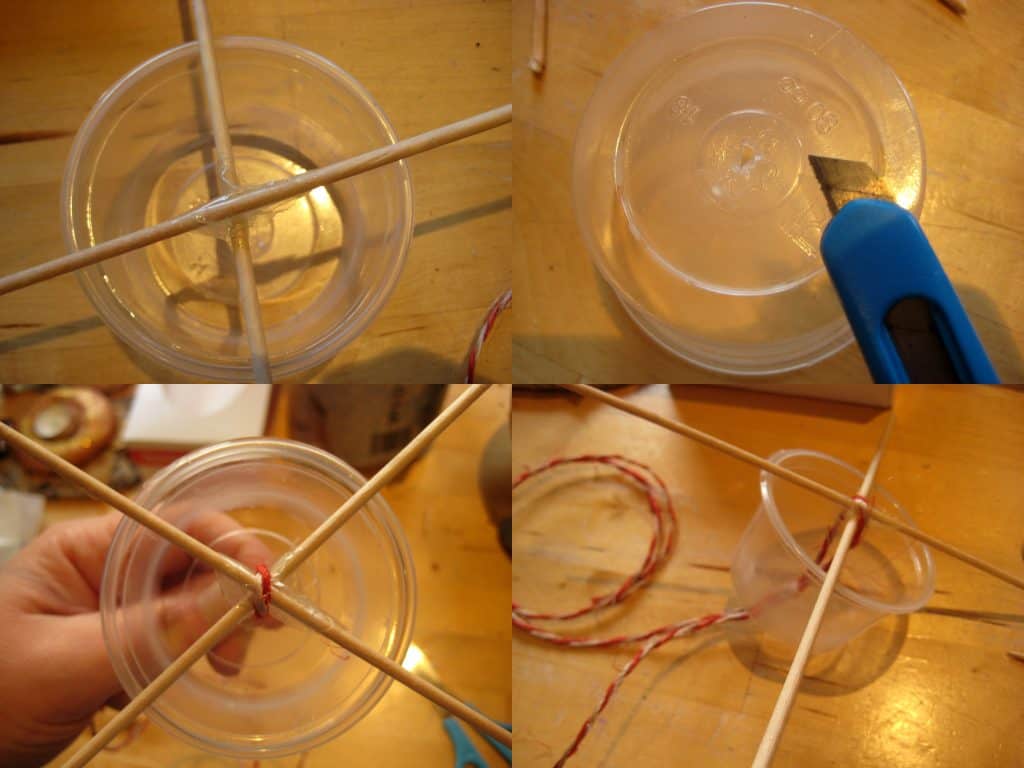 How to make a bird feeder: cafe bar
To make a cafe bar bird feeder you need to use a small plastic pot. Use a craft knife to make a small hole in the bottom then find two sticks to make perches – twigs, lollipop sticks or kebab skewers all work well. Cross them over and secure with a little sticky tape. Use some string to thread through the hole in your pot, around the sticks and back through the hole again. This holds the sticks in place and gives you a handle at the top of your feeder to tie to the tree.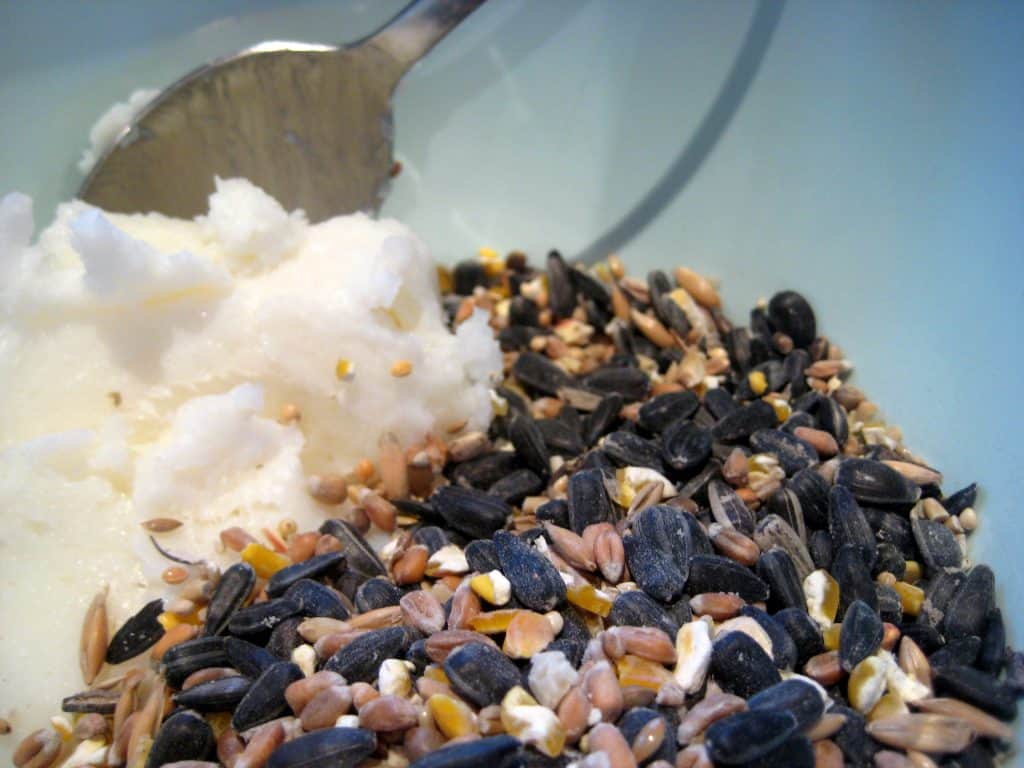 Make your bird feed by mixing one part lard with two parts bird seed. You can also add in raisins, peanuts or grated cheese. You can use a spoon or get stuck in and squish it all together with your hands. Do not melt the lard (or it will run out through the hole in your plastic pot) but have it at room temperature so it's easy to combine with the seeds.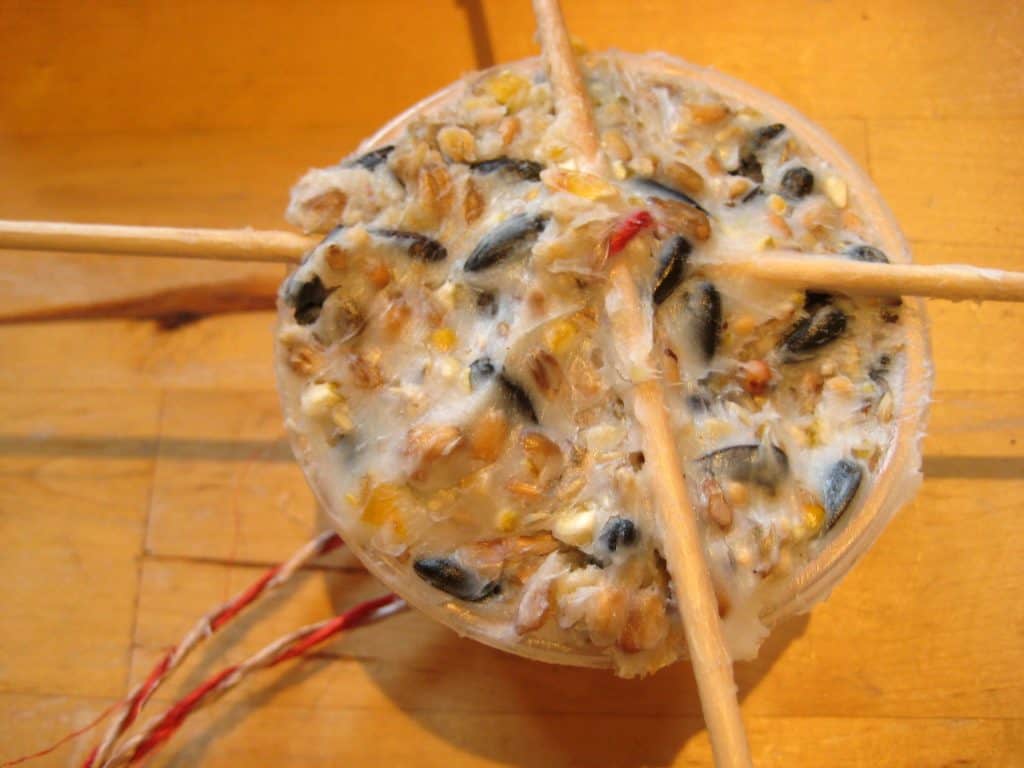 Pack the seed mix into your plastic pot and press it down well. Let it chill and harden in the fridge for an hour or so.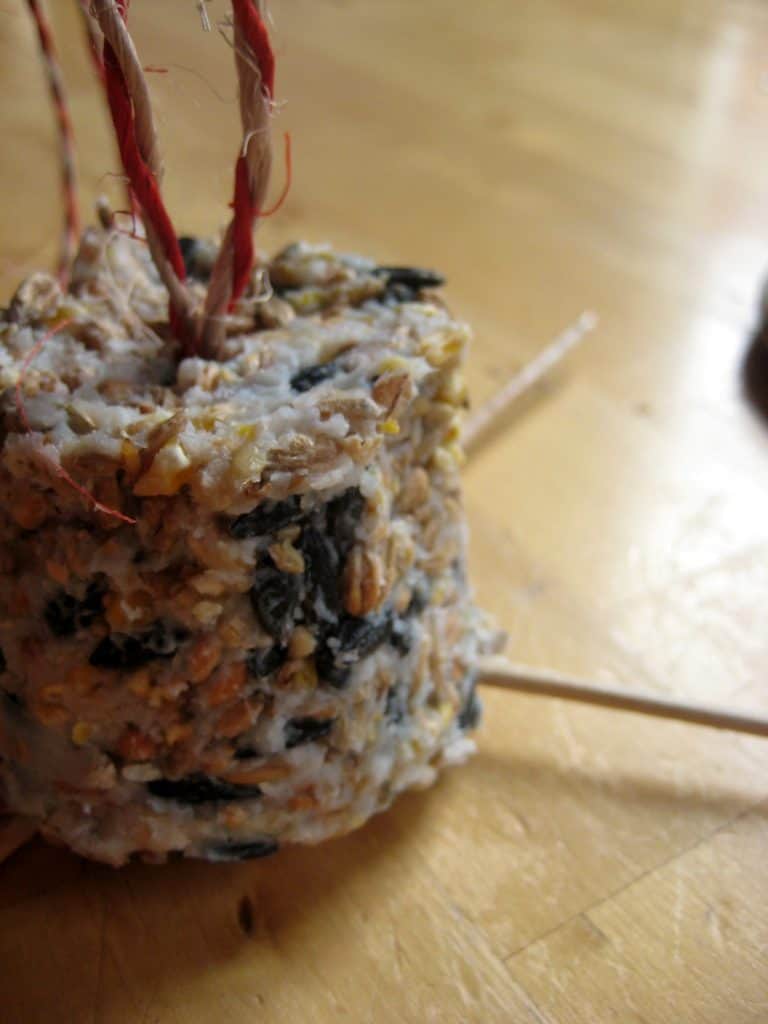 Once the seed mix is solid you can pop off the plastic pot and then use the string handle to hang it up – a seed cafe ready for the birds to visit.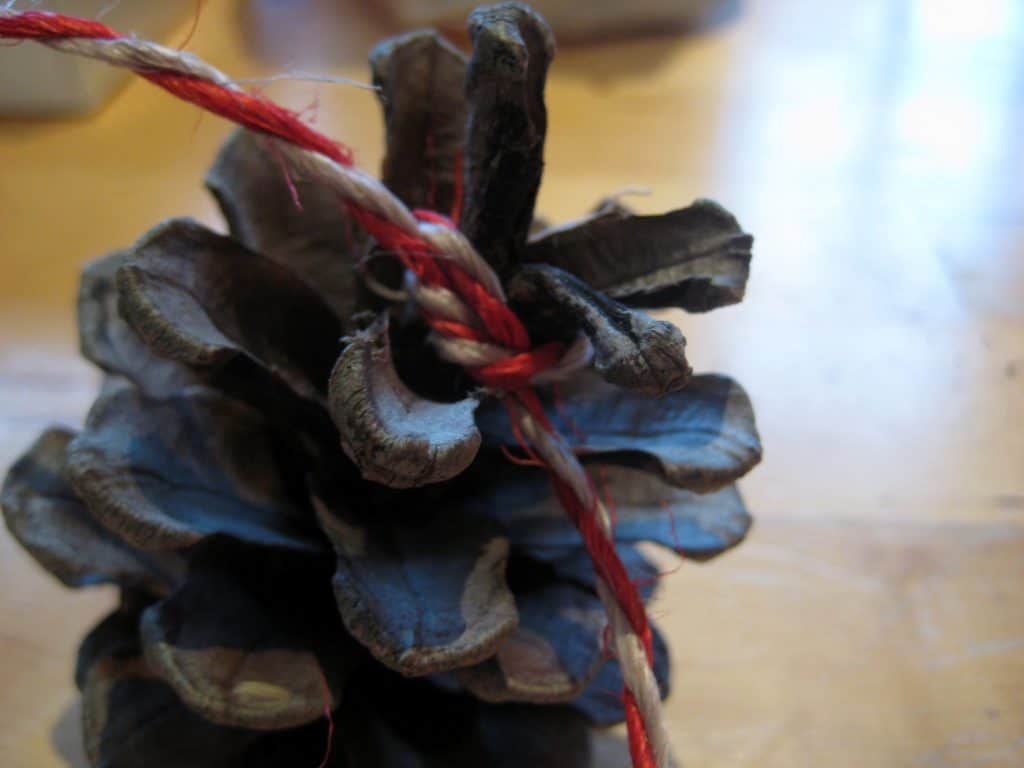 How to make a bird feeder: pine cone
You can use this same bird seed mix to make a fircone feeder too. Just tie some of your string to the top of the fircone and use your fingers to squish the seed mix into all the nooks and crannies.

How to make a bird feeder: raisin kebab
This one was B's invention: a kebab stick threaded with juicy raisins, with some string tied at the top to hang it from your tree.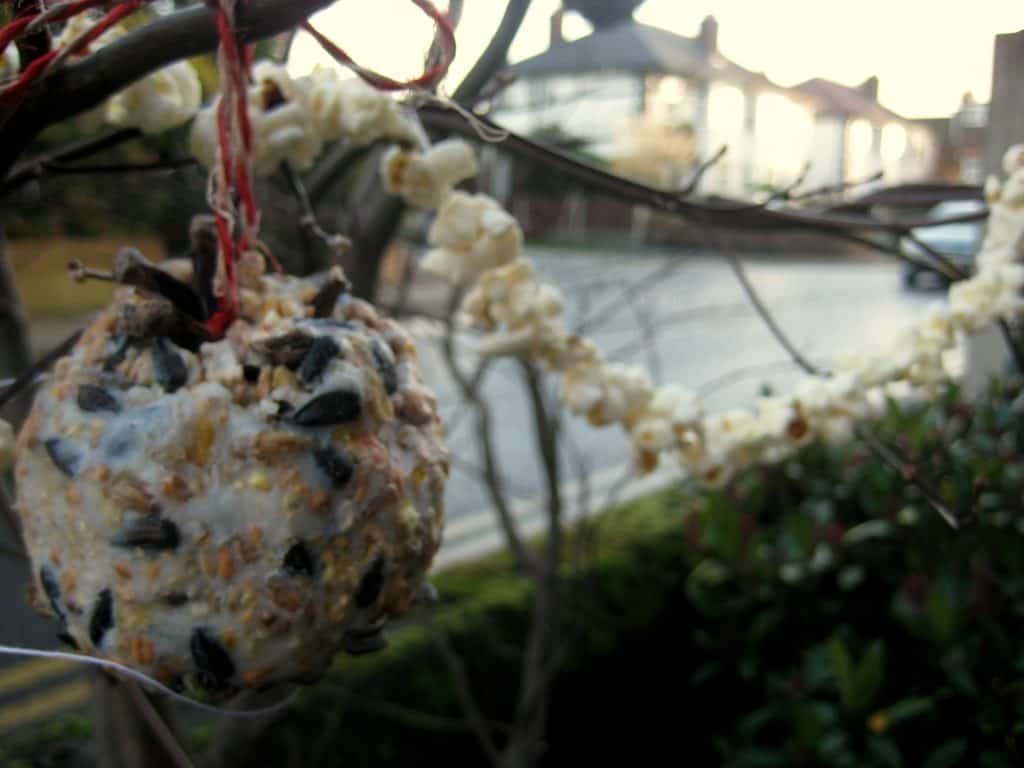 Decorate your Christmas tree bird feeder
Once you've made a variety of bird feeders you can head out into the garden to deck your outside Christmas tree. Of course, it doesn't have to be a fir tree that you use – the bird feeders transform bare branches really nicely. If you can, pick a tree that you can see clearly from where your children play, then they can watch the birds come and feed and know they've shown their feathered friends some Christmas kindness.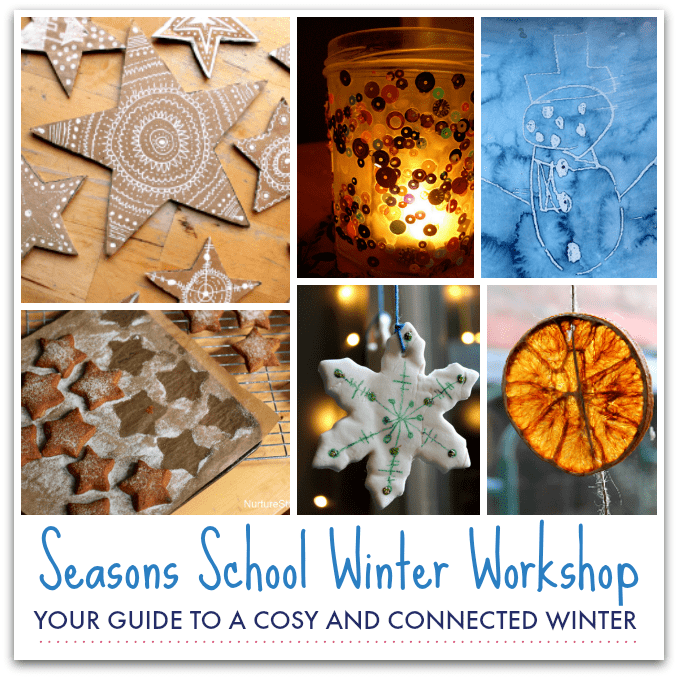 Let's make this winter the year when we delight in the cold and the dark.
Gather your children, get cosy, and make memories and connections together.
I'll show you how with this guide to a cosy and connected winter:
…. CLICK HERE FOR YOUR GUIDE ….