Strawberries are a super choice when you're gardening with children. They're easy to grow, taste delicious and come autumn it's easy to get more, free, plants from their runners. Here's how to grow strawberries in containers along with a fun idea combining science and senses.

How to grow strawberries in containers

We always have a few strawberry plants growing in our garden classroom. Strawberries are hardy plants, which means they can stay outdoors all year. They're best planted in spring or autumn, and they do well in containers. Growing strawberries in pots is great if you're short on space, and you can move the pots around to place the plants in the sunniest spot come spring and summer when they are producing their fruits.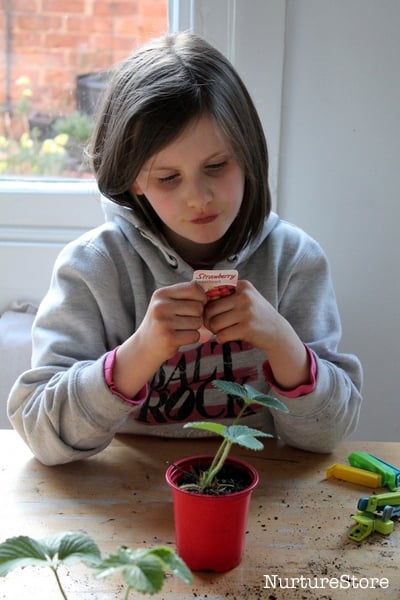 We're growing three different varieties of strawberries this year, so that we can conduct a taste taste experiment, observing and comparing the plants and deciding which strawberry tastes the best.
If you already have strawberry plants growing, or have a friendly neighbour who does, it's very easy to grow new strawberry plants from the runners they send out in autumn. This year, because we wanted three different varieties for our taste test experiment, we bought our plants from the garden centre.
The children used the information on the plant labels to pick the plants for our garden. There's a lot of important information contained on these little labels: it's a great way to show children how important written information can be, and to try some reading with a very practical purpose. Especially when you're a beginner gardener, this information can be really helpful to aid you in picking a suitable plant and growing it with success.
Things to look out for on your plant label
:: the variety of your plant. Some names are fun and can be the deciding factor in which plants you buy. Who can resist a plant called Sweetheart or Pegasus? You might also find the botanical names listed, and you can talk about how they are used
:: details about the height, shape and colour of your plant. Important information to consider when you are planning out your garden
:: information about where you plant likes to be located and how much water they need. Pay attention to this to get the best results with your chosen plant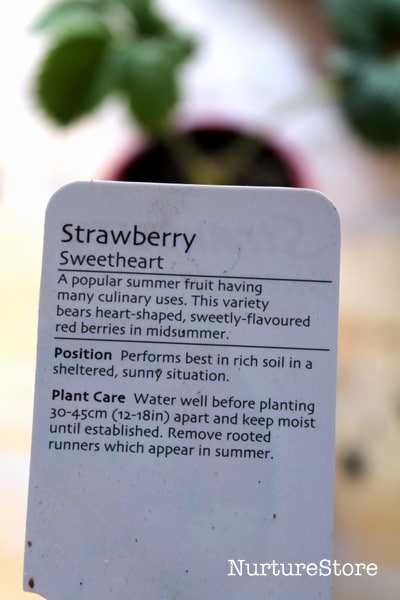 Each person made their own plant label, using permanent markers on a wooden stake. A layer of varnish helps to weather-proof your label. Write on the variety of strawberry so you can keep track of it for your taste test later in the summer.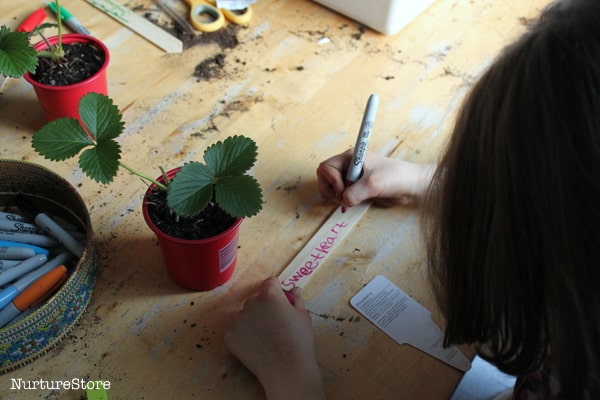 Then it's time to plant out your strawberries. You can see on our garden plan for this year that we're putting the strawberries in our sunniest spot – although it's was a cold, grey day when we planted them.  We're growing our strawberries in containers, so we dug out a space with a trowel…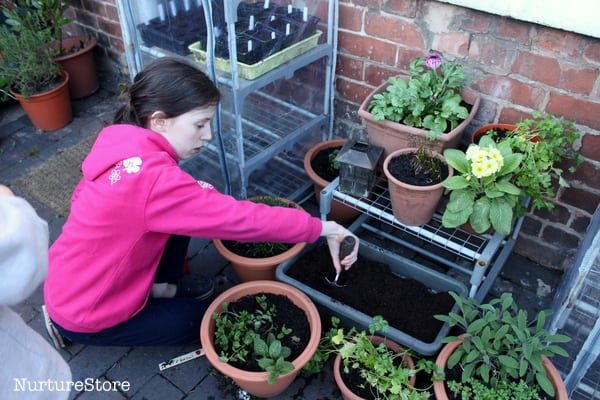 carefully removed our plants from their pots…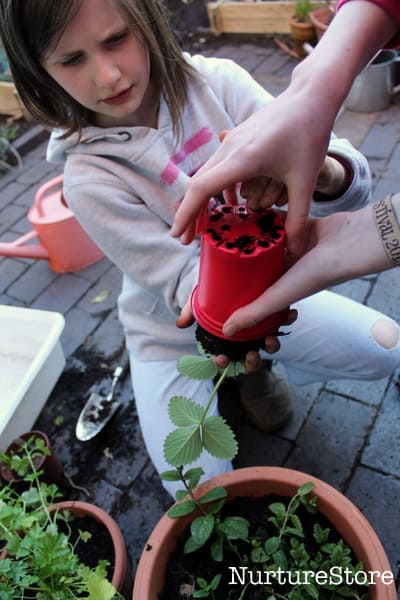 and then placed them in the containers and gently firmed the soil around them. Growing in containers does mean you need to make sure the plants get enough to drink – but watering is always one of the favourite jobs with the children in our garden classroom.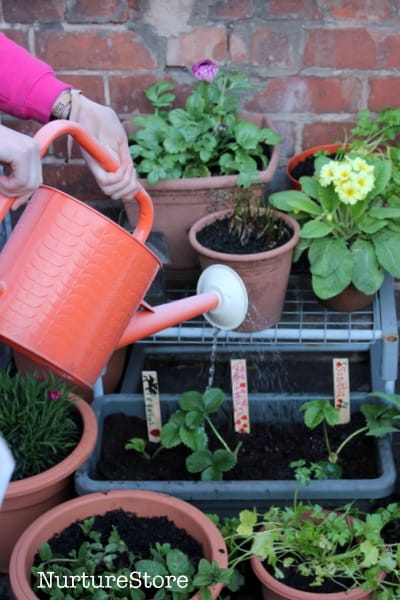 Be sure to match up the labels with the correct plant, and then watch them over the next couple of months as they grow and produce flowers.