These homemade selection boxes make great presents children can make and give to their siblings and friends as a Christmas gift. They're also perfect as a school fundraising idea: all the children can make one and you can then sell them at your Christmas fair, which is what we're doing with ours.
To make them: we filled a pint sized plastic beaker with some goodies: chocolate, sweets, stickers, small toys. We used a disc of cellophane to cover the top and held it in place with an elastic band.  Then you need to get creative and decorate them.
I wanted to let the children do as much of it as possible by themselves so L made a Christmas tree. I cut out two tree shapes from green card and she helped to fasten them around the beaker with staples. Then it was over to her to add the decorations – stickers, foil snowflakes and glitter put on with glue. She drew a fairy to sit on the top, added some extra glitter for good measure and wrapped gift-wrap ribbon around as tinsel.
B made this beautiful angel. She used wrapping paper for the dress, fastened with sticky tape at the back and with some foil snowflake shapes and glitter to embellish. The face is drawn on white card with wool hair and the wings are made from a paper cake doily. She does look rather angelic, don't you think?
The children at school had also come up with some wonderful designs:
– cover the beaker in cotton wool and make a snowman
– turn it into a chimney with Father Christmas' feet poking out of the top
– lay the beaker on the side and make a cave for a polar bear to live in
I love these homemade selection boxes as a creative way for your children to make their own presents. If you come up with any other designs, do let us know!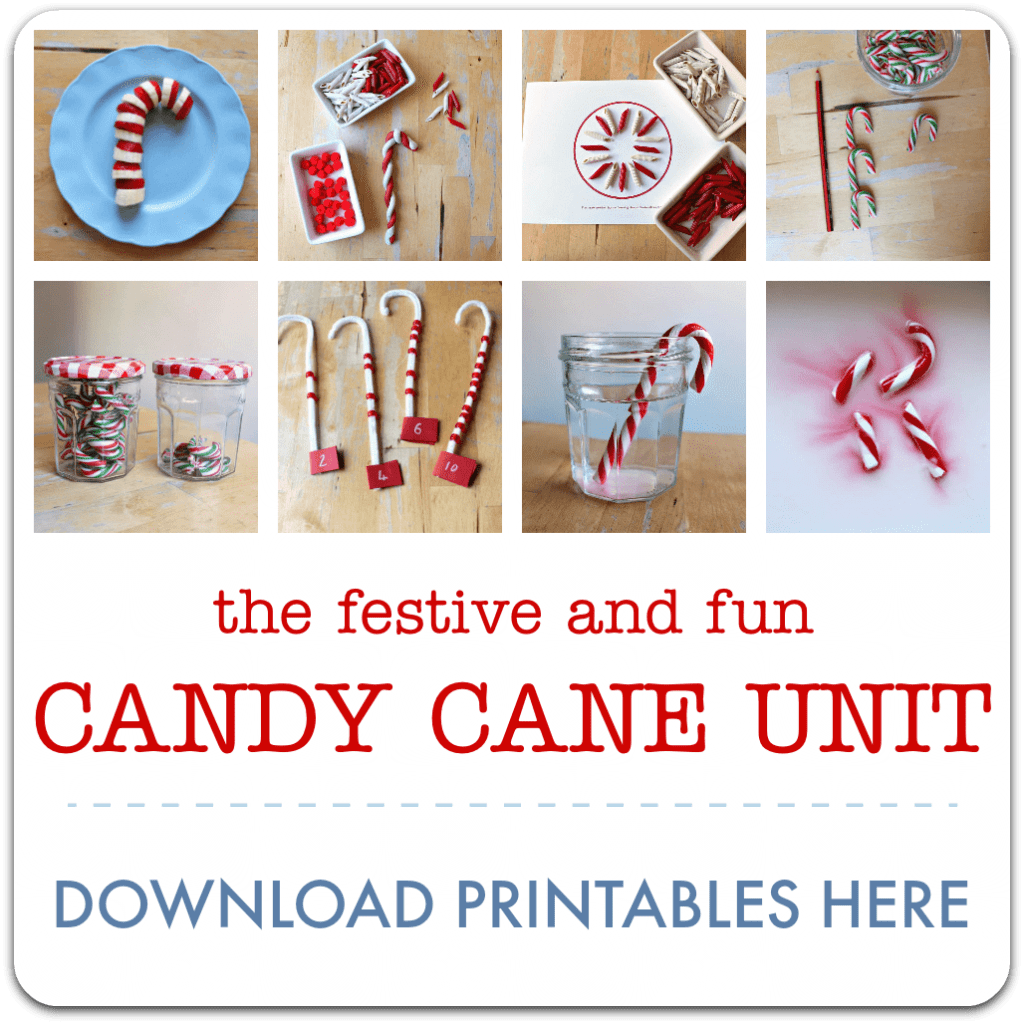 Download your complete Candy Cane Unit
A super fun and festive unit of learning! This kit gives you everything you need to teach an engaging program of activities all based around candy canes. With ideas for math, literacy, science, play, sensory, arts and crafts your children will love learning all through the holiday season.
:: over 60 pages of lessons, activities, and printables
:: a complete unit of candy cane themed math, science, literacy, arts and crafts, sensory, and play
:: materials lists and bonus printables make it so easy!
:: everything planned for you, so you can enjoy it as much as your children do
:: fun and festive, and packed with engaging learning
:: created with children aged 4 to 8 in mind
Click here to get your copy of the complete Candy Cane Unit.