Are you growing sunflowers with your children? We're joining in with Have a Lovely Time to support the Sunflower Challenge in aid of Compton Hospice and would like to invite you to join our Sunflower Festival
Join the Sunflower Festival
Thursday June 30th is the Official Measuring Day for those of you taking part in the Compton Hospice Sunflower Challenge. We will be hosting a Sunflower Festival here on NurtureStore on that day  – will you join us?
Here's how to take part:
1. Blog a sunflower-themed idea you've enjoyed with your children: a craft, a story book recommendation, a science idea, a game, a recipe, whatever! Our free Sunflower Activities ebook has some ideas to get you started.
2. Visit NurtureStore on June 30th and share a link to your post with us.
3. If you're growing sunflowers in your garden don't forget to measure them and let us know how tall they are.
4. Those of you taking part in the Compton Hospice competition will need to let them know how tall your flowers by are to be in with a chance of winning the great prizes.
And to give you some more sunflower inspiration, we're joined by Zoe from Playing by the Book, who has a wonderful book suggestion to compliment your growing.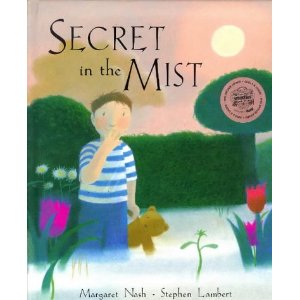 What do you think of when you hear the word "Sunflower"? What adjectives do associate with them?
Sunflowers to me are bold, bright and blousy and these sorts of characteristics are often what is focussed on in picture books about these beautiful flowers. Both of the previous books I reviewed here, Measuring Angels and To Be Like the Sun capture brilliantly their brassy, cheeful nature.
Secret in the Mist written by Margaret Nash, illustrated by Stephen Lambert is somewhat different. It's quiet and meditative book, one that would suit a quiet story time, or a child who is a little more shy than others and for all these reasons it makes a lovely foil to my earlier sunflower picture book suggestions.
A young boy, Jonathon, plants a sunflower and watches it grow. But not only does he watch it at daytime, when it is "nudged by sunshine and laced with summer rain", he sneaks peeks at it after dark "where it lived in silver shadows and was stroked by bright white moonlight".
Jonathon delights in watching his sunflower grow, whispering words of encouragement to it and sharing peaceful moments enjoying it with his mother during the day and with his father after bed time. Eventually the sunflower stands proud, "bolder than the blackbird's song and more golden than the sunshine", but the most touching moment is in the closing pages of the book when Jonathon stands quietly admiring with his father; although he only planted one seed his sunflower looks so different by day and by night it is as if he has a secret moonflower as well as a sunflower.
This book is full of peacefulness and calmness. It highlights the loveliness of sharing secret, quiet time with each parent, as well as the feeling of awe that can come upon us if we allow ourselves time to stand and stare. The lyrical text is relatively short and structurally repetitive – something that makes it easy and enjoyable for younger listeners. The pastel illustrations are soft hued, warm and gentle.
It would be so much fun to read this book, tinged with mystery and full of love as it is, with your child outside, late one summer evening as twilight begins to fall.
Playing by the Book is a site full of inspiring ideas for bringing children's books to life with arts, crafts and acitivities – go see – you'll love it!
Growing sunflowers with your children? Hope to see you at the Sunflower Festival on June 30th!

happily shared with abcand123 and book sharing Monday and  Link and Learn, share your Sunday best