Regular readers will know NurtureStore is teaming up with Have a Lovely Time to host a Sunflower Challenge, helping to raise funds for Compton Hospice. You can find out about the challenge here and download a free ebook full of sunflower activities including art, science and maths ideas. If you enjoy the ebook maybe you'd consider supporting the charity and making a donation?
And if you have any spare seeds or seedlings why not join in with some guerrilla gardening? Today is international guerrilla sunflower gardening day, so take your sunflowers out on the streets and get planting in your neighbourhood!
Scout your neighbourhood for a dull and dreary spot of wasteland and brighten it up with some of your sunflowers for all your community to enjoy. We have planted eight of our little sunflower plants on an old train embankment which we pass on the way to school each day, so we'll be able to keep an eye on their progress.
And to complete our celebration of sunflower day, we have the pleasure of being joined once more by Zoe from Playing by the Book, with another recommendation for a wonderful sunflower themed story book to enjoy with your children. (You can find Zoe's first story book pick here.) Oh, and Zoe reminded me to give you an update on our progress: our tallest sunflower is at 29cm so far – anyone beat that?
**************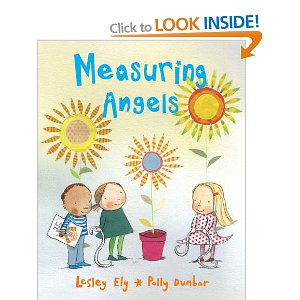 Measuring Angels by Lesley Ely and illustrated by Polly Dunbar is a book so rich in ideas and inspiration it's hard to know where to start. It explores bullying and beauty in sensitive and thought provoking ways and is accompanied by gorgeous illustrations bursting with joy and colour. This is a book that will leave you happier, more optimistic about life, and itching to grow your own sunflowers (if you aren't already doing so !)
A young girl at school is unhappy because she has fallen out with her friend. Hoping for reconciliation the class teacher gets the two girls to work together on the class sunflower growing competition; there are not enough seeds to go round the entire class and so the two girls reluctantly have to share.
At first things don't bode well.
"When I put soil in the pot Sophie frowned. She snatches the seed and shoved it hard into the soil! I frowned but nobody noticed."
At the suggestion of their teacher the girls try talking to their floundering seedling, and this along with the help of some fantastic sunflower guardian angels made from paper and glue by the class ensure the blossoming of not only their sunflower but also the rekindling of their friendship.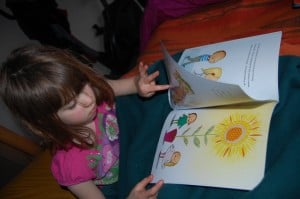 Seeing the sunflowers all in bloom the teacher realises that measuring for the tallest actually misses the point – beauty and friendship can't and shouldn't be measured.
This story is told with real a ring of authenticity; perhaps this is unsurprising given that the author is an experienced headteacher! The well crafted story is perfectly matched by beautifully observed children and mood-liftingly zingy illustrations created by the very talented Polly Dunbar. Even if our sunflowers don't go on to win Nurture Store's Sunflower Challenge
, at least the competition has given me a chance to discover this wonderful book I can't recommend enough.
happily shared with Link and Learn