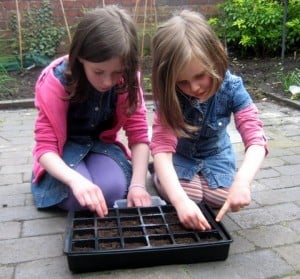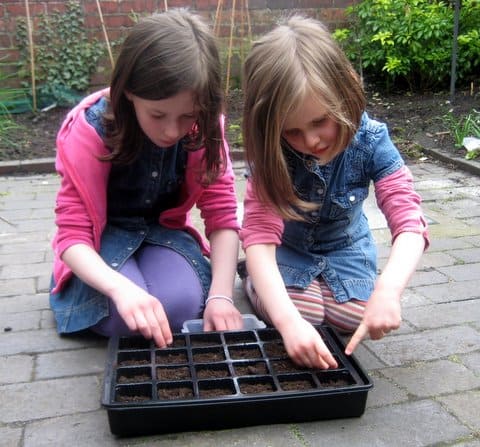 Wondering when to plant sunflowers with children? The answer is right about now! If you're in the UK, or somewhere with a similar climate, you can start planting your seeds from the middle of March onwards. Sunflowers are great plants to grow with children – they're pretty reliable and grow quickly and there are lots of science, maths and craft activities you can link in with them.
Will you join in with our Sunflower Challenge this year? We've teamed up with Have a Lovely Time to help raise funds for Compton Hospice and have a competition with fabulous prizes on offer for the tallest sunflower. Click though to our Sunflower Challenge page and you can find more details of the competition, where to get your seeds and how to make a donation. There is also a free ebook of Sunflower Activities you can download with lots of ideas for learning activities you can use.
I'm delighted with the support you have show the Sunflower Challenge so far and really appreciate the donations you have made to Compton Hospice. Today we're joined by Zoe from Playing by the book, who is helping us get the Sunflower Challenge off to a great start by suggesting some wonderful sunflower-themed books that are prefect to read as part of the project. If you don't already know Playing by the book, do pop over to Zoe's blog because you will discover all sorts of wonderful ideas for making the most of children's books through inspiring activities, art and music ideas.  Here's Zoe with her first review for us of the perfect book to accompany your planting.
For my first review I wanted a book perfect to go with planting our sunflower seeds and so I chose To be like the Sun by Susan Marie Swanson, illustrated by Margaret Chodos-Irvine.
Hello, little seed,
striped gray seed.
Do you really know everything
about sunflowers?

My hoe breaks apart
the clods of brown earth,
but you do the real work
down in the dark.

Not radish work or pumpkin,
not thistle work –
sunflower work.
All the instructions are written in your heart.
So opens this beautifully lyrical book which follows a young girl over the course of a growing season as she plants, tends, enjoys and then warmly remembers the sunflower she grows in her garden.
The sparse, poetic text is great for reading aloud – its brevity and apparent simplicity makes it an engaging listen for younger children, whilst its imaginative language ("All these seeds – are you tired / of holding them up? / What makes them so heavy? / Is it light caught inside?" or "a sunflower seed / is smaller than a word") will get older children thinking and asking questions.
I particularly liked the fact that the text is written as if the young child herself is addressing her seeds and sunflowers – putting the child's voice at the centre of the story gives an immediacy and relevance to little listeners as they imagine themselves talking to their own seeds.
If the quiet, meditative text is something that children of all ages, and their parents will enjoy, the illustrations will delight and thrill them. Bold, bright and bursting with vitality, (just like a sunflower in full bloom), Margaret Chodos-Irvine has used a variety of printmaking techniques to create images that will almost literally fill you with sunshine. The graphic-design feel of the prints, uncluttered, precise and perfectly placed mirrors the text remarkably well – this is a fantastic example of a book where text and illustration combine in a way that I don't think could be bettered.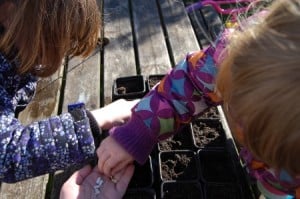 We're not alone in thinking this is a very special book indeed. Other reviews have said "exuberant", "philosophical yet concrete", "a delightful read-aloud", "readers will be reminded of Eric Carle", and "The circle of life, with its remembrance and hope, has rarely been presented more simply and eloquently".
This is a sunflower book you should most definitely track down! My girls adore it, and I'm so glad the Sunflower Challenge gave me an excuse to get our own copy – this book is a keeper! Magical text, stunning illustrations and perfect for talking with your kids about the sunflower seeds you are growing together.
Click here for an Author Interview: Susan Marie Swanson on To Be Like the Sun, via Cynthia Leitich Smith's Cynsations.
If you want to try printing with your kids here are some good tutorials and sources of inspiration:
Discover lino printing through the world of Edward Bawden, then create your own print and see it displayed on the London underground!
And if you want some music to plant your seeds to, you could do worse than the slightly surreal (but sure to appeal to the kids all the more for that!) Larry's a Sunflower Now by Peter Himmelman, or Here Comes the Sun by The Beatles or Sunflower by Beth Mclaughlin.
*******************************************
A big thanks to Zoe for teaming up with us in the Sunflower Challenge. Watch out for more book ideas from her on NurtureStore and over at Playing by the book. And if you need some tips on how to start your planting, have a look at my guide to planting sunflower seeds over at Ready for Ten.
happily shared with Carnival of Spring Play ABCand123 and Link and Learn and  Science Sunday and Something for the Weekend