Bethany from Math Geek Mama is here with us today with a great active math game – puddle jumping! It's good for all ages and especially for kids who love move around.

Puddle Jump: A Get Up and Move Math Game
---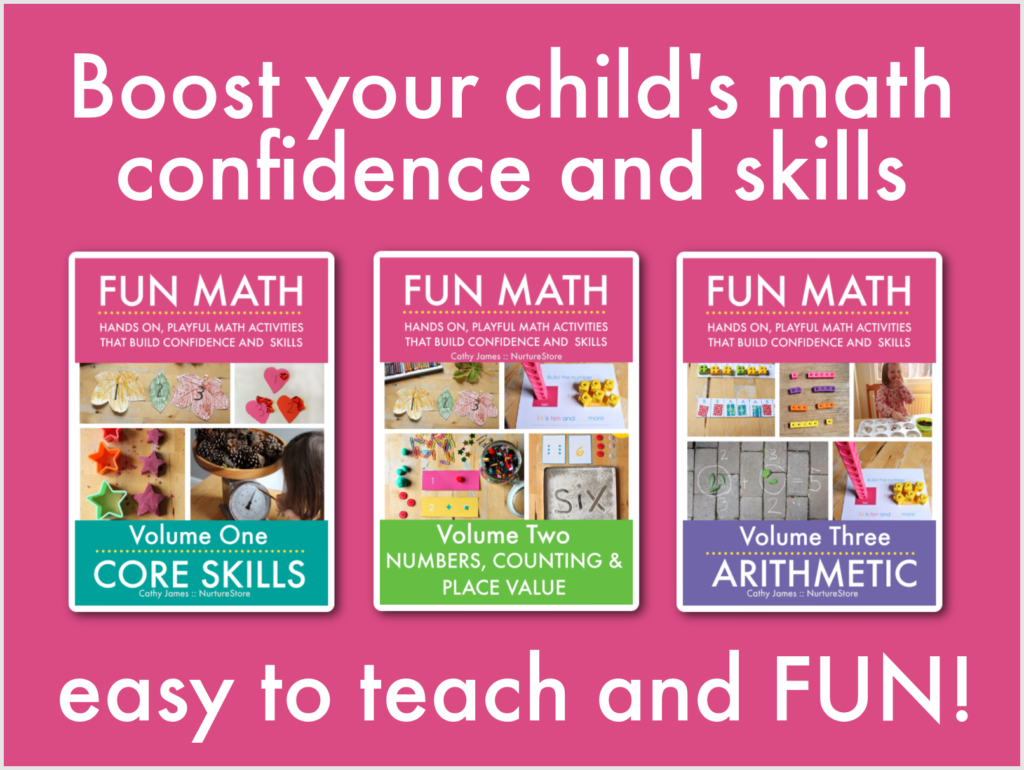 Magic Fun Math lessons!
Fun Math is an easy to teach, highly effective math curriculum based on play and hands-on learning.
All the lessons are designed to be fun and memorable, so children enjoy their lessons and feel confident.
The lessons are easy for teachers and parents to use, in class or at home.
These are the magic lessons where children really see, understand, and can apply math concepts. They are especially suited to children who don't like math, lack confidence, don't understand math the way they are currently being taught, or just want to play.
SEE MORE AND TRANSFORM YOUR MATH TEACHING HERE.
---
Practicing math facts or learning to count and recognize numbers can be challenging for young learners. And it can be tedious and boring if the only way they practice is sitting at a desk doing worksheets. Puddle Jump is a simple game that only takes about five minutes to prep, but gives kids a chance to practice math and
get moving at the same time
! And one of the best things about this game is that it is highly adaptable for kids of all ages.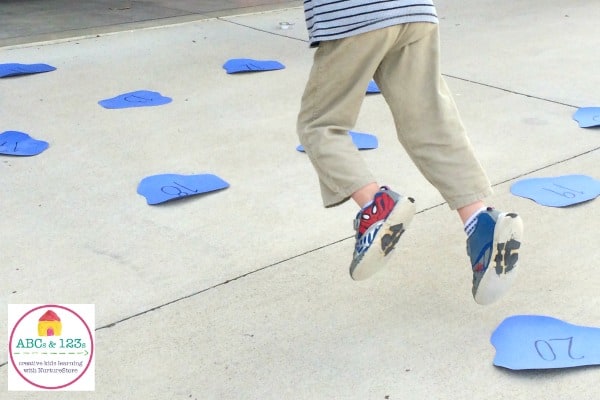 ---
This page contains affiliate links from which we earn commission.
As an Amazon Associate I earn from qualifying purchases.
---
I got the inspiration for this game from a wonderful little book called
Ga
mes
for Math
by Peggy Kaye. I adapted it for spring because with the wonderful spring showers coming, what kid doesn't love to jump in puddles?
In my game, they get to learn math and "jump in puddles," but without getting wet and muddy.
Materials needed
To set up puddle jump
The first thing you need to do is cut out "puddle" shapes from your blue paper. This does not have to be exact or anything fancy. I simply took a small stack of paper and cut a puddle shape out of several at once to save time.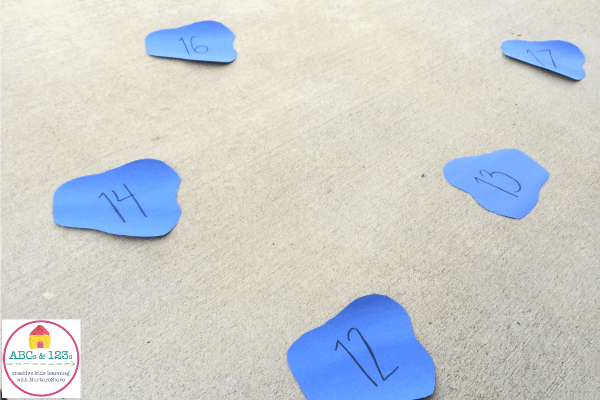 Once you have a pile of puddles (how many you need will depend on what numbers you are focusing on), write a number on each puddle.
I suggest using a black Sharpie marker and writing nice and big so that it is easy for kids to see and read.
I decided to focus on the numbers 11-20 with my kids (ages 6 and 7), but if you have younger ones you could use simply the numbers 0-5 or 1-10.
Once your puddles are ready, it's time to play!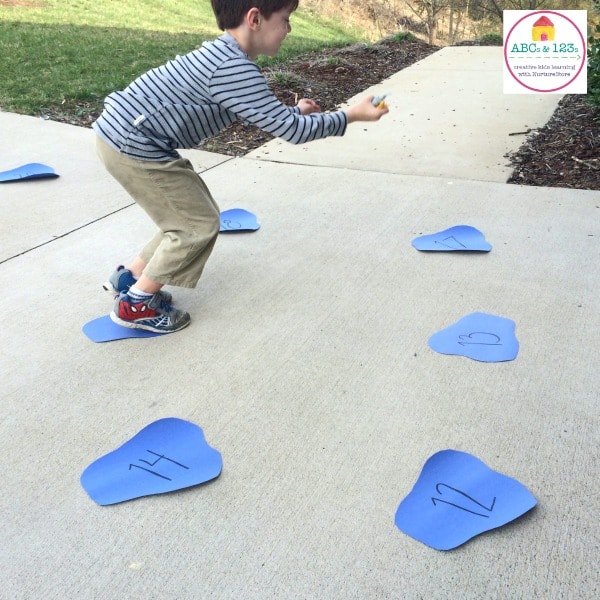 Playing puddle jump
Lay all the number puddles on the floor or ground so that there is enough room for kids to jump from number to number (we played outside because the weather was nice, but you could play this inside as well, if you have the space).
Also note that it may be helpful to tape the puddles down so that they do not slip or blow away (if you're outside).
To begin, I had my kids take turns jumping from number to number in order, starting from 11 and counting all the way to 20.
This was especially helpful for my son (6) who is working on recognizing the teen numbers.
Then, they can jump back from 20 to 11, saying each number again as they count backwards.
They had so much fun jumping around, I decided to challenge them a bit more.
I told my son to pick a number to stand on. I then called out numbers (not in order) and had him jump to the correct number. Just be mindful as you call out numbers that you are calling a number close enough for them to jump to.
I did the same with my daughter (7), but instead of calling out the number I would call out things like, ""1 more than 16″" and ""2 less than 15."" This allowed her to work on her mental math skills as well as number recognition.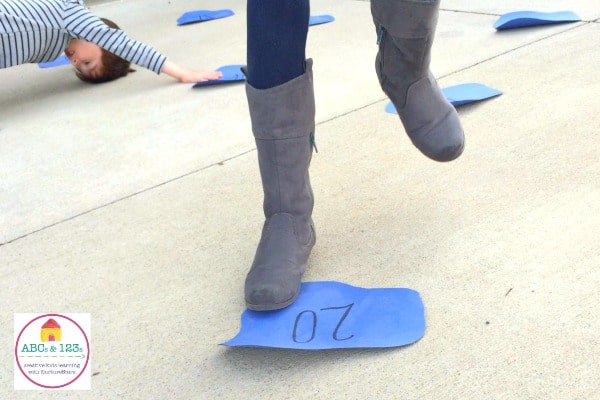 Extensions and variations of puddle jump
Let kids practice skip counting as they jump from puddle to puddle
Call out more difficult addition facts and let kids jump to the answer
With older kids, you can call out multiplication facts and let them jump to the answer
However you set up this game, kids are sure to benefit from the exercise and math practice!
Bethany is the mom behind the blog MathGeekMama.com, a website dedicated to making math fun and engaging while building a strong conceptual understanding of mathematics.
Be sure to subscribe to her free email newsletter to get her free ebook, Strategies for Problem Solving, as well as free teaching resources!

---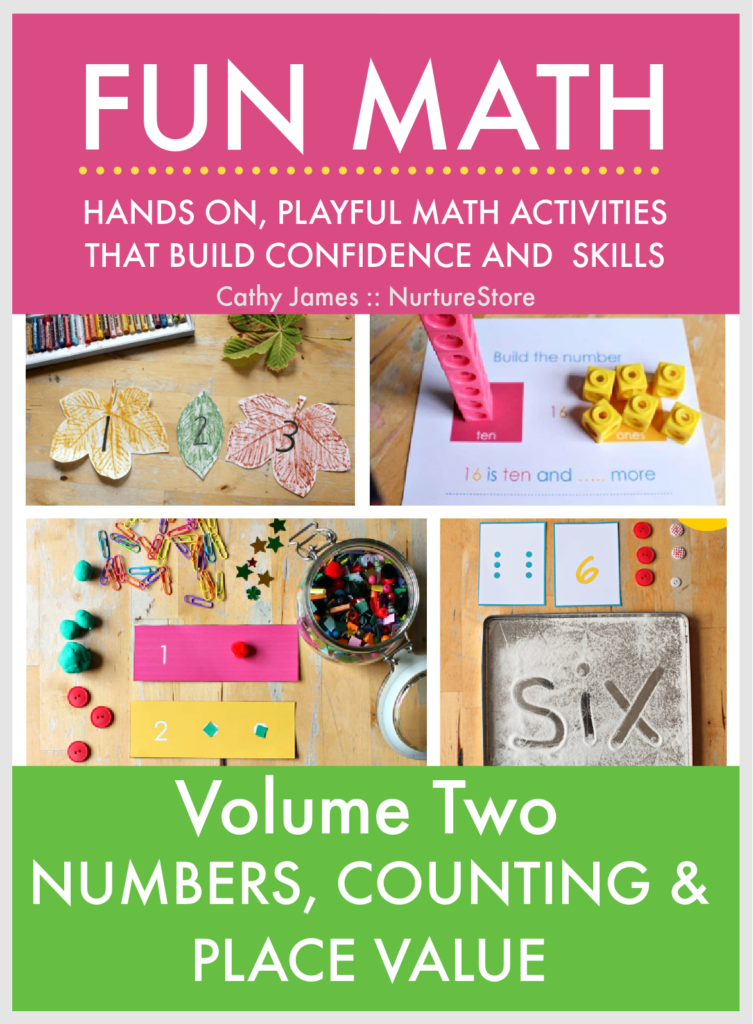 Transform your teaching with Fun Math
The Fun Math series gives you a math curriculum that is easy to teach and highly effective.
Children love these lessons because they are engaging and fun.
You'll have a clear set of ready-made math lessons and activities that are simple to lead using our step-by-step lesson guides, and which children really understand.
Be the best math teacher and boost your children's confidence and skills with Fun Math.
See more and transform your teaching here.
---