Print and play with these number cards to give your children a hands-on element to math, and to create a number-rich environment.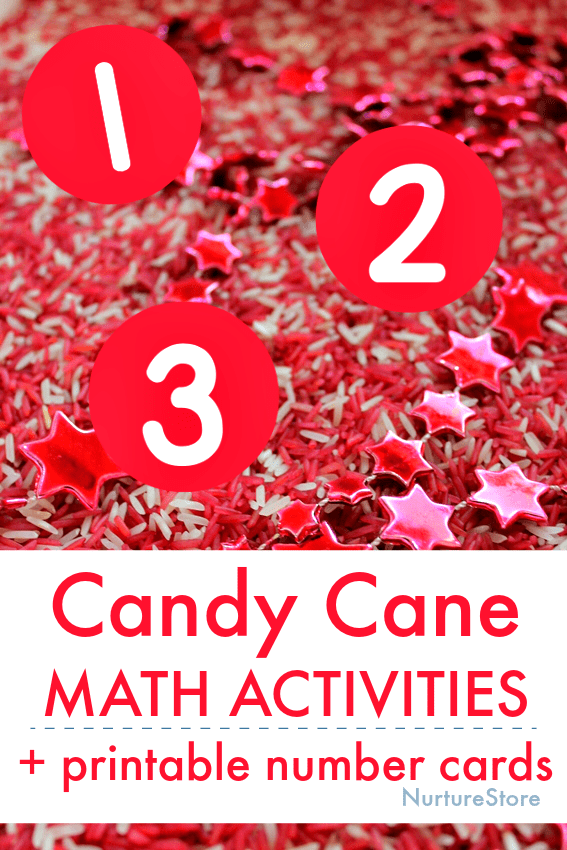 Printable Christmas number cards

Children learn best through play and hands-on activities. You can use these printable number cards to add a fun candy cane theme to your math lessons this season.
Use the cards for treasure hunts, number lines, counting and arithmetic work, along side writing trays and in sensory tubs.
The bright candy cane colours are eye-catching and fun, and the cards bring a hands-on element to all your Christmas number play.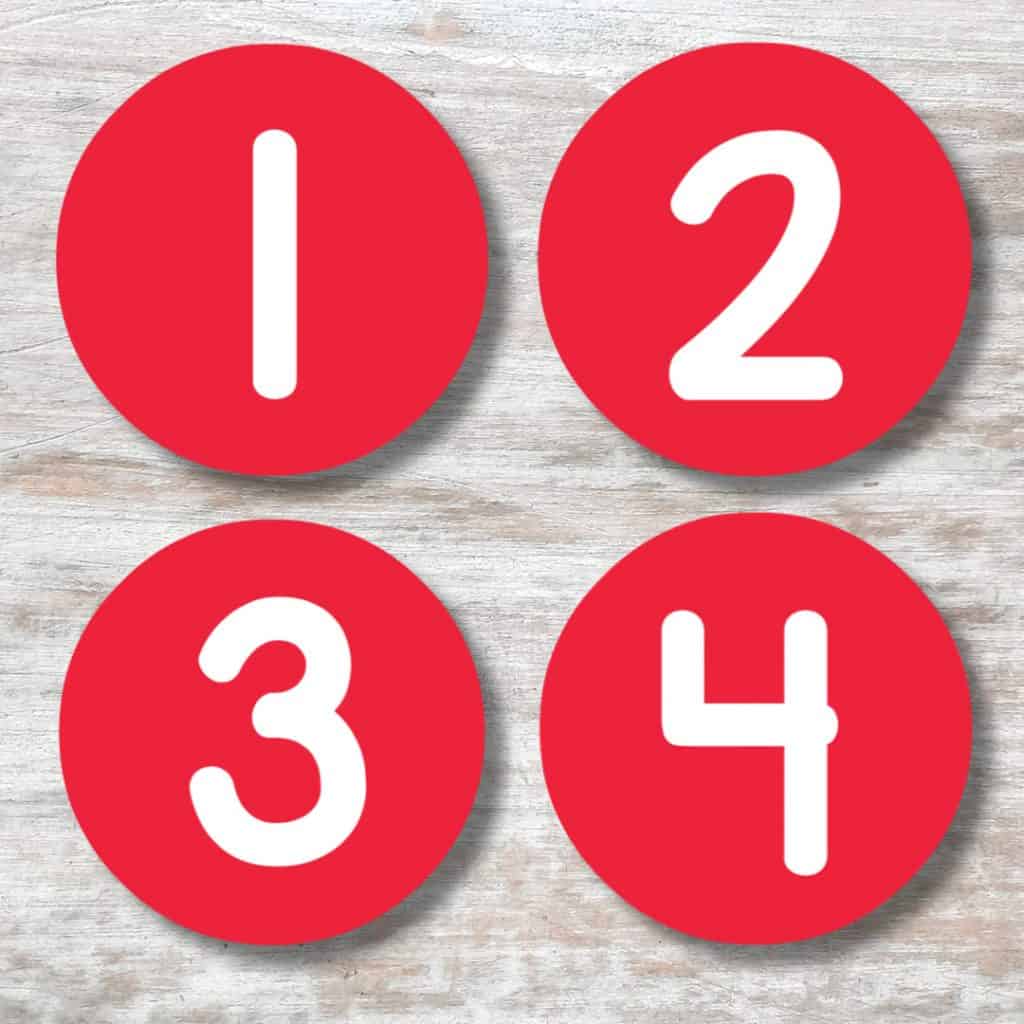 Materials needed:
:: number cards sheets from the Candy Cane Unit
:: scissors
:: laminator (optional)
Print the number sheets from the Candy Cane Unit onto card and cut out each circle. You might like to laminate the cards for extra durability.
You can use the number cards in all your math play during your Candy Cane Unit.
How to use the candy cane number cards fr play and learning
Here are six ways to use these red-and-white numbers:
1 :: Hide them around the house or yard and invite your children to treasure hunt to find them all. Line them up from small to big, or big to small, and count them out going up or down. You can peg them up to make a number line.
2 :: Hide them in a sensory tub filled with sand or rice or shredded paper and let your children dig for them. Seeing numbers in their play helps children become familiar with them, however they are playing. Maybe Mr 1 will have a chat with Mrs 3! Playing with numbers in the early years is as important as doing specific math lessons.
3 :: Print off two sets and play a matching game. Young children could simply work to spot the pairs. With older children you can play 'Memory': place all the number cards face down and take it in turns to turn over two cards. If they match, you can keep them. If they don't, you turn them back over. The person who has the most pairs at the end of the game is the winner.
4 :: Use them to practice arithmetic, working on addition, subtraction, multiplication or division to suit your child. Children could use manipulatives such as pebbles, buttons or real candy canes to help them work out the answers: using real objects (even fingers) for as long as they need to is a good strategy for children to use. We need to understand the real principle of what we are doing before we can move on to doing sums abstractly, using only the digits rather than real things. Encourage your child to use objects for arithmetic for as long as they need to.
5 :: Use them as quick flashcards to practise facts your child has already learned. If your child knows their four times table, you can help them become faster at recalling the answers by having little practices often. Hold up a number card and see if they can tell you what four times that number is.
6 :: Tape the number cards down on the floor in a place where you walk often. A sheet of clear plastic / contact paper over the top of the card will hold them flush to the floor. Each time your children pass they can step, hop or jump on each number in turn, calling out the name for each number. You can set up pathways for simple counting, or for skip counting (using cards 2, 4, 6, 8, 10… to make your path)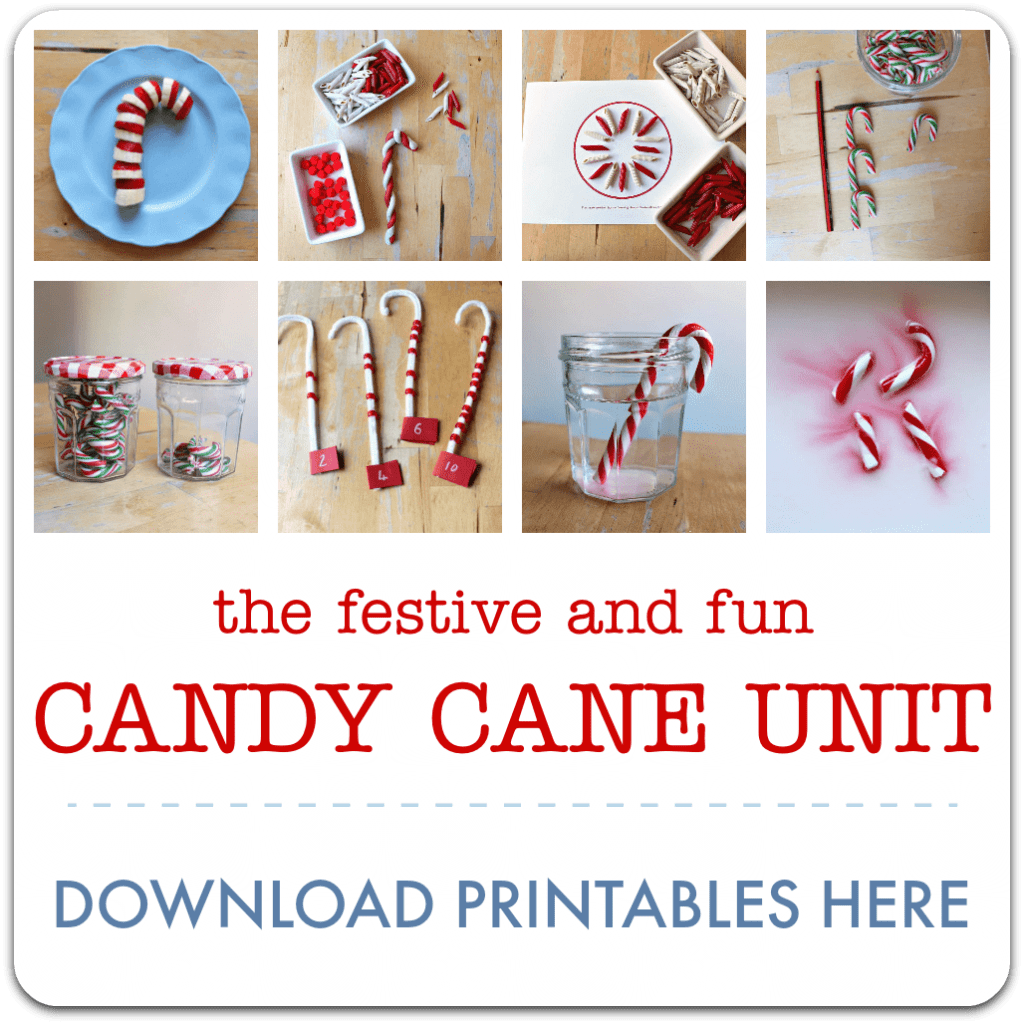 Download your complete Candy Cane Unit
A super fun and festive unit of learning! This kit gives you everything you need to teach an engaging program of activities all based around candy canes. With ideas for math, literacy, science, play, sensory, arts and crafts your children will love learning all through the holiday season.
:: over 60 pages of lessons, activities, and printables
:: a complete unit of candy cane themed math, science, literacy, arts and crafts, sensory, and play
:: materials lists and bonus printables make it so easy!
:: everything planned for you, so you can enjoy it as much as your children do
:: fun and festive, and packed with engaging learning
:: created with children aged 4 to 8 in mind
Click here to get your copy of the complete Candy Cane Unit.