Use these ready-made lesson plans for math activities in forest school to take learning outdoors and use nature to teach math.
Math lessons for forest school
Anything you can teach in an indoor classroom you can also teach outdoors – including all sorts of math skills. Use these ideas for on-the-go math activities and more structured lessons to teach core math skills in your forest school.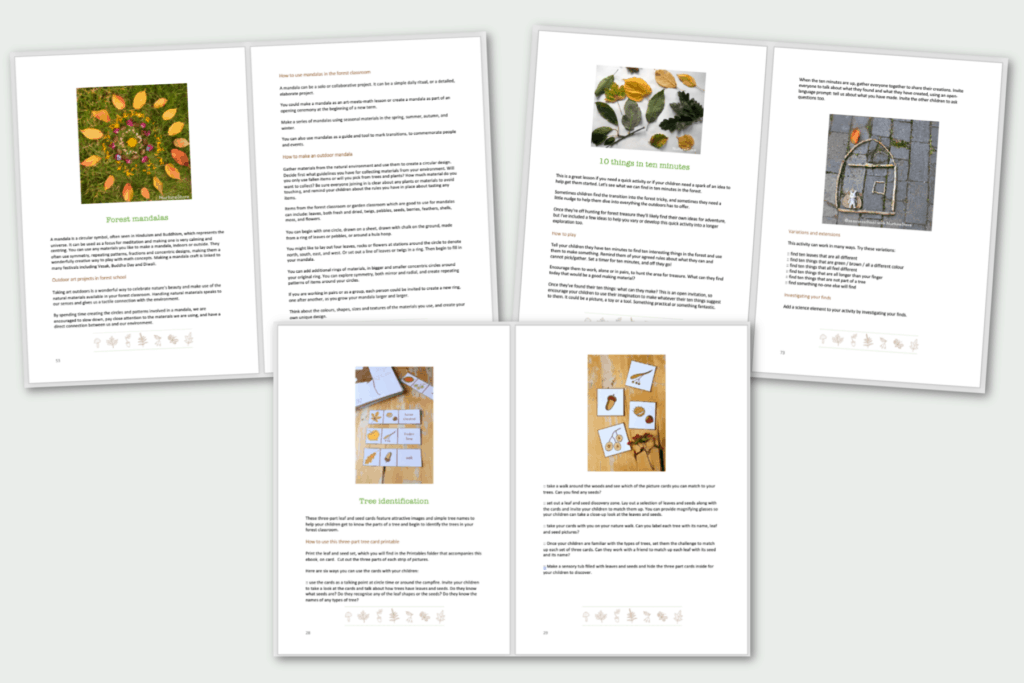 Ready-made forest school lesson plans
Make your forest school teaching easier using our ready-made outdoor lesson plans.
The Forest Classroom: a beginner's guide to forest school will give you the confidence, ideas and practical plans to lead forest school lessons with your children.
Our best-selling guide gives you over 40 lessons plans and 16 practical printable sets that you can use in your forest school setting, school yard/playground, local park or your own backyard to run a forest-school style curriculum.
The lessons are suitable for children aged 4 to 10 and cover a broad range of subjects including nature study, math, literacy, science, arts and crafts, and wellbeing.
See more and get your copy of The Forest Classroom here, for easy, ready-made outdoor lessons you and your children will love.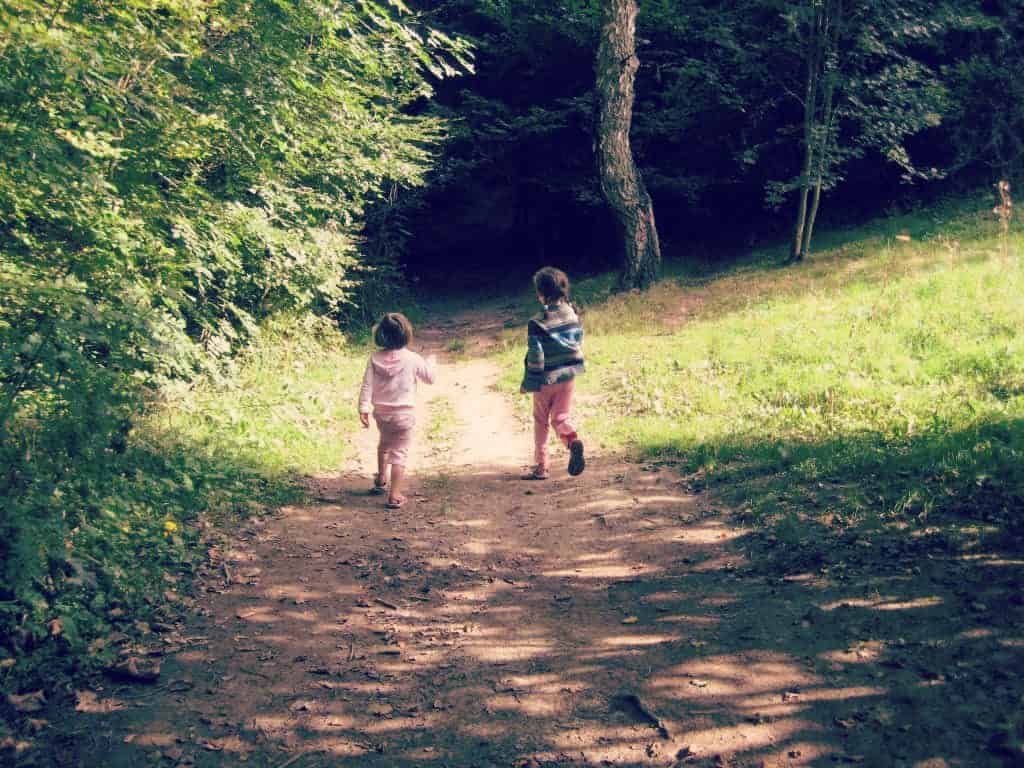 No prep natural math lessons
The right questions can turn nature walks and campfire conversations into math lessons. Ask these prompts to get your children thinking and talking like mathematicians:
:: What time is it today: What time of day? What month? What season? How can you tell from looking at the forest?
:: How tall are the trees in our forest? Which is the biggest? Can you see a smaller one? Can you see two trees that are about the same size?
:: Can you find a leaf as big as your hand? One bigger? One smaller? Who can find the biggest leaf? The smallest? Let's line up the leaves in size order.
:: How many trees do you think there are in our forest? How many birds? How many caterpillars?
:: What are the first flowers we see in the forest in spring? What flowers do we see next? What flowers are the last of the year?
:: How long does it take for a tree to grow? How long for an egg to hatch? How long for a blossom to turn into an apple?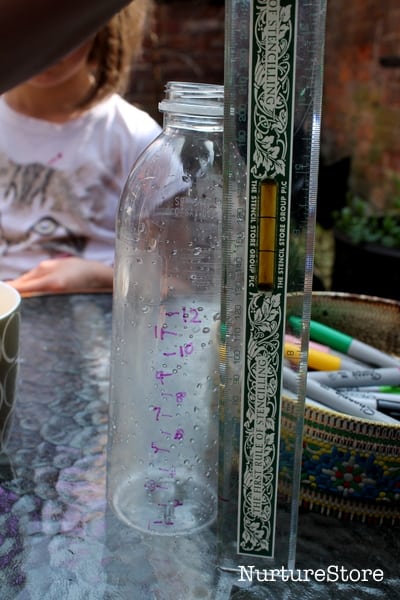 Forest school weather station
Setting up a forest weather station is a great way to being to read scales and measures.
You can record the daily temperature and kind of weather on a table and graph the results over time. Link the mathematical records to real world events – what clothes do we wear when the temperature gets hotter / colder? What changes do we see in the forest?
You might also look back at your records, charts and graphs to interpret the data. Does your graph show a milder spring? What impact does that have on the forest?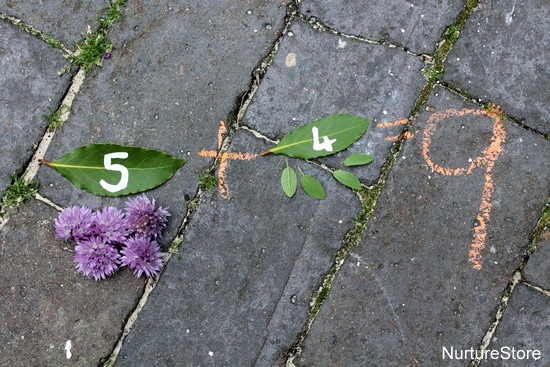 Math activities for forest school
You might like to also set up math stations / centres to invite your children to practice core skills in a hands-on, fresh air way.
You can set these up as continuous provision, daily questions prompts ("Can you make a repeating pattern?" alongside a basket of nature finds) or a focussed teacher-led lesson.
The Forest Classroom gives you a range of forest math centre ideas you can set out to help your children with recognising digits, counting, number order, place value, arithmetic, patterns, bigger and smaller amounts, sizes, symmetry, graphing, and estimating, all making use of 'loose parts' found in the forest.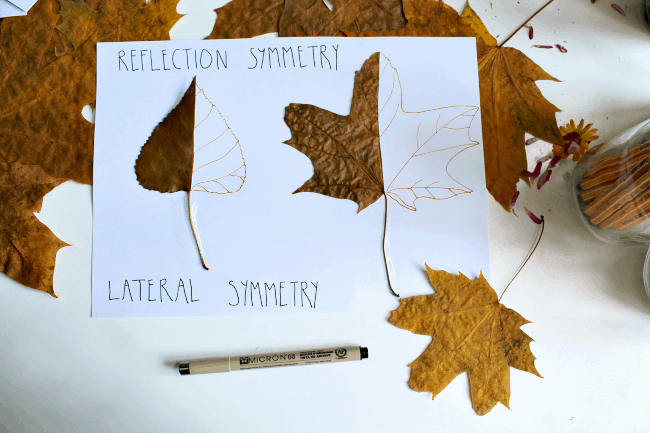 Structured math lessons for forest school
You can also host more structured math lessons in your forest classroom.
Use leaves to show symmetry in nature. Cut a leaf in half and stick one side to a piece of paper. Challenge your children to draw the other half of the leaf to complete the symmetry.
Create mandalas using natural materials, working with circles, symmetry, repeating patterns, fractions and concentric designs as a wonderfully creative way to play with math concepts.
You'll receive full details of these all-planned-for-you math lessons, and more, in The Forest Classroom.
The Forest Classroom :: download your ready-made forest school lesson plans
Have you got your copy of The Forest Classroom yet? It is the perfect beginner's guide to running a successful forest school. Download your forest school guide here.
A forest classroom is a place of adventure, discovery, and imagination. It can also be a wonderful place to learn about math and science, explore art and crafts, and develop language and social skills.
The Forest Classroom is a practical guide which will show you how to engage your children in fun and educational forest-school activities.
These ready-made forest school lesson plans are suitable for forest school leaders, teachers, childcarers and parents with children aged 4 to 10, to learn in a forest, school nature area, local park or your own backyard.
Get your copy of The Forest Classroom here and you'll be ready to head straight outdoors and enjoy teaching, using our ready-made lesson plans.