This flower craft for kids comes in four designs, making a beautiful mixed bouquet. It's made from simple craft supplies, is easy to make, and lovey to give as a gift of have as a decoration to celebrate spring. Here's how to make each type of flower.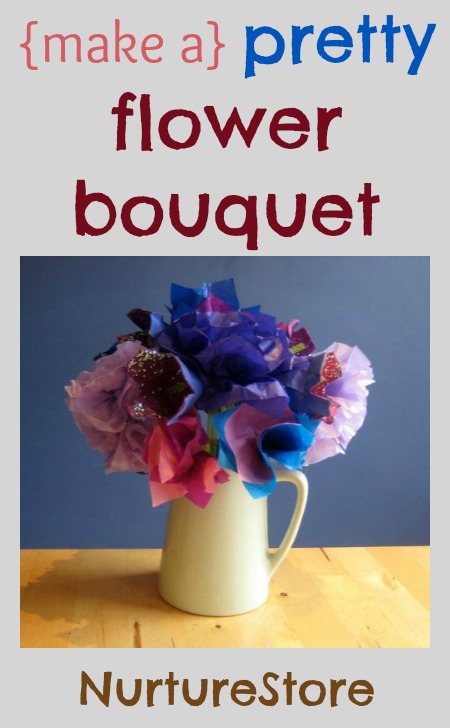 Flower craft for kids
There are four design ideas here suitable for all ages so you can pick your favourite or make them all! We're using egg boxes, cake cases and tissue paper for the flowers. For the stems, bendy drinking straws are perfect, as you can tilt the flower heads in the vase,  and pipe cleaners work well too.
Egg box flowers
These are super simple and great for toddlers as anyone can paint and sprinkle some glitter. To make them: Cut out some flower shapes from egg boxes. Mix a little glue in with your paint and then put the paint on your flowers. Sprinkle on some glitter and leave them to dry. Make a little hole in the centre of your flower and poke through a bendy drinking straw or pipe cleaner to make your stem.
Cake case flowers
These are good for younger children too, especially fans of glue and glitter. To make them:  Glue a mini cake case inside a bigger one. Choose some coloured or patterned cake cases, or decorate some plain ones. You might like to turn the cake cases inside out so you can see the colours and patterns. Add a blob of glue in the centre of each flower and around the outer edge, then sprinkle on some glitter. Once they are dry you can stick a pipe cleaner or drinking straw on the back with glue or (our preference) sticky tape.
Simple tissue paper flowers
This design is better suited to slightly older children, as toddlers can find it quite tricky to use a pincer grip to scrunch up the flowers. To make them: Layer three to five squares or circles of tissue paper, whichever colours you love. Pinch the centre of the tissue paper and scrunch a little to make your flower shape. Use sticky tape to fasten the flower around a bendy drinking straw or pipe cleaner.
Opulent tissue paper flowers
I think these opulent flowers are my favourite of the four styles but they're a little tricky for younger children who find the concept of folding one way, then the other, to make the concertina shape a little difficult. You can of course give them a try but your toddler and pre-schoolers might find the other designs easier to make themselves.
To make the opulent flowers: Layer four rectangular pieces of tissue paper (we used approx. 10cm by 30cm sizes). Fold them in a zigzag concertina shape. Fasten in the centre with a piece of thread or yarn (or wrap with your pipe cleaner stalk). Open out the concertina on each side.
Then, crinkle up each layer of tissue paper to make the ruffled petals. (If you're not using pipe cleaners) thread a drinking straw through the thread at the back, bend it over and use some sticky tape to hold your stalk in place.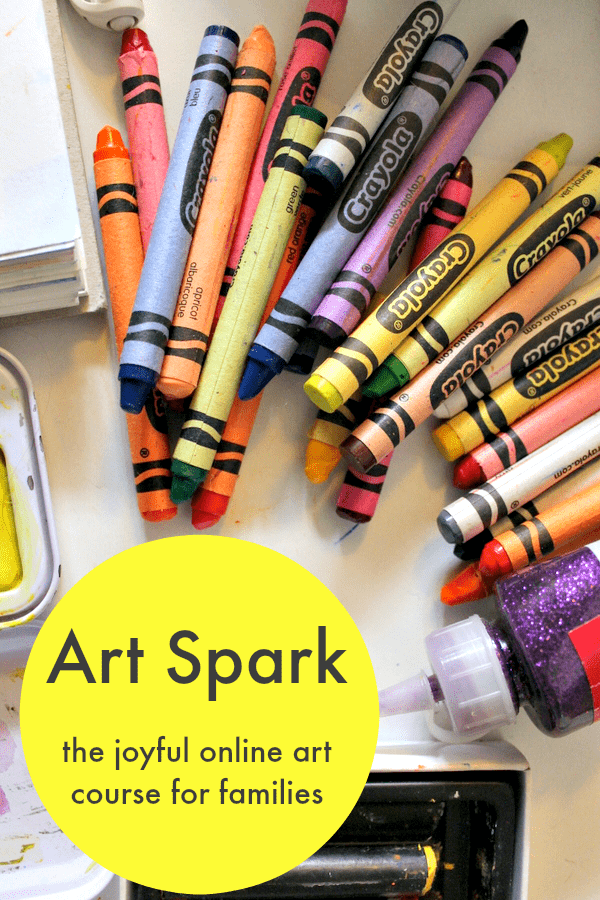 Nurture art with the Art Spark resources!
My Art Spark resources will give you everything you need to start a joyful art practice with your children. There are two new ebooks and an online art course for your family or class. Use them and you'll be bursting with enthusiasm and ideas that will help you make art happen. Click here to see more.