Celebrate Saint David's Day, the patron saint of Wales, with these daffodil crafts, easy Welsh recipes and ideas for Saint David's Day lesson plans.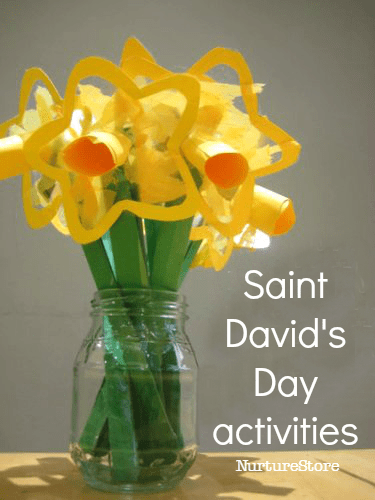 Saint David's Day crafts, activities and lesson plans
Saint David's Day is celebrated on 1st March.
You can learn about Wales on the Welsh government site: learn about the landscape, history and Saint David.

Welsh themed crafts and activities
Use these links to explore daffodils, dragons and other Welsh crafts and activities.
Learn all about daffodils through science investigation, poetry and art
Make daffodil pinwheels or daffodil suncatchers
Decorate with daffodil bunting
Bake with this easy Welsh cakes recipe
Make a dragon model – red, of course!
Create Welsh love spoon designs or this wood-burned version (you can get the wood burner pyrography tool through this affilate link.)
Sing and dance to this simple daffodil song.
Make Welsh lady dolls in traditional costumes.
Try learning some Welsh with these beginner Welsh games for children.
Dydd Gŵyl Dewi Hapus!