Here's our simple homeschool room for tweens. Come on in, take a tour, and I'll share some ideas I've learned about creative rooms for kids that are pretty, practical and inspire creativity.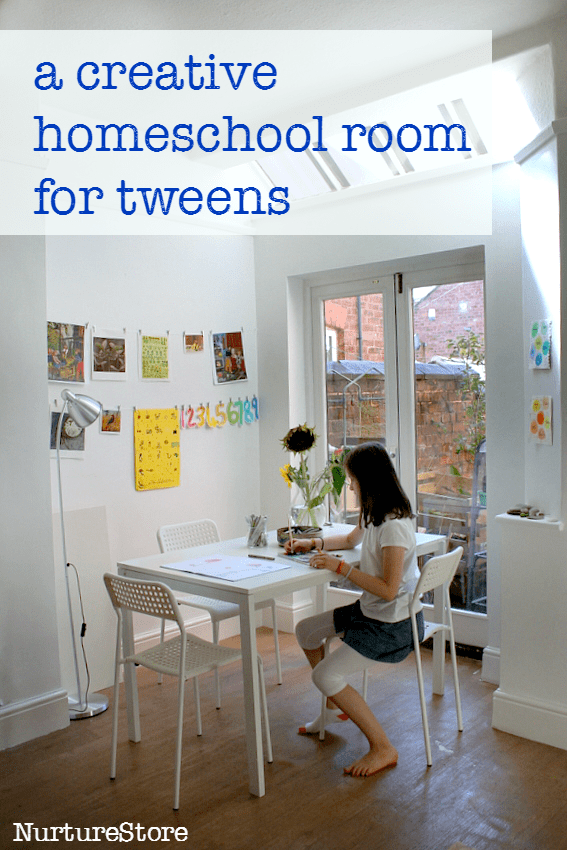 A creative and simple homeschool room for tweens
(this post contains affiliate links)
If you're been following my Stories over on Instagram you'll have seen we've been re-vamping the room we use as our main learning space. Some of you asked to see more, so here we go. Welcome to our studio!
(My girls had so much fun taking these photos! They directed all the shots and were shouting 'action' ,'make-up!', 'CUT!' Look at them smiling so contentedly as they pretend to read their book club book.)
As part of our back-to-school settling in it's been good to think about how we use this space, how to keep it practical and inspiring for the girls as they get older, and to give it a refresh coat of paint ready for lots of action over the next twelve months.
It was looking like this at the end of our summer break – yikes! And then this, as the girls helped me to re-paint: their room, so they help to look after it – that's how we do Family Team.
It's had many transitions since we moved in ten years ago. It's located off our kitchen and would have originally been used as a dining room. When we moved in I had a three-year-old and was expecting my younger daughter, and we decided to devote this room to being a play room. With a dining table in the kitchen if made more sense for our family to have this as a room for the children.
When I started working as a childminder (home daycare) it was fantastic to have a space devoted to playing and learning, and being able to close the door at night and use our sitting room as our family room worked really well.
As the girls have grown older, the way they play and how they want to use the room have changed. We don't need so much space to set out toy towns and sensory play tubs anymore. Now we need places to create art: do written work: and pursue research, making, and creating for their independent learning projects.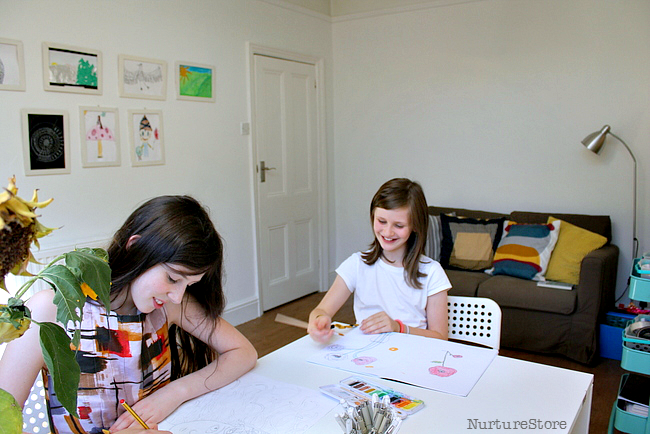 (The wall of frames is where the girls put their art. They get to decide what goes up and when to change it. The frames are always wonky.)
And so the room layout has changed. It used to have a big shelving unit with lots of cubby holes, filled with baskets of toy cars, dolls, tea sets, loose parts and Lego. And a big rug so they could lie on the floor to play. We'd have a book basket and an easel in there too.
Now they are older, they do still play, but we also need space for study. I have found that 'less is more' really is a true mantra for kids' rooms. Less toys, more creative play. Less clutter, more focus on favourites. Less stuff, less tidying, more time for the things we really love. They're are old enough to know where things are kept, they can easily go and fetch others things they need from other areas of the house, and they like to hang out in their own rooms a bit more now too.
So now all we have in our room is:
:: a table, for art and writing. We have this one from Ikea – it's a great size, easy to wipe down, and it's so good not to have to share the kitchen table with paintings anymore.
:: a sofa, again from Ikea, for reading and where we usually sit to do math lessons. I accept that creative kids are messy and so a cheap sofa choice means I can relax about hot glue gun blobs getting on it!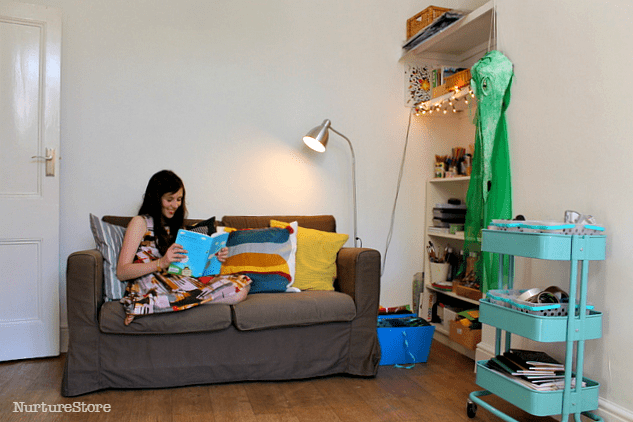 (This big white wall is going to be where we put up some seasonal art. We're working on some autumn leaves at the moment.)
:: a little storage. We have shelves (this one) in the alcove, with a couple of fixed wall shelves above and this trolley, which we can move around to where we're working.
I've just added in a couple of lamps, some fun cushions, and we've give the walls a fresh coat of white paint, and that's it. Simple, practical and great for creative learning.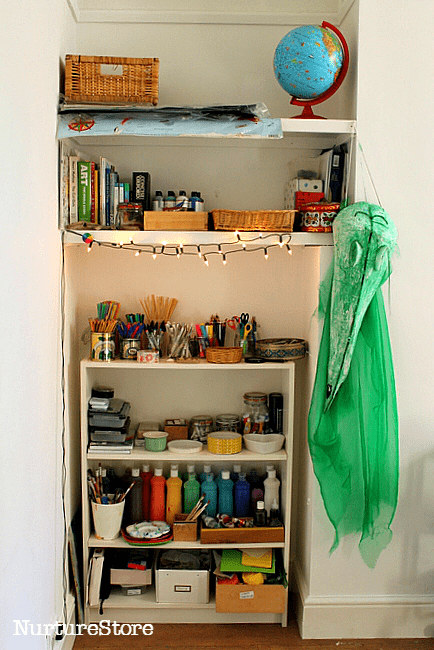 (Dragon costume made by Miss 13. Fairy lights, essential to the creative process.)
On our shelves we have:
Bottom row: face paints, pyrography pen, glue gun, sewing box, collage materials
Next row: paints, brushes and pallettes
Next row: watercolours and acrylics, washi tapes, chalk
Top row: a wide range of pens and pencils, scissors, straws and wooden sticks. (See my guide to the best art materials for children here.) I'm frugal and try to be eco-friendly so I like to use old tins and jam jars for storage.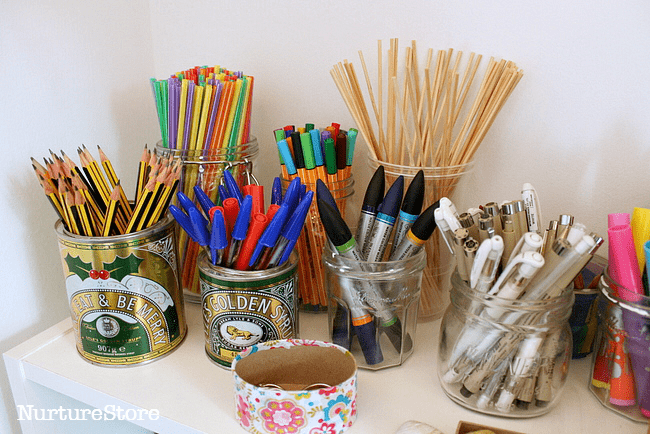 On the shelves above we have a very small collection of the books we are using right now. The rest of our books are mainly in our sitting room, and in bedrooms. The What on Earth timeline wallbook (US / UK versions) that you can see on the far left is fantastic, and one we use anytime we're talking about a particular period in history. It's concertina book which unfolds to show the whole timeline of the world, split between the continents. Such a useful visual reference. We have a globe too, and again we take this down to check the location of any places we're learning about.
We're also loving this Seasons poetry book: US and UK versions.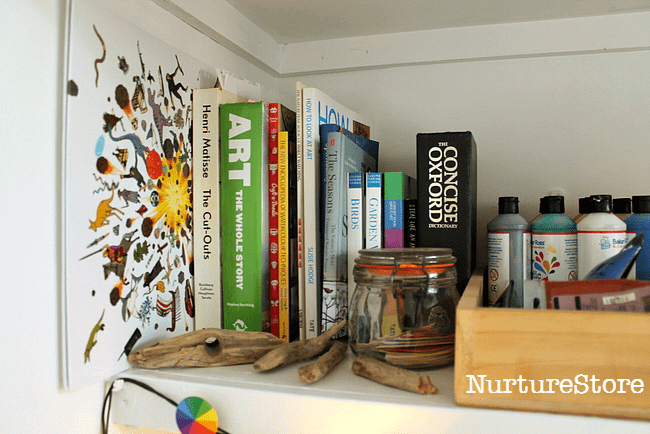 Our white paper is kept up on the shelf too. There's a basket for general printer paper, which the girls can grab quickly for notes or general sketching. We keep 'special' paper here too: watercolour and good sketching paper and card, which we use a bit more selectively for particular projects.
Our coloured paper and card is kept in these concertina/accordion files – so practical. You can see what you want and the paper doesn't get all scrunched up.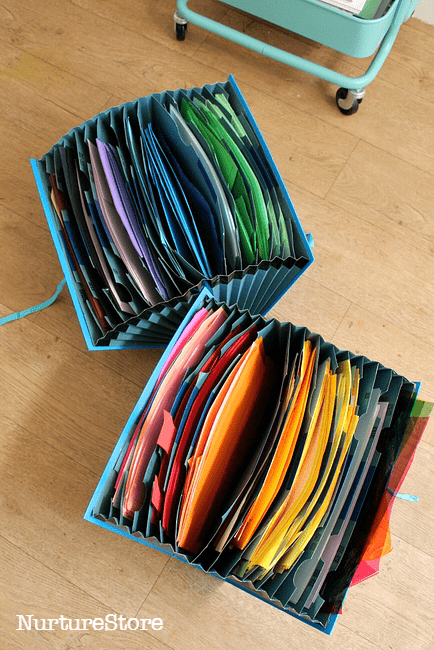 Pretty much every art and education blogger I see has one of these trolleys. We use it for basic stationery stuff on the top, glue and tapes in the middle, and our journals, work- and sketchbooks in the bottom.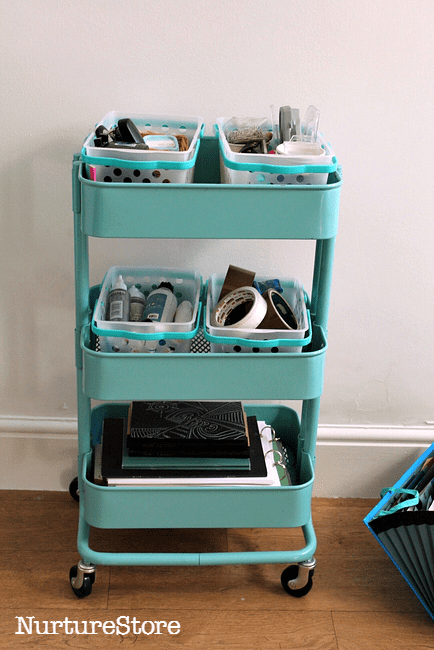 I think it is SO good to keep this main room as clutter-free as possible. It gives the girls space to think, as well as space to work. It takes five or ten minutes max for them to clear away at the end of the day. I love having a welcoming room to get them started on their projects the next day. Things that they are working on, like models and art works, are kept safely in their lockers until they want to work on them again.
Our 'secret' storage place is next door in our utility/laundry/mud room. I'm a bit shy about showing your this as it's not pretty at all, but it's the most hard-working, practical room in the house – and we're all friends here, right?
The storage unit in here (from Ikea but I don't think they sell it anymore) is the one that used to be in the main play room (flipped the other way up and fixed to the wall). It now gives the girls what they call their lockers: several cubby holes where they can store their work-in-progress and the own special materials and kit. We also have some more craft materials in here, including our beloved cardboard box hoard, and just a few toys like our Sylvanians. And a bike! I told you it was a practical rather than pretty room.
Coats and shoes live in here too, as do the washing machine and laundry drying racks.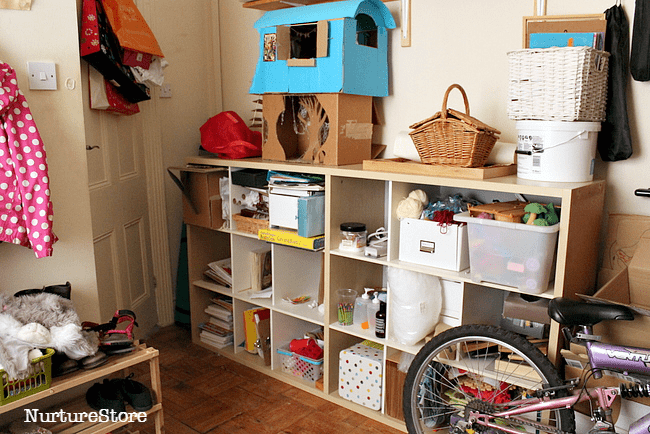 At the other end of our main room we have our table. I've just switched the sofa and table this month as I wanted the table, which we use for art and writing, to be over by the windows for the autumn and winter – hoping to get the most light we can in the darker months.
We have been using the sunflowers from the garden as the inspiration for this month's Art Spark workshop.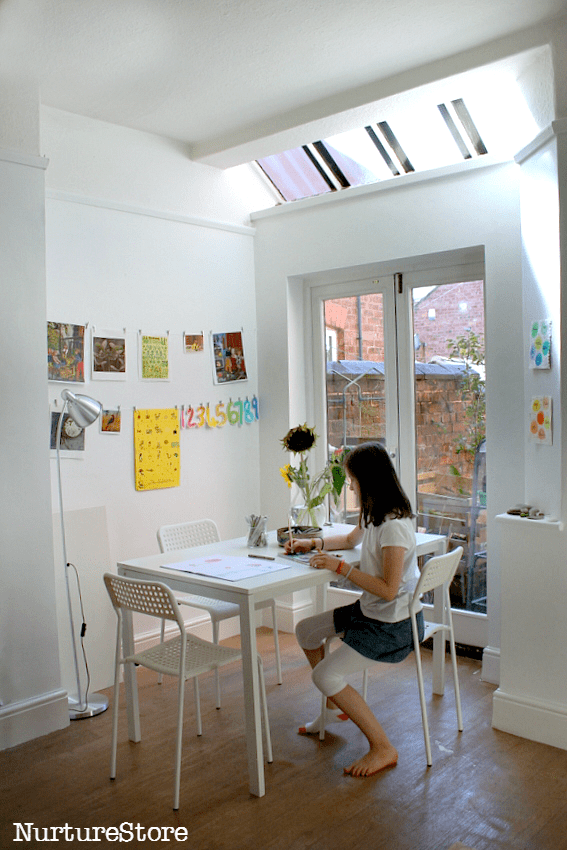 The washing line of pictures is simply a pair of nails with string threaded across, and those mini pegs you can get for hanging Christmas cards. We have a new inspiration wall here each season. I don't think we'll need the number line and alphabet there much longer, but sometimes handwriting still flips certain 6/9 and b/d around, so it's good to have them there as a reference for now. The other pictures are mainly from Phoebe Wahl and Taproot magazine – gorgeous!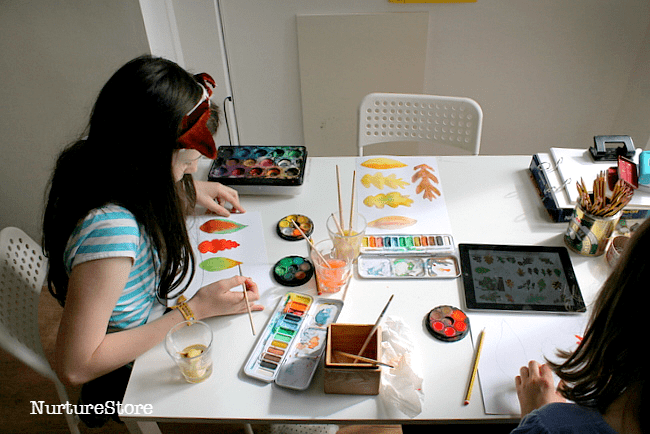 And that's our room. Simple, practical, and with a whole lot of creative learning going on. If you have any questions, please do ask in the comments. What's your home learning space like? What's something you love about yours?
Home school resources
Are you a home school / home education family too?
You might like:
these homeschool resources – listed by topic and with a focus on creative, hands-on learning
my Play Planner – a weekly email with super ideas for creative kids learning. Pop your email address in the box below and I'll send it to you.
---
* By subscribing, you consent to our use of your personal data as per our Privacy Policy, which includes agreeing to receiving interest-based email from us.
---